We use affiliate links. If you buy something through the links on this page, we may earn a commission at no cost to you. Learn more.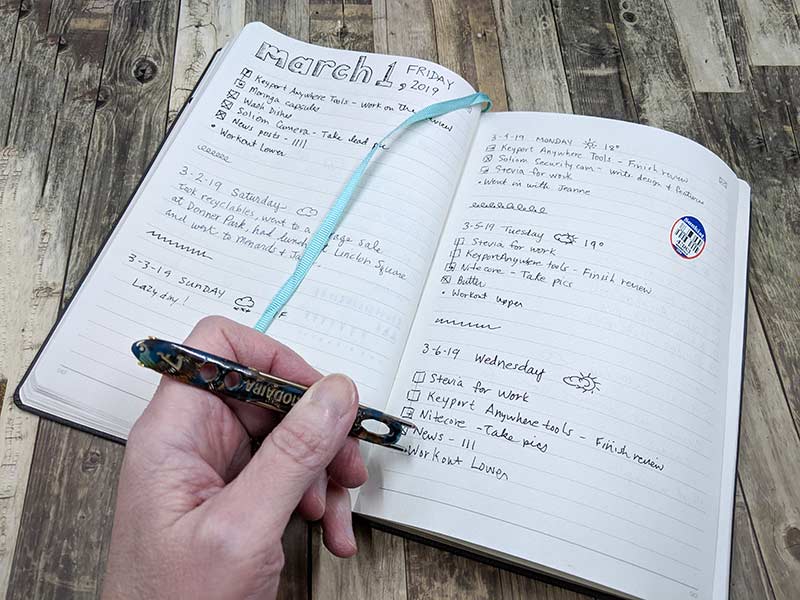 CROWDFUNDING REVIEW – Pens with multiple ink colors are handy but they can be bulky. The 22pen from Mario Shimodaira is different. It's a Kickstarter project for a pen that is small and thin enough to become part of your EDC and everyone who sees it will ask where you got it.
What is it?
The 22pen is a unique Japanese designed pen that holds two different inks/pens in one very compact package that clips in your favorite notebook like a bookmark.
Design and features
First of all, I've never seen a pen like this one. The design has a unique eye-catching look that makes me think of one of my favorite sci-fi TV series Firefly and begs me to pick it up and write with it. Which I was able to do because they sent me a pre-production sample.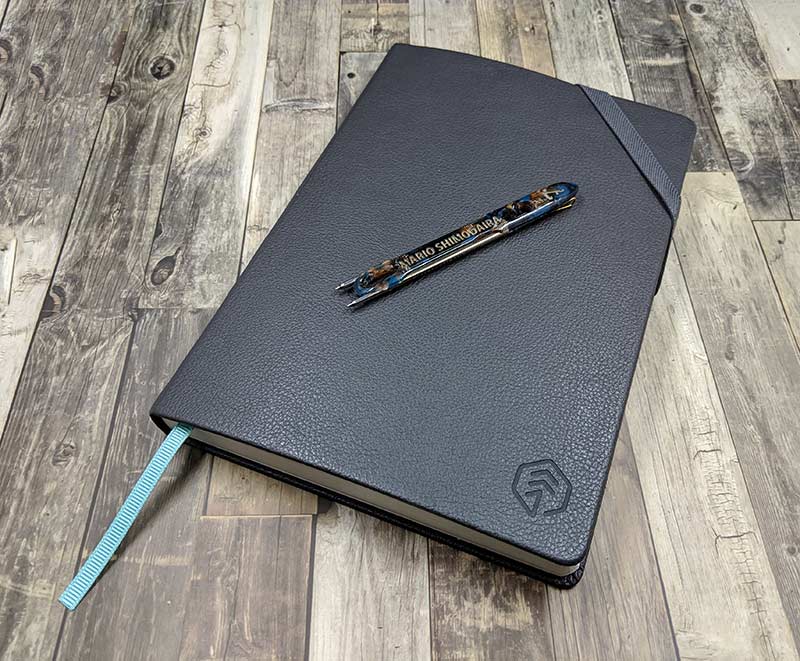 The body of the pen is made of what feels like a lightweight plastic, but it's really Italian cellulose acetate which is a premium material that is also used to make designer eyeglass frames. The 22pen sample that was sent to me has a cool tortoise shell vibe if a tortoise shell can be blue and brown.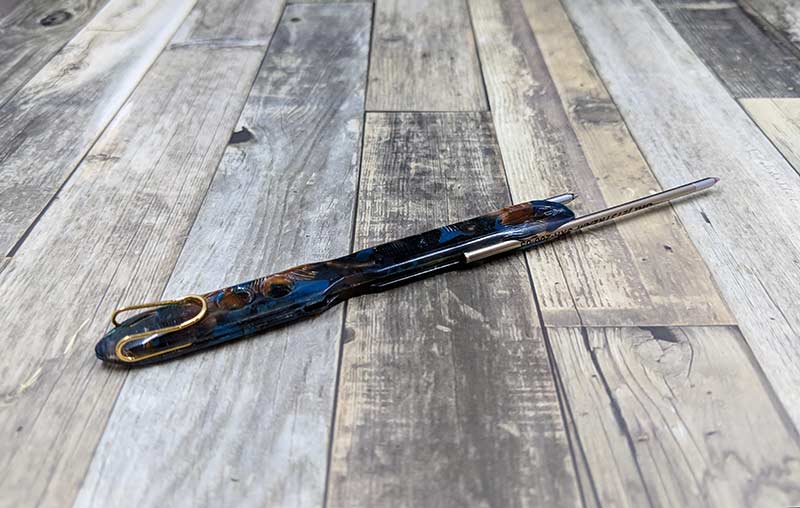 The 22pen has the ability to use a variety of pen refills that include: Zebra 4C Ballpoint Pen Refill, Mitsubishi uni SE-7, Mitsubishi uni SXR-7 Jetstream Ballpoint Pen Refill, Pilot, and Cross-Mini-Ballpoint-Pen-Refill. Just pull out the refill and insert a new one whenever you like.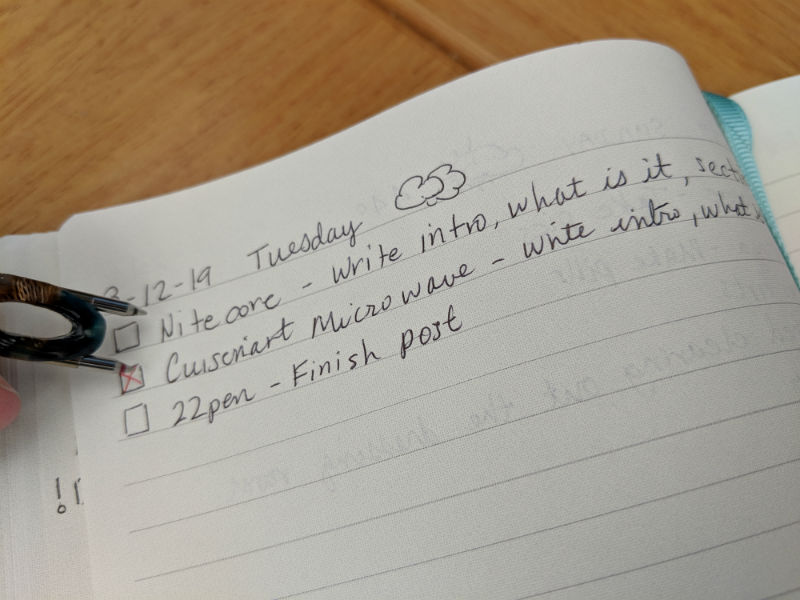 The pen is only about 4 inches long and is flat, so it feels kind of weird to write with it when you first pick it up. As long as you pay attention to how you're holding the pen so that only one pen tip is touching the paper, it works great and it even works fine if you draw with both tips touching the paper at once.
The 22pen isn't going to replace my everyday favorite pen, but it's handy for people who like to keep a bullet journal or carry other small notebooks. I like it because I can write my todos with one color and then cross them off with the other color without having to carry two pens or a larger multi-pen.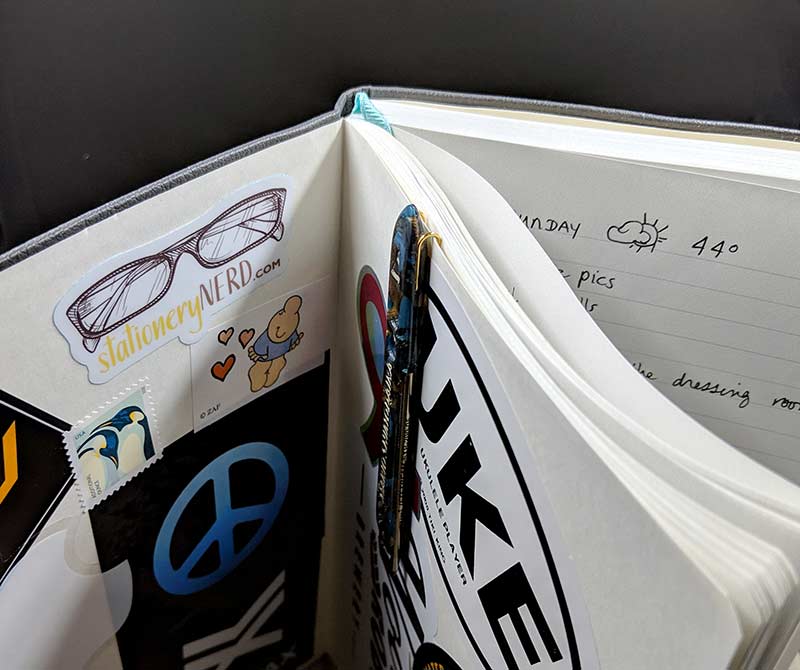 Sure, you can do that with any multi-pen, but when I'm finished writing, the 22pen's built-in gold plated clip lets me store the pen right inside my journal. And since the pen is so thin, I can still close the notebook cover as I normally would.
What I like
Unique design
2 pens in 1
Stores in your notebook
What needs to be improved
Maybe make it a little longer
Final thoughts
If you're a pen person, you will want a 22pen in your collection. At almost $60, it can be considered a bit on the expensive side. But it's unique, interesting, can use a variety of refills, and small enough to clip to your notebook. As it stands, it's the best mini pen I've used.
How can I buy it?
The 22pen campaign ends on 3/30/19 and they have already passed their funding goal of $4,499. You can pre-order a 22pen starting at $58. After the 22pen campaign ends, rewards are estimated to start shipping in June/July 2019. Visit their Kickstarter page for all the details.
Source: The sample for this review was provided by Mario Shimodaira.