We use affiliate links. If you buy something through the links on this page, we may earn a commission at no cost to you. Learn more.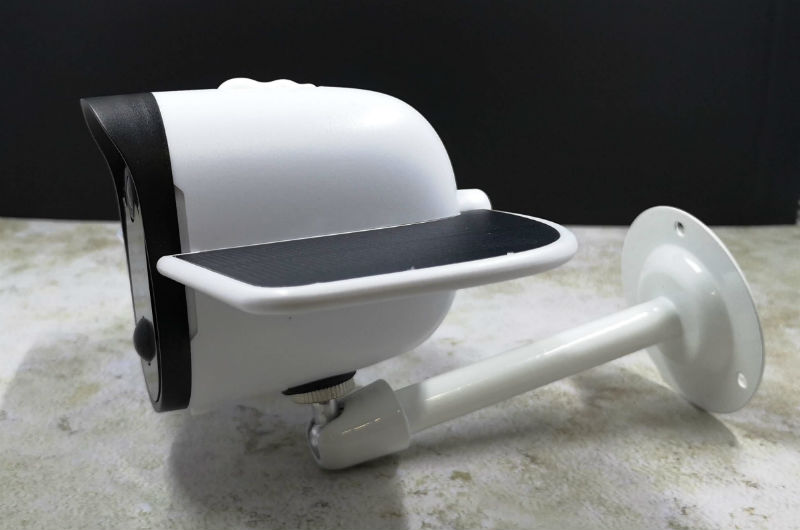 REVIEW – Peace of mind. What does that mean? It's when you don't have any worries, fears, or stresses. Having total peace of mind is almost impossible unless you're a Shaolin monk, but you can work towards that goal by finding ways to remove worries, fears, and stresses. One way to do that might be keeping an eye on your home, property, pets, and more when you're not physically with them. Home security cameras are a tool that can do that for you and today I'm going to tell you all about the Soliom Bird S60-Outdoor Wireless Solar Home Security Camera. Let's see if this one is a worthy tool in your peace of mind toolbox.
What is it?
The Soliom wire-free solar security camera is a WiFi security camera that has a built-in battery that is recharged by the sun. Unlike other solar-powered security cameras that we've reviewed, this one doesn't use a separate mountable solar panel. It has the panels attached the camera's body.
What's in the box?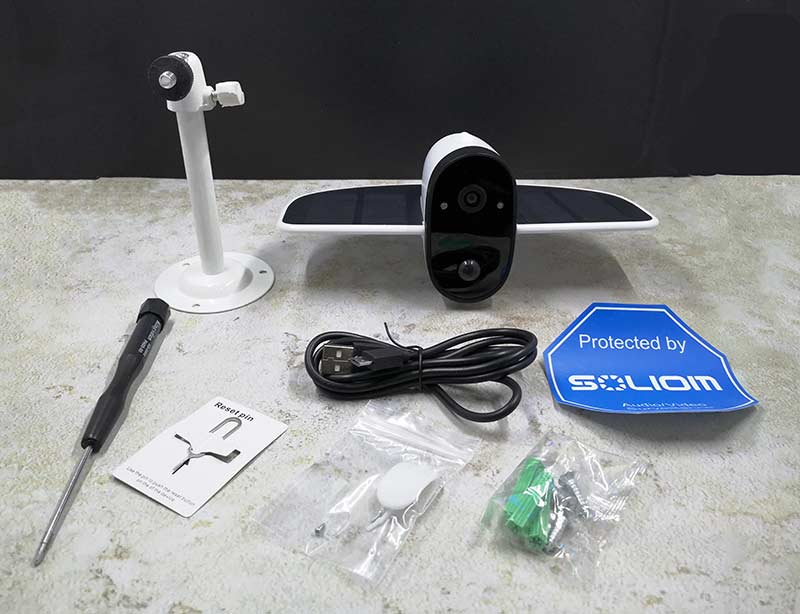 Soliom Bird S60-Outdoor Wireless Solar Home Security Camera
Camera mount
Mounting hardware
Screwdriver
Replacement port cover
Reset pin
micro USB charging cable
Security window sticker
User manual
Hardware specs
Camera – 1080p full HD 160°
30-65ft(10-20m) night vision distance
Motion detection technology integrated (PIR & RADAR)
Two-way audio
Communication – WiFi 2.4GHz
Operating temperature – between -4℉ to 140℉(-20°C~+60°C)
IP66 weatherproof
Battery – 4000mah rechargeable via USB or the sun
Design and features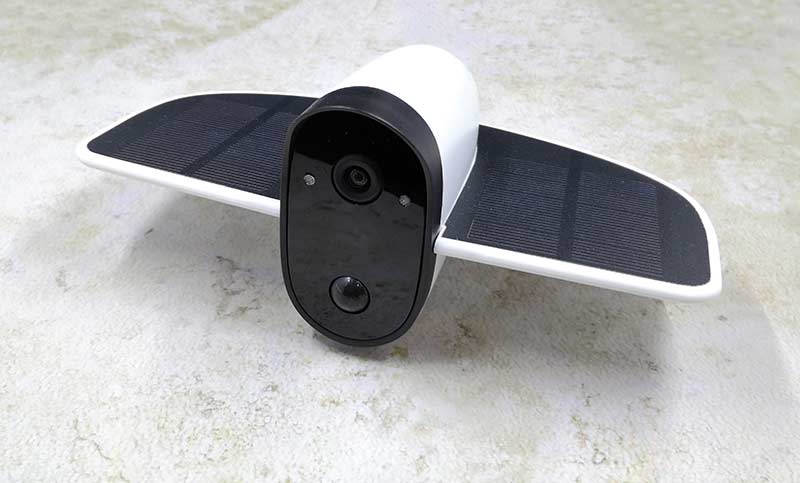 This security camera has a unique design with a removable solar panel that gives the camera a bird or airplane-like vibe. The camera is between the solar panels and has a 1080p lens, status LED, light sensor, and a motion sensor below the lens.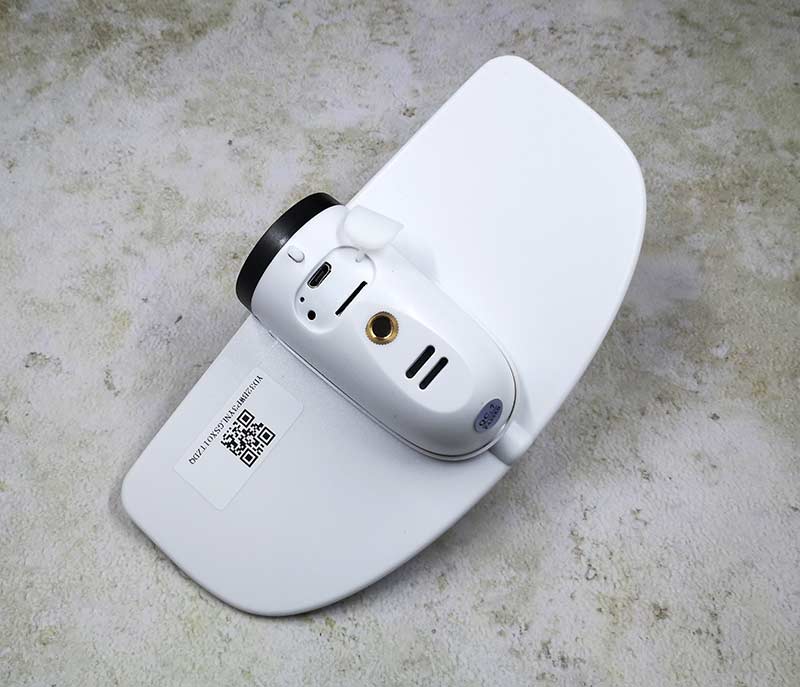 The bottom of the camera has a threaded socket for the included mounting bracket. Also on the bottom is a micro USB connector to charge the internal battery, a micro SD card slot to record motion events, and a reset switch, all of which are protected by a flexible rubber cover that is designed to keep out moisture from the weather. You can also see a button near the front of the camera. This is a power button.
Never miss one of our posts again. Sent MON, WED, and FRI with the latest gadget reviews and news!
Soliom mobile app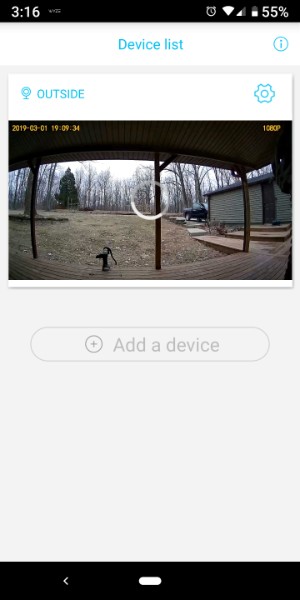 Setting up and connecting the camera to your wireless network is pretty easy. The first step is to make sure you have fully charged the internal battery by using the included micro USB cable. Then you just have to install the Soliom app on your Android or iOS device and follow the steps.
At one point the app uses sound waves to connect to the camera. It's a strange way to set up a security camera and I had to try it several times before I was successful, but it did work.
Launching the app will show a thumbnail view (not a real-time view) of the connected cameras. Clicking the thumbnail will go into the live view for that camera.
In the live view mode, you'll see a real-time view from the camera along with the WiFi signal strength status, battery status, and how many people are connected to the camera at that time.
Below the real-time view window is a timeline with red bars. The bars represent events that were detected by the built-in motion sensor. You can scroll through the timeline and watch the recorded clips which are either saved to the cloud or a micro SD card (not included) inserted into the camera.
Scrolling through the timeline is a little tricky. Sometimes I would scroll to an event only to have the software snap back to the current time/live view. Other times it would try to load the event clip only to time out. And other times it would work as expected.
Another way to watch the live view is to use the built-in cruise feature which will pan across the view. This is kind of cool the first couple times you use it, but it does this digitally and as a result, the resolution isn't as good and part of the image is cropped.
Clicking the gear icon will take you into the camera settings where you can customize various features.
There are two ways to be notified when the camera detects motion. You can have the app "call" you as shown above on the left, or you can receive a traditional notification alert on your home screen. With either method, tapping the answer or notification message will take you to the app but it will not show you a clip of the motion that actually caused the alert. It's up to you to watch the events by scrolling through the timeline.
I noticed that I wouldn't receive a notification every time motion was detected which was worrisome if this was your only security camera. I also noticed that when a notification did come through that clicking the notification, connecting to the camera, and trying to watch the detected event would often take too long to be useful.
What I like
Solar powered
Removable solar panels for optional indoor/power tethered use
No monthly subscriptions
What needs to be improved
Speed connecting to camera from app can be too slow and will sometimes time out
Record all footage to micro SD card instead of just the motion clips
Need to add detection zones and scheduled recording times
Notifications aren't consistent and aren't pushed for each motion detection event
Final thoughts
The ability to set up a security camera outdoors without having to worry about wiring and power are good reasons to consider this camera. But the little issues like slow connections, inconsistent notifications, and difficulty watching motion clips, keep me from recommending it. I think this camera could be good, but as it stands now, it needs some improvements.
Price: $149.99 (Code: 20OFFCAM saves 20%)
Where to buy: Amazon
Source: The sample for this review was provided by Soliom.