We use affiliate links. If you buy something through the links on this page, we may earn a commission at no cost to you. Learn more.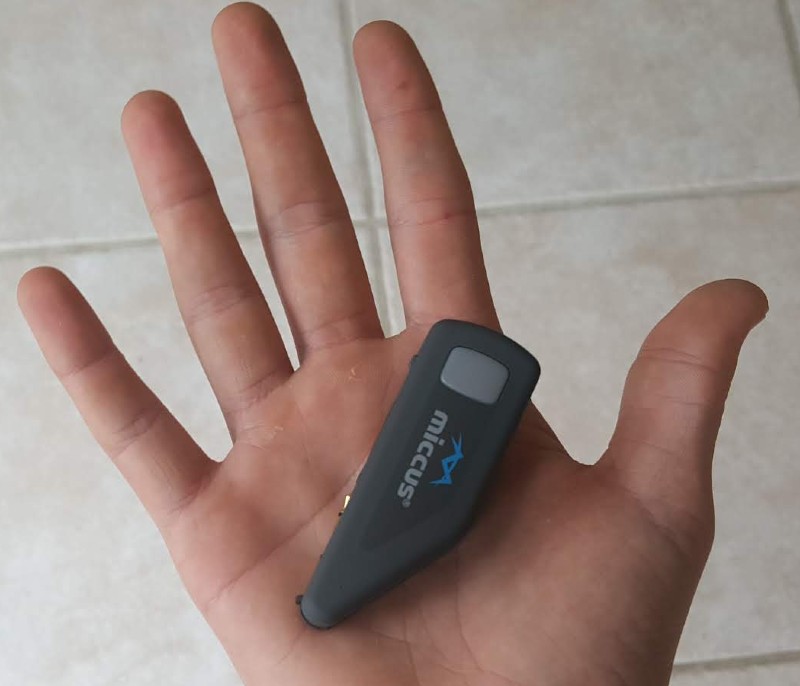 REVIEW – My niece just got her drivers license but her car stereo doesn't have built-in Bluetooth. The Miccus Swivel Jack RTX device is a perfect solution for her. She just needs to plug it into her car's aux connection to pair with her phone. Or if her sister or boyfriend wants to switch to a playlist on their phones, it has easy, wireless pairing.
What is it?
The Swivel Jack RTX is a pocket-sized long-range wireless transmitter/receiver.
What's in the box?
The transmitter/receiver
Instruction manual
USB cord for charging
3.5 mm female to RCA male audio cable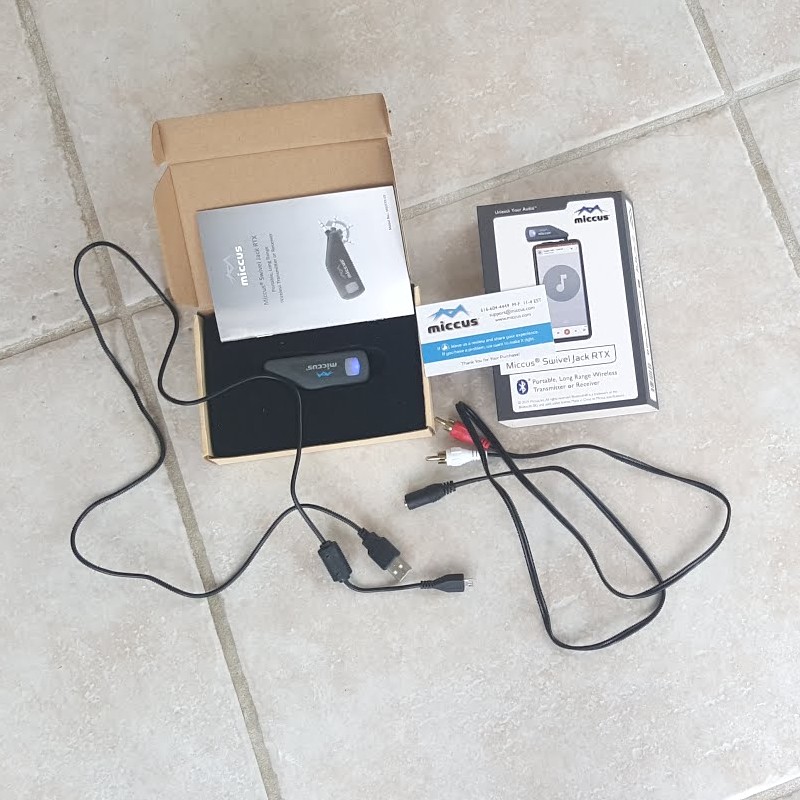 Specs
3.5mm Stereo Audio Input and Output
Operating range of up to 100ft
2.10 Hour battery life
USB Power: DC 5V @500mA or higher
Dimensions: L 1.9in x W 0.8in x H 0.5in
4 GHz operating frequency
Design and features
There's a single jack on a swivel, for easy positioning no matter which device you plug it into. And the jack tucks back into the body when not in use.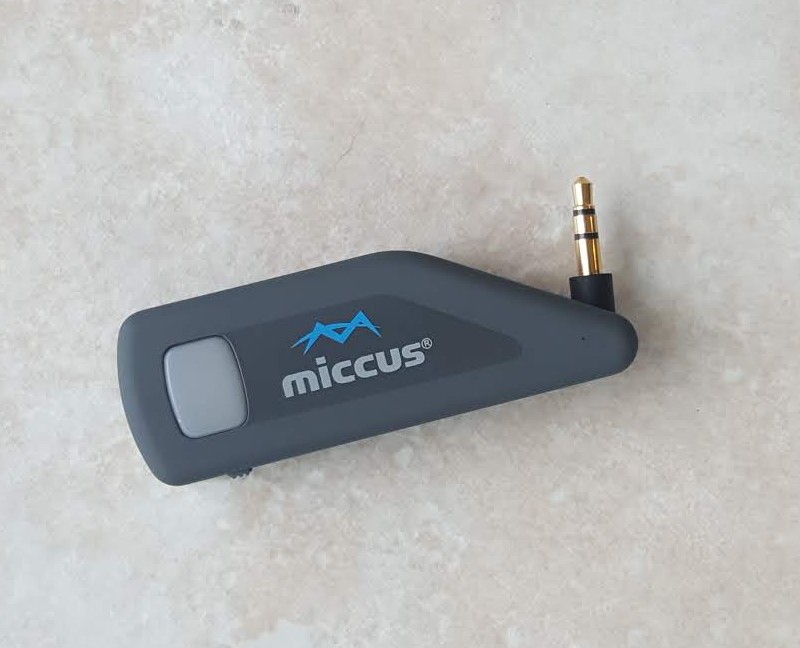 Its blue light flashes rapidly when it's pairing and glows solid blue to confirms if it's working.
We found it very fast and easy to pair with a Bluetooth device.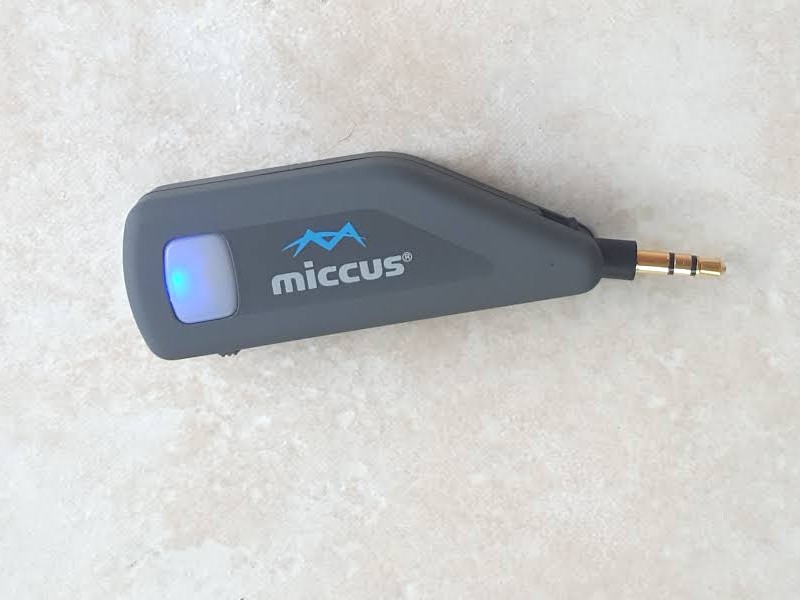 A toggle switch lets you easily alternate from transmitting to receiving.
First, we tried using it as a receiver. We connected it to a portable, mini speaker and paired it with a smartphone in just a few seconds on the first try.
Our speaker didn't have an aux input but that didn't matter since the Swivel Jack RTX came with an RCA cable, which worked like a charm. We appreciated being able to connect with devices that don't come with an aux input.
The Swivel Jack RTX boosts an operating range of up to 100 feet. We tested it at 75 feet, outside on a crummy day, and it worked quickly. However, it was a less stable connection than the closer range audio. We were still impressed with the quality of the receiver at that distance and plan to use it this summer to play music in our backyard and pool area.
Next, we tried using it a transmitter, which worked equally as well. In fact, we thought the sound quality was just as good as our wired connection without any noticeable delay.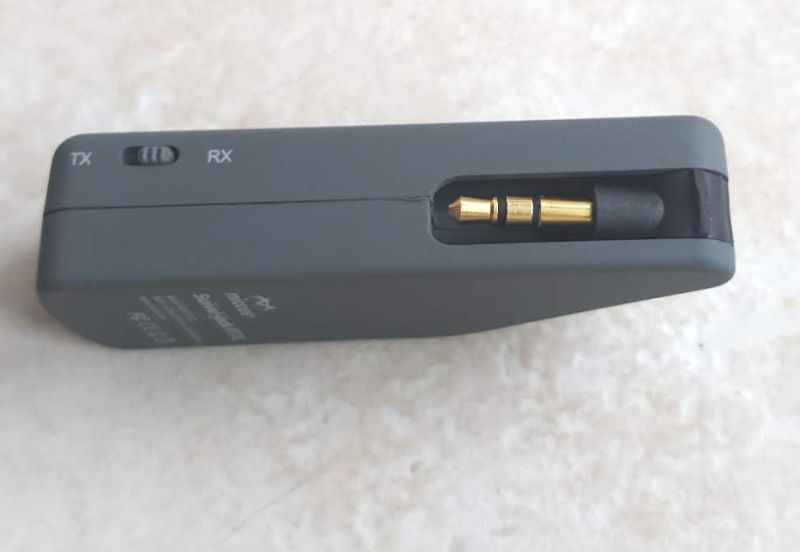 Size wise, we found it fine for plugging into a car or speaker. However, it's about twice as wide as a typical smartphone, which we found bulky when attached at the headphone jack. It wasn't a big drawback but ideally would have fit within the phone's edges.
The Swivel Jack RTX glows red when charging and turns off when it's done. It took about 40 minutes to fully charge and lasted more than three hours on one charge, which was a pleasant surprise since the manual says it only lasts two hours.
What I like
Fast pairing
RCA cord came in handy
Swivel design made it easy to plug in anywhere
What needs to be improved
We found it a little bulky when using with a phone
Final thoughts
It's a powerful little receiver and transmitter with many practical uses.
Price: $39.99
Where to buy: Miccus.com and Amazon
Source: The sample for this review was provided by Miccus.com.