We use affiliate links. If you buy something through the links on this page, we may earn a commission at no cost to you. Learn more.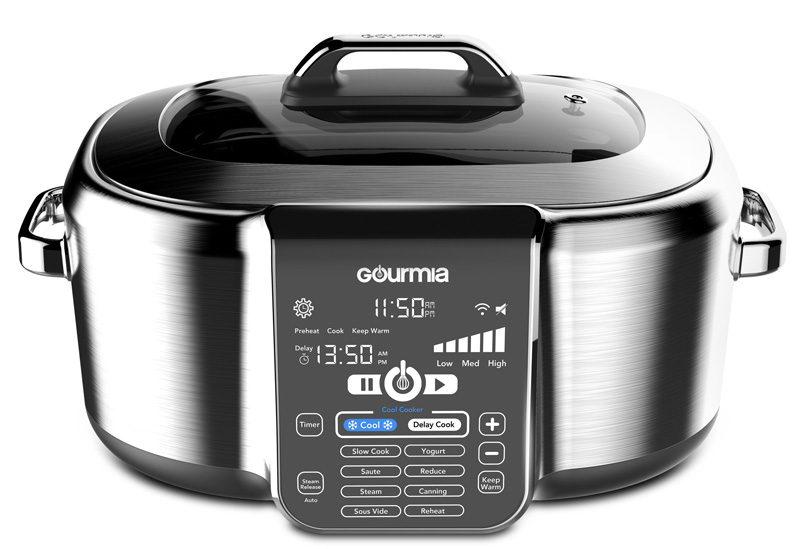 NEWS – It doesn't get much better than coming home to a freshly cooked meal.  Slow cookers have offered that convenience to home chefs for quite some time.  Toss in the good stuff, set it for low and slow, and come home to a house that smells amazing and fall-apart tender food. But, what about those meals that don't need 8-10 hours?  Some cookers had timers that could start the cooking process several hours later, but your food would sit for hours at kitchen temperatures, just waiting to turn nasty. What if your schedule changes and you come home early or late?  You have undercooked food and spend some quality time with the microwave, or overcooked, mushy food that nobody wants to eat.
Gourmia has solved that problem with their new line of Internet of Things (IoT) CoolCookers. Gourmia is rolling out a new pressure cooker (GPCC1960) and multi cooker (GMCC1970) with built-in refrigeration to 35 degrees.  These units will keep your food fridge-fresh until cook time.  In addition to keeping your meal fresh and healthy, they also bring internet accessibility via WiFi and an IOS and Android app as well as integration with Google Assistant and Amazon Alexa.  I don't think it quite gets to the dream of saying "Alexa – what's for dinner?", but it's a start!  What the app does do is allow for remote changes if your schedule changes.  If you're running late home from work, you can delay the cook time, right from your smart device.  Of course, you can't tell it to cook more food, because your boss is now coming for dinner.
The pressure cookers offers Gourmia's state-of-the-art automatic pressure release, an auto stir system to stir the food, and fully adjustable pressure settings.  Via the app, chefs can also remotely release the pressure, allowing for pressure cooking without having to be right at-hand at a specific time.
The multi cooker has a spacious 6.5 quart capacity and provides 11 different cooking functions including sauté, bake, roast, steam, sous vide, and stew. For those of us with limited kitchen cabinet space, having one device that can handle all of these cook methods is a great space saver.
Gourmia is ETL certified, meaning that their products have all undergone rigorous safety testing and meet Underwriters Laboratory (UL) standards for safety.
Both CoolCookers will be available later in Q4 of this year at major retailers.  Pricing is set at an affordable $199.  For more information go to www.gourmia.com.