We use affiliate links. If you buy something through the links on this page, we may earn a commission at no cost to you. Learn more.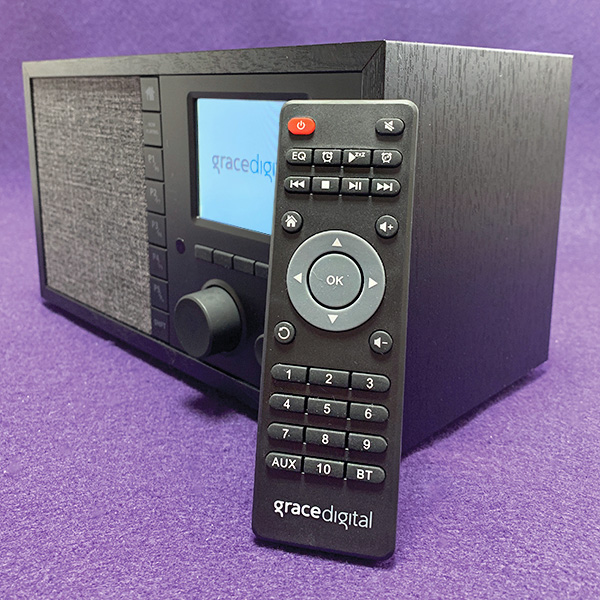 REVIEW – This is my third Grace Digital internet radio review and it feels like it's come full-circle. You see, in 2012 I reviewed the original Grace Mondo and last year, their Encore+—both internet radios that provided just about all you could want for dialing in radio stations from around the world. Which leads me back to the Mondo—only this time, it's the Mondo+ Classic—an internet radio with a more retro look than even the cool looking Encore+ and way better features than the original Mondo.

What is it?
The Grace Mondo+ Classic is a plug-in (no battery) table-top internet radio and Wi-Fi speaker with built-in Bluetooth and Google Chromecast. With the appropriate built-in controls or smartphone app, the Mondo+ Classic can pick up over 100,000 internet radio stations. The Mondo+ Classic can be used as a radio alarm clock, radio, Bluetooth speaker or multi-room speaker (with Chromecast).

Specs
Integrated 10 watt Qi wireless charging pad
3.5 in. color display
Bluetooth 4.1
USB port for recharging smartphone or tablet
Chromecast
Multi-room audio
Width: 10.1 in. Depth: 4.25 in. Height: 6.1 in.
Weight: 1.6 lbs
12 or 24 hour clock with date and 5 individual alarms
Snooze timer
30 backlight daytime and nighttime modes.
Class D 25watt amplifier
4" full range speaker
Integrated MaxxAudio technology from Waves Inc.
RCA outputs
3.5mm stereo headphone jack
Aux input
Built in dual band equalizer 5 preset equalizer modes
Built in media player
Supports 11 audio formats: AIFF, AIFC, WAVE, CAF, NeXT, ADTS, MP3, AAC, Ogg Vorbis, FLAC, WMA
Dual band 2.4/5ghz 802.11n wireless

What's in the box
Mondo+ Classic
Power adapter
Infra-red remote control
Two Wi-Fi antennas
Quickstart guide
Design and features
There are so many features on the Mondo+ Classic, that it's hard to know where to begin. One look at the manual and you just know you're in for some involved reading. This review won't cover every available feature—just the most important ones.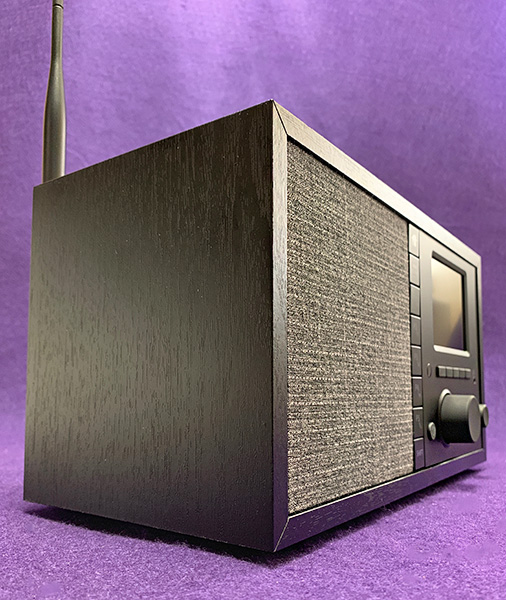 Let's start with the wood cabinet. The radio's retro styling has a 50s look that will fit any decor. It comes in both black or walnut with a tasteful gray cloth-covered speaker grill. On the front panel are many buttons and rotary dials that do, well—a lot. Besides the usual power button, there's a large dial that scrolls through whatever is on the 3.5 in. color display at the time. For instance, it will scroll through the Home screen icons and deeper when those icons (apps) are opened. Next to the large dial is a smaller volume/mute dial, power button and a much used back button that returns you to the previous screen. Above the dials are a row of buttons that perform whatever function is shown at the bottom of the display—they line up with the buttons making it easy to navigate.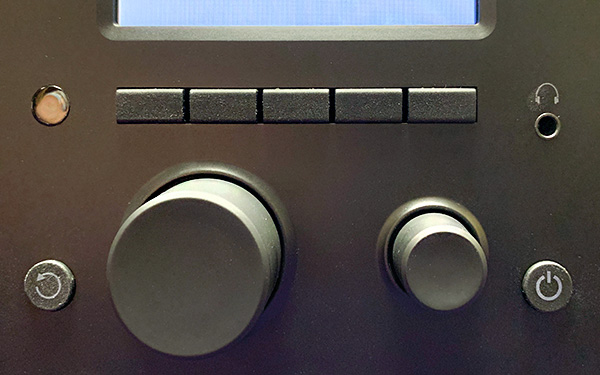 In the center of the Mondo+ Classic front is a row of vertical buttons that contain a Home button and Now Playing button that shows additional information about what artist is playing and other info—if available from the source you're listening to. Otherwise, it's blank. Below that, sits 5 programmable buttons that let you set up to 10 favorite stations—a very handy feature. There's also an included mini plug headphone port.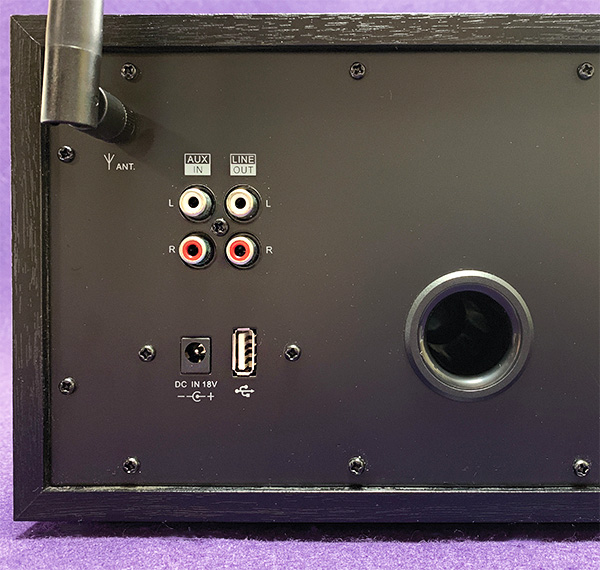 The back of the Mondo+ Classic cabinet contains an RCA out (for connecting an additional speaker), AUX in (except that its RCA instead of the more popular mini plug), and a USB port that can either charge a smartphone or play music from a thumb drive. Pretty cool. There's also two included coaxial Wi-Fi antennas.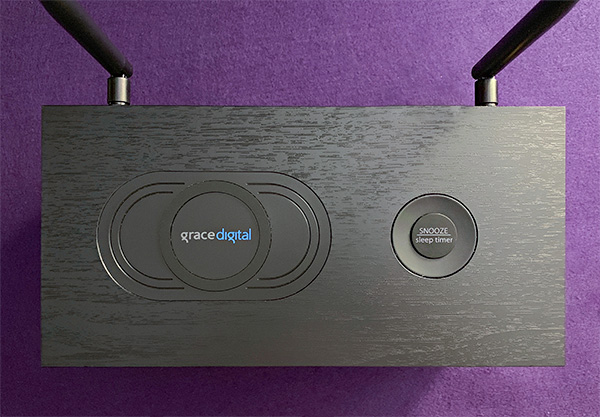 The top of the Mondo+ Classic has a snooze timer that buys 10 minutes of extra sleep time for those who can't immediately jump out of bed when the alarm goes off. If 10 minutes isn't enough, it can be set in 10 minute increments for as long as desired. But that's not the interesting part. Taking up the majority of real estate on the top of the radio is a 10 watt fast Qi wireless charging pad that works with the majority of smartphones that include wireless charging. It was smart for Grace to include the wireless upgrade. It works quite well with my iPhone XS Max.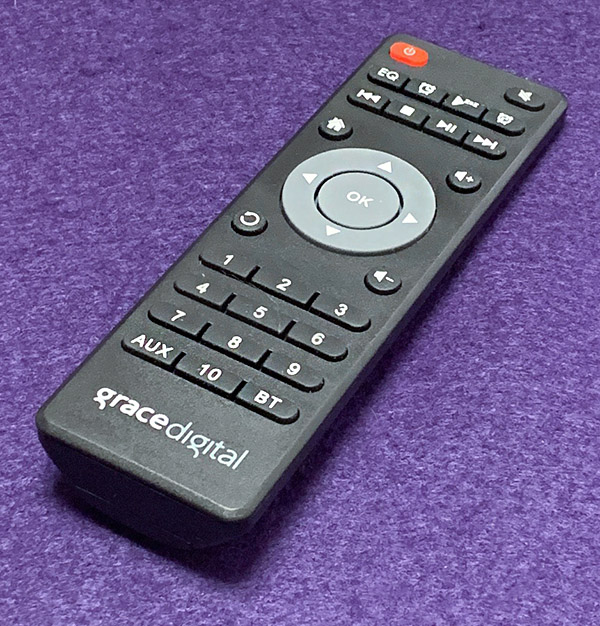 A remote is included with the Mondo+ Classic. It performs the basic functions you would expect, but also has a couple of time-saving buttons that instantly take you to Home, Equalizer, Bluetooth or Alarm settings. Yet, even this handy remote pales in comparison to the Grace GD Control app for iPhone and Android.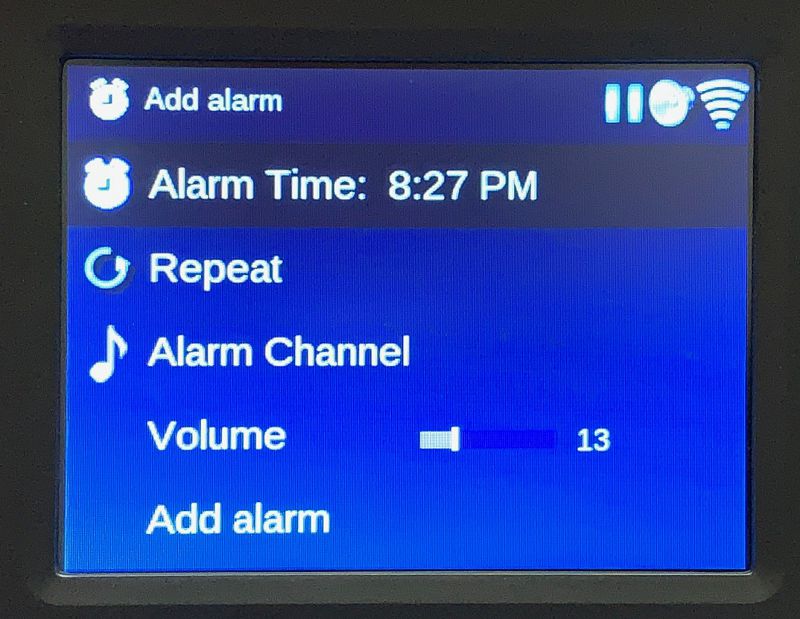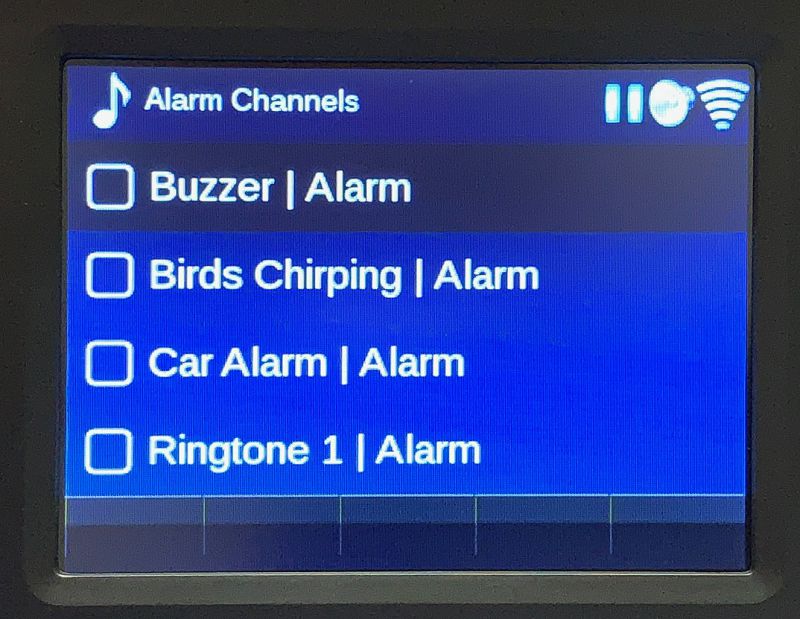 The built-in alarm turns the Mondo+ Classic into a clock radio. You can set a wake-up alarm and a sleep timer as well as the already mentioned Snooze feature. The alarm fades in which makes waking up to music or news a bit smoother.
I've said this in previous Grace internet radio reviews and it's still true: Navigating through the Mondo+ Classic's display menus using the dials and buttons on the radio is frustrating at best. The remote is a little better, but the GD Control app is the preferred method of Mondo navigation—by far.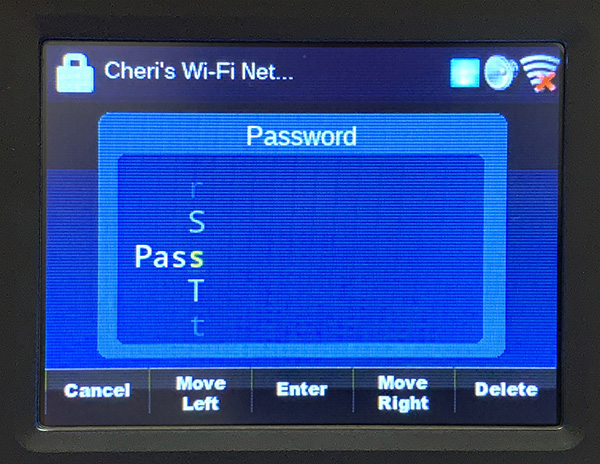 Before the smartphone app is downloaded, you have to match the radio with a Wi-Fi network from the on-screen list and then dial in the password. This process alone may make you want to tear your hair out. It took me quite a while before I became adept at scrolling the letters and numbers for inputing the password without over-scrolling many times. Arghhhh. Then you can download the app.
However, once you get past that point, you're golden.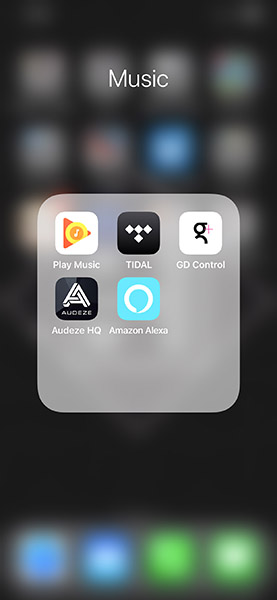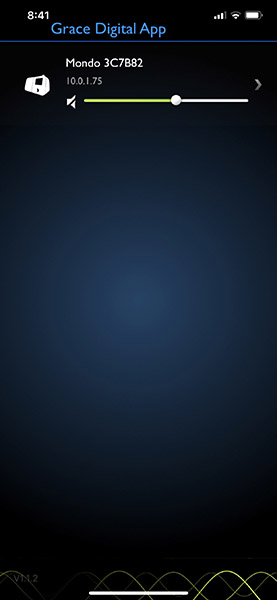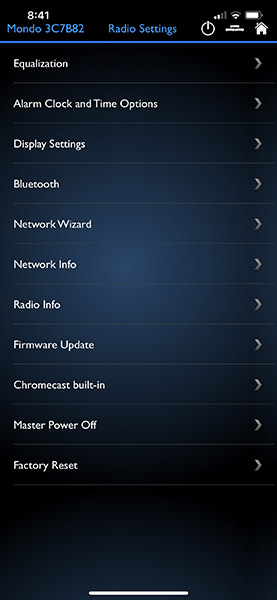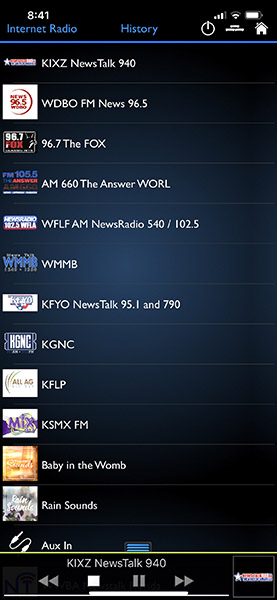 When I first used the app, I tapped on Google Play and within seconds, I was listening to my saved playlists through the Mondo+ Classic. Switching over to the Apple Music app was seamless—it instantly began playing the song I selected. Google Play is accessed through Chromecast, which has many other enabled apps—Pandora, Deezer, SiriusXM (if you subscribe), Spotify, Tidal, YouTube Music, I Heart Radio and more. In addition to Google Play, I've used Spotify and Tidal which also worked perfectly. Chromecast doesn't build in these apps, it links to them instead, so you're using the original app. This can simplify things considerably. As you use the GD Control app, you can see your choices instantly reflected on the Mondo+ Classic's screen.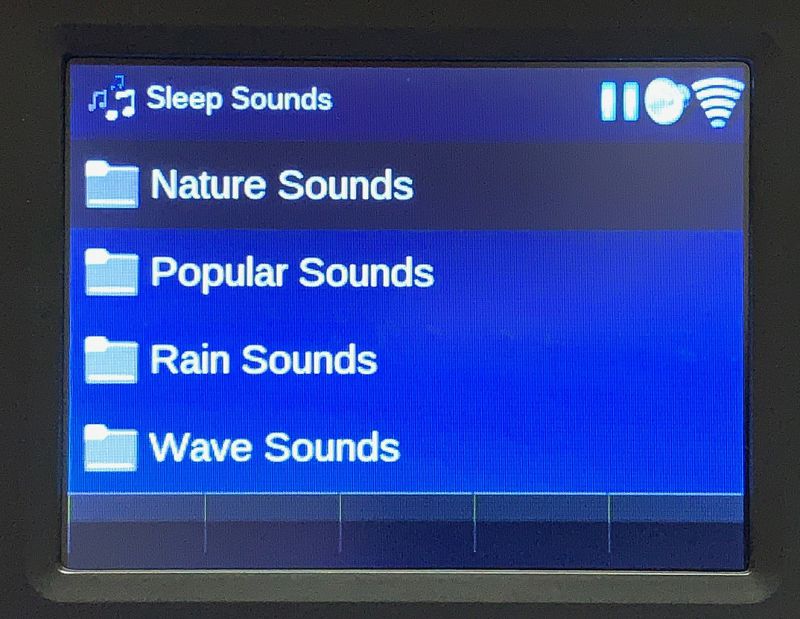 If you're looking for environmental sounds to help with sleep, the Mondo+ Classic features many different rain, nature, and ocean wave choices, plus popular sounds—such as hairdryer, car interior and even baby in the womb (it sounds like a muffled heartbeat). Again, there are too many to mention.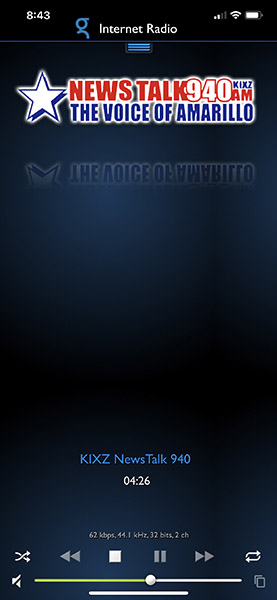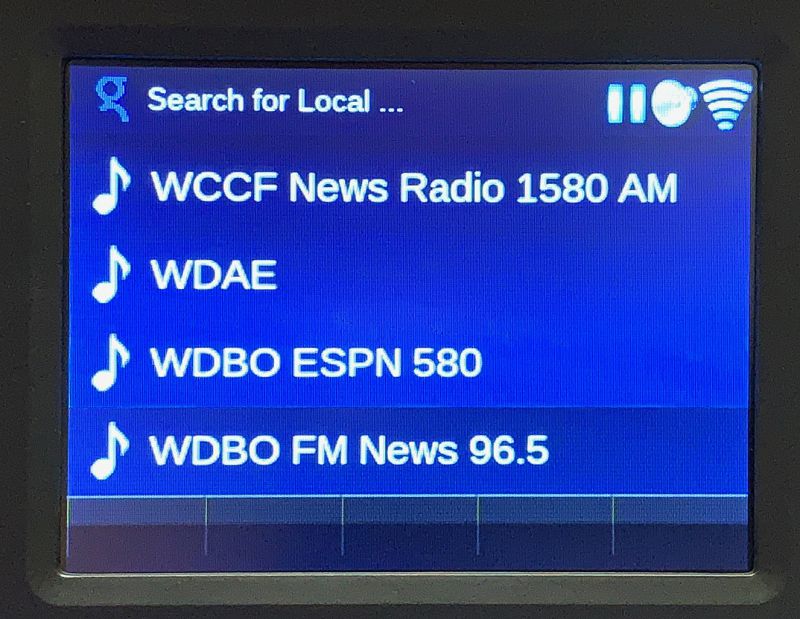 So, how does the Mondo+ Classic sound? It depends—as a Bluetooth, Chromecast or USB player, the Mondo+ Classic's speaker can sound pretty good. However, if your goal is to listen to music using the internet radio, forget it. It's not the Mondo+ Classic's fault, it's just that music from internet radio stations sounds only as good as an okay FM station—usually worse. If you're into talk/news radio or sports (you miss those local broadcasts of your favorite team while growing up), then the Mondo+ Classic is just about perfect.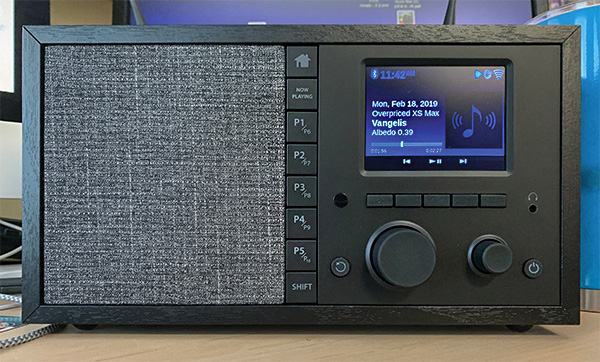 Note that the following audio comments only deal with Wi-Fi and Bluetooth signals, not internet radio.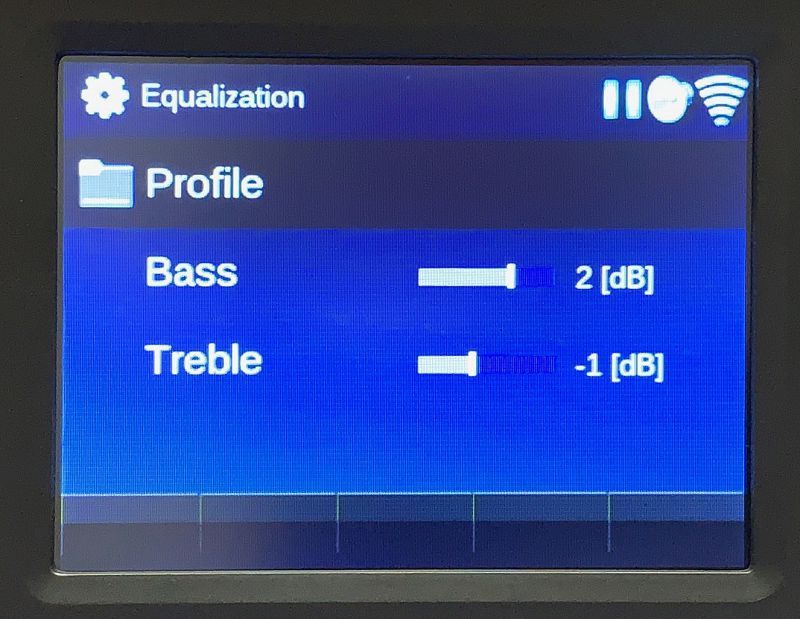 The previously reviewed Grace Encore+ has stereo speakers plus a down-firing woofer speaker. A single-speaker table-top radio with just can't compete with that and it doesn't try. However, for what it is, the sound comes across as balanced between all frequencies. The bass goes low enough to be heard without being overpowering. Also, treble does not sound harsh or sibilant. The middle frequencies are a bit forward, which is good because a lot of radio is talk oriented and voices reside in the middle frequencies. For those who wish to tweak the audio, there is a simple built-in equalizer for boosting or reducing bass and treble. So whether you're listening to music or talk (radio or podcast), both will sound good for table-top use.
You are not restricted to a single room with the Mondo+ Classic. Because of Wi-Fi and Chromecast, the Classic can be connected to other Chromecast speakers—made by Grace Digital or not. This can give you a houseful of music or each room can be set up to be independent from other rooms and play its own music. 
What I like
The Mondo+ Classic is a solid and useful internet radio that's fun to use. It's made for the kitchen, bedroom, home office or even the entire house (if connected through Chromecast). The GD Control app is easy to use and intuitive. 
What needs to be improved
Navigation, especially with having to first enter a password or information is a joke. But once that's done, using the GD control app is easy.

Final Thoughts
I've often wondered how internet radios can fit into today's lifestyle, but with Grace Digital building in Chromecast, Bluetooth and multi-room capabilities, the usefulness of their products has expanded well beyond depending on the internet.
Price: $249.99 US
Where to buy: Amazon
Source: The Mondo+ Classic sample was provided by Grace Digital.