We use affiliate links. If you buy something through the links on this page, we may earn a commission at no cost to you. Learn more.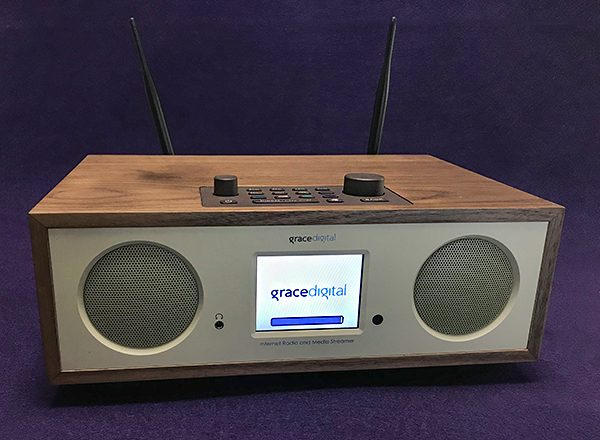 Five years ago, I said this about the Grace Mondo portable internet radio, "After using the Grace Digital Mondo Wi-Fi Music Player and Internet Radio for a few months, I have come to one conclusion: Anyone looking for a portable radio today that does not choose an internet radio is wasting money." That statement might sound a bit out of date in today's age of smartphones connected to Bluetooth speakers. Even so, I can still see the appeal of a portable internet radio like the Mondo—notice I said portable. I've never been entirely convinced that a larger table-top internet radio is necessary. Grace Digital obviously disagrees and thinks tabletop radio is still relevant because they updated their Grace Encore stereo Wi-Fi speaker and internet radio with the new Encore+.
What is it?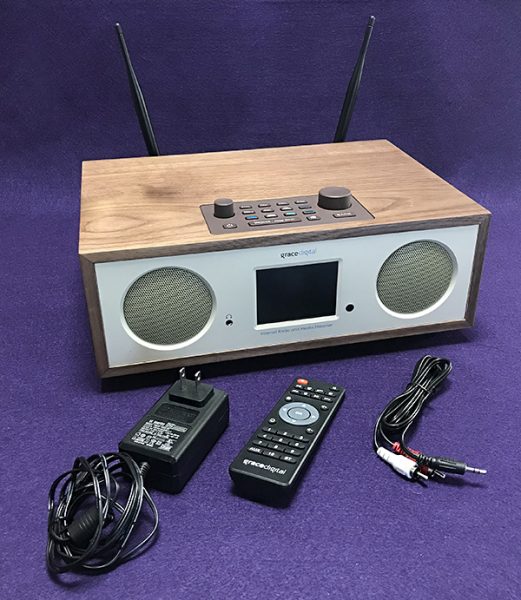 Present day internet radios beg the question, "Why would anyone desire an internet radio, when their smartphone will do most everything the radio will do?" Hopefully, this review will answer that question.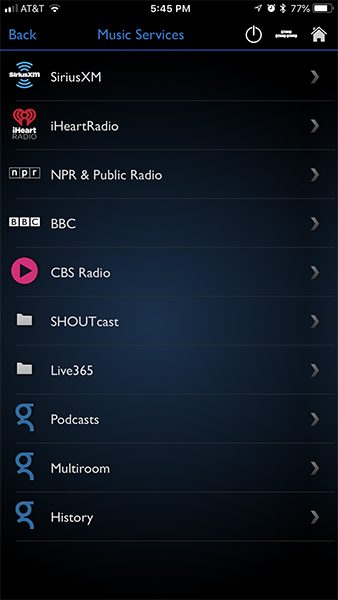 The Grace Encore+ stereo Wi-Fi speaker and internet radio is an updated version of their original Encore radio. The Encore+ now comes with built-in Chromecast and its many enabled apps. If you are a fan of internet radio sites, like (local and distant) AM/FM stations, I Heart Radio, BBC, NPR, Fox, CNN—just to name a few—you'll love the Encore+. If you want multi-room audio—without paying for propriety systems like SONOS or HEOS—the Encore+ will do that too. Plus, it works with other Chromecast enabled speakers as well.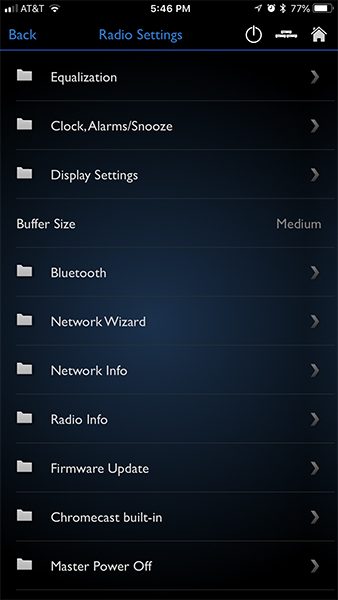 The upgraded Encore+ also comes with Bluetooth which makes it much more useful than the previous Encore. This matters, because you now can have your cake and eat it too by switching between radio, Chromecast and even Apple Music (via Bluetooth). You really do get the best of all worlds.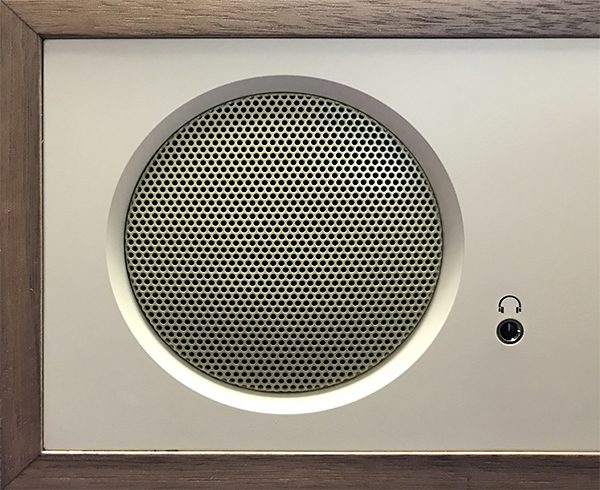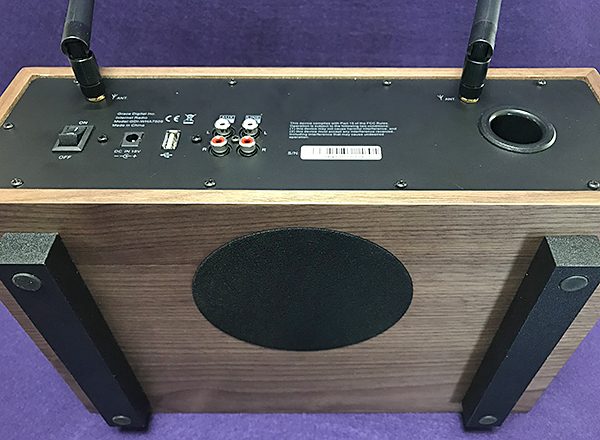 But it matters even more because the Encore+ doesn't just sound like most other wireless radios. There's some serious audio stuff going on here. There are two 3 in. front facing speakers with a down-firing subwoofer driven by a class D amp. This subwoofer gives the Encore+ a significant audio advantage over other table-top radios in its price range—along with all of its added internet benefits.
The front of the Encore+ has a large color screen that can display settings, media, cover art or other info whenever you want. There's also a free smartphone app that is a breeze to use and practically a must-have. More on that later.
Specs
The specs of the Encore+ is overwhelming. Visit the Grace website for the full list. Here are some highlights:
Audio
Class D Digital 12watt amplifier
2-3″ front facing speakers with a down-facingsubwooferr
3.5mm Stereo headphone jack
L/R RCA outputs
RCA Aux in
USB port
Integrated dual band equalizer with 5 preset modes
Remote Control iOS and Android App
Built-in Chromecast audio software that integrates with Google home.
Clock & Alarm
12 or 24 hour clock with date
5 individual alarms
Sleep Timer
Smartphone Remote Control Apps
Control your radios via the front panel, included remote control, or from anywhere in your house via the Grace Control Apps loaded on your smartphone or tablet.
Size & Weight
Width: 13.5 in. Depth: 10.75 in. Height: 5.75 in.
Weight: 8.5 lbs
Networking
802.11n wireless connectivity
Design and features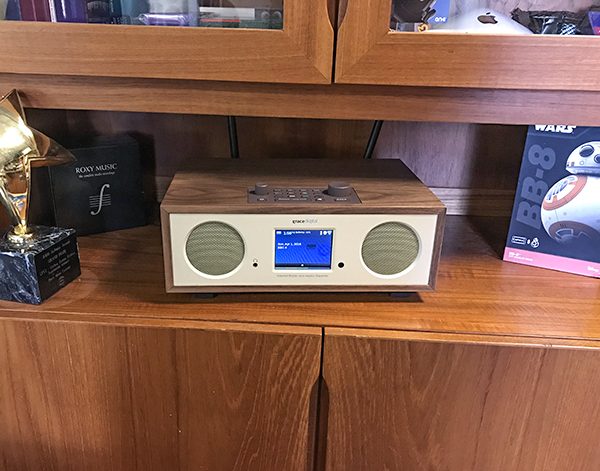 The Encore+ is a table-top radio, so even though it can be moved from room to room, it's not portable. It needs to be plugged in at all times—there is no battery. The retro mid-century modern design comes in either all black or walnut wood and looks good with any decor. I  prefer the classic walnut finish to the more modern black. 
Included is a clock/radio function making the this a perfect nightstand companion—provided your nightstand has the available real estate to accommodate the wide and deep Encore+.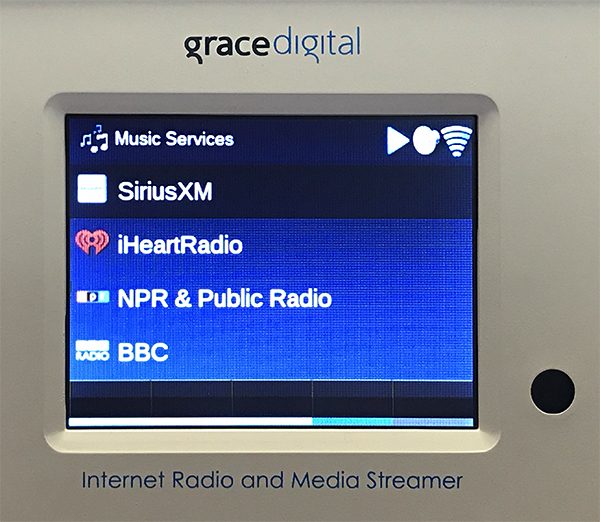 A 3.5 in. front color screen shows whatever function the Encore+ is performing, plus other information you may want to display. While the colors are bright enough, the screen is not angled upwards as on the Mondo radio making the screen more difficult to read without bending down to look straight at it. Even so, the screen can bes helpful to see info at a glance. There's also a headphone port on the front.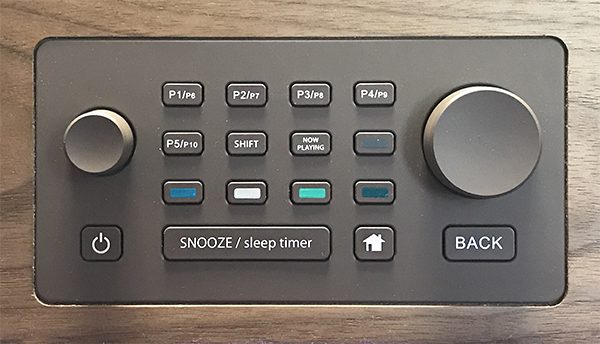 A top panel contains a volume knob, power button and a now playing button that displays artist info, cover art, etc. on the front screen. There's also a tuning knob, a handy back button that takes you to the previous screen, home button and that ever popular clock-radio snooze button. 
Finally, there are five color coded buttons on the top panel that correspond to whatever function has the matching color seen on the screen. So what they do is dependent on what is visible on the screen. I found these buttons to be more trouble than they're worth and now ignore them.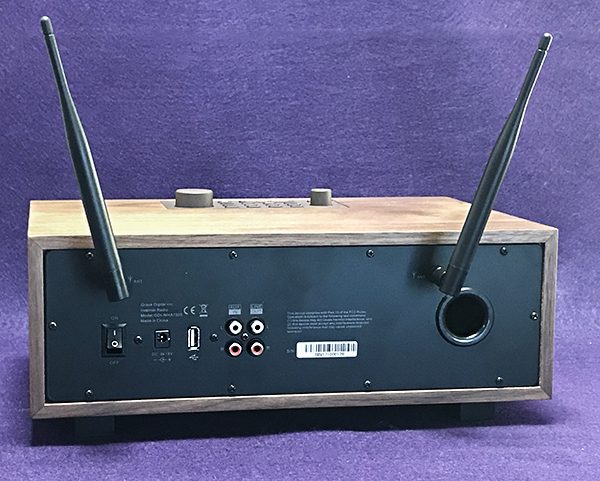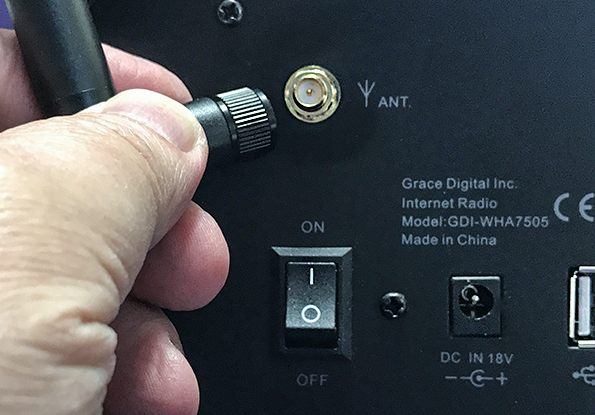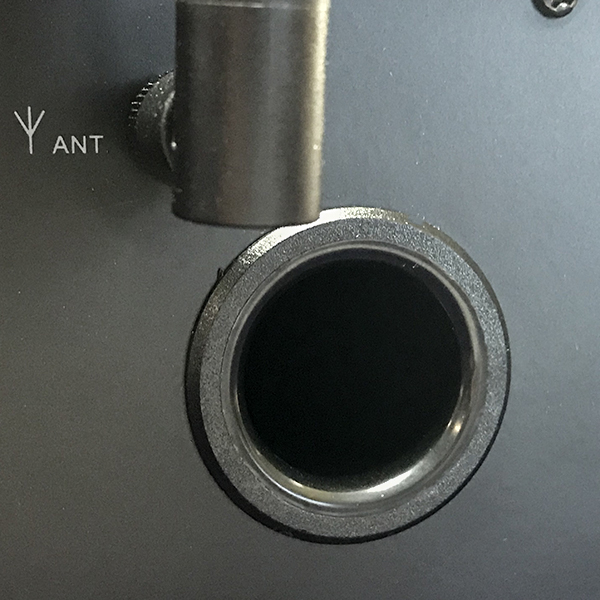 The back panel houses two antenna connectors giving the Encore+ a better than good range. There is a power switch, and AUX in ports along with a UB port for connecting hard drives or thumb drives and a bass port. Finally, there are RCA line out connections for connecting external speakers.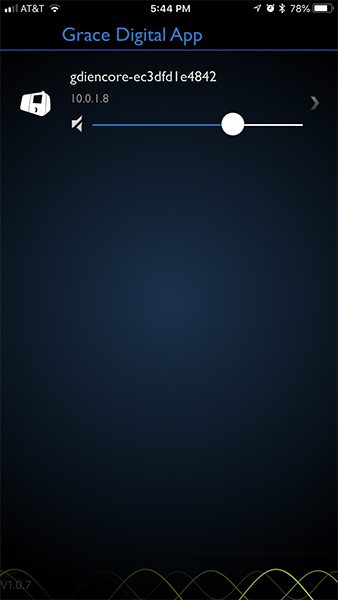 While it's technically true that you don't need Grace Digital's GD Control app to run the Encore+, you want this smartphone app! Without it, navigating the screen with only the buttons on the unit or remote is a nightmare. The iOS/Android GD Control app lets you do anything the top panel will do, but with an added ease of use. Unfortunately, there is no equivalent Mac or PC app.
As with the recently reviewed Solis speakers, I still hold that Apple Music has an edge over Chromecast in ease of use and sound quality. Music just seems more alive through Apple music. Android users may get different results, but to this iOS user, Apple wins every time in audio quality compared to Chromecast. 
Seeing album cover art on the Encore's front screen worked well with Chromecast, but not so well with Apple Music or when streaming my own music from my hard drive. That's not a big deal for me because I seldom look at the Encore+ screen for that kind of info. However,  it's nice to have info available should you want to see what's playing. Cover art along with other information is also available when using the built-in SiriusXM app. I haven't been able to figure out why cover art from Apple Music doesn't carry over to the Encore+.
Note that you must have full SiriusXM capability to use it with the Encore+. My SiriusXM account only covers my car and nothing more, so I wasn't able to use it with the Encore+.
Despite the usefulness of Bluetooth, Chromecast or even internet radio, the Encore+ really excels with its audio quality. The front facing speakers handle mids and high frequencies quite well with enough power and clarity to fill any large bedroom or kitchen. It's that down-firing subwoofer that places the Encore+ on another level by playing low notes without distorting. Brian Eno's "Written, Forgotten" is a song I've used before to test bass. There are notes in this song that are more felt than heard and the Encore+ lets you feel—as well as hear— those notes. 
DJ Hell's remix of Bryan Ferry's "U Can Dance" features a visceral kick that requires your body to want to move to the beat. Sure, the lower notes sound better on dedicated stereo speakers, but the Encore+ can more than hold its own (for a table-top speaker) without straining.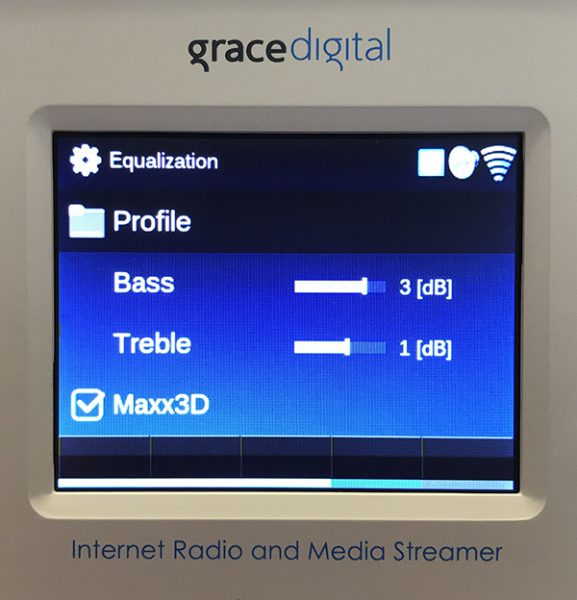 Note that the Encore+ has a built-in equalizer for fine-tuning music to your taste.
Even sports or talk radio sound good on the Encore+. Vocals are clear and easily understood without too much bass or too bright treble. Keep in mind that audio quality and clarity can be dependent on the source, especially when it comes to internet radio. Some stations may sound better than others.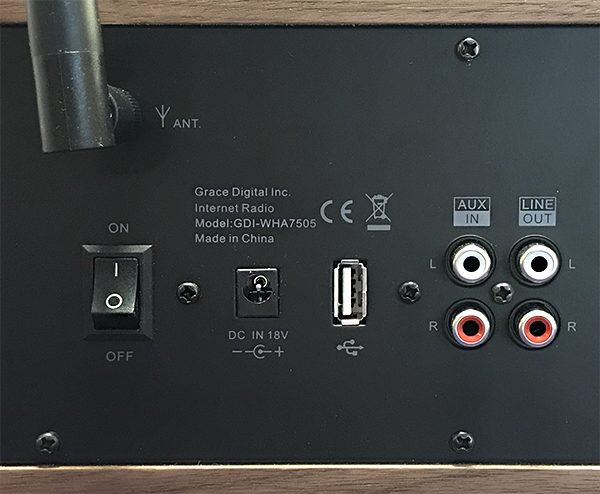 In addition to Bluetooth, the Encore+ can play music from USB and AUX (RCA) inputs. You can even play music stored on a USB thumb drive—which sounds even better than wireless!
What I like
The Encore+ is a jack-of-all-trades kind of radio. It does so much that I've touched on only some of it. I recommend visiting the Grace Digital site and exploring everything it can do.
What needs to be improved
The built-in software has not improved much since the original Mondo radio. At least the free Grace GD Control app exists.
Final Thoughts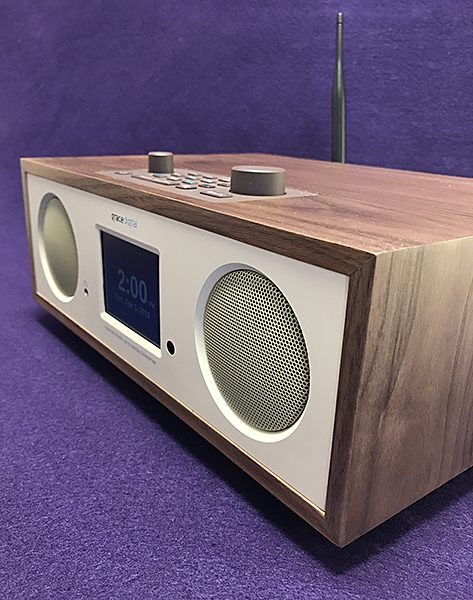 The Grace Digital Encore+ is a worthy radio that does a lot of what's asked of it. I like to think of it as a great-sounding Bluetooth speaker that also happens to play many radio formats (including internet radio), is a clock/radio, works with Google Assistant, has a color screen and will even charge your smartphone! My only concern is that time and changing listening habits may eventually pass internet radios like the Encore+ by. I sincerely hope not.
Price: $249.99
Where to buy: Amazon
Source: The sample of this product was provided by Grace Digital.