We use affiliate links. If you buy something through the links on this page, we may earn a commission at no cost to you. Learn more.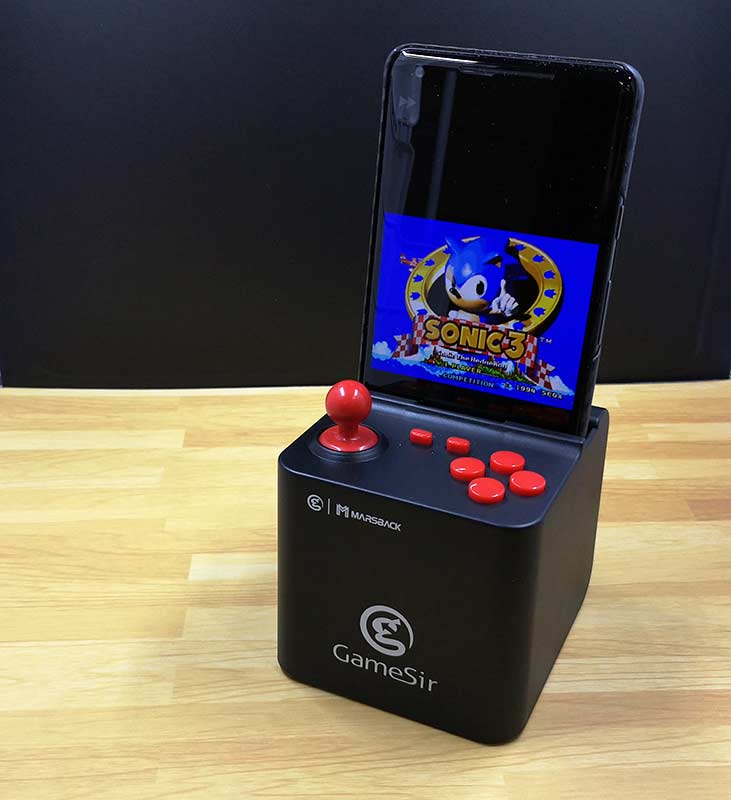 REVIEW – If you want to relive all of your favorite childhood Game Boy, NES, PS, and other games on your phone, you have to use an emulator, but playing these games with onscreen controls is not fun (at least I don't think so). The GameSir Marsback Mini Game Arcade is a fun way to turn your Android or iPhone into a tiny retro gaming console. Let's check it out.
What is it?
The GameSir Marsback Mini Game Arcade is a Bluetooth joystick controller and holder for your smartphone that turns it into a mini arcade machine.
What's in the box?
GameSir Marsback Mini Game Arcade
2 AA batteries
Instructions
Design and features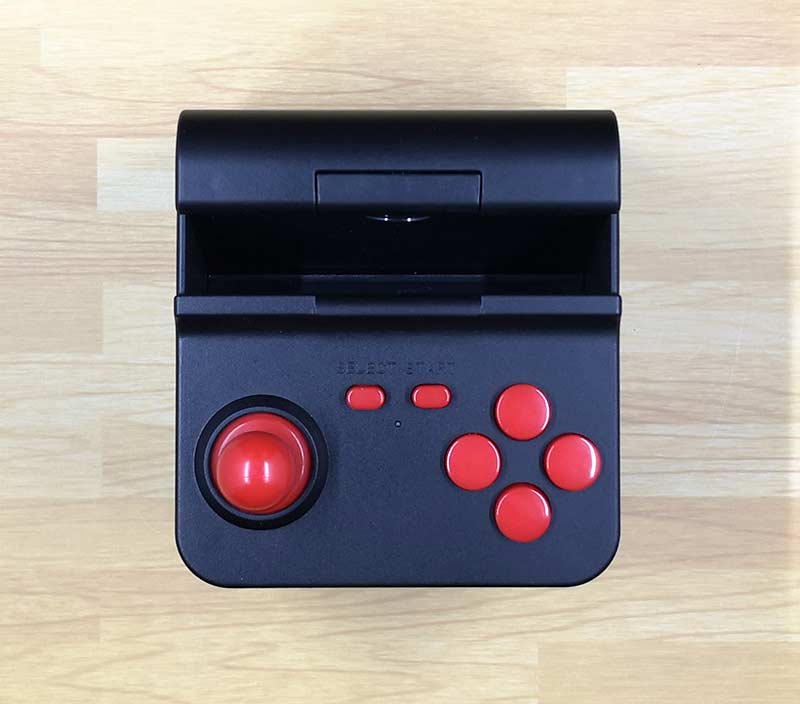 The Marsback (where'd they get that name?) is a square plastic device with a joystick and 6 control buttons on top and a slot for your phone.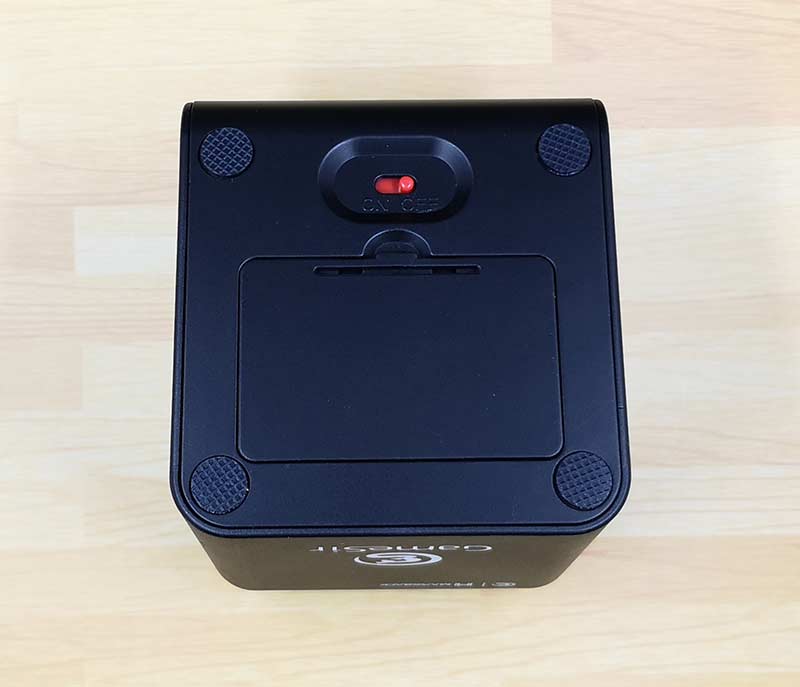 On the bottom are the power switch and battery compartment (2 AA's are included with the unit).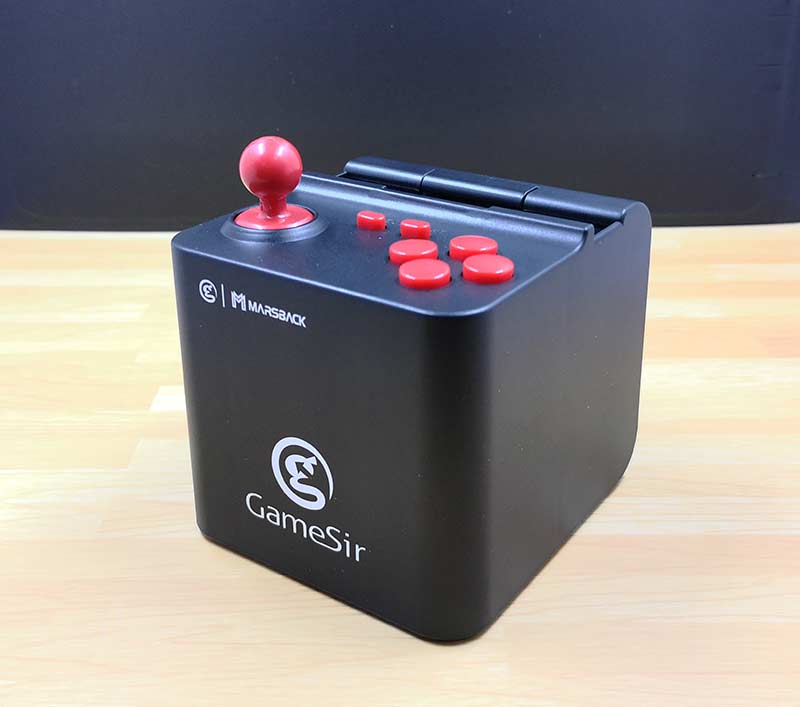 The device isn't very large at only 3.25 x 3 x 3.5 inches.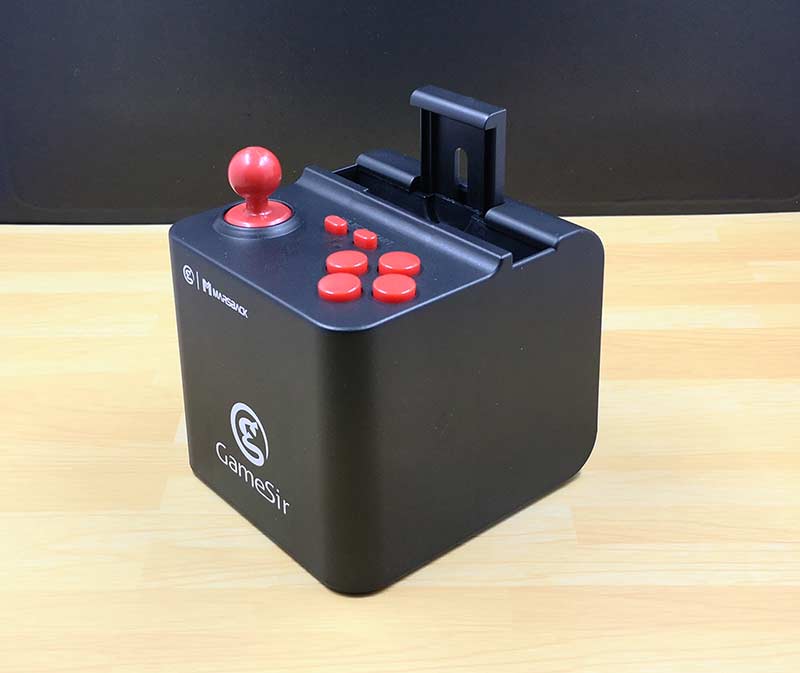 Behind the phone slot is a pull-out backrest if you want to use the phone in landscape orientation with the controller.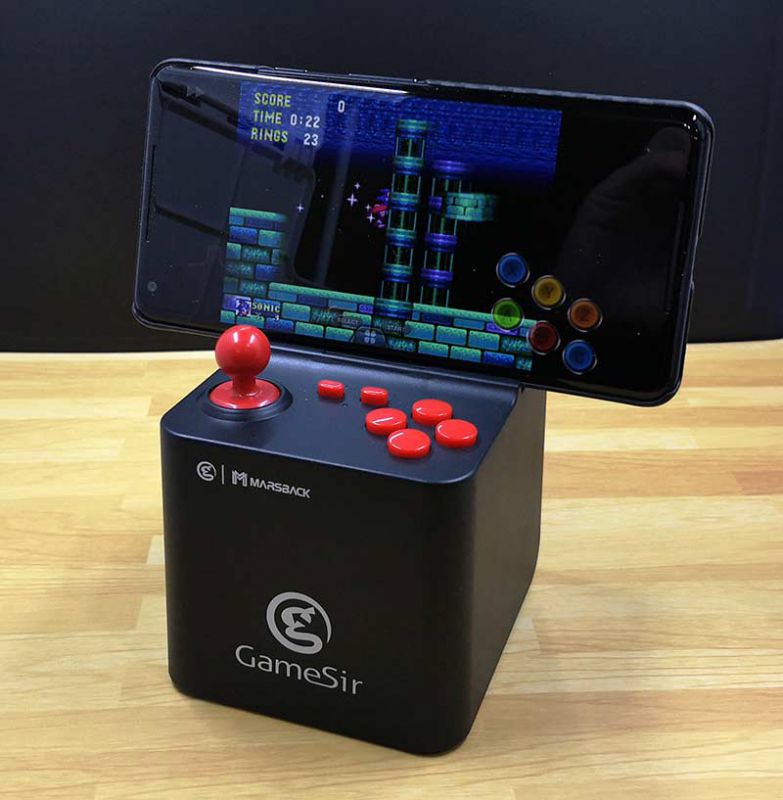 Here we see my Pixel 2 XL resting against the backrest on top of the device. This orientation works fine as long as you are going to play the games on a flat surface. I wouldn't recommend it if you want to hold the Marsback controller in your hands to play games as there is nothing to secure the phone in place and it could easily fall off.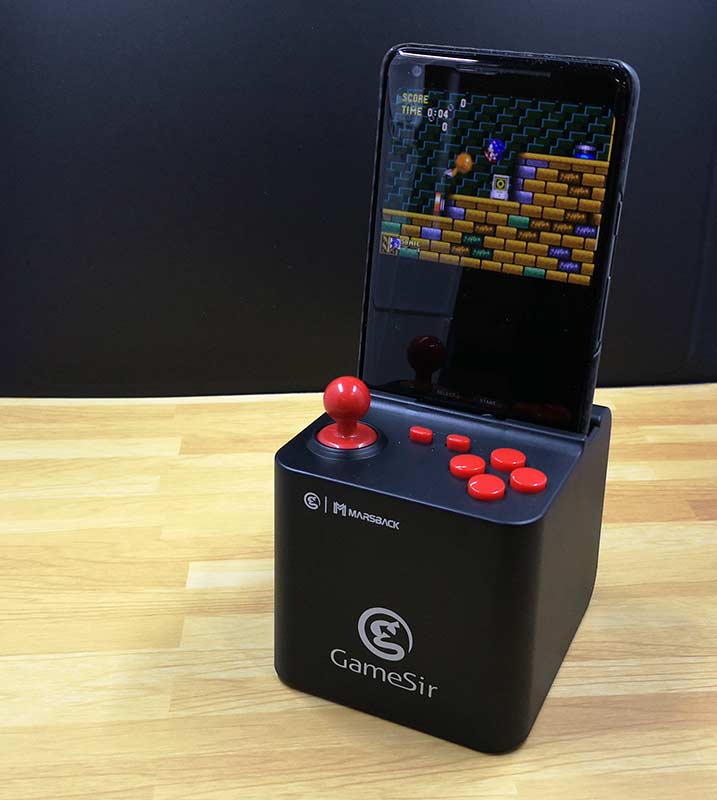 And here we see the same Pixel 2 XL with a Pitaka case inserted in the phone slot. I think this is the preferred way to play games using the Marsback. Yes, the screen is smaller, but you can hold the whole thing in your hands which makes it more portable.
The Happy Chick app
The Marsback controller does not come with any games, but the instructions that come with the controller instruct you to download the Happy Chick app by using the QR code in the instruction sheet. You can see some of the errors and warnings that my Pixel 2 XL showed when I installed the app. Although these errors make the app look pretty shady, I decided to take a leap and installed it anyway. So far my phone hasn't exploded. I also have read that lots of people use this app so hopefully, that means it's not evil.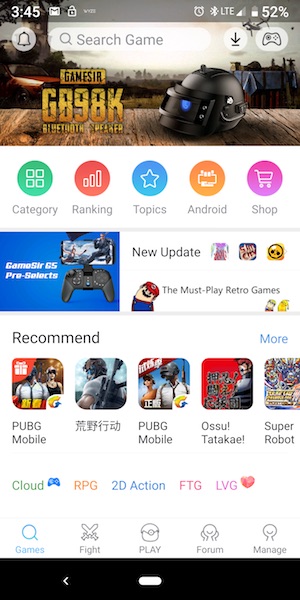 The app is basically an interface that lets you download and play game ROMs on your device. You can search for your favorite retro titles and find them for a variety of devices like the Game Boy, Game Boy Advance, Game Boy Color, NES, and more.
If you're thinking that downloading and playing copyrighted game ROMs (if you don't own them) could be illegal, well yeah, you'd be right. Will you go to jail if you buy and use this device? Highly doubtful.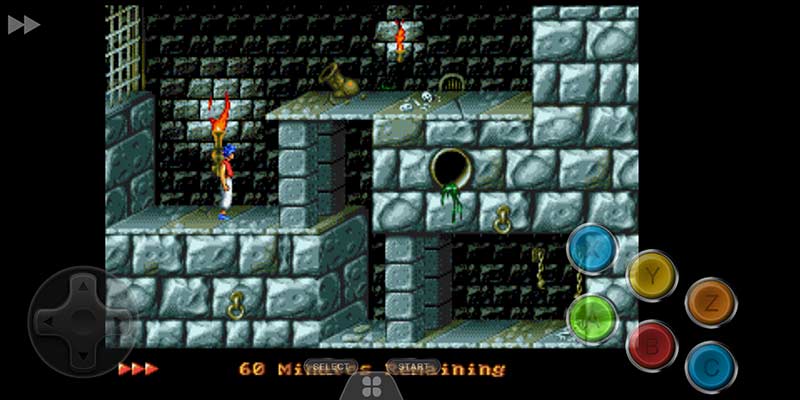 One of my all-time favorite retro games is Prince of Persia, so I downloaded it first. You can actually use the Happy Chick app all by itself to play games as it has onscreen controls, but when you pair the Marsback controller to your device it works perfectly with these old games.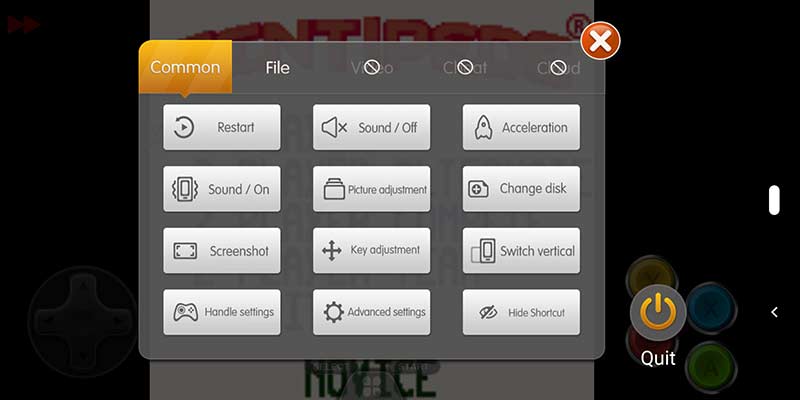 By default, the games display in landscape orientation, but you can bring up the Happy Chick settings to switch orientations.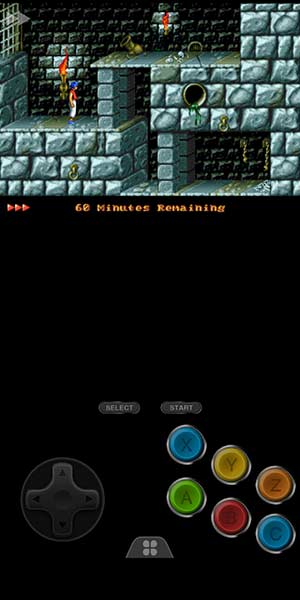 In portrait orientation, the layout is perfect for placing the phone in the Marsback phone slot to create a mini arcade machine.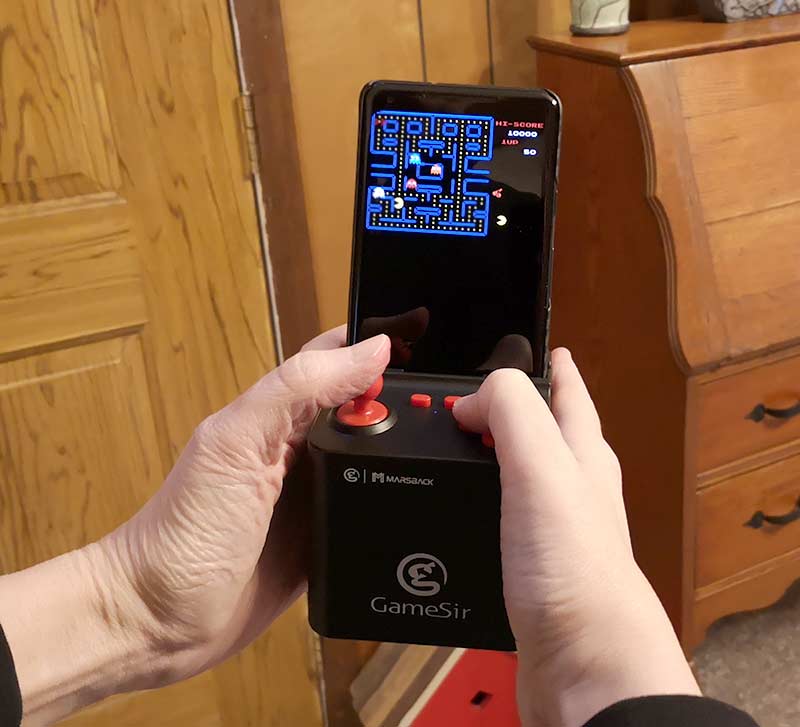 The joystick and buttons are smaller than what you will find on a full-sized gaming controller, but they are responsive and fully functional. Holding a plastic box between your hands to play games can be a little awkward and not nearly as comfortable as using a regular controller. But the idea of the Marsback device is to be a cute nostalgic nod to the standalone arcade games from the '80s and '90s.
What I like
Cute!
Easy to use
Phone can be used in either orientation
What needs to be improved
Put the power button on top so you won't forget to turn it off after a gaming session
Shady Happy Chick app
Final thoughts
I guarantee if you stick your phone in the phone slot of the Marsback mini arcade device and boot up Pacman, Centipede, Sonic the Hedgehog, Doom, or another iconic game from the past, that anyone who walks by is going to ask you about it and want to take a turn playing the game. The Marsback Mini Game Arcade isn't the most fantastic gaming controller I've ever tested. But it is fun to use and at only $34, it won't make your wallet cry but it will make you and your friends smile.
Price: $34.00
Where to buy: Vinpok
Source: The sample for this review was provided by GameSir.