We use affiliate links. If you buy something through the links on this page, we may earn a commission at no cost to you. Learn more.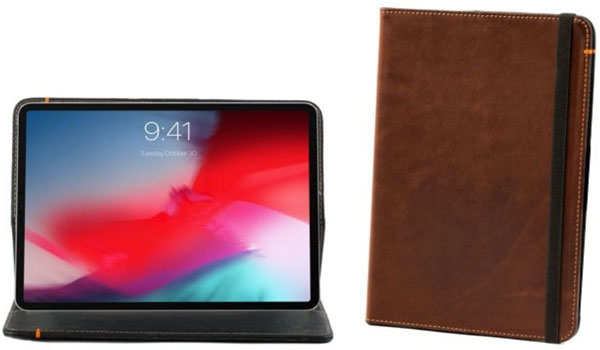 REVIEW – I have used many Pad & Quill products over the years, all created to last decades by artisans with high quality materials and old world craftsmanship. An excellent example of their rugged durability is the P&Q Field bag I reviewed years ago. My wife has used it daily and believe you me, she beats the [email protected] out of it with it taking everything she throws at it in stride. For this review, Pad & Quill has sent me their new case for the latest generation of iPad Pros. So, let's see if the Oxford Leather 11″ iPad Pro case lives up to the Pad & Quill reputation and pedigree.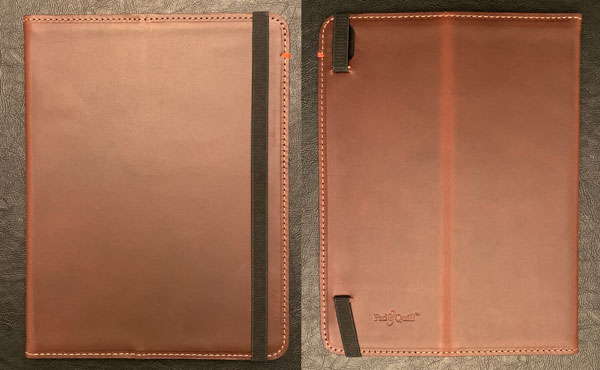 What is it?
The Pad & Quill Oxford Leather case is a book cover style cover engineered to hold and protect your 11″ or 12.9″ iPad Pro. The Oxford is a relatively simplistic cover made from a single piece of gorgeous fine-grain bridle leather.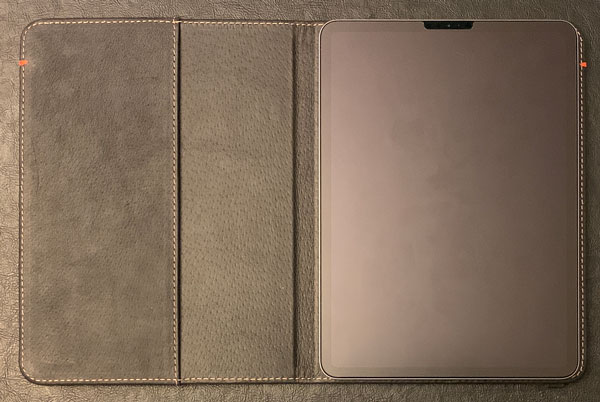 Design and features
The Oxford Leather case is nicely fitted for the iPad Pro. The interior of the book cover style cover is lined with a very soft leather. The left side of the case has a slipper pocket meant to hold a bit of paperwork. The right side of the case is where the iPad Pro is held in place.
Features:
Perfectly fits the all-new 2018 

11″ 

iPad Pro
Smart Keyboard Folio Compatible, though we recommend pairing with Magic Keyboard
Apple Pencil 2 charges perfectly inside of the case
Crafted from a single piece of American Full-Grain Bridle Leather
Strong and Durable Slim Profile
Interior Pocket for documents
Elastic Strap Closure
New Secure Locking Adhesive Technology from 3M, Residue Free
Self-propping iPad Pro Horizontal Viewing Stand built-in
UV-resistant, marine-grade nylon stitching
Smart cover with magnetic on/off feature
Ultra soft American leather interior
Signature of the artisan subtly placed in every case!
25-Year Warranty & 30-Day Money Back Promise

The iPad Pro is held in place by two pieces of "Secure Locking Adhesive Technology" double sided tape from 3M. These strips are residue-free and do a great job holding the iPad in place. That said, while effective at holding a the iPad, no matter how high-tech/fancy…double sided tape is so very 10 years ago. Apple engineers embedded 100+ magnets into the iPad Pro meant to hold accessories securely in place. Pad & Quill's decision to use tape versus magnets to hold the iPad within the Oxford case is just lazy/poor design.

The case uses an elastic strap closure system to keep the Oxford secured closed. The strap acts as a large rubber band that is well made and appears durable enough to last years of use.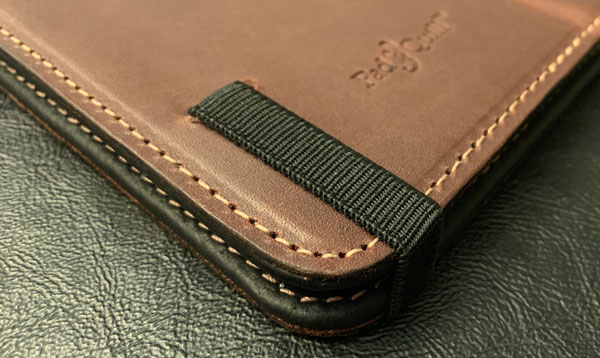 Each end of the elastic band are attached and reenforced into the back of the case. The leather and workmanship on this case are excellent. The fine-grained bridle leather is very well finished, feels great in the hand, and smells wonderful. The stitching is done with a UV-resistant, marine-grade nylon that is nicely done as well.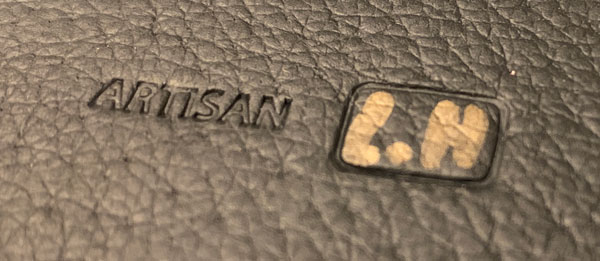 Each Oxford case is individually initialed by the artisan who created it. The initials are located behind the iPad Pro.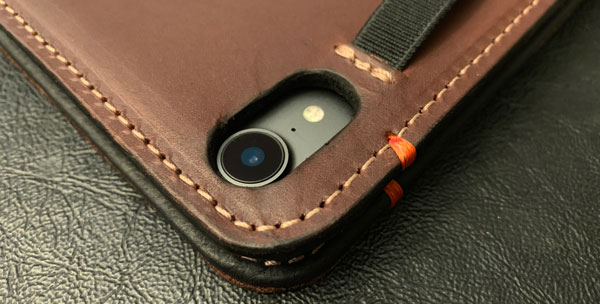 On the back of the Oxford case, there is a cutout for the iPad Pro's camera assembly. Like the rest of the cover/case, the cutout is perfectly sized and nicely finished.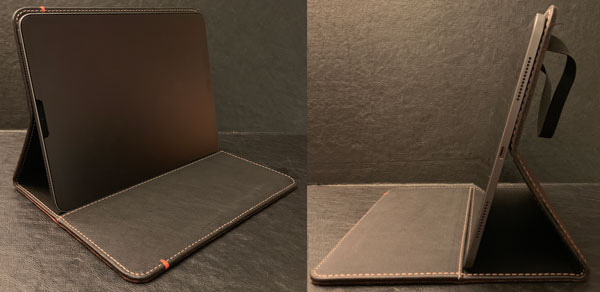 The Oxford is engineered to hold the iPad Pro upright at approximately a 60 degree angle. As the case has broken in, the range of angle it can hold the iPad has grown. Currently that range is approximately 20-30 degrees, so it can stand between 40-70 degrees.

The front cover of the Oxford can be folded backwards out of the way to hold it vertically more comfortably. That too has broken in and is easier to fold as time has passed.

The Oxford is Smart Keyboard Folio Compatible, though "we recommend pairing with Magic Keyboard." I would agree using this case in conjunction with the Apple Keyboard cover would be cumbersome.

The Oxford is a smart cover with magnetic on/off feature that automatically turns the iPad's screen off when closed. As you can see, this case more than doubles the thickness of the 11″ iPad Pro.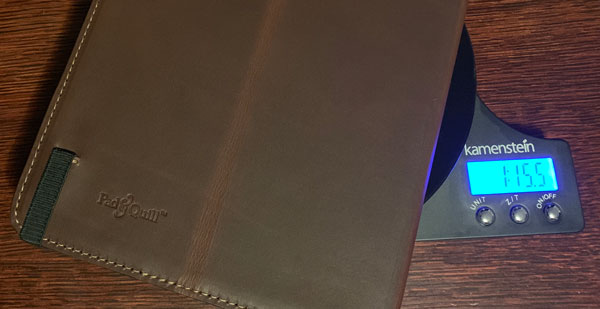 The case also doubles the weight of the iPad Pro making it the same weight as the 12″ MacBook.
What I like
Old-World craftsmanship
Made from gorgeous bridle leather
Excellent build quality
Feels great to hold
What needs to be improved
Uses tape to adhere iPad Pro to case
Doubles the weight and volume of the iPad Pro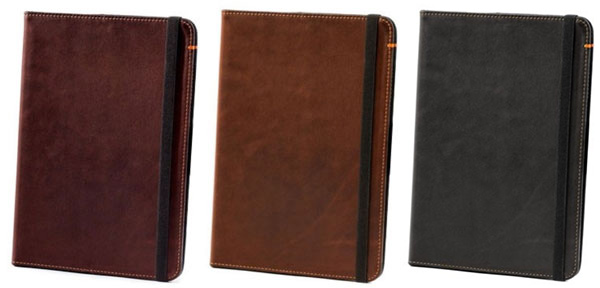 The Oxford Leather iPad Pro case is available in Whiskey, Chestnut, and All-New Galloper Black. Pad & Quill backs all of their products with a 25-year leather warranty. Though I would assume the tape and elastic band are not.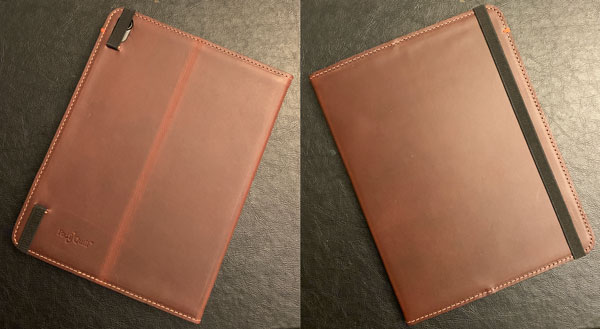 Final thoughts
Alright, I'm definitely conflicted about this iPad case… I want to dismiss this leather cover as not meeting my need/desire for easy and repeated installation and removal. The issue is, I love the quality of the leather, old world craftsmanship, and overall feel of the Pad & Quill Oxford iPad Pro case. I am totally OK with the added weight and volume it brings to my sleek & slim tablet. But I need to remove my iPad on occasion whether to attach my keyboard case, use my iPad naked, or review a different case. And sadly, I am certain the double sided 3M tape will lose its stickiness used in this manner. And it would SUCK for it to fail and my iPad Pro come crashing to the ground. That said, I have been using this case for three weeks now and am dragging my feet removing my 11″ Pro until I have no choice. So the bottom line is if you can live with this case's only real flaw it is definitely worth considering but if you need more flexibility you should look elsewhere.
Price: $129.95 (11″) / $149.95 (12.9″)
Where to buy: Available at Pad & Quill.
Source: The sample for this review was provided by Pad & Quill.