We use affiliate links. If you buy something through the links on this page, we may earn a commission at no cost to you. Learn more.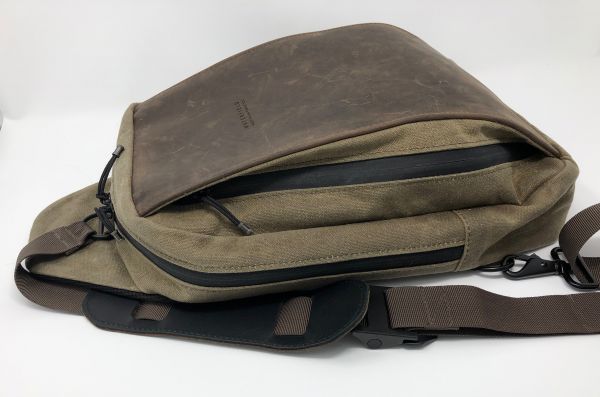 REVIEW – Most days, I travel to work and back with just a few items: an iPad, my daily meds, and maybe a charger or keyboard, if I'm planning on spending time writing away from my desk. Occasionally, I have to bring my work laptop home for the night, but it's not much larger than my 12.9" iPad. I don't need a bag designed for a three-month trek through the Arctic. I've been looking at smaller backpacks, but what I really have been wanting is a well-designed sling bag. So, when the news broke that Waterfield Designs had created a new sling that could fit either size iPad and a little bit more, I was ready to go! We were sent a review unit of the Sutter Tech Sling in brown waxed canvas with a grizzly leather accent piece in the large size. Did it satisfy all my Gadgeteer needs for the perfect sling? Let's see.
Note: Photos may be tapped or clicked for a larger image.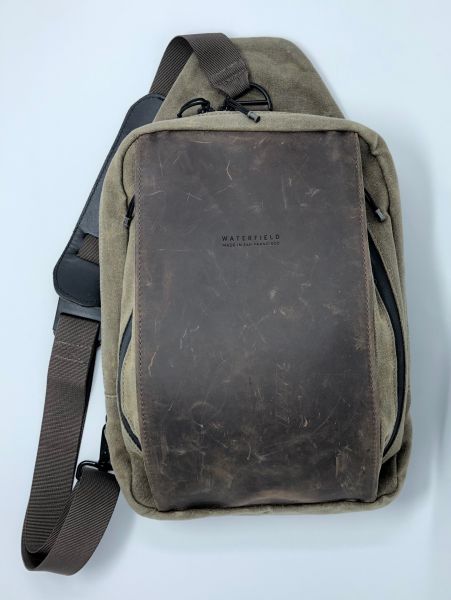 What is it?
A two-pocket sling that can be worn across either shoulder by changing the bottom strap location with a clip.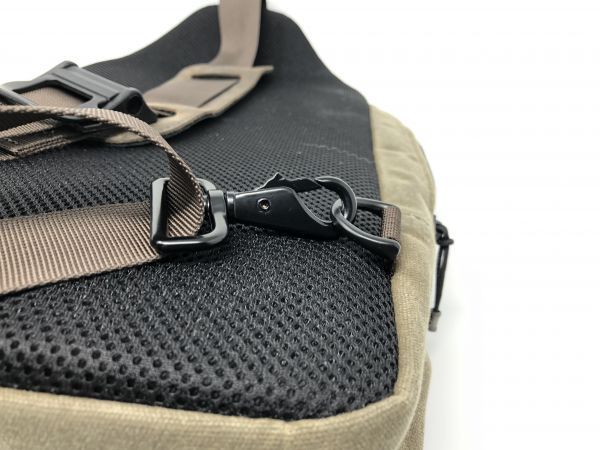 Design and features
The Sutter Tech Sling harkens back to the early days of the California Republic. Sutter's Mill was the place where gold was discovered in the 19th century, and those who came there seeking it brought only the bare necessities for seeking out their fortune. That's what the Sutter Tech Sling gives you – just enough to get the job done, easily carried.
The main compartment has a padded Device area toward your back, with microfiber facing from the inner wall. If you are a bare device carrier, this will keep your screen polished and ready to use. The rest of the inner area is covered by Waterfield's signature gold brocade fabric, which aids finding things in the depths of your bag. There is a small tag on the front wall of the device sleeve that just says Made in San Francisco and the company URL – sfbags.com.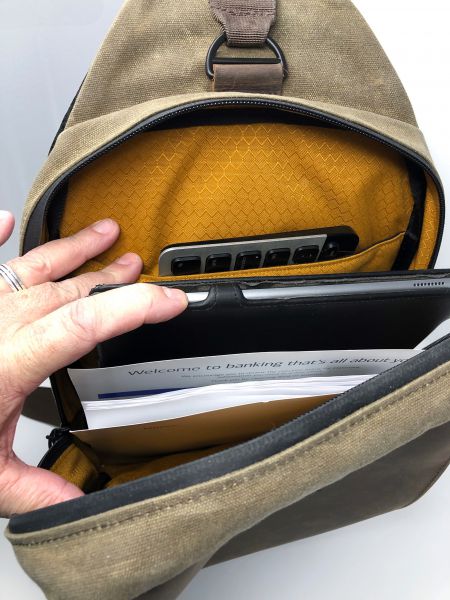 Opposite the device sleeve, there are four pen silos and a single pocket that might hold a laptop power supply. It's not deep, only about 4", but it does have a little dimension, rather than being just a slip-in design. You could put a full-sized mint tin in it with room for your keys. Speaking of your keys, there's also a 4" ribbon with a metal clasp right above this pocket which would let you clip a ring of keys in with ease.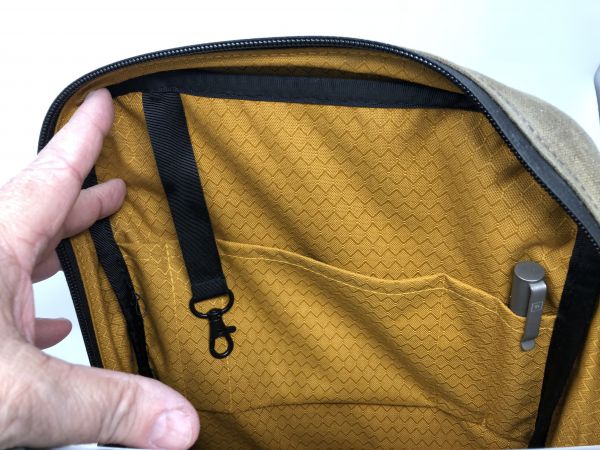 In front of the main pocket is a full-length additional open pocket. It is accessed from two zippers located behind bellows on either side of a central leather accent piece. The leather on the bag I was sent is a medium brown ("Grizzly" is what Waterfield calls it – both for the color and the style of finish.) The body of this model is brown waxed canvas. The other color option is a black more polished leather with a black Cordura body. The only external branding is a small embossed stamp in the center of the leather that says simply:
WATERFIELD
MADE IN SAN FRANCISCO
The pocket itself is spacious. I can get my meds pouch, a couple of different charging cables and my dongle pack in there without trouble.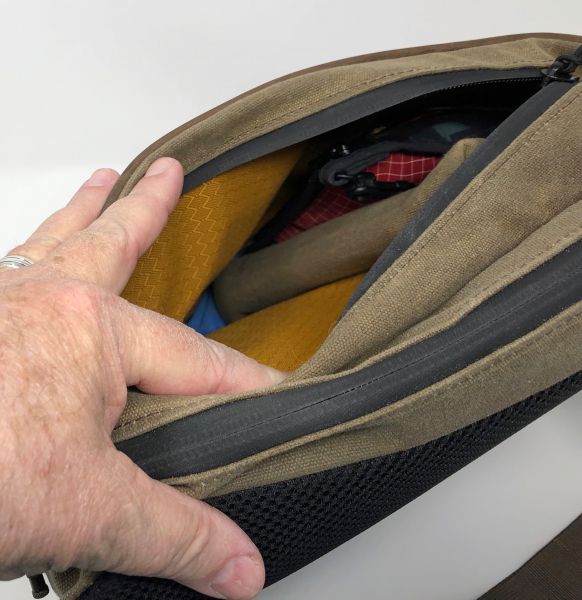 The back of the sling is fully covered by a padded mesh fabric. There are solid D-rings sewn into each lower corner, so the bag can be changed from left- to right-shoulder in a matter of seconds. At the lower end of the strap (which is a generous 45" at its maximum length) is a one-hand-operation spring-closing clamp that allows you to quickly tighten or loosen the strap. This lets you swing the bag around while keeping one hand on your handlebars, coffee cup, dog lead or child's hand.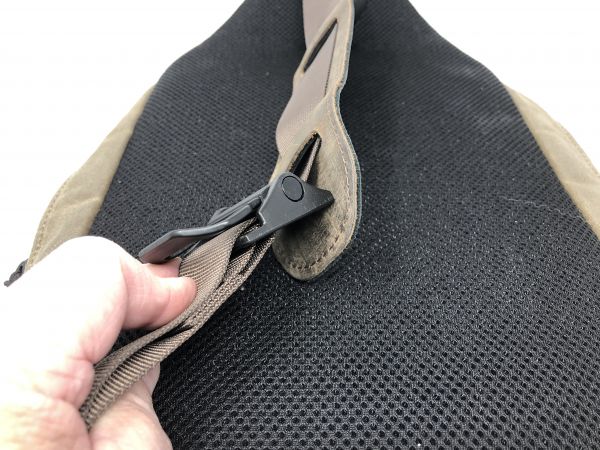 With the bag around front, a single zipper lets you into the entire rear pocket, from whichever side you've chosen to have as your carrying side. The top central solid D-ring has an extra bar across the straight side so that the strap won't slip around. It's an ingenious design, but it could really use a haul loop/grab handle up there. (The Crossbody bolt and the Tech Folios have this, and it's sorely missing here.)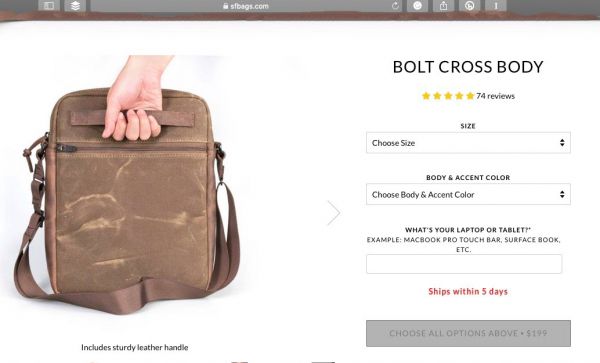 Every time I pick it up to sling it on, I'm never sure the best place to grab it. Other slings I've used have this and it's the one negative I have with this bag.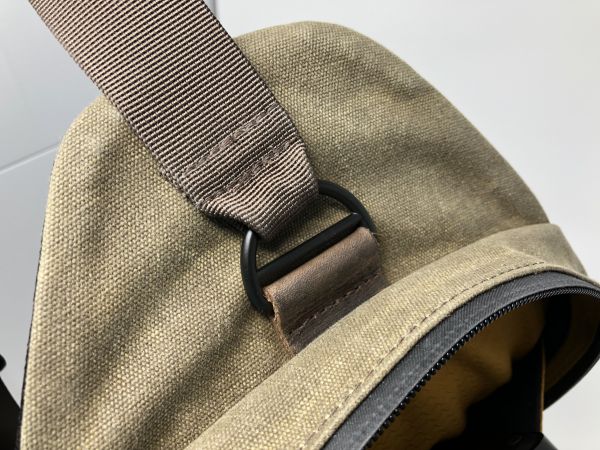 One thing you'll notice over time while using the sling is the little pieces of hardware that are used. Even the zipper pulls, which are cordage sealed in a metal knurled tip, enhance the experience, and quietly whisper "Quality. Thoughtfulness." every time they're used.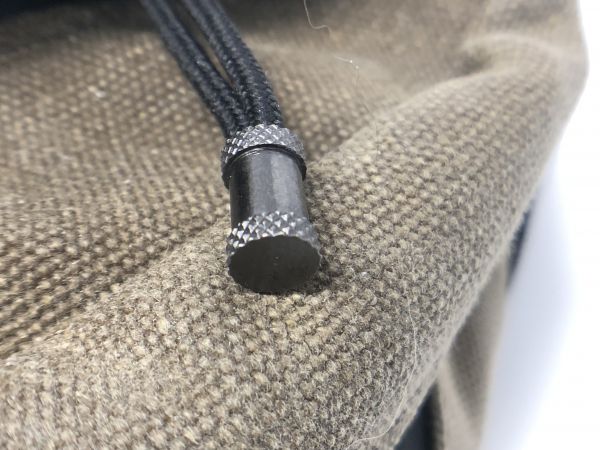 Performance
The Sling performs well in rain or shine. (We get a lot of both in the Winter in Central North Carolina.) The main weather-proof zippers and waxed canvas repels even the steadiest of downpours, at least long enough to get to your destination. I don't know if they would withstand a 4-day blow, but I've been through some good showers thus far. The rear pocket doesn't have weatherproof zippers, but they are folded under the bellows, so protected from all but the most punishing of stormy blasts.
I have the original 12.9" iPad in a Moko hard case which is a good bit wider and taller than the current 2018 model. It fits easily naked, but gets a bit tight in the thick case. I usually just carry it in the main pocket, and put either the keyboard or my 10.5" iPad in the device pocket, depending on where I'm going. The smaller iPad Pro fits with it's Moko case without any issues. Given the height of the interior, it's easy to toss in a full-sized keyboard (not an extended one!) and still have room for other items.
What I Like
Quality materials and workmanship
Excellent design – just large enough without having tons of extras
Right- or Left-shoulder use
What needs to be improved
Needs a haul loop/grab handle on the top.
Final thoughts
Our devices (both phones and laptop/tablets) are getting slimmer, yet larger, and more difficult to slip into a pocket. Most of them have battery life listed in partial days, rather than hours, and the chargers are not as large or as bulky as for older generations of gear. The result? For most folks carrying tech, the space requirements have shrunk quite a bit from even just 2-3 years ago. No more do we need a full-sized backpack with adapters, mice, chargers, and cables. All that's required is a sleeve or pocket or two with a little room for personal items added. A sling design keeps the body of your tech next to your body, rather than held at an angle like with a briefcase, yet, unlike a backpack, is easy to get into for quick access by sliding it around. The Sutter Sling has gained my respect as a well-conceived update to earlier slings, that can accommodate your daily minimum carry, be it a laptop, tablet, or books and papers.
Update 8/12/22
When we review items here at The Gadgeteer, we usually try to suggest things that could be improved as a result of our testing. Sometimes, not often enough for me, things change and the manufacturer decides to implement the change we suggested. I'm not sure if I was at all instrumental in making this change to one of my favorite bags, but I want to think so. When I reviewed the Sutter Tech Sling back in January of 2019, I complained that it needed a haul loop, so that you could get it from the table or chair up to your shoulder to wear. At some point, Waterfield added that loop, for a mere $25.
I saw that and was so sad, since my unit had already been made, shipped, used, and this probably meant I would have to buy another one to get the loop. I seriously doubted it was going to be able to be retrofitted with the handle. But I contacted them anyway, and was told it could be added! For $25. All I had to do was get it to them.
I was stunned. This is not some tacked-on, cheap handle. This thing is stitched into the body of the bag, so that it can properly carry the weight. They would have to rip out a lot of stitching, twill tape, and lining to get this to look halfway decent. Could that really be done? I paid the $25, packed up my bag, and shipped it off. (Keep in mind, this is a fairly bulky bag to ship, so it was like $25 for that part alone.)
In about a week (no, I didn't ship it overnight!), I got word that it was in their hands, and I would hear from them when it was on the way back. I think it took maybe two weeks to get into the production line. But I got the email, and it made its way back across the country again. At their expense.
When I opened the package, I thought I was looking at a new bag. I couldn't tell that they had ripped out the old stitching and inserted the handle so perfectly! I have a lot of folks in my life who sew a lot, some for a living, so I have been trained to look closely at stitched goods, and I cannot find anything on the outside to give away the fact that this handle was added after the fact. Inside, there's a bit of a change in the bias tape stitching, but it's tucked way up under the top. I only found it because I wanted to see.
To say this is a great update is a huge understatement. Carrying this bag by the handle is clutch – it "just fits" around your hand, so when I grab it from my locker at work, it's not the long shoulder strap that may shift with other things I have in my hands, it's just the short haul loop. When I get to my house, I can grab it with two fingers, get my keys in the other hand, and still have a few fingers for my lunch box strap. And it looks good doing it!
Waterfield, you've done it again!
Price: $169 for regular size (4.5 liters), $179 for full size (as reviewed, 6.5 liters), $25 for the haul loop
Where to buy: Waterfield Designs
Source: The sample of this product was provided by Waterfield Designs.