We use affiliate links. If you buy something through the links on this page, we may earn a commission at no cost to you. Learn more.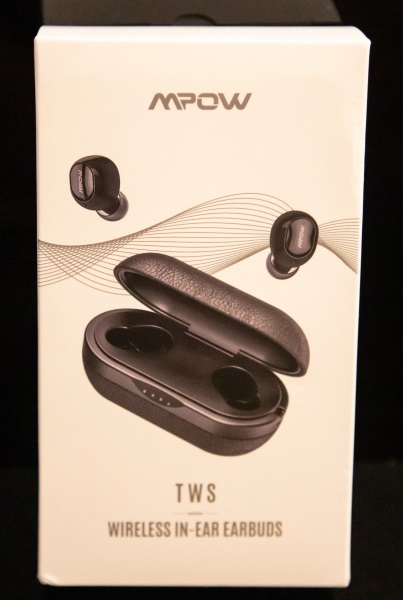 REVIEW – During 2018, many readers followed my reviews of wireless Bluetooth earbuds and my quest to find the best earbuds for me. The criteria included the sound quality that I like as an Audiophile as well as great function as a phone accessory and of course they had to fit securely and comfortably. By the end of the year, I did have a #1 pair of earbuds from KNZ that still hold that position, followed by a tie for the #2 position between the earbuds from Aimus and Lux. It is important to keep in mind that this quest/contest does not include any Bluetooth headphones that I have reviewed. I have decided that since there is always a new offering on the market, that the quest will continue for 2019. So let's see how it went with the T5 True Wireless Earbuds by MPOW.
What is it?
The T5 True Wireless Earbuds from MPOW are a pair of lightweight, mid-sized earbuds that are designed for listening to music and conducting phone calls. They also work with Android, Windows and IOS systems, and should be compatible with most Bluetooth equipped mobile devices.
What's in the box?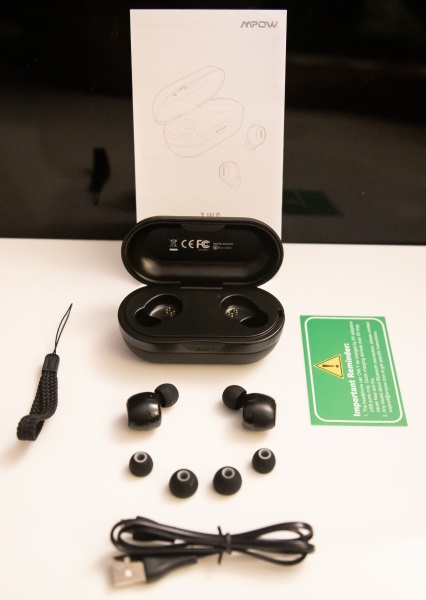 1 x MPOW T5 Earbuds
1 x Micro USB Charging Cable
3 x Pairs of Ear Tips
1 x Hand Strap
1 x User Manual
1 x Charging Instruction Card
Design and features
Features
Smart Switch Between Twin & Single Mode
Both the Left and Right earbud can work separately. You can switch to single and twin mode freely
Compatible System: Android/Windows/iOS
Powered by the upgraded chip and adopting latest Bluetooth 5.0
Extended Usage Time of Earbuds. When fully charged, the earbuds can support up to 7 hours music playtime
Built-in 50mAh battery of each earbud
Specifications
Connectivity: True Wireless & Bluetooth 5.0
Communication Distance: ≥10 meters
Stand-by Time (Connection status): 92 hours(L); 110 hours(R)
Speaker frequency response: 20Hz-20KHz
Charging case capacity: 280mA
Waterproof Rating: IPX7
The Mpow T5 earbuds are what I would call mid-sized, but very lightweight.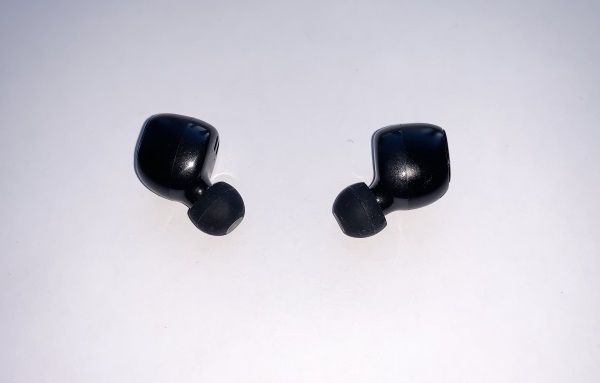 The surface of each earbud is the multi-function button.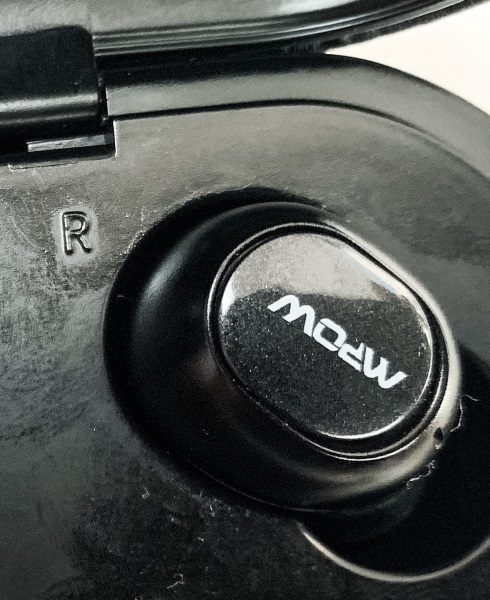 At the back of the charging case, there is the micro USB port for charging the case.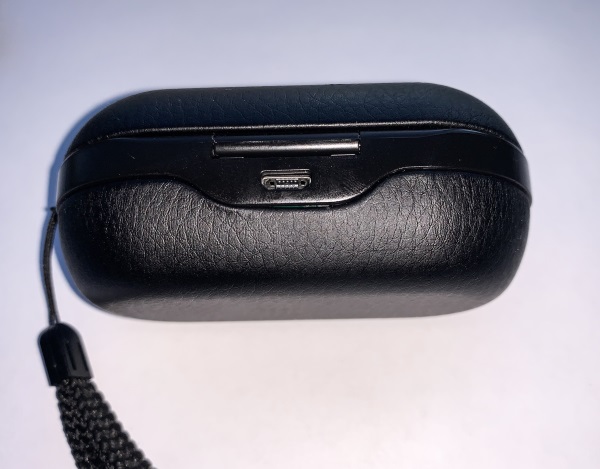 Mpow also includes a hand strap, and there is a slot to attach it on one side of the charging case.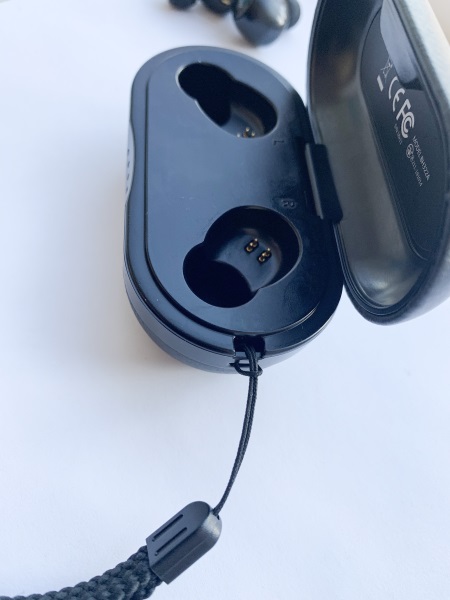 Performance
When I received these earbuds, they were 97% charged, so I just got right down to the business at hand. Once I removed them from the charging case, I powered them on and shortly thereafter they appeared on my phone as a choice in the list of available Bluetooth devices. I selected them and they immediately paired. After the initial pairing, I have repeated the process each time I use them to see how they would connect and the connection is always swift and easy. When I place them in the charging case, they automatically disconnect from my Bluetooth, but amazingly, and this is something I really like, my iPhone still shows their level of charge once they are within range of my phone. The Bluetooth connection remains rock solid.
For daily listening to music, these earbuds are nice. They do not have a volume limiter like some others, so audiophile folks like myself will likely turn down the volume a bit, while other folks that like to listen to music really loud, will like them. There is good presence and separation of the low, mid and high frequencies, with a bit of distortion in the highs if the volume is turned up all the way. While they are not audiophile grade, they are decent.
In terms of phone use, I was expecting great quality because these earbuds claim to have built-in Mics that support CVC8.0 that is much more advanced than others in the market and to offer phone calls of higher quality. With the exception of a few earbuds that I have tested, I have encountered major phone call quality issues with most of them. I still have not ascertained whether this is a personal issue, but a few of them worked very well. My experience with these has not been good. The party on the other end of the call can hardly hear me unless I speak quite loudly. However, I can hear them quite clearly. So far, the charge on the case and the earbuds both seem to last forever. Since the last full charge, I have been using them for  5 days for approximately 1 3/4 hours and they recharge each time to 100%. The charging case still has all 4 LEDs lit indicating that the level of charge left in the battery is greater than 75%. (I would assume this is how the charge is measured)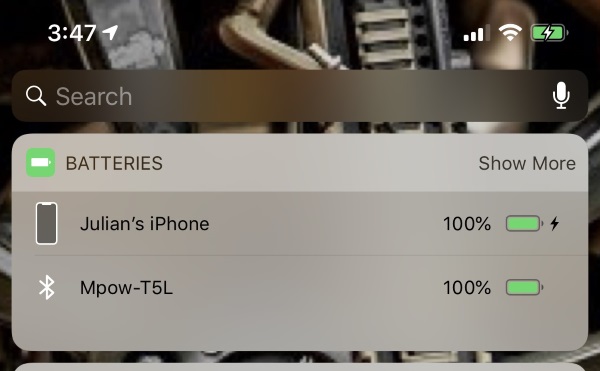 The following are the operational procedures for these Mpow T5 earbuds:
Once charged, they enter pairing mode automatically when removed from the charging case. They disconnect automatically when placed into the charging case.
A short press on the MFB to answer/hangup/reject calls, and to play/pause music.
What I like
They are lightweight
They fit well in my ears and remain secure
They sound decent for everyday listening
What can be improved
Call quality (This may be a personal issue)
Final thoughts
The MPOW T5 True Wireless Earbuds are well built and lightweight. For daily use, they sound good, and they fit well in my ears and never fall out despite vigorous movements. As I mentioned before, they are not audiophile grade, but at their cost, they are not expected to be. If the phone quality issue is, in fact, one that is somehow a personal one for me, then they would be a great choice for many. I do think that many folks will also like the music listening experience they provide. Because of the phone quality issue, they do not make it into my top five, but they are certainly worth trying.
Price: $59.99
Where to buy: Amazon
Source: The sample for this review was provided by MPOW.