We use affiliate links. If you buy something through the links on this page, we may earn a commission at no cost to you. Learn more.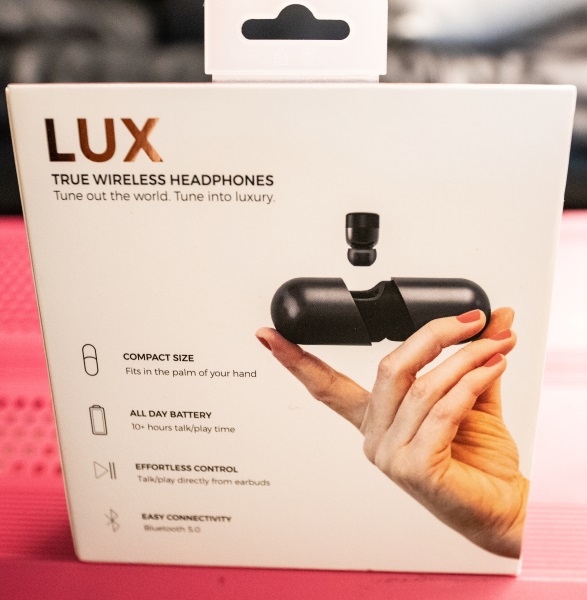 REVIEW – At this point in my quest to find the best wireless earbuds for me, I pretty much know what my minimum requirements are including sound, size, connectivity, stability, etc. I have been using one pair for a while now that has withstood the test of time and that I have been quite satisfied with. However, that does not mean that the contest is over or that I have settled on my current pair. So, let's see what the LUX Wireless Earbuds from Ashley Chloe have to offer to the quest and challenge.
What is it?
The LUX Wireless Earbuds from Ashley Chloe are a pair of lightweight earbuds that are designed for listening to music and conducting phone calls. They also work with Apple's Siri and Google Assistant and should be compatible with most Bluetooth equipped mobile devices.
What's in the box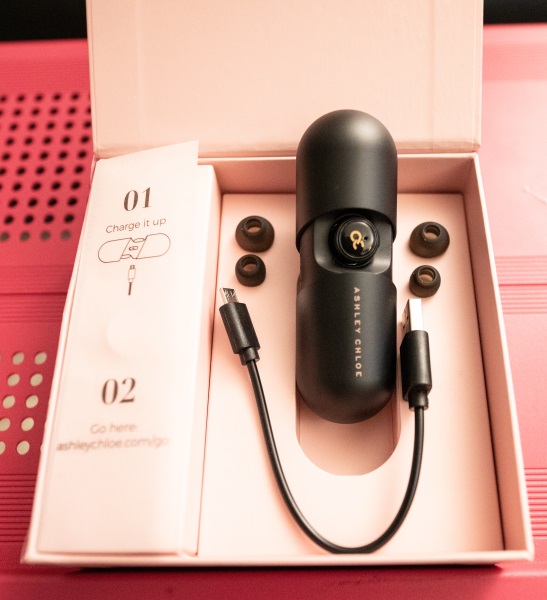 1 x LUX Wireless Earbuds
1 x 3 Pairs of Ear Tips
1 x Micro USB Cable
1 x Charging Case
Design and features
Specifications:
Dimensions: Earbud: 0.55" (D) x 0.82" (L), Portable charging case: 1.48" (D) x 3.19" (L)
Weight: Earbud: 0.18 oz. (5g) each, Portable charging case: 1.92oz (54.4g)
Battery type: Rechargeable lithium-ion polymer battery
Battery input: Earbud: 5V / 35mA, Portable charging case: 5V / 1A, to earbuds: 5V / 120mA
Battery output: Earbud: 60mAh, Portable charging case: 480mAh
Charging time: Earbud: ≤70 minutes
Portable charging case: ≤150 minutes
Standby time (power on): about 70 hours
Standby time (power off): about 120 days
Music/talk time: up to 3.5 hours
Frequency response: 20Hz-20 kHz
Bluetooth version: 5.0
Bluetooth Profiles: HFP, HSP, AVRCP, A2DP, and SPP
Number of recharges from the case: 3
These earbuds come in a relatively small charging case and they are quite small. The charging case is all black with the exception of the brand name that is showcased on both sides.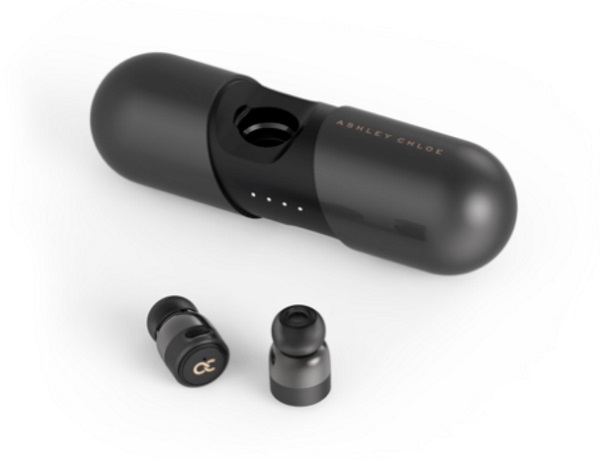 When the case is open there are 4 LEDs on one side that show the charge level of the battery in the case. Each LED represents 25% of charge.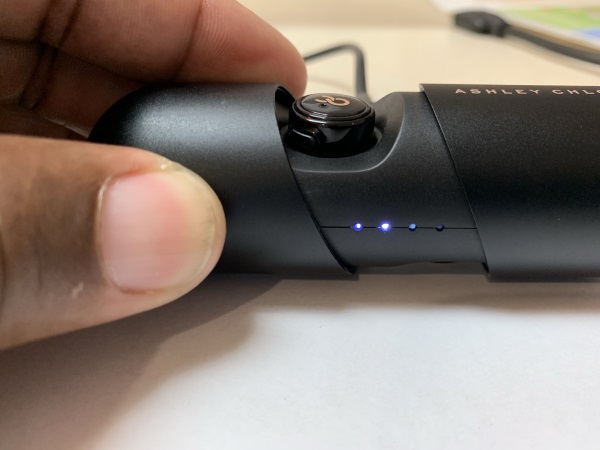 On the opposite side of the case, there is the USB charging port.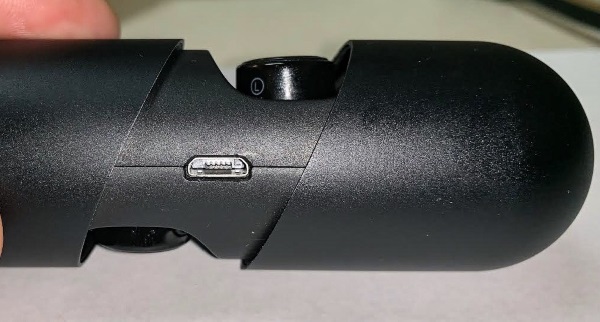 When the earbuds are in the case and being charged, the LED on each earbud blinks red.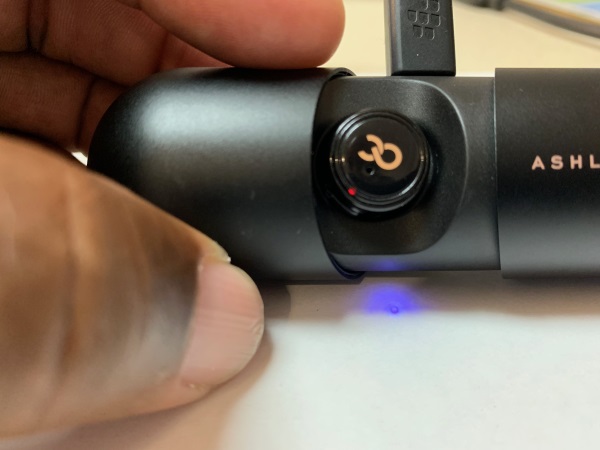 In the picture below,  I have enlarged a photo of the earbud so that the tiny control button can be clearly seen.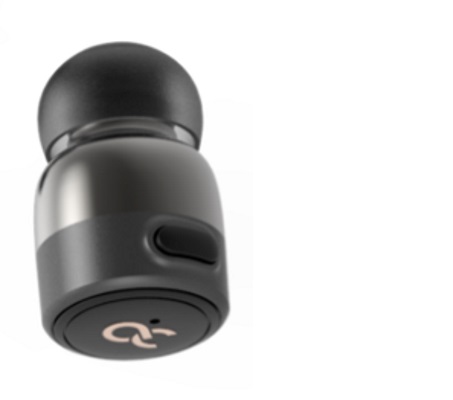 The diagrams below show the operating functions of each little button on each earbud.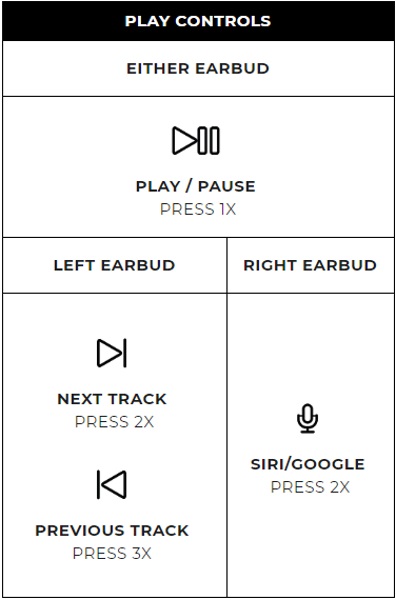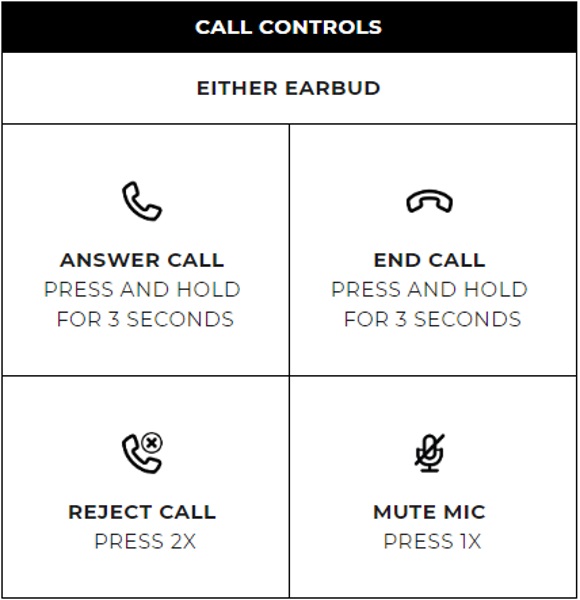 Performance
When you first open the box with these earbuds, you soon realize that there is no included paper User Guide which for me is ok, but may not be ok for everyone. The instructions inside of the box tell you to charge the earbuds and then to go to the Ashley Chloe website to continue. After I fully charged the earbuds I took them out of the charging case and as per the instructions online, I placed them next to each other. They automatically synced with each other and the right earbud started flashing red and white indicating that is was then in pairing mode. Pairing was easy and quick and they were ready for listening to music and of course conducting phone calls. There were times when the earbuds were not already on when I took them out of the case. To turn them on, you have to press and hold each earbud for five seconds and they power on and automatically pair once they were initially paired. One issue that I have encountered is that at random times they will take more than 30 seconds to pair as opposed to the usual 4 or 5 seconds. Another issue is that each time I have to use the buttons on the earbuds it is very difficult because of their very small size. I actually control my music from my phone because of my dislike of the small buttons and I have become very frustrated when trying to use them to manipulate the functions. I also dislike that the left and right marking on each respective earbud is so small and so light that I would either have to strain and squint my eyes to see which earbud was the right one or I would have to use my reading glasses. I do have 20/13 vision.
Otherwise, these earbuds function well and hold their charge for a long time. Using them approximately 90 minutes each day for 5 days weekly, I only recharge the case once weekly.
I listened as I usually do to several genres including Contemporary Jazz, Easy Listening, The Classics, Gospel, etc., and I enjoyed the sound across all of the genres. While not audiophile quality, the sound is quite good and well balanced for the lows, mids, and highs. Once listening to a quality track, there was no real discernable distortion in any frequency range.
Of course, I also tested these on phone call functions and was pleasantly surprised at how well they worked for both parties on the call. I usually encounter issues with using earbuds for phone calls where I cannot hear the other party or they cannot hear me. These earbuds worked well.
If you would like to read the full manual for these earbuds, click here.
What I like
Surprisingly I like the size
The weight
The rock solid Bluetooth connection
The nicely balanced sound
What can be improved
The opening distance of the charging case so that it is easier to remove the earbuds
The consistency of the pairing time.
Brighter left and right side markings
Final thoughts
The LUX Wireless Earbuds from Ashley Chloe are actually quite good for daily use and have a nice sound. While not audiophile grade, they certainly accomplish what they are designed to do and they do it at a very reasonable price. I was not sure how I would like the very small footprint of these earbuds, but they are very comfortable and very secure in my ears. They have a volume limiter that makes them nice to listen to even at the highest volume of my iPhone, and their Bluetooth connection is rock solid. Other than my pet peeve about my difficulty removing them from their charging case, and the occasional longer than usual pairing time, I definitely think that they are worth the purchase and I give them two thumbs up!!
Price: $84.99
Where to buy: Ashley Chloe and Amazon
Source: The sample for this review was provided by Ashley Chloe