We use affiliate links. If you buy something through the links on this page, we may earn a commission at no cost to you. Learn more.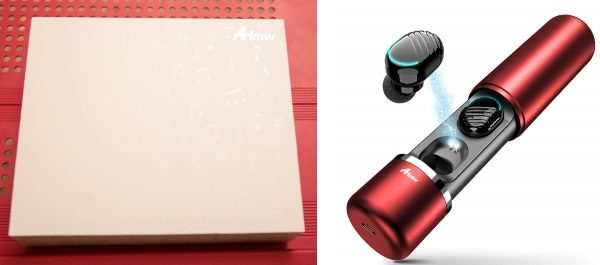 REVIEW – After several earbuds reviews, the battle for supremacy is really heating up. The more I test and review these samples, the more I am beginning to realize that price is becoming much less of a factor in determining build quality and quality of sound and function. These earbuds are a new addition to my ongoing search for the best earbuds my individual taste, wants and needs. Here we go!!
What is it?
The Aimus Bluetooth Wireless Earbuds are a pair of lightweight earbuds that are designed for listening to music and conducting phone calls with the utmost ease and comfort. They also work with Apple's Siri and should be compatible with most Bluetooth equipped mobile devices.
What's in the box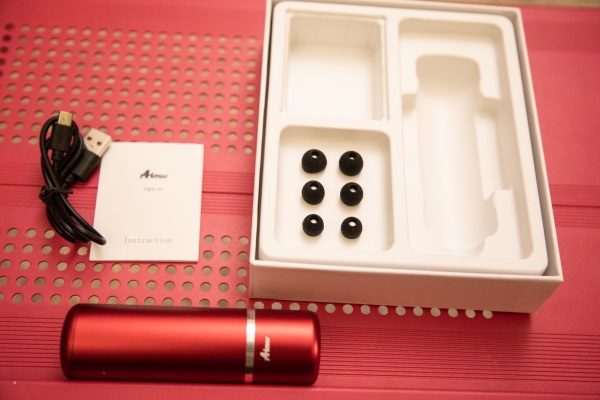 1 x Aimus Wireless Bluetooth Earbuds
1 x Charging Case
1 x Micro USB Cable
3 x Additional Pair of Ear Tips
1 x Instruction Booklet
Design and features
Specifications:
Version: Bluetooth 5.0
Working Voltage: 3.7 V
Impedance ohms: 32Ω
Bluetooth range: 66 ft / 20 m
Earbuds Battery Capacity: 40 mAh
Charging Case Battery Capacity: 400 mAh
Speaker Unit: ɸ10mm*2 Hi-Fi Stereo
Music Play Time: 3-4 hrs
Charging time for Bluetooth earbuds: 0.5-1 hr
Charging time for charger case: 2 hours
The Aimus Bluetooth Wireless Earbuds are super lightweight and boast a host of features including Bluetooth 5.0, automatic pairing/connection, dual stereo HD mics that allow use of both earbuds for phone calls, touch surface for all functions, IPX5 sweatproof protection, approximately 4 hours of playback time on one charge as well as up to 4 charges from the charging case before the case needs to be recharged. The cylindrical case is smooth and sleek and very sexy looking. It slides open easily to reveal the pair of earbuds. The magnetic force between the earbuds and the case it strong which ensures that they stay in place. There are 2 connection pins in each earbud socket in the case that make the connection for charging.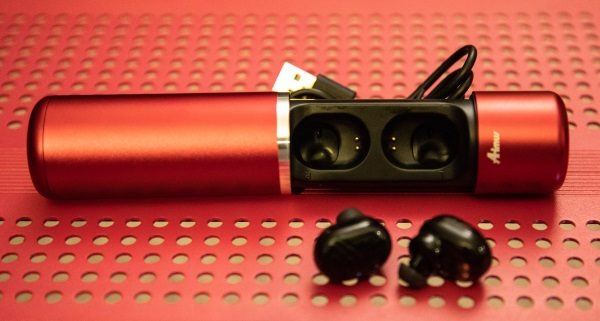 On the side of the shorter half of the charging case, there is the micro USB port for charging, and a LED that lights blue when the case is being charged.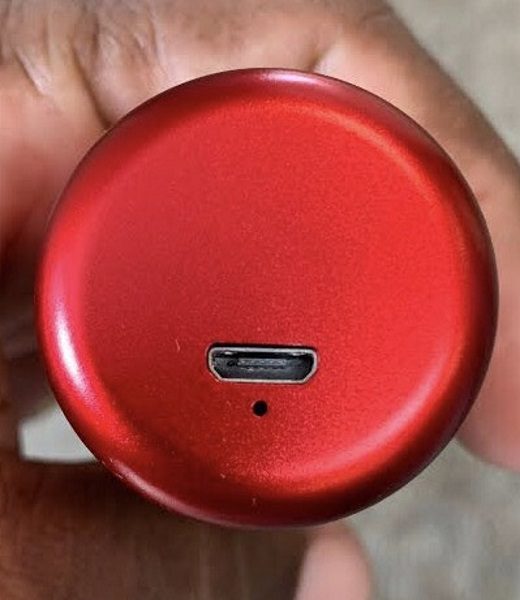 Performance
When you take the earbuds case out of the box, if you get them in red, you will love the appearance. I am sure that the black case is nice as well. Regardless, we all know that appearance while pleasing means nothing if the performance is not up to par. These earbuds arrived already charged and ready to go. Once I opened the cylindrical charging case, the first and only real issue I encountered was that since I do not have skinny hands/fingers, it was a pain in the neck to get the earbuds out of the case. The magnetic grip between the earbuds and the case is strong, which is great because they will never fall out on their own. This ensures that you will never lose them as a result of them falling out of the case. Once I got them out of the case, a simple touch on the touch surface of each one turned their power on. They immediately appeared as a choice in my list of available Bluetooth devices on my phone and paired very easily. Once I paired them the first time, they automatically connect to each other and pair with my phone whenever I remove them from the charging case. When I replace them in the charging case, they automatically disconnect from the Bluetooth connection. All of the pairing and connection functions are confirmed by voice commands, which seems to be the standard for most earbuds these days. These earbuds are very light, and they are very comfortable in my ears. They have enough volume for listening to any type of music, and the frequency range is quite good. The mids and highs are smooth and clear with no distortion. The lows are good, but could be better and could go a bit lower to provide a deeper bass that would positively affect any listening experience. I tested these earbuds, with Reggae, Gospel, Jazz, R&B, Soul, and Easy Listening, and their performance has been outstanding. What makes them "king of the castle" is that so far I have never experienced a break in the Bluetooth connection, even when in the high interference areas where all of the other earbuds that I have tested have experienced some level of trouble and disconnections. The second amazing accomplishment of these earbuds is their flawless and easy performance when I use them for phone calls. The call quality is clear for both parties and unlike all of the others I tested, I can speak at a normal volume. While this may not sound like a big deal, those that read my reviews would know that it is a first for me to use earbuds that I truly praise when describing my phone call experience.
Controls:
Music:
Touch once: Play/Pause
Touch twice (Right Earbud): Volume Down
Touch twice (Left Earbud): Volume Up
Touch for 3 Seconds (Right Earbud): Last Track
Touch for 3 Seconds (Left earbud): Next track
Phone Calls:
Touch once: Answer
Touch Again: Hang Up
Touch either Earbud for 3 Seconds: Reject call
Siri:
Quick Touch L or R 3 times
As you can see in the picture below there is a LED light ring on the earbuds that blinks bluish/greenish when they are in use. They are very comfortable and fit securely in your ears.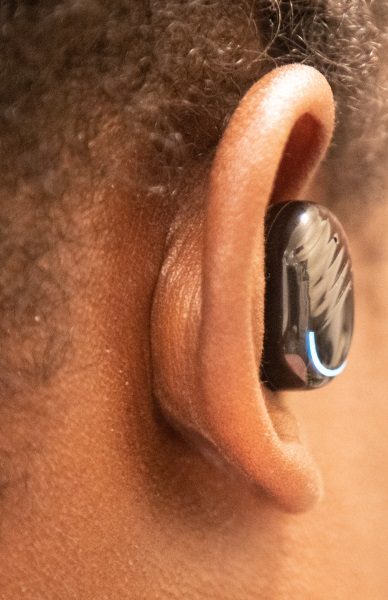 What I like
The build quality
That they are really lightweight
The sound
The long-lasting battery both in the earbuds and the case
The phone call quality (A first for my earbud reviews)
What can be improved
The case design so that the earbuds are still secure but easier to remove
Final thoughts
I have to be honest in saying that I had no clue what to expect from these earbuds. After being so happy with the previous set that I reviewed, I was not expecting these to come close. However, when I consider all of the categories and dynamics that I pay attention to when pursuing the best earbuds for me, these have without a doubt, taken over sole possession of the pole position, and sit on the throne as better than the rest that I have tested. By now, everyone that reads my reviews knows of my disclaimer, that sound and the perception of sound are individually subjective characteristics. However, and without a doubt, I feel quite confident when giving these kudos, and two thumbs up!!
Price: $75.99 (Amazon) $59.99 Aimus Website
Where to buy: Aimus Website (Use coupon code AIMUS20 to save 20%) Amazon (Use coupon code AIMUSBTH to save 48%)
Source: The sample for this review was provided by Aimus.