We use affiliate links. If you buy something through the links on this page, we may earn a commission at no cost to you. Learn more.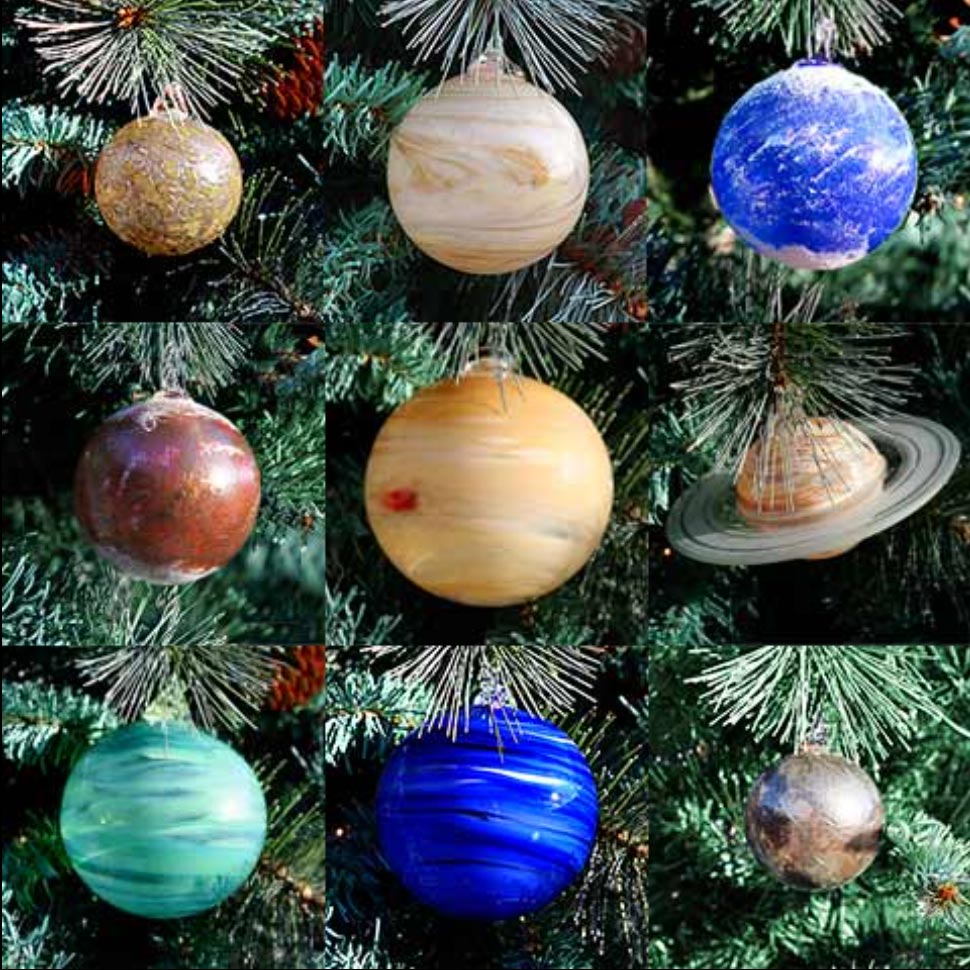 NEWS – I'm continuing on my mission of finding and drooling over every orrery and solar system representation I can find.  My latest finds are beautiful blown-glass solar system ornaments from the people at GlassSculpture.org.  B. E. Johnson and Joy Alyssa Day are the scientists/engineers/artists behind this company.  They make a lot of glass art, including gorgeous representations of our solar system.  Our interest today is their Solar System Collection Christmas ornaments.
Because they are scientists, they want their ornaments to be as accurate as possible, but they know they can't create them to scale.  As they say, nobody has a Christmas tree big enough to hold a >27-foot diameter Sun ornament, assuming a 3″ Earth and a 33″ Jupiter.  Conversely, a 4″ Sun means a 0.014″ Mercury, 0.036″ Earth, and a 0.4″ Jupiter – making for a very boring Christmas tree.  Instead, they have developed a "relative scale" they use for their creations.  They explain:
"The Rocky planets are proportional to each other. The Gas Giants are proportional to each other. The Rocky and Gas Giant groups are proportional to each other, but on yet a different scale. This still gives a sense of the relationships, and there's something grand to look at that tells an educational story. We're Scientist-Artist-Engineers well versed in this stuff, but there is only so much that one can do in a given situation and have it be successful."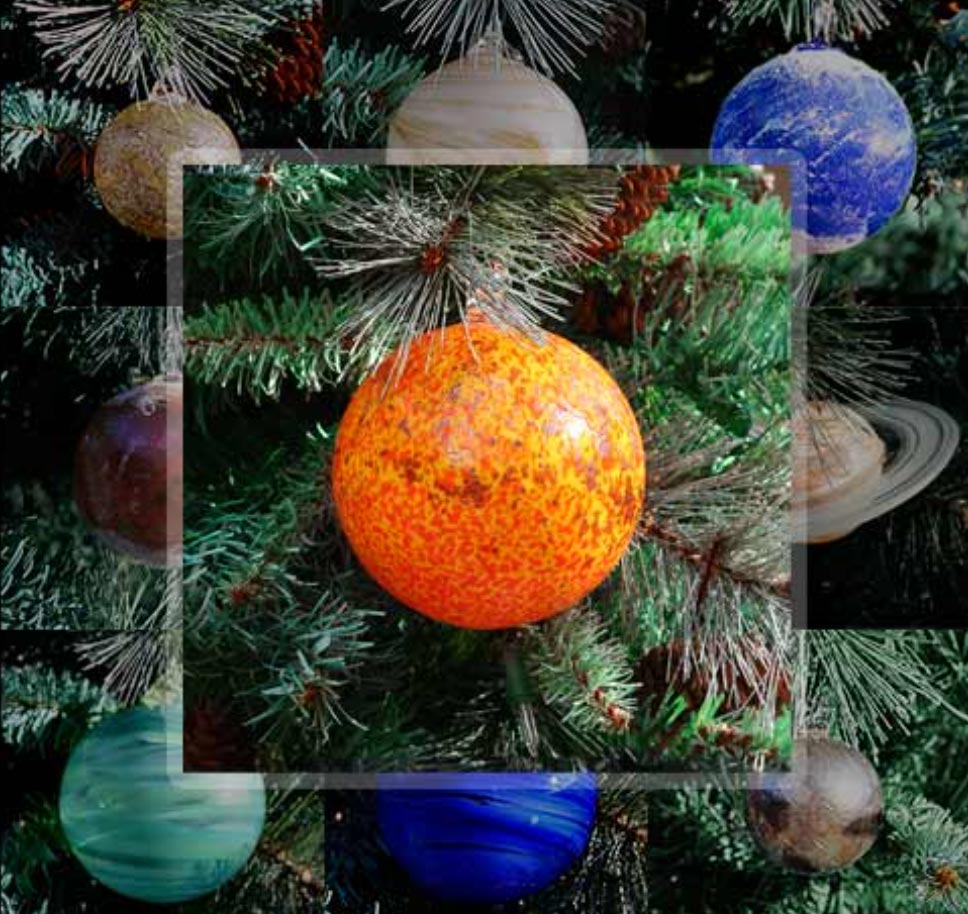 They describe their ornaments as: "A Saturn that actually LOOKS like Saturn, with Cassini data used to etch the rings! A Sun with sunspots! Earth and Mars with clouds and polar caps, Jupiter with a red spot, and I include Pluto, just because! Very cool!! And with a loop on the top to hang on your tree. I like to hang these in the window during non-Christmas months. The sunlight coming through them is amazing! I hand blow these ornaments myself. Ornament size is about 2″ for the small ones, up to 4 inches, and Saturn has the rings about 4.5″. With the rings, the ornament is heavier than my others and may be too heavy for little trees. All of the ornaments are thicker than cheap breakable ones, and have been crash tested by my cats to be able to withstand normal handling and last a lifetime as heirloom pieces."
You can buy a complete set of ornaments with all 8 planets, Pluto, and a Sun for $395.00 directly from GlassSculpture.org, or if you prefer to use Amazon's payment method, you can get them at Amazon for $419.00.  If you buy directly from the artists, you can build your collection by purchasing each planet individually.  Prices range from $25 for Mercury to $95 for Saturn.  They say they will send you a free Sun when you have completed your collection.
I've ordered, and I can't wait for my Solar System Collection to get here.  I'm not waiting for Christmas to display them.  I'm already calculating the spacing to display them permanently at the entrance to my sunroom.  With only 10 feet to work with, I'm going to have to use some relative scale spacing to fit them…