We use affiliate links. If you buy something through the links on this page, we may earn a commission at no cost to you. Learn more.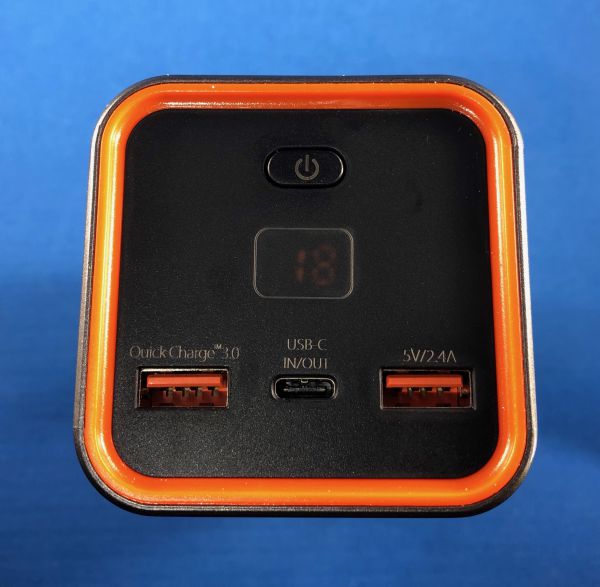 Today, I'm bringing to you a new portable power bank, but it's unlike the dozens we've reviewed here over the years. The Jackery PowerBar can power an AC device, as well as those USB-powered items in your kit. How's that for differentiation?
Note: Photos may be tapped or clicked for a larger image.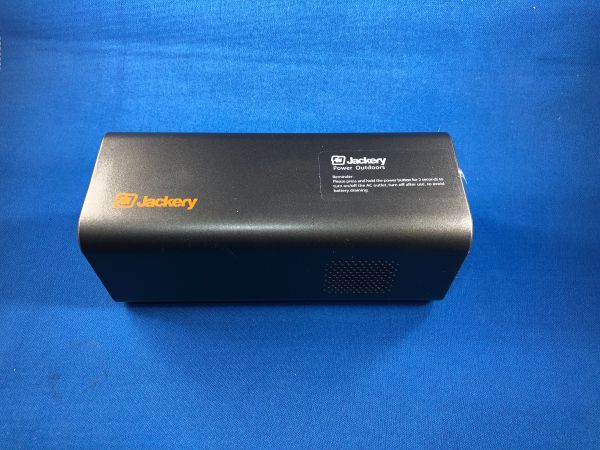 What is it?
The Jackery PowerBar is a grey box 6.25"x2.5"x2.5". It holds 23,200 mAh / 83.53 Wh of power. It can charge or power devices through USB2/3, USB-C, and 110 AC with a US power plug.
Hardware specs
Capacity – 20800mAh
Cell Type – Lithium-ion 18650
Material  – PC  Housing
Color Available – Grey
Weight – 690g
Dimensions – 160*65*65mm
Cycle Life – ≥500
USB 1 – Quick Charge 3.0
USB 2 – 5V 2.4A
AC Output – 110V 85W
USB C Output – 5V 3A
Minimum Output Current – 20mA~160mA
Input USB C – 5V 3A
Charging Time – 7H
Certificates – FCC ROHS UN38.3 ETL CE
What's in the box?
PowerBank
USB-A to USB-C cable
USB charger
Design and features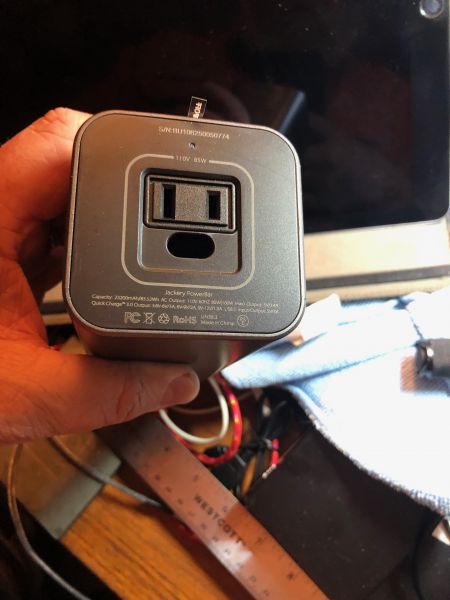 When you first hold the PowerBar, you think "Hmm. Standard power bank, just square and a bit heavy for a new item of this capacity." Then, you look at the end opposite the input and the power button and – wait. Is that an AC outlet? This is a game-changer!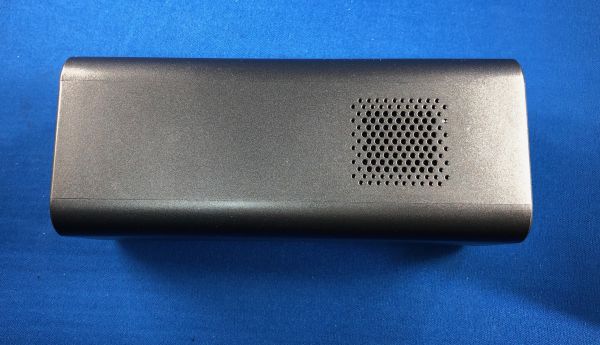 The PowerBar 77 is a square, sleek metal box of power. The ports and other interface elements are all on the small faces, with an AC port on one end and 2 USB-A jacks and a USB-C jack on the opposite end. The matte finish of the sides gives plenty of gripiness while not appearing industrial.
On the multi-port face, there is an on-off button that activates it. An LCD meter is on when it's active and shows the power available.
The AC outlet requires venting, so there are mesh windows on the sides parallel to the plug blades, and a fan turns on when the power is activated. This fan is so quiet that I have never noticed it unless I actually put the unit up to my ear in a relatively quiet room.
What I Like
AC power!
USB A and C output
Multiple input options
What needs to be improved
Final thoughts
Power packs are a fact of life until the invention of wireless dedicated power or something else Star Trek/Star Wars worthy. Everything we do, at least online, requires power. While batteries have progressed a huge amount in the last dozen years, they are still not able to run phones, laptops, and tablets forever. Usage costs power. Carrying around a source of power is easy with a power pack, but there's always a trade-off. Weight, heat, or ventilation will affect the amount of power available and what type of power it is – AC or DC. The Jackery Powerbar, while a bit heavy for the amount of power it offers, adds a clear advantage in the AC power plug it offers. Count me as a fan. If you're needing juice for your laptop or another AC device, you'll be one, too.
Price: $129.99
Where to buy: Amazon
Source: The sample of this product was provided by Jackery.