We use affiliate links. If you buy something through the links on this page, we may earn a commission at no cost to you. Learn more.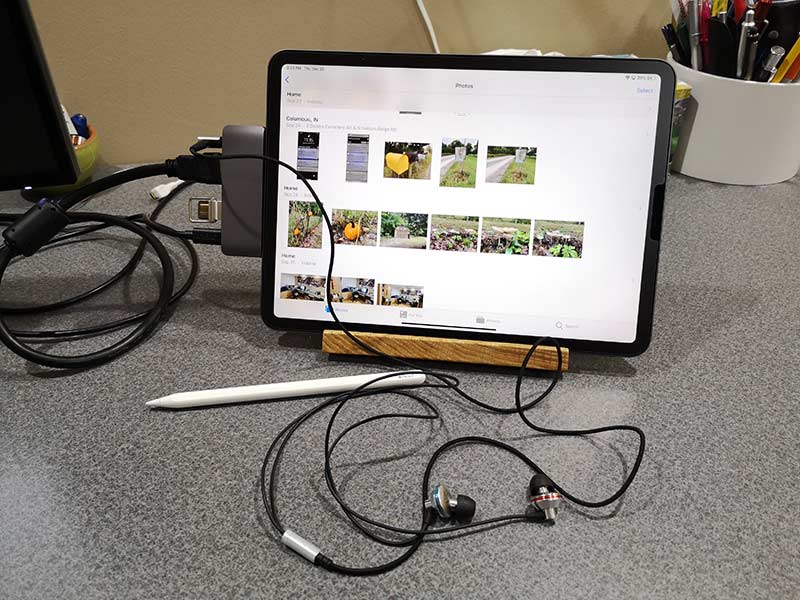 REVIEW – If you've been reading The Gadgeteer for a while, you'll know that I like to bend gadgets to my will. That usually means that I  try to turn tablets and smartphones into my only computer. In my past attempts, I've failed at these experiments and running back to the comfort of my 12-inch MacBook. But now I'm feeling that old familiar tug to try another experiment. Why is that? I blame the Satechi Type-C Mobile Pro Hub. Let's take a look.
What is it?
The Satechi Type-C Mobile Pro Hub is an ultraportable USB-C hub that plugs into devices that have a USB-C port to provide the device with an HDMI port, USB A port, USB-C port, and a 3.5mm headphone jack.
Design and features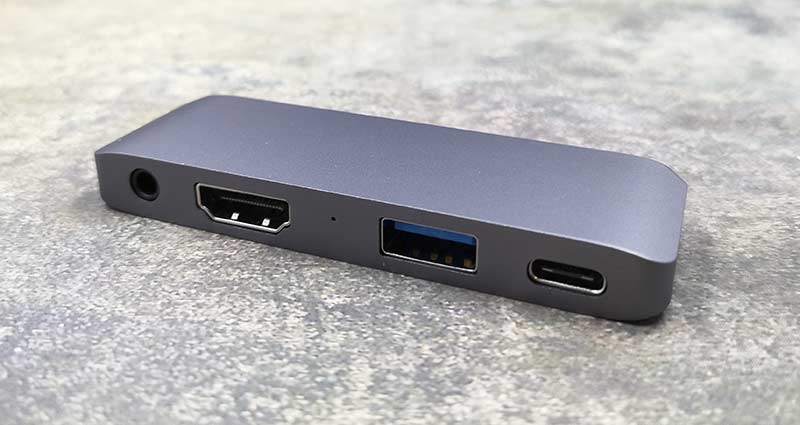 This little hub has been designed for the 2018 Apple iPad Pro, but it can be used with other mobile devices that have a USB Type-C connector like a variety of Android smartphones and tablets. Available in space grey or silver, the hub is about the same size as a pack of gum. It features a 3.5mm headphone jack, a full-sized HDMI 4K 30Hz port, USB 3.0 port, and a USB Type-C 3.0 PD port that will let you charge the device that is connected to the hub while you're using the hub.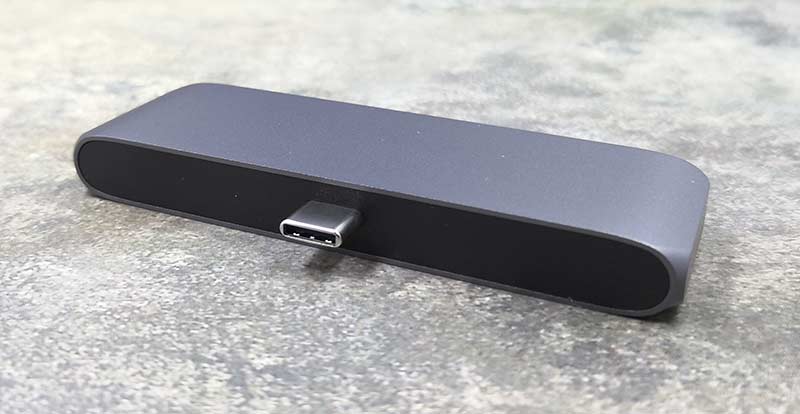 The other side of the Type-C Mobile Pro Hub has a Type-C plug that is used to connect to mobile devices.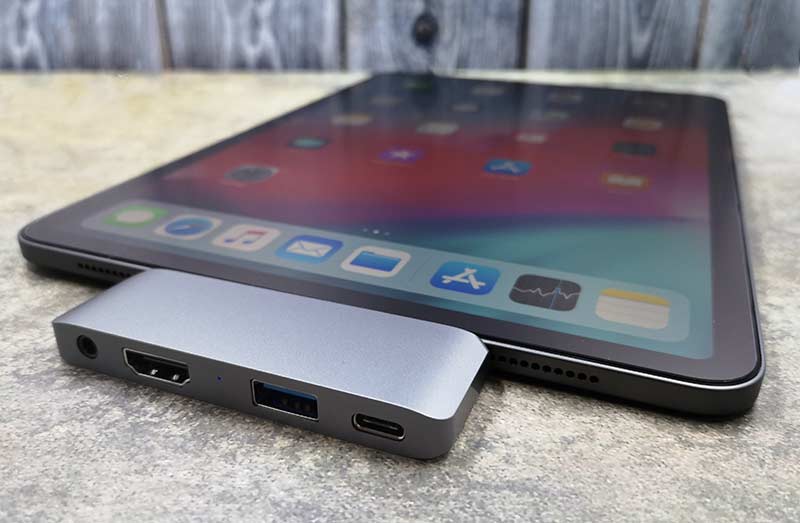 I tested this hub with 4 different devices: my new 2018 11-inch iPad Pro, my Pixel 2 XL, Huawei P20, and a Samsung Galaxy Tab S3 tablet. All of these devices have a Type-C port, which of course, is a requirement to use this hub. I tried them with my BenQ PD2710QC DesignView 27-inch Designer Monitor and VIZIO M-Series (M65-F0) 4K HDR Smart TV.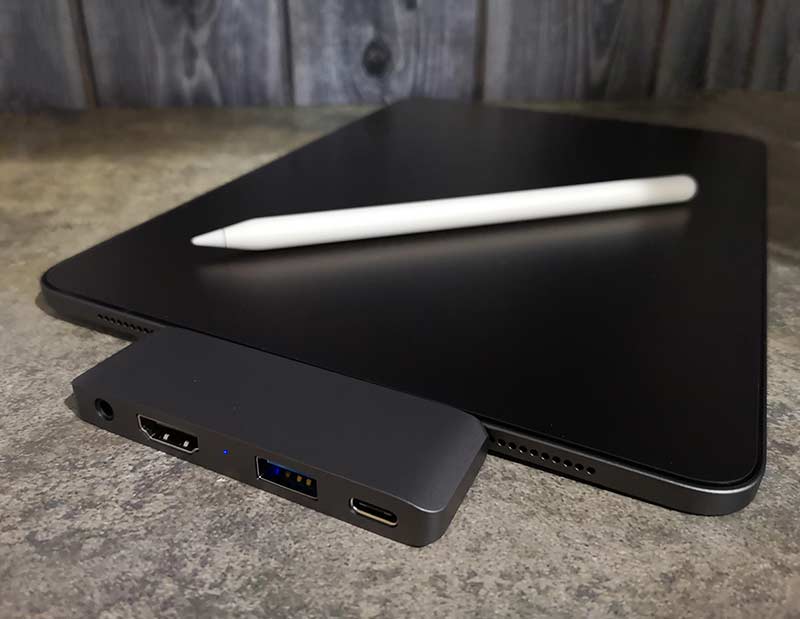 The Satechi Type-C Mobile Pro Hub inserts into your device exactly how you would expect any Type-C device to plug into another Type-C device.
In the image above you'll notice a tiny blue LED between the HDMI and USB 3.0 ports. That LED lets you know that the hub is connected and is ready to be used.
I tried the hub first with the Pixel 2 XL which was a big fail. No output to my BenQ monitor at all. Next up was the Huawei P20 smartphone.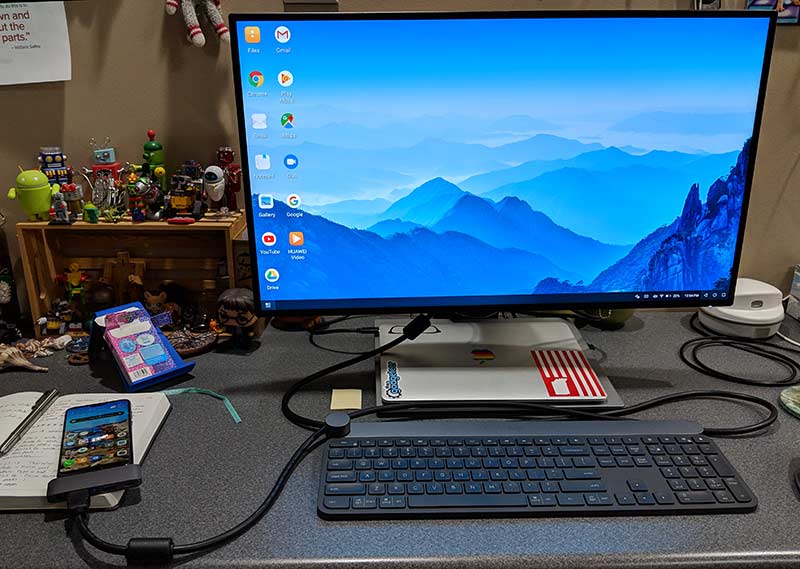 Success! And the cool thing about the Huawei P20 is the EMUI interface that turns the phone into a desktop type of experience with a full-screen windowed desktop.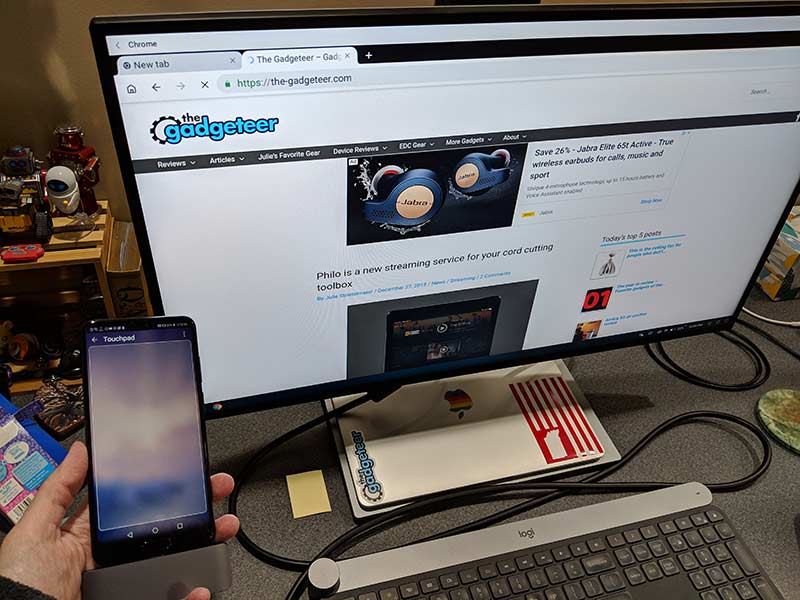 The phone's touchscreen even can become the touchpad of the computer. Nifty!
Next up, I tried the Samsung Galaxy Tab S3 and like the Pixel 2 XL, it was a fail. ARGH…
Time to test the device that the Satechi Type-C Mobile Pro Hub was designed for in the first place, the new 2018 iPad Pro.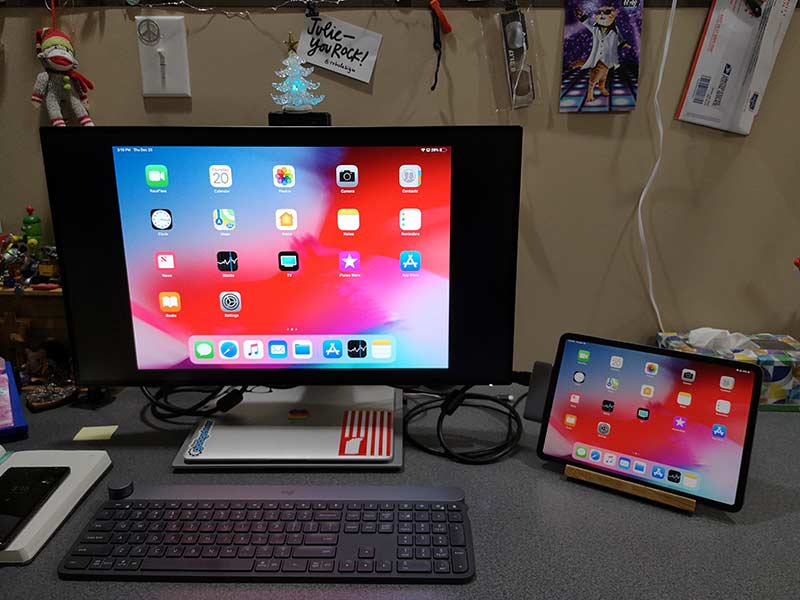 Look at that, it's iOS on a bigger screen. Success #2.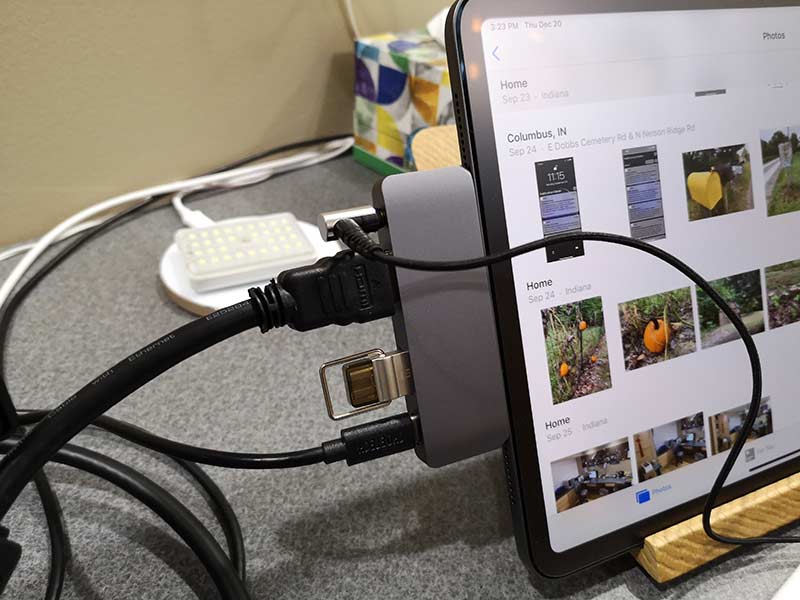 I connected headphones, which worked as expected, and connected a Type-C power cable and it also worked as expected. I connected a USB flash drive with a bunch of files into the USB 3.0 port on the hub and… fail. But that was to be expected. I already knew that you can't connect a flash drive to the iPad Pro and expect to see all your files as you do on a Windows or Mac. Thanks Apple. BUT, if you have a flash drive with images or video files on it, the iPad Pro will see those files if they are in a DCIM folder structure and will allow you to import them into the Photos app which will automatically launch when the flash drive is plugged into the hub. So, yay. You can also connect a camera with a USB cable and transfer photos and video that way too.
What I like
Ability to hook up some Type-C mobile devices to a larger display
Adds a 3.5mm headphone jack to the iPad Pro
Adds a USB 3.0 port and Type-C charging port
What needs to be improved
Type-C connector not long enough to plug into iPad if a case is being used.
Final thoughts
You know that we are living in a dongle world and I'm a dongle girl (hat tip to Madonna). But seriously, as devices get smaller and thinner, we're losing ports like 3.5mm headphone jacks, and USB ports. Dongles and adapter like the Satechi Type-C Mobile Pro Hub are filling the void and solving this connectivity issue. Will this hub work with every device that has a Type-C port? Nope. But it's been designed for 2018 iPad Pros and it does work very well with them. So there you have it!
Price: $59.99
Where to buy: Satechi and Amazon
Source: The sample for this review was provided by Satechi.