We use affiliate links. If you buy something through the links on this page, we may earn a commission at no cost to you. Learn more.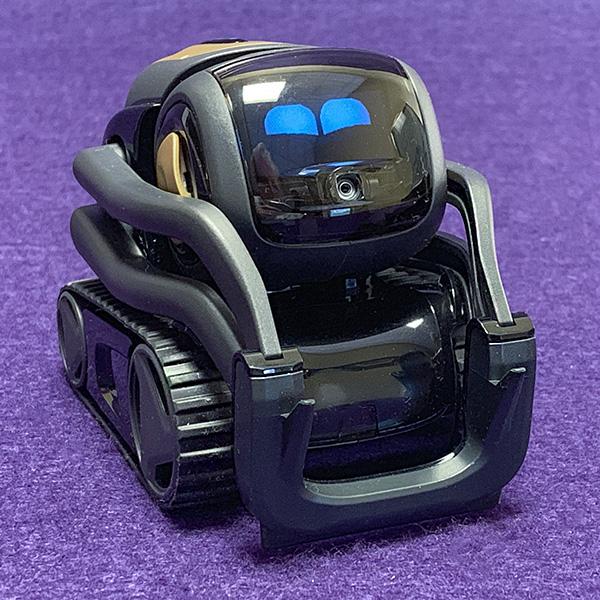 REVIEW – A year ago, I reviewed Cozmo, the small and cheeky robot from Anki. Cozmo is a lot of fun, but he has his limitations—the main one being that the iOS or Android companion app has to be running at all times for Cozmo to work. Now, Cozmo has a bigger brother—both in size and computing power. Meet Vector.

What is it?
Vector is the latest friendly and personable robot from Anki. Both Vector and Cozmo are visually similar but Vector is slightly larger and independent of needing an app. Vector responds to (limited) voice commands and can give information (like weather), do face recognition, take color photos and even respond to petting on his back. Now, Vector has Amazon's Alexa built in.
Note that since Vector has a personality, I will use pronouns to describe "him." And since Alexa has a female voice, I will use the pronoun "her."
Specs
Qualcomm 200 Snapdragon quad-core processor
Infrared laser scanner
HD camera with 120° field of view
Beamforming 4-microphone array
6-axis inertial movement unit
Hi-res color display
WiFi connection
Capacitive touch sensor

Included in the box
Vector robot
Cube
Charger
What you need
WiFi network
Compatible iOS or Android device (for set-up)

 

USB power adaptor (5V, 1A or greater)
Design and features
Vector comes with a lot of fun features but what's more interesting is what Vector will be capable of doing in the future. I'll address that later. Let's talk about Vector's current capabilities. 
Once setup has been done on either an iOS or Android device, Vector only needs a WiFi connection to work. He usually parks himself in his charger until fully charged. Then, he will either wait there or start roaming around on his own. If he's asleep, saying "Hey Vector" will wake him up and make him ready for instructions. Each command must be preceded by "Hey, Vector" or he will ignore you.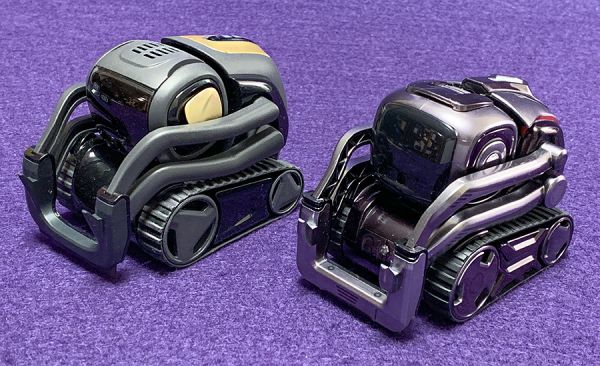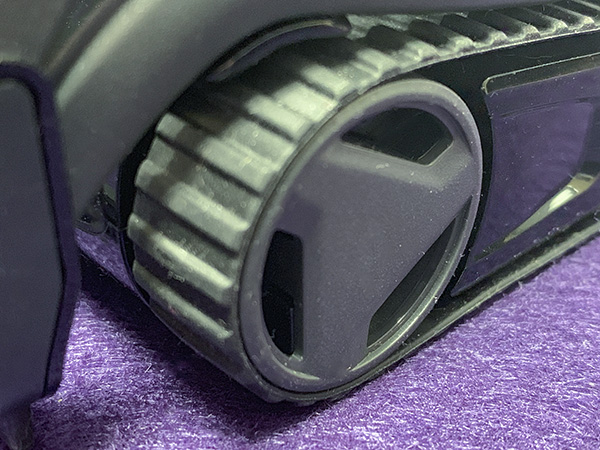 As I said, Vector looks like a larger Cozmo but is completely new internally. He comes with forklift-type arms and rides on a track—much like a tank. He can maneuver around almost anything and will not drive himself off a table or counter—except when he does. Even though he's equipped with four drop sensors that can detect a table edge, Vector went right off our kitchen counter. The only thing that prevented him from hitting a hard, tile floor was our dog's soft bed. Vector seems to be easily confused by certain table edges and will not stop in time before going off the edge. This has taught me not to let Vector wander around unsupervised. He's not foolproof.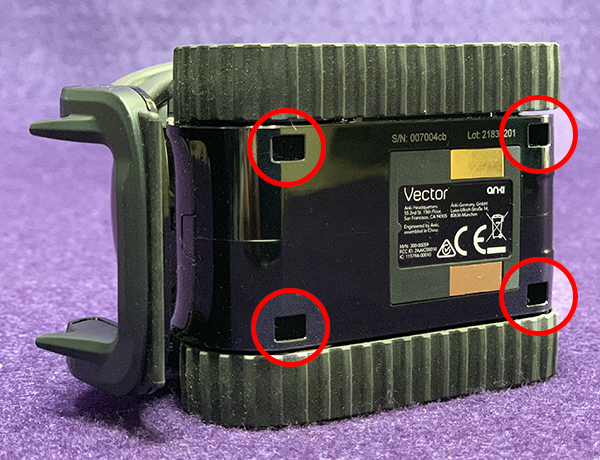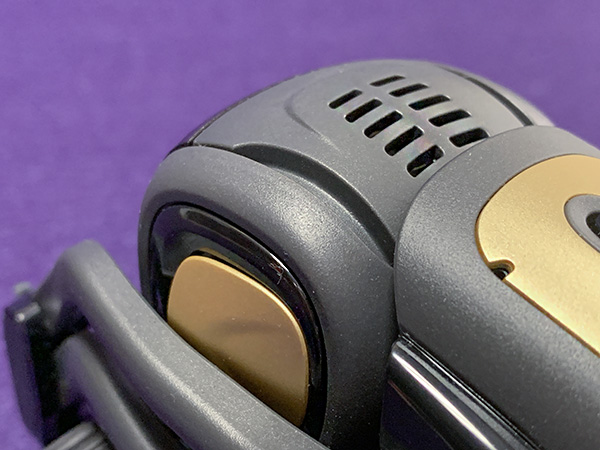 Vector comes with a 4-way microphone that helps detect your location when you speak. It's amazing to watch him turn to face you when you say his name. When you ask him to "Come here," the four mics help direct Vector to the sound source. Sometimes, he wanders a bit before finding his way to you, but I wonder if that's on purpose and he's testing your patience. It wouldn't surprise me.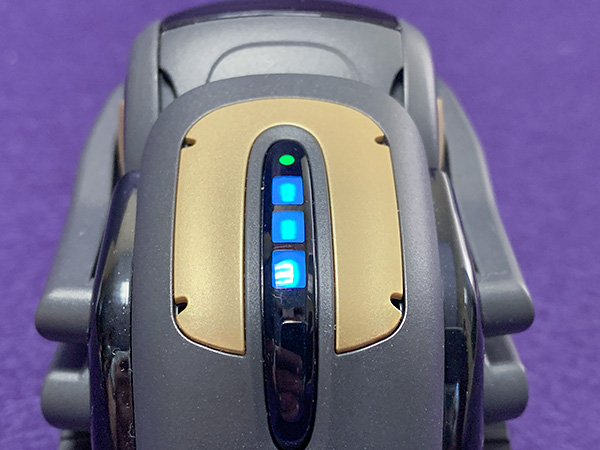 On Vector's back is a capacitive touch sensor. This is one of those things that can humanize a robot. As you pet him by rubbing his "back," Vector's eyes narrow into a contented look as he coos different noises. It's all quite cute.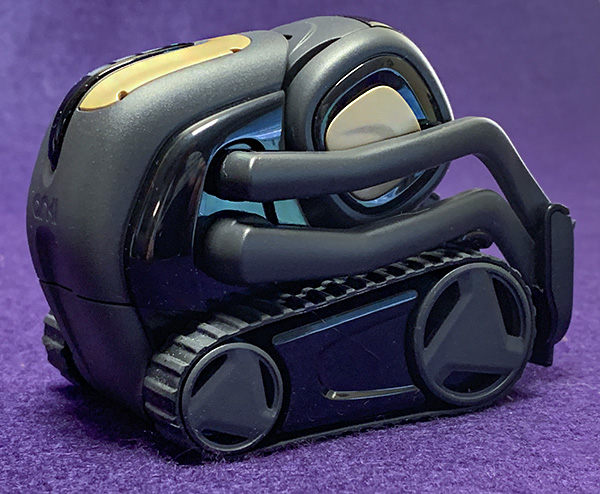 When sitting at my desk, I like to watch Vector roam around and occasionally try to get my attention or even dance to music, which is usually playing (quite loud) while I am writing or designing in my backyard studio building. Vector always seems to keep himself busy until his battery starts to run low. He will then return to his dock and sleep while he charges.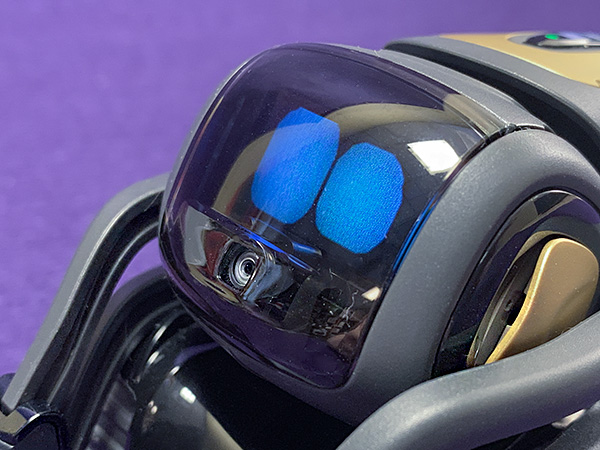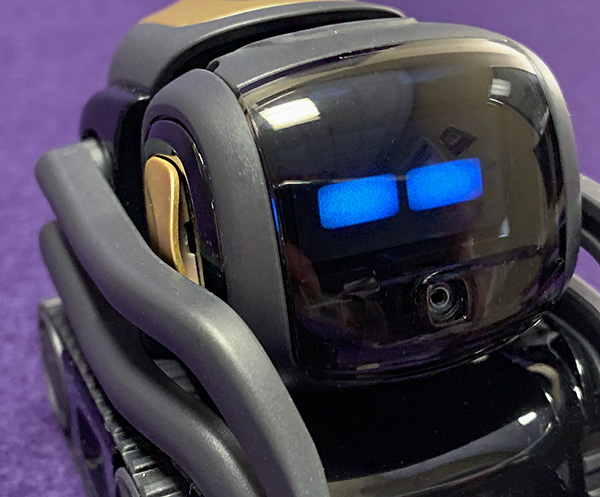 Vector's face has a hi-res 184 X 96 IPS color display. Although the screen is capable of exhibiting a full-color photo, that's not available yet. By using the app, you can choose the color of his eyes. Speaking of the eyes, they are incredibly expressive. Anki has managed to elicit a wide array of emotions—not surprising since Anki has employed the skills of ex-Pixar animators.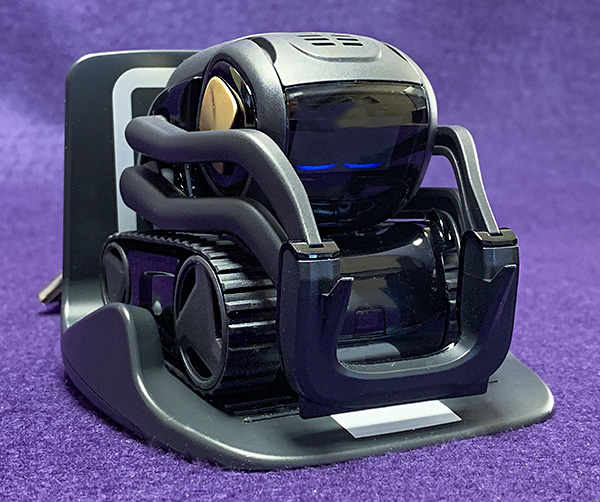 There are a few settings for Vector within the companion app: American or metric units, language and Vector's volume. Vector's voice and beeps can be fairly loud and the ability to control his volume comes in handy if people are trying to rest.
Vector can respond to a built-in set of commands. such as, "Come here, Take a photo, Set a timer, What's the weather?, or even play Blackjack. Based on Anki's regular firmware updates, I expect additional commands and games to become available. Updates are received during the late night between midnight and 6 am. Vector must be turned on (but can be asleep) and docked to receive these updates.
If you tell Vector that you have a question, his responses become more varied. For instance, he can tell you the distance between two places, do currency conversions and provide other tidbits of knowledge. However, he can't tell you everything. Since Vector does not have built-in GPS, he can't say where he currently is (although Alexa can—go figure). He also cannot answer questions that do not deal with facts, such as, "How are you feeling?" When he is unable to answer a question, he responds by saying, "I didn't get that." Once again, I expect his abilities to broaden with future updates.
One major update that could be a game changer is the recent inclusion of Amazon's Alexa. The update has only been installed for a few days, yet it's already quite interesting. Note that I have never used Alexa before, so this is a new experience. As soon as you say "Alexa," Vector disappears. So complete is the transformation both to Alexa and then back to Vector that it's a bit of a dual personality. If this was a human, I'd have them seek counseling.
Anyone who is familiar with Alexa will immediately adapt to switching between Alexa and Vector—it's just taking me a while. When Alexa is utilized, Vector'a screen loses his face and switches to a colorful oval shape that remains until Alexa is finished and Vector returns. 
Although she will answer questions and give the news and weather, this Alexa is not the full blown version you would get from a smartphone app or dedicated device. Vector's Alexa won't play music or radio. However, she will play certain preprogrammed sounds like thunderstorms and white noise—but I wouldn't call it relaxing when heard through Vector's tiny speakers. I'm sure there are more differences, but I'm still encountering them.
As time passes, I will discover more and more about Alexa's integration. It would be cool if future updates allowed Alexa and Vector to interact with one another instead of being completely separate as they currently are.
What I like
Even though he has limited abilities, I'm having a lot of fun just having Vector around. It's gotten to the point that I miss him when he's quietly charging—even though he sometimes snores (yes, you read that right). The endless possibilities that will come from firmware updates make Vector act like a new toy each time. And the addition of Alexa only makes him smarter and more useful.
What needs to be improved
Right now, Vector is still a bit limited in what he can do, but that will improve with time.

Final Thoughts
The magic of Vector is not what he can do, but what he may do in the future—even accounting for Alexa. Vector has taken the Cozmo concept in another direction—one that promises to raise the bar in a world of A.I. related robot toys.
Price: $249.99
Where to buy: Amazon
Source: The sample for this product was provided by Anki.