We use affiliate links. If you buy something through the links on this page, we may earn a commission at no cost to you. Learn more.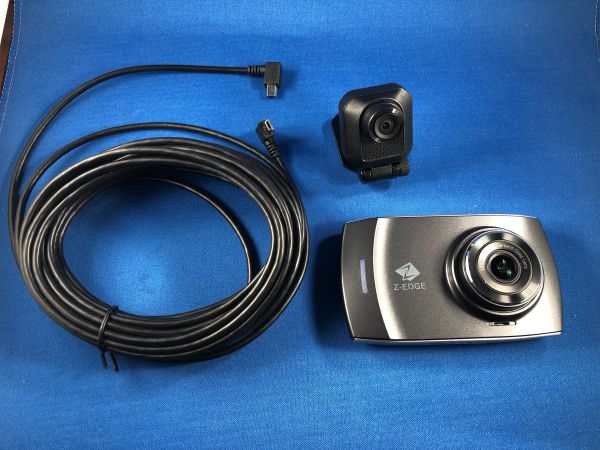 REVIEW – Dash cams can be a great help in an accident. If the events are not being reported accurately, showing an actual film of an accident or incident does a lot to prevent someone from "remembering" things differently. Recently, I was sent the Z-Edge T4 touchscreen dash camera, and it includes a second, rear-facing camera – a wired model rather than a wireless one. Since I'm on a quest to find a good backup camera, I was really excited to try this and I'm ready to give you my report.
Note: Photos may be tapped or clicked for a larger image.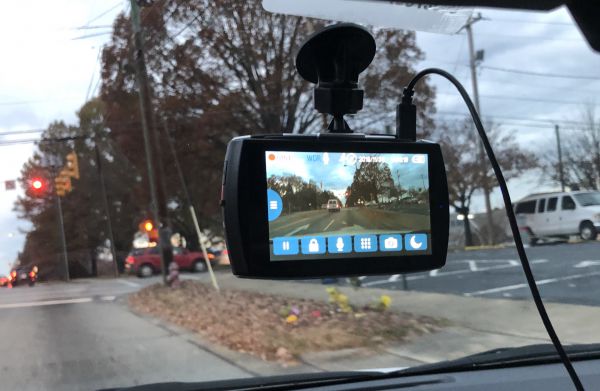 What is it?
The Z-Edge T4 dash cam is a touchscreen camera that measures 4.74" x 2.75" x 1.25" (121 x 72 x 31mm). It comes in a complete kit that includes front- and rear-facing sensors, mounting brackets for both, as well as the wiring to connect them, and the media to record events on.
Hardware specs
(from the company's website)
One-Hand Operation Touchscreen

Your On-The-Way Witness

Dual 1080P Recording, Never Miss A License Plate
Super Clear Night Vision With WDR Technology
155° Wide Angle Lens, Full 4 Lanes View
What's in the box?
main camera unit
12-volt 2-outlet power plug
rear camera 1.5" x 1.5" x .5" with a hinged mounting plate and permanent adhesive tape
3' USB-A to miniUSB power cable
26' microUSB to microUSB cable for connecting the two cameras
suction-cup windshield mount for the main unit
32-GB TF micro data card
instruction sheet that you can actually see. In English.
six stick-on wire-management clips.

Design and features
The T4 from Z-Edge is all you need to record and secure your car. With a front-facing camera, rear-facing camera, and power connectors, the system can monitor about 310º around your car. (Each camera covers 155º.) There is a Parking Mode that will take video using the battery if any motion is detected.
Setup
Setup of the system is simple. Mount the front-facing main unit to your windshield to get the best view of the road ahead. Plug in the power adapter and run the power cable to the main unit. Mount the rear camera (you may want to have someone else help with this for best positioning.) Run the 26' cable from the rear camera up to the main unit on your windshield. The camera is automatically detected when you plug it in, and you are given the option to view just the front camera, just the rear camera, or the front with the rear in the upper quarter of the frame, picture-in-picture style. Two taps and you're back to a different view. Easy-peasy.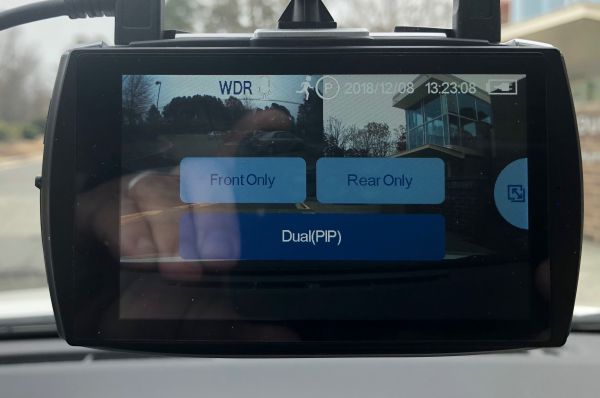 Performance
I found no issues with performance. Like most cameras on the market, the Z-Edge T4 can be set to record in snippets of different lengths. If there is a shock to the system (an accident, or just a bump), the active video is locked. As the disk fills, older clips that are not locked as emergency events are erased and written over.
Transferring to your computer or tablet is pretty normal – pull the TF card and place it in an adapter for your device, plug it in, and download the files you want. Rear and Forward views are recorded full screen in two different files, rather than however you're viewing them on the screen while recording. I like this better than having just the screen view, which may not include important info if you're just viewing one or the other. When the rear camera is plugged in, it's recording, even if it's not showing on the display.
The following shots are pictures of the unit with both cameras active while parked after a concert. I wanted to show the scene through the windshield and the T4's interpretation of it. There are a lot of cars in the parking lot behind me, and a large magnolia tree in front of me. The first is before turning on my headlights.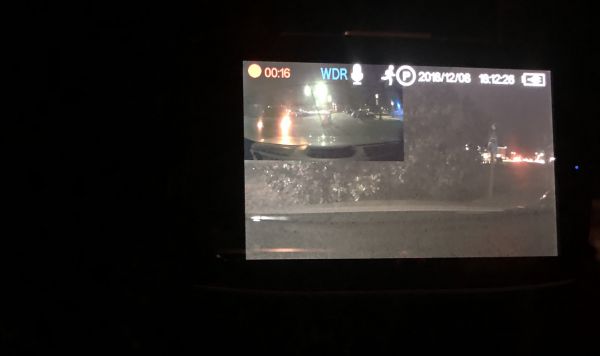 The next shot shows after turning on my headlights. Note the difference between what's on screen and what my iPhone picked up in the background of the actual view through the windshield.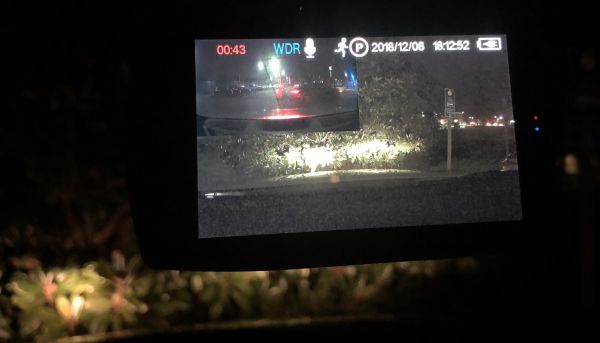 Next, let's move on to some video.
The first clip below shows the last part of my daily drive into work. I arrive at the parking garage about 7:50 on a December morning. Driving into the sun, you can still see car tags, pedestrians, and cyclists clearly. As I turn into the garage, the camera takes a second or two to adjust, but then is able to have good resolution within the dark garage.
The next two clips are how the front- and rear-facing cameras are recorded. They are broken at identical points but are kept as two similarly-named files on the data card. (Apologies for the Accidental Tech Podcast episode on Italian desserts in the background.)
What I Like
Complete kit – no need to buy anything else.
Well-written instructions for operation.
Touchscreen operation is glove-friendly (large buttons).
Easy to change views.
Parking mode adds protection while your car is parked.
What needs to be improved
Rear Window mounting means seeing your rear blind spot (for backing purposes) is not as good as a license plate level camera.
Final thoughts
I was really impressed with this unit. The camera quality is good in low light or sun, it's very easy to switch to full-screen rear camera, accessing the menu is a single tap. It's also only two quick taps to turn the screen off. The sensitivity adjustments for exposure are easy to manage, and it really picks up good images in early morning light, dusk or full night. Add in the fact that you probably won't have to buy any extra wiring, clips, etc., and you've got a nice kit to add in-car road monitoring to your vehicle.
Price: $169.99
Where to buy: Amazon
Source: The sample of this product was provided by Z-Edge.