We use affiliate links. If you buy something through the links on this page, we may earn a commission at no cost to you. Learn more.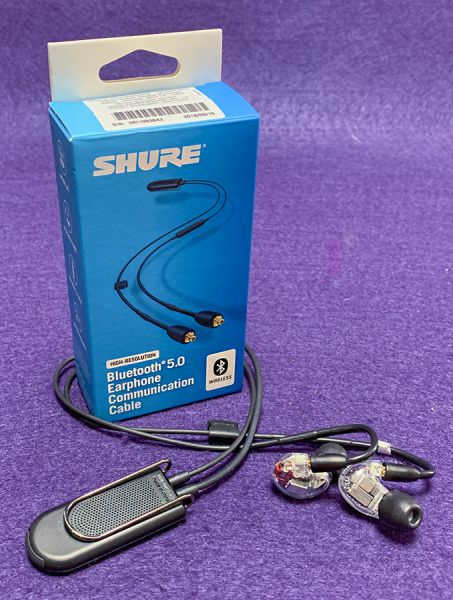 REVIEW – Recently, I was invited to Chicago—a trip that allowed me and other tech writers/reviewers a chance to be the first to try out a new and updated Bluetooth cable from Shure—the RMCE-BT2 High-Resolution Bluetooth 5 Earphone Communication Cable.

What is it?
This mouthful of a named cable is a simple device that can make any Shure earphone (or other brands with an MMCX connector) wireless. 
Specs
Wireless connectivity: Bluetooth 5.0
Wireless range: 30 ft.
Integrated DAC and amp: Supports Qualcomm, aptX (HD and low latency), AAC, SBC codecs
Rechargeable battery life: 10 hours play time and 350 hours standby
Design and features
The Shure RMCE-BT2 is not much to look at, but don't let its small size fool you. It measures about 3 in. X 1 in. and the thickness of a piece of cardboard. There's a clip that lets the RMCE-BT2 attach to clothing. Its black color helps make it less noticeable, but a more interesting design form could make it cooler. Two left and right MMCX connector cables are attached at one end. The 13 in. length feels just right—neither too long or short.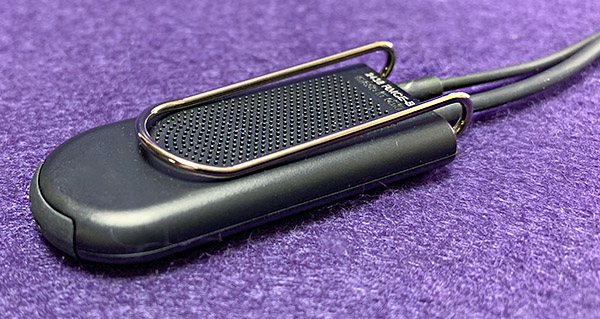 The RMCE-BT2 is not just a Bluetooth transmitter. Inside, there's a digital audio converter (DAC) with a dedicated amp. Rather than buying a ready-made DAC from a manufacturer, Shure developed it themselves which allowed them to tune the DAC to work best with their earphones. The same goes for the amp that Shure says was designed for high fidelity listening. Maybe that's a bit of hyperbole, but I sure liked what I was hearing.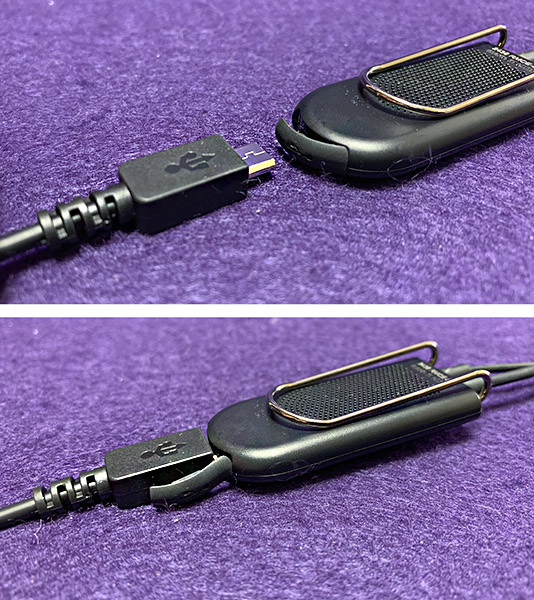 In Chicago, I was allowed to try out the RMCE-BT2 on different Shure models of earphones. After my return, I concentrated my testing on the Shure SE535 and SE846 as well as a pair of RHA CL1 earphones for testing. Since the CL1s have the MMCX connector, the fit was perfect so I would assume the RMCE-BT2 cable will fit any other brand with that type of connector.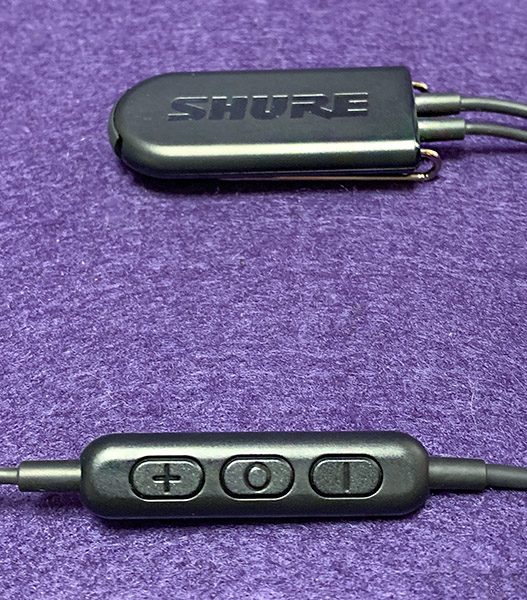 The RMCE-BT2 comes with the prerequisite volume/pause/skip buttons attached to the cable. Phone calls were easily understood by the person on the other end, although he did say that it wasn't quite as clear as with Apple's AirPods—those are indistinguishable from the iPhone itself.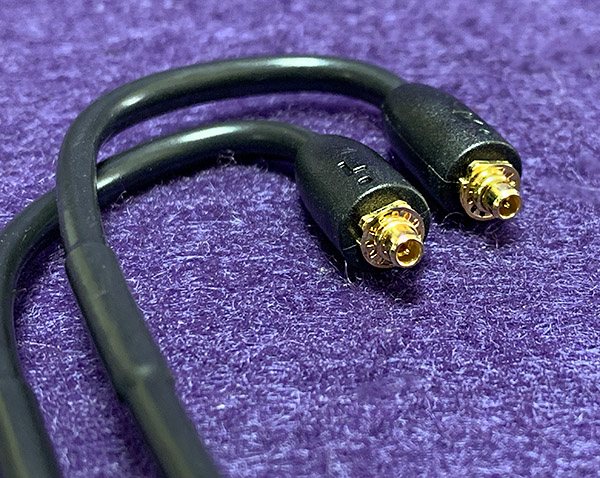 It didn't seem to matter which earphone I tried with the RMCE-BT2. They each exhibited the same sound signature either wired or wireless. The RMCE-BT2 has the latest Bluetooth 5.0 and you cannot hear any difference. Note that Bluetooth has had a checkered past and has only recently reached a level that can be called hi-def without snickering. In other words, Bluetooth has arrived.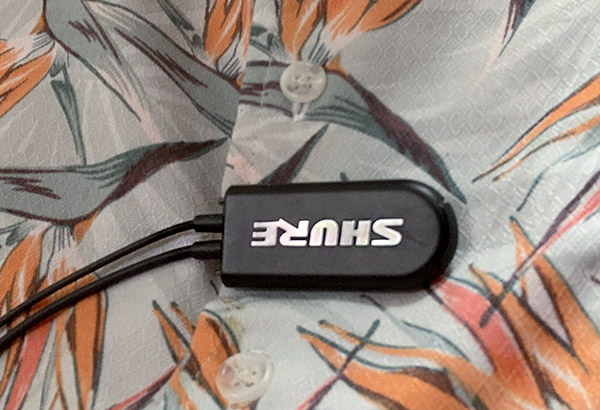 My musical tastes are fairly eclectic—from Abba to Brian Eno to Russian Choral to Moody Blues. As I listened with the RMCE-BT2, I tried to detect any anomalies or less-than-desirable audio parts. The only issues I had were inherent in the original recording and not because of the RMCE-BT2.
If your musical selections are more on the bass side, the bass remains. If you prefer a brighter sound, that won't change. That's the point: Nothing changes. You can go wireless when it's convenient, wired when it doesn't matter.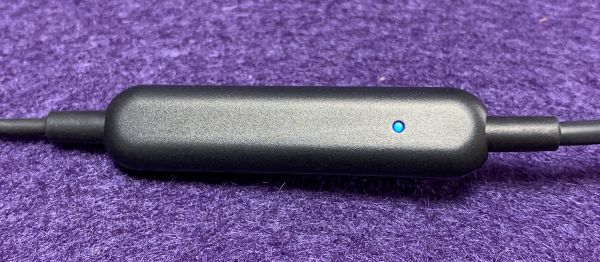 Pairing with the new iPhone X Max was flawless and instantaneous. Android users can choose which Bluetooth codec they prefer. Apple iPhones won't tell you what codec they are using (it won't be any version of aptX), but usually it's AAC.  Bluetooth range is rated at an unremarkable 30 ft. I was able to extend that by only a bit. I would have preferred a longer range, especially at the RMCE-BT2's price.
Speaking of price, the RMCE-BT2 is expensive, but considering that it's made for Shure earphones, it's a seamless accessory.
What I like
The RMCE-BT2 adds freedom to earphones that are otherwise tethered and they do it with minimal fuss.
What needs to be improved
The design is meh. It's a bit expensive.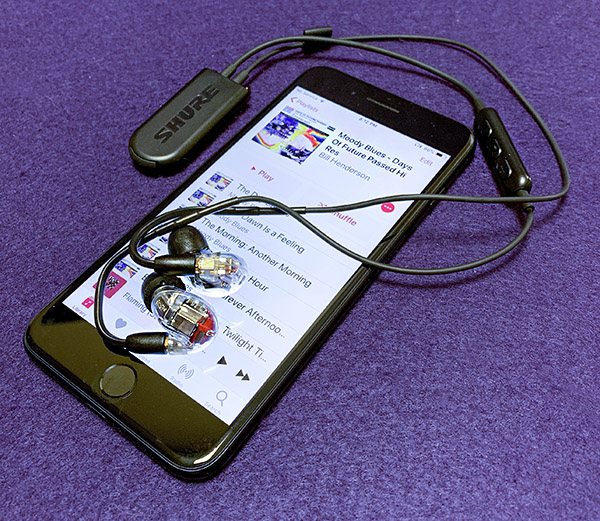 Final Thoughts
The important thing to remember is not what the RMCE-BT2 High-Resolution Bluetooth 5 Earphone Communication Cable does, but what it doesn't do. It doesn't make your music sound better, worse or different. It allows it to sound the same as it would when earphones are wired—and that's as high a praise as can be given.    
Price: $149.00
Where to buy: Amazon
Source: The sample for this product was provided by Shure.