We use affiliate links. If you buy something through the links on this page, we may earn a commission at no cost to you. Learn more.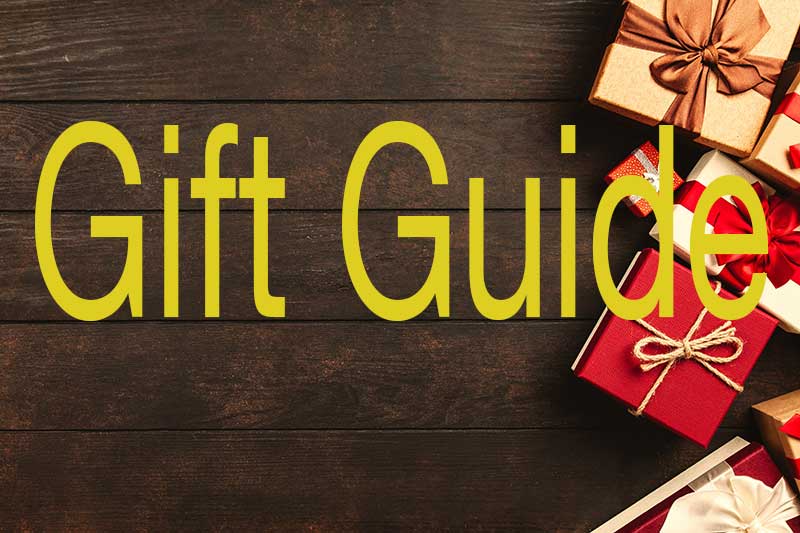 ARTICLE – It's another year almost over, and it's time to admit you still haven't started music lessons for your child or yourself. Let's look at some gift ideas for getting started learning to play an instrument like the rock god you know you must be!
Squier Mini Strat by Fender

While this may look like a standard Fender Stratocaster, it's actually a "mini", or 3/4 sized, Strat from the Squier sector of Fender.  This guitar is designed for children, for people with smaller hands (like me and my short fingers), or for a travel guitar for anyone.  At only $130, you might think these are toys, but they really aren't.  Check reviews online, and you'll see that some adults swear by these for their own use and not just as a learning guitar for kids.
That's not to say they couldn't use a few adjustments.  I just got the gorgeous all-white mini Strat from the local Guitar Center, and we took it to the guitar maintenance guy who takes care of all my husband's guitars.  It needed some rough fret ends sanded down and the tuning heads tightened.  Less than $40 later, the guitar tech said the guitar was good to go – after all, he said, it's a Fender Strat.
You'll probably want to add a cheap (or not so cheap) little practice amp, some picks, and a strap, and you're ready, ready, ready to rock tonight!
Price: $129.99
Where to buy: The Guitar Center
Fretlight Wireless Guitar

Fretlight guitars may look like a standard guitar, but they offer two features that set them apart from the mainstream:  they are wireless, and they have light-up fret markers that help you learn new chords as you learn to play guitar.
The Fretlight 600 series wireless guitar connect to a smartphone or tablet via the latest Bluetooth BLE technology. This means you'll always get the fastest connection to the device you're using whether it be a mobile device or a computer.  When used with the app, Fretlight's patented, wireless lighted-learning system guitars light up songs, chords, scales, and riffs right on the fretboard to help you learn.
These guitars come as electric or electric/acoustic in various body styles and as right- or left-handed guitars.  They come in several colors, and some are even offered signed by either Alice Cooper or Orianthi.
Price: starting at $300.00
Where to buy: Fretlight
Roland Modern Compact Digital 88-key Piano F140R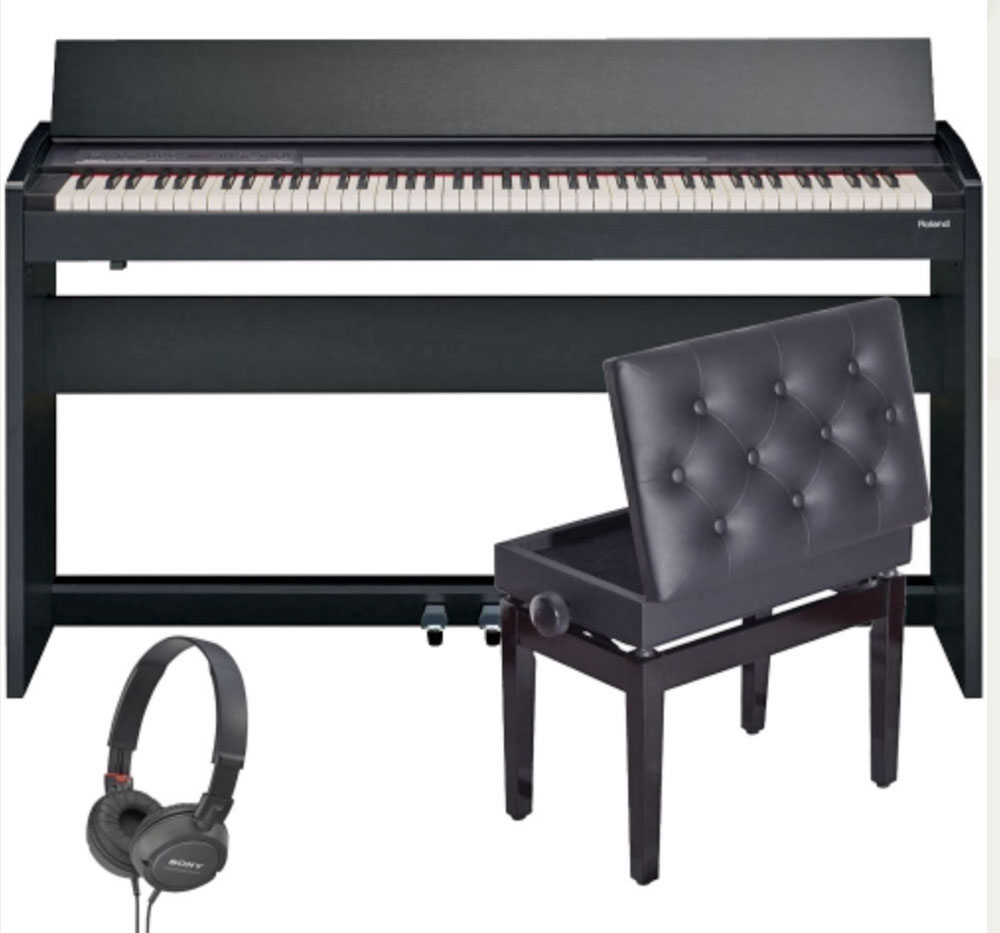 Roland says about their F140R digital piano:  "With superior build quality and innovative technology that far exceeds other instruments in its price class, the F-140R is a serious musical instrument that will last you through years of musical growth and piano enjoyment. Roland's SuperNATURAL Piano sound engine delivers the rich, complex sound of an acoustic grand, providing a truly incredible playing experience. The PHA-4 Standard Keyboard inherits the Progressive Hammer Action and Ivory Feel texture of keyboards found in our high-end pianos, and includes advanced sensing technology to take full advantage of SuperNATURAL Piano's enormous tonal range."
It has built-in speakers for powerful sound and a headphone jack for private practice.  It has too many features to list here, but included are multiple grand piano sounds and other voices, built-in rhythms, MIDI functionality, and more.  Go check it out at Roland, and purchase one at your local store or at the link below.
Price: $1249.99
Where to buy: Sweetwater online
Casio LK280 Portable Keyboard with 61 full-size touch-sensitive lighted piano-style keys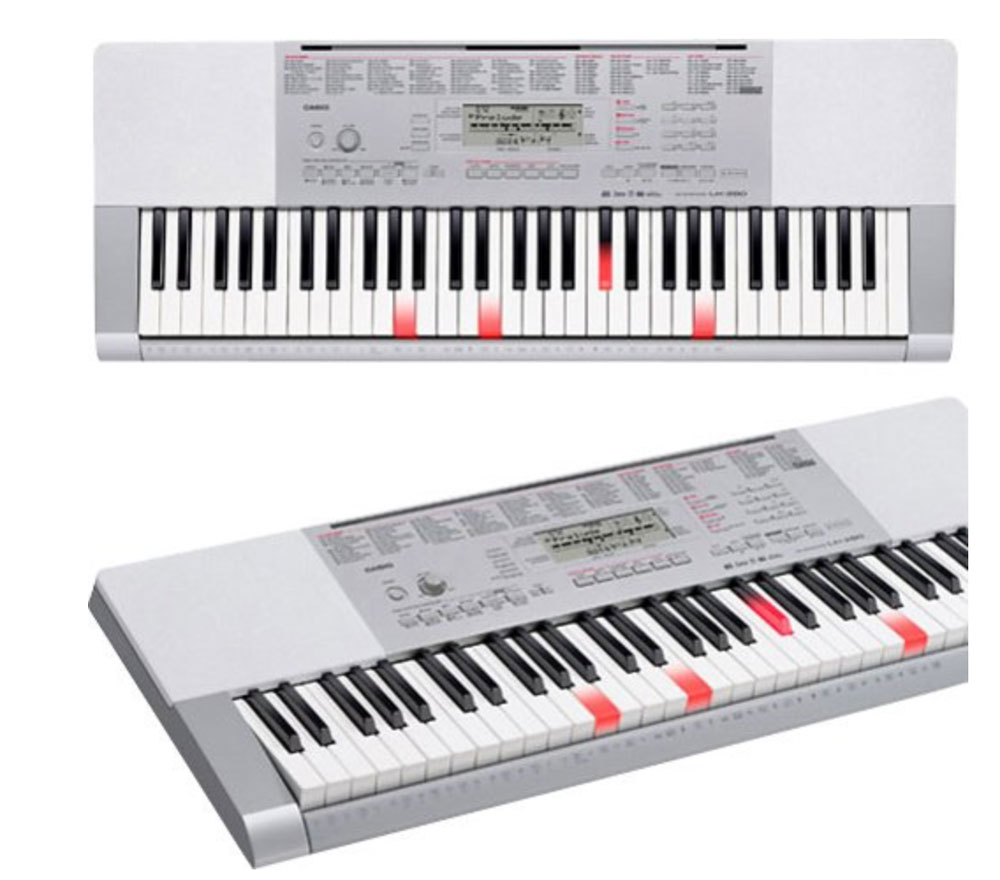 If that Roland piano isn't in the budget, or maybe you need some help learning to play, check out the Casio LK280.  This is a 61-key keyboard with full-sized, touch-sensitive keys that can also light up to show you where to play.
Touch-sensitive keys, with 48-note polyphony for expressive playing. Lighted keys let you easily review which notes to play.

Allows you to send MIDI files back and forth from your computer to the keyboard. USB port for easy connection to your PC. Secure Digital card slot expands storage capability (card not included).

Step Up lesson system m

akes it fun and easy to learn to play the keyboard.

180 rhythms/accompaniments, p

lus digital reverb and chorus effects, and up to 600 possible tones, including stereo pianos, to fuel your creativity.

Multitrack recorder l

ets you layer and save your creations.

1/8″ line input f

or connection of an MP3 player or other audio device, so you can play along to your favorite tunes.

Headphone jack l

ets you practice privately.
Price: $199.99
Where to buy: Best Buy
Yamaha DTX400K Compact Electronic Drum Set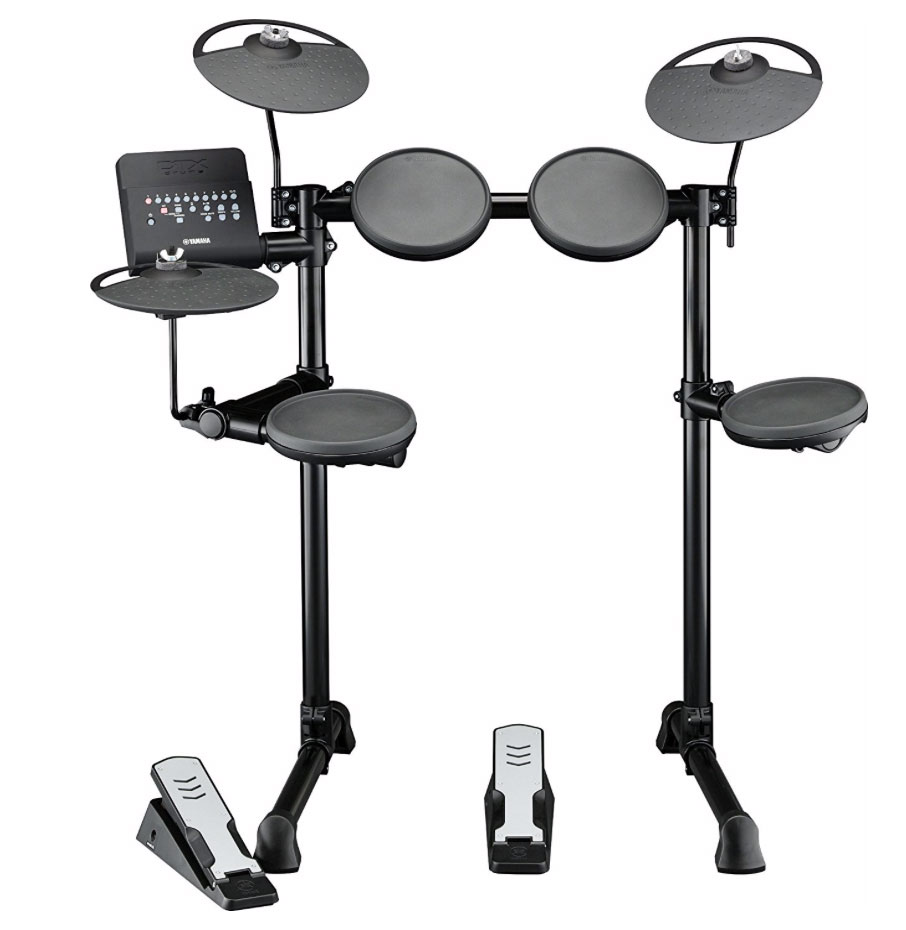 Perhaps you yearn to beat the skins, but your neighbors don't want to hear you "banging on the bongos like a chimpanzee", as Mark Knopfler says.  Using this drum kit, you can play all night long without causing a war.  Yamaha says about their DTX-400K drum kit:  "The DTX400K is a full-size electronic drum kit with newly designed drum pads and large 10 inch cymbals, all on an adjustable steel rack system. It's a great feeling kit that let's you play in comfort without disturbing others. And because it's from Yamaha, you can count on durability and dependability.
The DTX400K includes 10 drum training exercises for any level player that help improve timing, accuracy and endurance.  It features the KU100 Silent Kick Unit that greatly reduces vibration and acoustic noise."
It has USB MIDI capability, and it's upgradeable and expandable.  You'll also have access to three Yamaha iOS apps to help you learn or practice:  DTX Drum Lessons, DTX400 Touch to customize the sound, and Song Beats to help you learn the drum parts to your favorite MIDI songs.
Price: $479.99
Where to buy: Amazon
BOSS Katana-Air 30W Stereo Combo Amplifier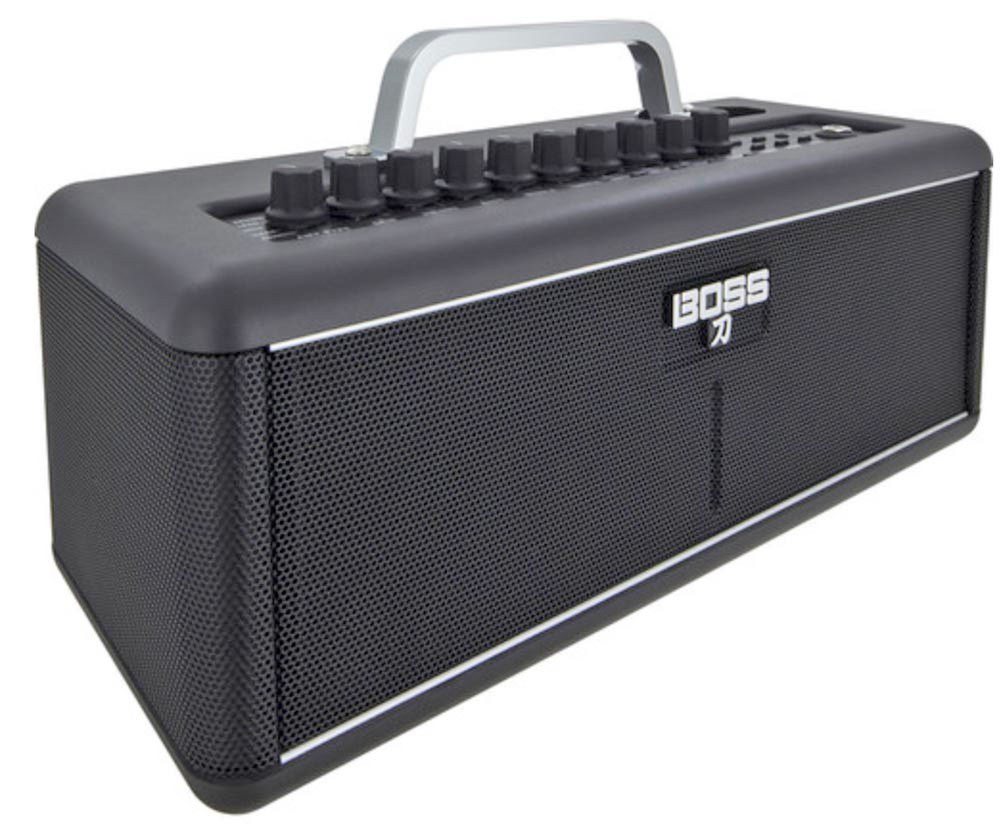 The BOSS Katana-Air 30W Stereo Combo Amplifier comes with a proprietary wireless transmitter to connect to your guitar to the amp.  The Katana-Air is a true stereo amplifier with two custom-tuned speakers.  You're ready to play anywhere with this BOSS.  It provides 30W of audio power when plugged into a power outlet or 20W when running off battery.  The amp uses "low-latency digital-wireless guitar technology developed by BOSS to provide transparent sound without any lag or dropouts."
BOSS says:  "Equipped with the same tones and sound-shaping controls found in larger Katana amplifiers, the Katana-Air offers timbres for any style. Five amp characters provide a wide range of tones, from sparkling clean to a custom, high-gain Brown sound evocative of a Marshall stack. There's even an Acoustic character optimized for playing acoustic/electric guitar. The amp also provides integrated access to over 50 BOSS effects, including modulations, delays, and reverb effects optimized for the Katana-Air's stereo speaker system. With six onboard memories, you can store and recall your favorite amp and effects setups at any time.
Available for both iOS and Android devices, a dedicated BOSS Tone Studio app gives you complete control of the Katana-Air right from your smartphone or tablet. You're able to adjust all the amp's panel controls, as well as access effects types and routings solely available from the app. You can also save setups to the amp's memories, organize sound libraries on your device, and download free patch collections directly from BOSS Tone Central. The app corresponds with the amp over Bluetooth."
When you aren't using the BOSS Katana-Air as a practice amp, it's a Bluetooth speaker for music playback from your computer or mobile devices.
Price: $399.99
Where to buy: B&H
KLIQ UberTuner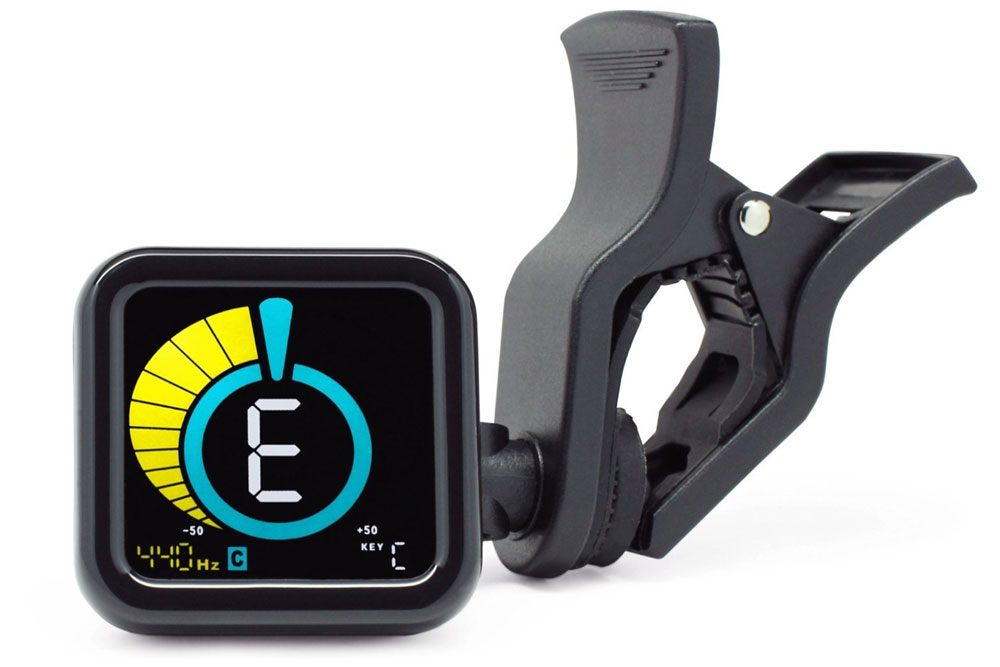 The UberTuner has an advanced microprocessor and a sensitive piezo sensor that ensures your instrument is quickly and accurately tuned.  It has guitar, bass, ukulele, violin, and chromatic tuning modes; it has transposition settings for Bb, Eb, F, and D woodwind and brass instruments.  It has an easy-to-read, full-color display, a long-lasting 3V CR2032 lithium battery, and a power-save feature for extended battery life.
Price: $23.97
Where to buy: Amazon
Fender Play step-by-step lessons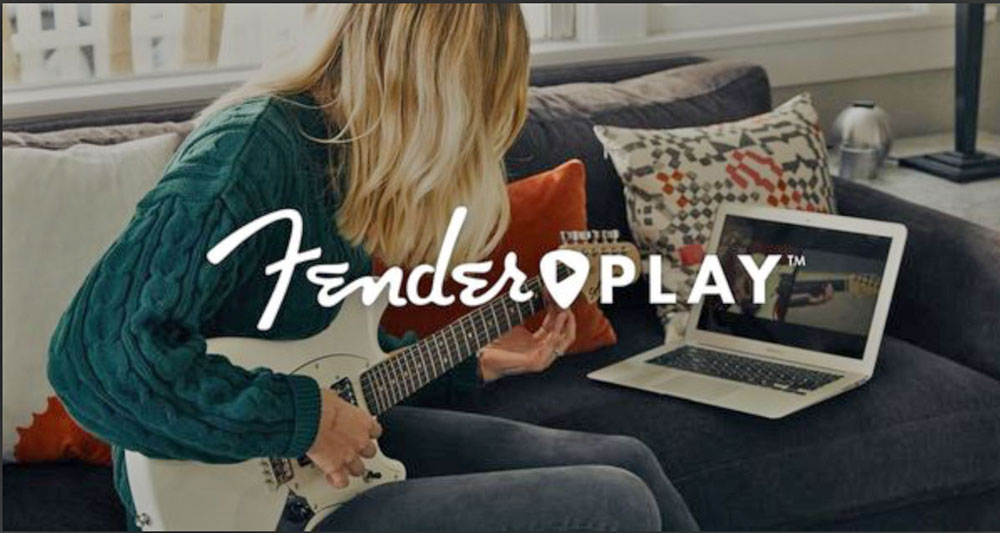 I'm sure there are guitar lessons readily available where you are, but sometimes you just want to not quite go-it-on your own, but not be tied down to expensive lessons you might not be able to make because of work or school commitments.  Fender offers guided lessons for guitar, bass guitar, and ukulele for much less than formal lessons.  You'll pay $9.99 a month, or you can pre-pay for a full year for only $89.99 – plus, you'll be given a 10% discount on Fender gear for a year when you purchase the yearly plan.
Lessons are available on your computer or mobile device (both Android and iOS).  You'll have step-by-step lessons featuring expert, experienced instructors that you can use at home or take with you when you travel.  You learn at your own pace.  And you'll get a free 14-day trial so you can try it out before making a commitment.
Price: $9.99/month, or $89.99/year
Where to buy: Fender Play
String Stretcha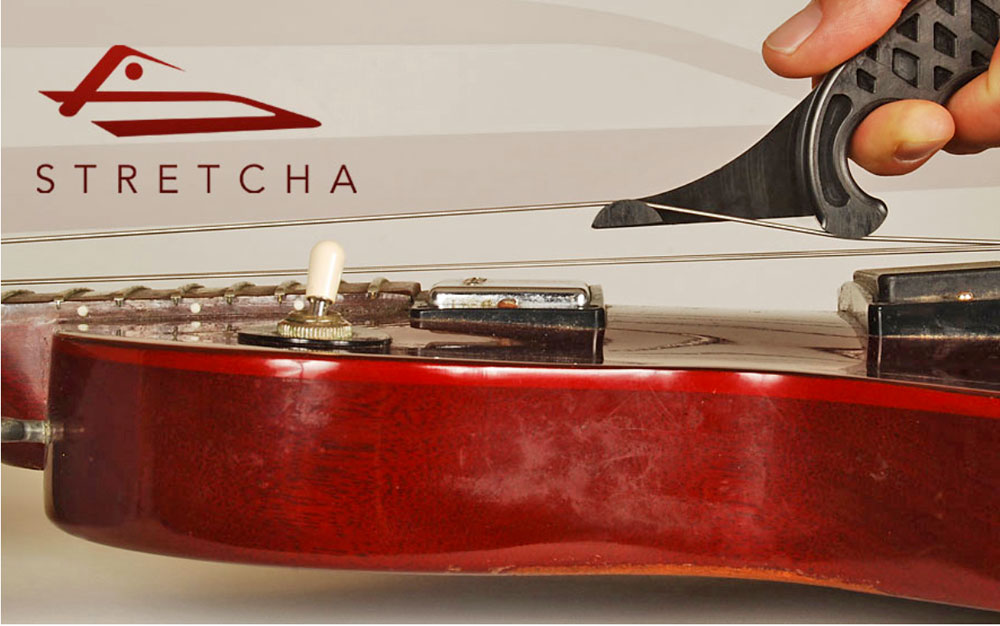 If you have tuning problems, it may be the strings and not your guitar, bass, or ukulele, according to the folks at String Stretcha.  There are ways to stretch the strings using your fingers, but pulling on them at random places results in uneven stretch and using the "thumb and fingers" method takes a long time and causes a lot of pain.  If you use the Stretcha tool, you can zip it up and down the strings in just five minutes and achieve a much more even stretch.  And the tool has been tested in studios and on the road by professional guitar techs, who give the Stretcha a big non-sore thumbs up.  You can find the Stretcha at retailers, but if you can't wait to get your hands on one, you can order directly from String Stretcha.
Price: $14.50
Where to buy: String Stretcha
JS SERIES CONCERT BASS™ MINION JS1X

When my daughter was a kid, she wanted to learn to play guitar.  She actually wanted a bass, but at the time, we couldn't find a bass small enough for her to play comfortably.  Heck, a full-sized bass is still almost as big as she is now!  She has a couple of short-scale basses she plays now, but she recently fell in love with this tiny Jackson bass called the Minion.  This is the bass you want to get for your younger child to learn on.  It's also great as a travel bass, or as an instrument for smaller adults, like my daughter.
The JS Series Concert™ Bass Minion JS1X has a 28.6″ scale length, which is even smaller than her other short-scale basses.  It has a poplar body, one-piece bolt-on maple neck with graphite reinforcement rods, and a 12″ radius amaranth fingerboard with 22 jumbo frets and pearloid sharkfin inlays.  It has a Jackson P-style pickup at the neck and a Jackson J-style pickup at the bridge.  Each pickup has a volume knob.  There's also a hardtail bridge with black baseplate and Jackson-branded locking tuners.
The Concert Bass Minion JS1X is available in Neon Green, Pavo Purple, Satin Black, or Satin Silver with black hardware.
Price: $253.51
Where to buy: Jackson Guitars or Guitar Center (for $179.99)