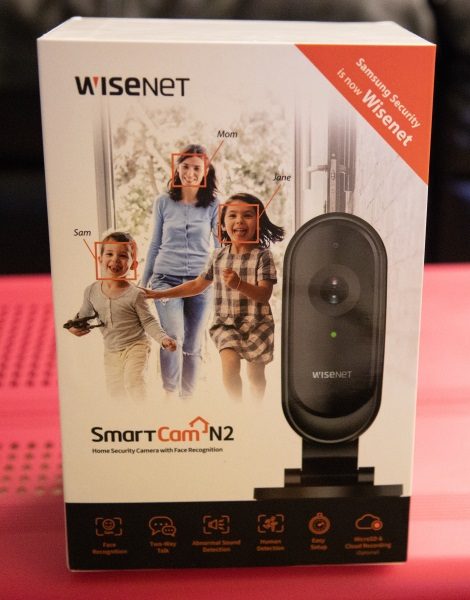 REVIEW – I am one of those gadget nerds that really likes all types of gadgets, and really likes security cameras that offer security features like face recognition, the option of onboard and/or cloud storage, and programmable notifications.  In addition, the ability to hear and see what is going on remotely, and to communicate verbally completes the desired package. Let's see what the Wisenet Smartcam N2 Indoor Security Camera can do.
What is it?
The Wisenet Smartcam N2 Indoor Security Camera is a wireless security camera that is capable of abnormal noise recognition and face recognition, has onboard and cloud storage capabilities, and can send notifications whenever a relevant event occurs.
What's in the box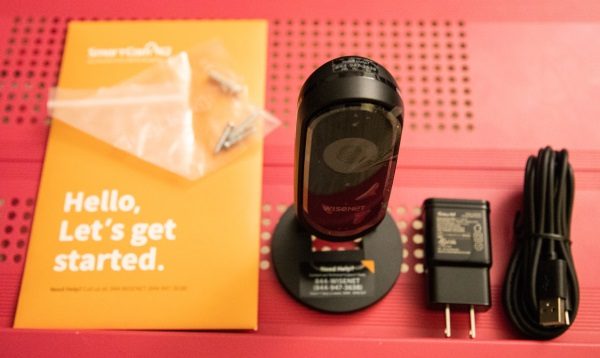 1 x Smartcam N2
1 x Power Adapter and Micro USB cable
1 x Wall Anchors and Screws
1 x Instruction Packet (Quick Start Guide, Warranty Card, GPL License)
Design and features
Specifications: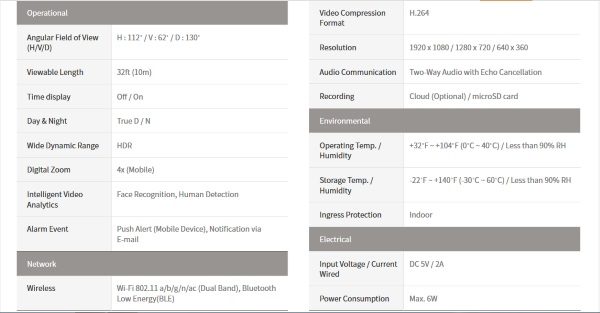 Additional features
The SmartCam N2 only distinguishes human activity, eliminating false alert triggered by your pets.
The SmartCam N2 includes Motion Zone Selection that allows you to create up to 3 customizable areas in your camera's view through the App. When it detects movements within the Motion Zone Selection area, you receive a notification on your mobile device.


On the front of the camera from top to bottom, there is the microphone, the lens, the LED status indicator, and the speaker.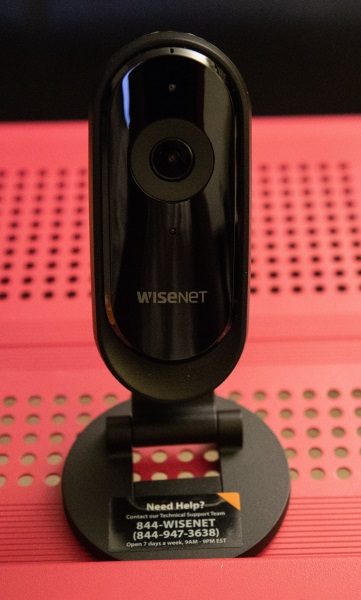 The back of the camera is plain, other than the connector to the stand that allows you to rotate and secure the camera at multiple angles.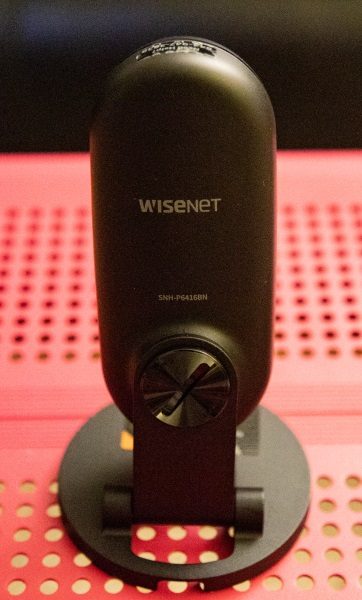 When facing the front of the camera, there is a reset button and a micro SD card slot on the left side. The Sd card slot allows you to use a micro SD card for onboard recording which like other cameras can be triggered via motion.
Since the camera is all black and the ports are harder to see, the following picture from the manufacturer's website shows all of the physical ports and features: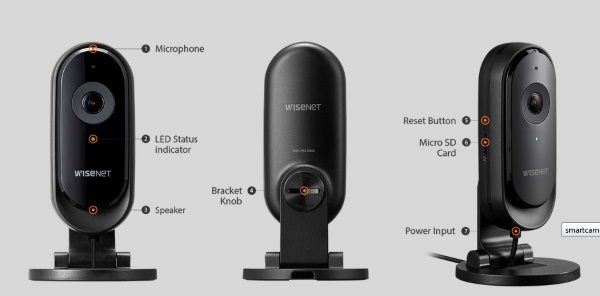 Performance
This camera performs quite well, with a stable wireless connection that has never disconnected thus far, and it produces great images. It has great sound detection and it even recognizes out of the ordinary sounds which it categorizes as abnormal sounds. Its face recognition works even in very low light and once you enable the feature, it sends notifications upon detection.
The Smartcam works on both Android and IOS devices, and via the app, you get very clear and detailed images and video.
The following is a random selection of some of the numerous screens that you encounter when setting up via the App.
What I like
The size and design that allows the camera to be inconspicuous
The features
The lightweight but good build quality
The app
What can be improved
Final thoughts
Like many of the wireless security cameras that I have tested and reviewed, this camera offers similar features and delivers very well on its specifications and promises. I really do like this camera, and while it is a solid performer, I do hesitate a bit when recommending it only because of its cost relative to other available cameras with similar features. Nevertheless, it is a well built and very functional camera, and therefore for its performance, it gets two thumbs up!!
Price: $199.99
Where to buy: Amazon
Source: The sample for this review was provided by Wisenet.
Some of our links in posts like this one are affiliate links, which means that we may receive a small commission on purchases at no cost to you.