We use affiliate links. If you buy something through the links on this page, we may earn a commission at no cost to you. Learn more.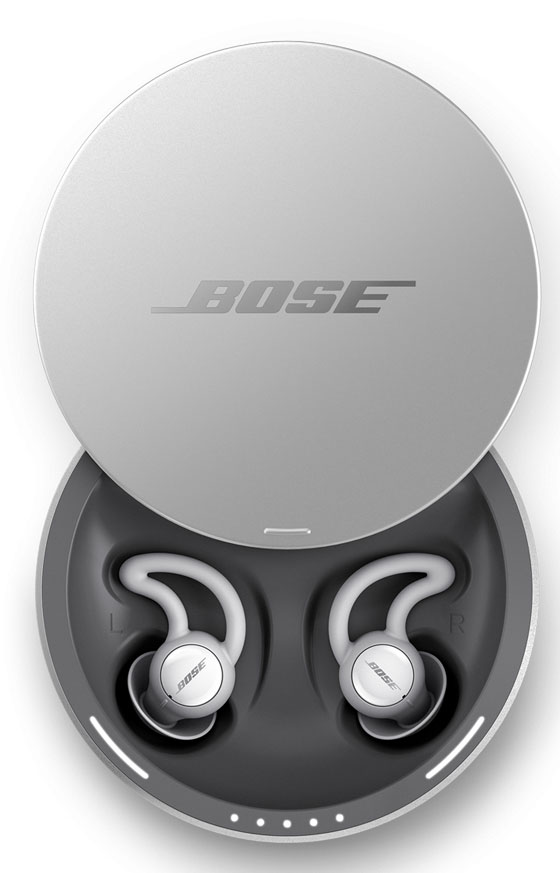 NEWS – Year round, my husband wants a big fan running in our bedroom at night.  In the summer, I don't mind it so much, because it helps keep the room cooler.  In the colder months, I don't want it running because it can make the room too chilly for me.  My husband needs it for the white noise, though, because every little sound can bother him.  If he had a pair of these Noise-Masking Sleepbuds from Bose, he wouldn't hear the ambient sounds that bother him, and I could sleep without freezing.
Sleepbuds may look like regular earbuds, but they can't stream music, nor do they have acoustic noise cancellation.  Instead, these truly wireless buds fit comfortably in your ears and, when paired with an app on your smartphones, play "pre-loaded, soothing masking sounds to cover up unwanted nighttime noises so you can get to sleep and stay asleep."
Bose says: "Instead of streaming music, Bose sleepbuds deliver soothing sounds that mask unwanted nighttime noises. And while we're the first to champion the use of active noise reduction, we discovered that, when it comes to sleep, noise-masking technology is a better solution for the range of sounds that keep you awake — especially voice-based frequencies. So all you will hear is a soothing sound that helps you fall asleep and stay asleep."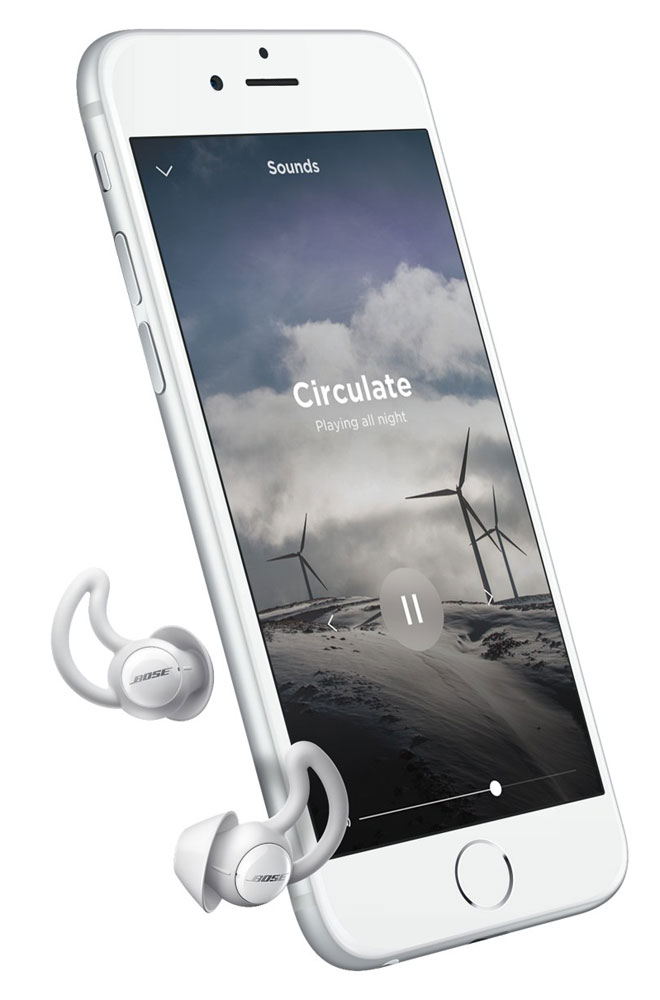 With the app, you'll choose a uniquely-engineered sound to mask unwanted noise – traffic, talking, snoring – and lull you to sleep.  And don't worry that the noise-masking will prevent you from hearing your alarm, because the app has an alarm function built in to wake you without disturbing your bedmate.  If needed, you can adjust the volume of the masking sounds, so you won't be completely shut off from sounds you need to hear, such as a crying child.
Of course, you won't sleep if you are uncomfortable, so Bose did 3-D scans of scores of ears to help them design small, comfortable sleepbuds   The sleepbuds measure 0.94″ high x 1.06″ wide x 0.56″ deep and weigh  0.081 oz each.  To ensure they fit your ears, Bose includes S/M/L StayHear+ Sleep tips; pliable fins conform to the upper ridge of your ear to keep the sleepbuds in place all night.  Bose even has a video to help you get the best fit.
The battery in the sleepbuds last about 16 hours between charges, more than enough time for a good night's sleep.  They come with a charging case that recharges the sleepbuds as it protects them.  The case's internal battery provides a full charge, so you can keep the sleepbuds charged when you travel.  The case measures 1.06″ high x 3.03″  in diameter and weighs 3.93 oz.  It comes with a carrying pouch so you can pack the sleepbuds in your bag when you travel.
The Bose Noise-Masking Sleepbuds are $249.95.  You can purchase them directly from Bose, from Walmart, Amazon, and other retailers.