We use affiliate links. If you buy something through the links on this page, we may earn a commission at no cost to you. Learn more.

REVIEW – As some of you may have read, Julie and I purchased and reviewed Apple's latest and greatest smartphone, the iPhone Xs Max. And where Julie returned hers, I continue to love using mine with zero buyers regret. Even though I got AppleCare Plus, I hesitate using the Max without protection (aka naked). The iPhone X(s) is slippery and very droppable, the Max's larger form factor makes it even more so. From the beginning, I've debated case vs skin vs nothing but a screen protector. For this review, I am trying out a handmade leather skin from Jamie Clawson's workshop in black cowhide.

What is it?
The leather skin is made from a single piece of leather that adheres to the back of your iPhone adding protection and grippability to the very slick piece of metal and glass.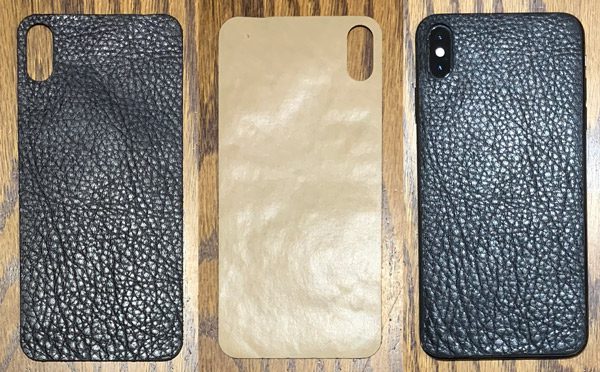 Design and features
The leather skin is handmade, laser cut, and fits the back of iPhone Xs perfectly. The skin protects the Max's very expensive to replace glass back.

The adhesive Jamie uses is made by 3M "specifically for our products". Installing the skin is quick (less than a minute) and easy. And as I said, the leather is perfectly sized/shaped for the iPhone.

The skin is surprisingly thick, approximately 1/4 the thickness of the iPhone Xs itself. My fear is that the high edge of the leather will catch on something or the constant taking the phone in and out of my pocket will cause the edges of the skin will stop sticking/fail. Unlike Slickwraps and Brandb skins much longer warranties, Jamie only provides a 7-day guarantee against defects vs any sort of failure to adhere. 

There is no way you could put your iPhone into a case with this skin on…or at least not a very form-fitted one. Supposedly you can remove and reapply it as long as you keep the sticky side clean and schmutz-free. I will be testing this out in the next few weeks, I have several cases inbound where I will have to remove this skin when I start my reviews.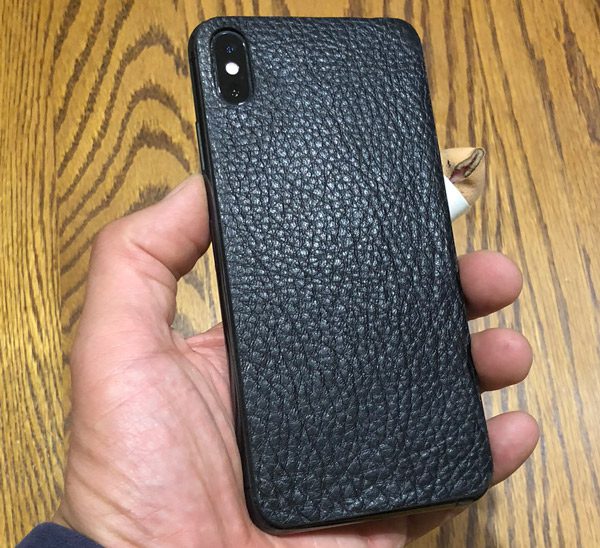 The leather skin feels great on my iPhone Xs Max and adds solid grippability to the sleek and slim device. I was a bit worried the height of the leather being an issue or irritating but surprisingly its not. Based on how I hold my iPhone, other than feeling the leather, the edge doesn't really affect the form factor of the smartphone when in use.
What I like
Precision fitted for the iPhone
Made from high quality leathers
Adds excellent feel and grippability to the slippery device.
Protects the iPhone's glass back
What needs to be improved
Surprisingly thick
No warranty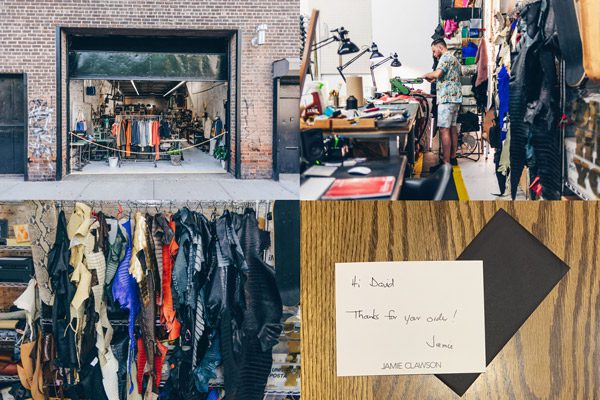 Here you can see just how handmade and personal Jamir Clawson's products are…right down to the handwritten note thanking me for my order (to the best of my knowledge, he had no idea I was planning on reviewing it 😉 ).

Jamie Clawson makes his skins out of a multitude of leathers including genuine premium cowhide, calf, crocodile, ostrich, pony hair, python, stingray, etc.
Final thoughts
I have been using Jamie's leather skin for a few weeks now and it continues to get the job done. The edges remain firmly stuck to the glass back of my iPhone Xs Max. And while the skin provides minimal overall protection, it does add grippability and provides decent protection for the back of the smartphone. With it, a tempered glass screen protector, a sure set of hands, and AppleCare Plus…I believe my fancy new $1500 tech-toy, not only feels as Jony Ives intended but is protected enough to face my hectic go, go, go lifestyle.
Price: $25
Where to buy: jamieclawson.com
Source: Purchased with my own funds from jamieclawson.com.