The Gadgeteer is supported by readers like you! If you buy something through links on our site, we may earn an affiliate commission at no cost to you. Thank you! Learn more.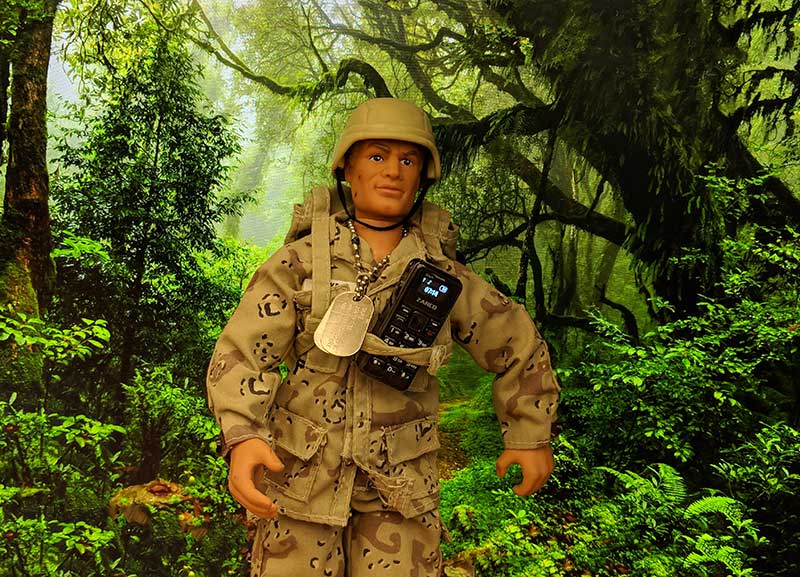 REVIEW – Are you tired of carrying around a smartphone that can double as a piece of workout equipment because it's so large and heavy? Then you need to take a look at the Zanco Tiny T1 phone. And when I say it's tiny, I'm not kidding. Just ask G.I. Joe.
What is it?
The Zanco Tiny T1 phone is an insanely small phone that looks like a toy but it's a real working phone that will work with your existing GSM SIM card for carriers like AT&T and T-Mobile. Sorry, Verizon and Sprint customers, you'll not be able to use this phone.
What's in the box?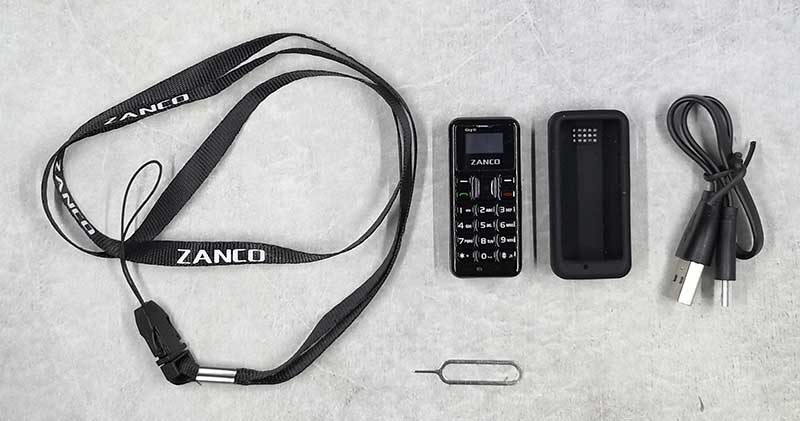 Zanco Tiny T1 phone
Silicone cover
micro USB charging cable
Reset tool
Neck lanyard
User manual
Hardware specs
Frequency – GSM850 / GSM900 / DCS1800 / PCS1900
2G
Nano SIM
Memory – Flash -32RAM +32ROM
Display – OLED
Bluetooth
Phonebook memory – 300
Memory for SMS – 50
Battery – 200 mAh
Size – 46.7mm x 21mm x 12mm
Weight – 13 grams
Design and features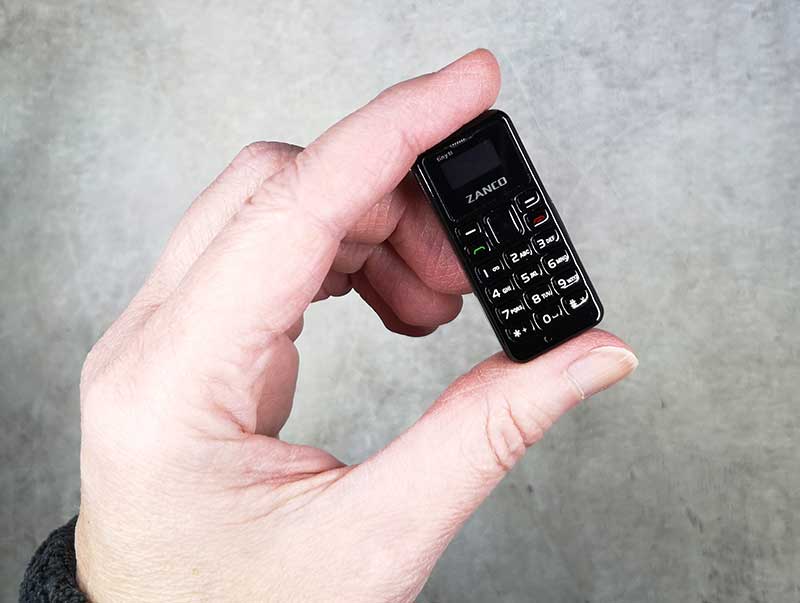 You really can't believe how small the Zanco is until you hold one in your hand. It will fit in any pocket you have, including that little watch pocket in your jeans.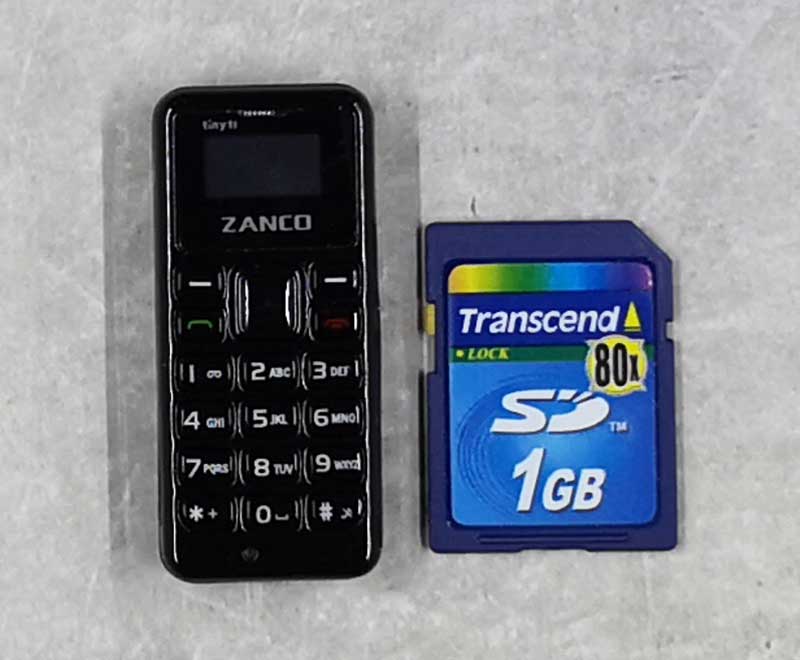 For another size reference, here's the phone next to an SD card.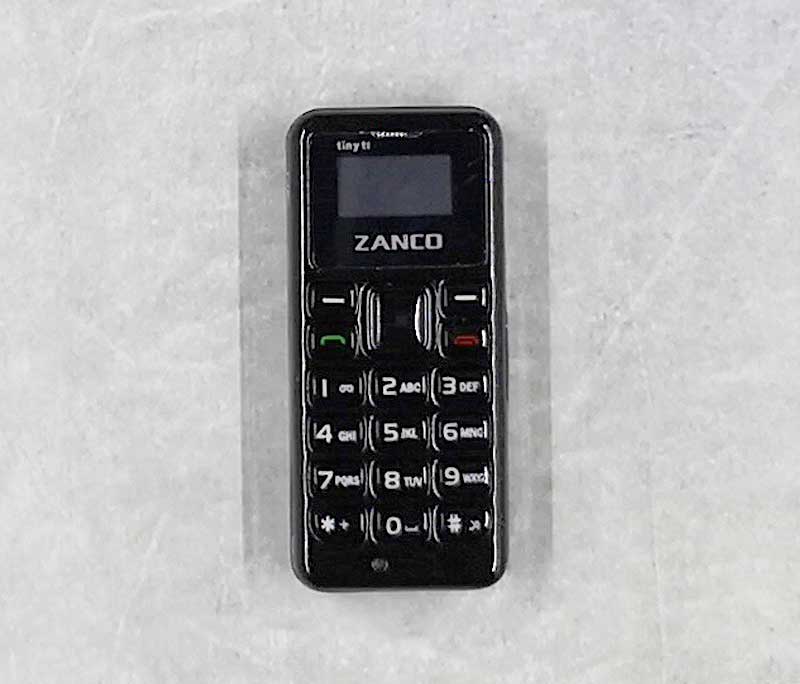 The phone has a shiny black plastic shell with a small backlit white on black OLED display and a full number pad below it along with call answer and end buttons, a four-way navigation button in the center, and two other menu buttons on either side. The design is a throwback to the candy bar style phones from years ago.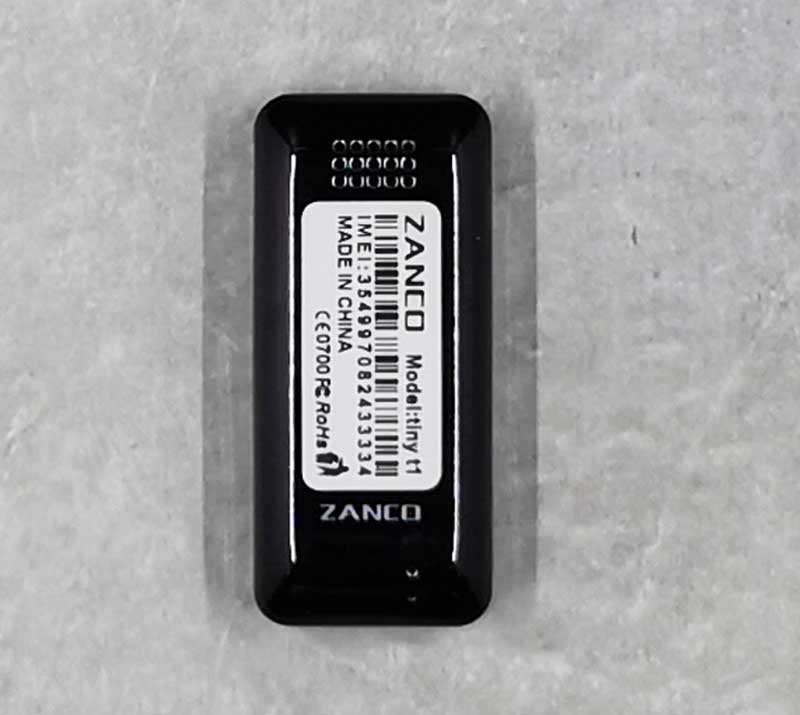 On the back of the phone, you'll find the speaker at the top and a microphone at the bottom.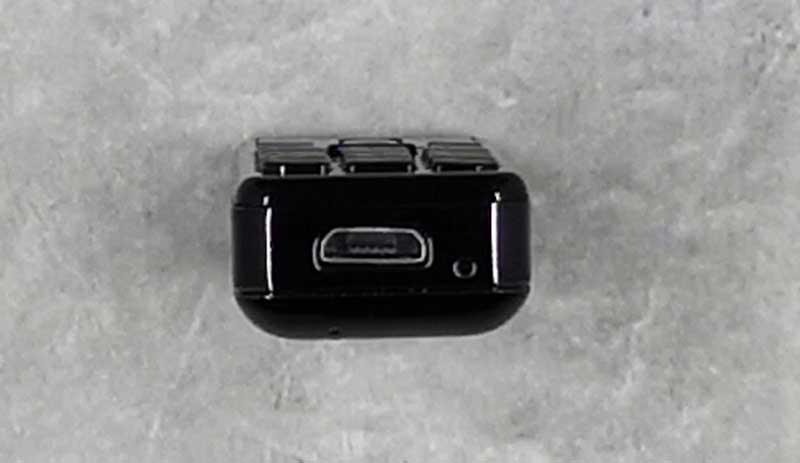 On the bottom edge of the Tiny T1 is a micro USB port that is used to charge the phone.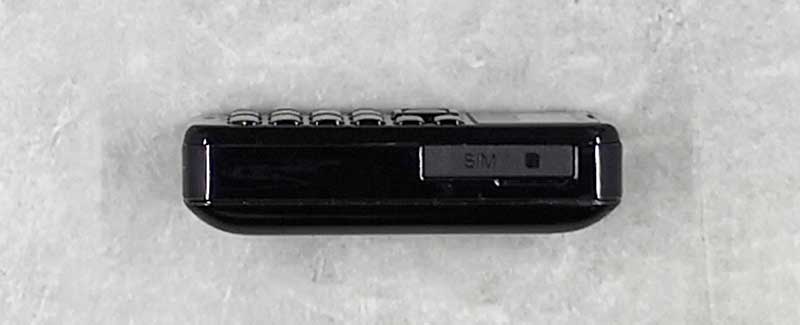 On the right side is a flexible cover that protects the nano SIM card slot.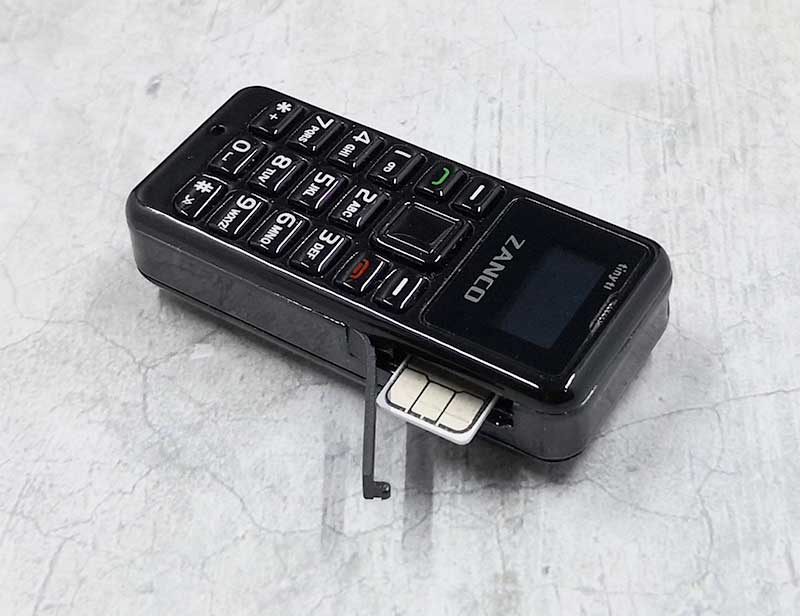 I tested the phone with the T-mobile SIM card that I use in my Pixel 2 XL and the card fit perfectly with a satisfying spring loaded click.
Did the Zanco Tiny T1 phone survive my 21-year-old Gadgeteer squeeze test? Surprisingly yes it did. Although it was tough to actually squeeze something so tiny. Even though this phone looks like a toy, it isn't going to break if you breathe on it. I bet it wouldn't break even if it was thrown across the room. I'm not going to test that theory though.
Using the Zanco to make and receive calls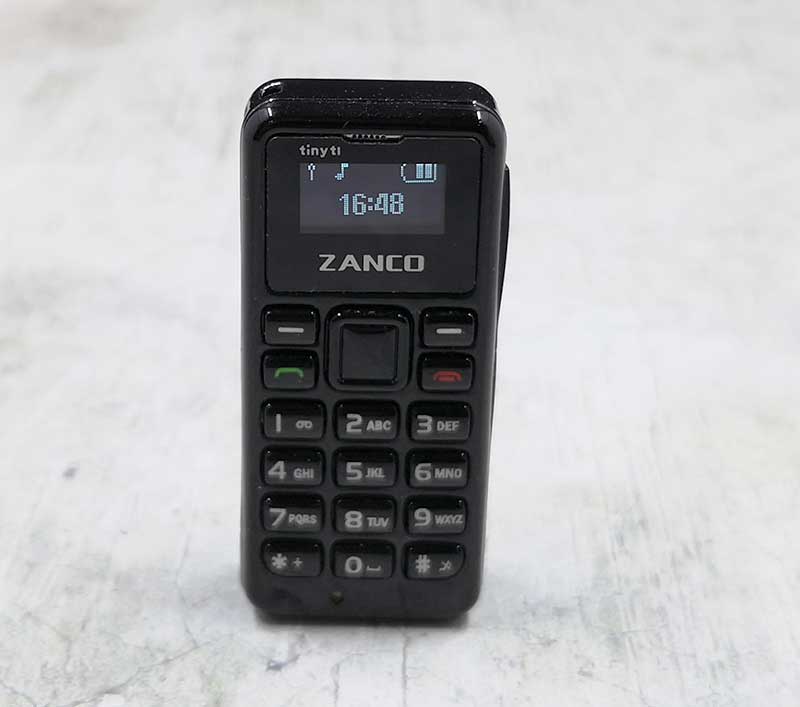 The user interface is as basic as it gets. There's a signal strength meter in the upper left corner and a battery status icon in the right corner with one and a half lines for other info below that.
The Tiny T1 doesn't have iOS or Android, so you can't just say Hey Google or Hey Siri, call Jeanne at work and have it call the desired number. It does have a phonebook but good luck trying to add new numbers or access numbers that you've added using the tiny keys on this phone. Yes, it's doable, but just barely.
Once you do end up calling out or receiving a call, the call quality is ok. Just don't accidentally swallow it while you're talking to someone 😉
And remember, this phone only uses 2G GSM, so you'll need coverage in your area. It should also go without saying that you won't be running Fortnite on this phone or accessing the internet with it.
Using the Zanco to make and receive SMS messages
If making a call with this little guy is tough, reading and sending SMS messages will make your eyes cross when reading them from the itty bitty display. The messages display in a ticker tape vertical scroll when you first receive them and that might make you antsy if you're like me and want to quickly read the message. But replying using the tiny keyboard is brutally painful in a "oh my goodness these keys are tiny" kind of way. You'll have to go back to the days of pressing a number key several times to get the right letter to build words. But again, it's doable – if you want to do it.
What I like
Cute as a button
Fun little backup phone when you absolutely only need to be able to make and receive calls and nothing else
What needs to be improved
Final thoughts
I had a lot of fun with the Zanco Tiny T1 phone. But the fun wasn't in using it to make and receive calls and texts. The fun was putting it in my pocket, going up to a friend and asking them to call me and then watching their face when the phone would ring and I would take it out of my pocket to answer it. It always got a laugh and "no way" comments. Most people also wanted to take a picture of it. So the novelty factor of this phone is very high. The fact that it actually works and can be used as a phone is also pretty cool. Would I use this as a backup phone? Nope. But if I want a tool to make people smile, I know just the one to use.
Price: $65.99
Where to buy: eBay
Source: The sample for this review was provided by Zini Mobile Ltd.