We use affiliate links. If you buy something through the links on this page, we may earn a commission at no cost to you. Learn more.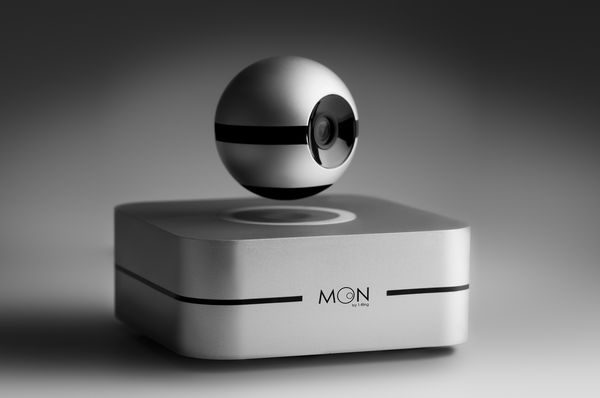 NEWS – Technology startup 1-Ring Inc. has created the smart home hub called Moon. The first thing anyone (who hasn't been under a rock for 41 years) will notice is that the camera part of the hub looks like the Star Wars Death Star. Then again, the first thing people may notice is that the camera is levitating. Whether you believe Obi wan Kenobi when he says, "That's no moon…it's a space station" or Rey when she explains the Force is, "…a power that Jedi have that lets them…make things float" you are right on either count.
The Moon is a space station because it is a fully integrated home automation center. It has an integrated programmable IR Blaster and communicates with all major home automation standards including, Wi-Fi, ZigBee, Z-Wave, and Bluetooth Smart.  Moon integrates seamlessly with Philips Hue, Amazon Alexa, Google Assistant, Apple Homekit and other services in the Internet of Things as well as legacy devices such as TV or stereo systems. Not only does the Moon communicate with existing devices on your home network, but it has its own sensors too; the Moon has a camera,  integrated sound, temperature, humidity, carbon dioxide, and light sensors.
The Moon is part of the Force because the magnets which levitate the camera actually allow the camera to rotate 360 degrees. The camera can be controlled in real time by the mobile app to rotate with a swipe of the finger. The camera can also be programmed to analyze the sound received by high-precision microphones in the base to rotate the camera accordingly.
All smart hub features are easily accessible through the Moon Commander, an intuitive mobile application available for Android, IOS and watch OS platforms.
This is a crowdfunded gadget. The crowdfunding campaign to kick-start the mass production of the working prototype started on October 17, 2017, and collected the goal amount within 24 hours. 1-ring has raised more than half a million dollars being 750% funded. All information about the technical highlights of the product is available at the Moon's campaign page.