We use affiliate links. If you buy something through the links on this page, we may earn a commission at no cost to you. Learn more.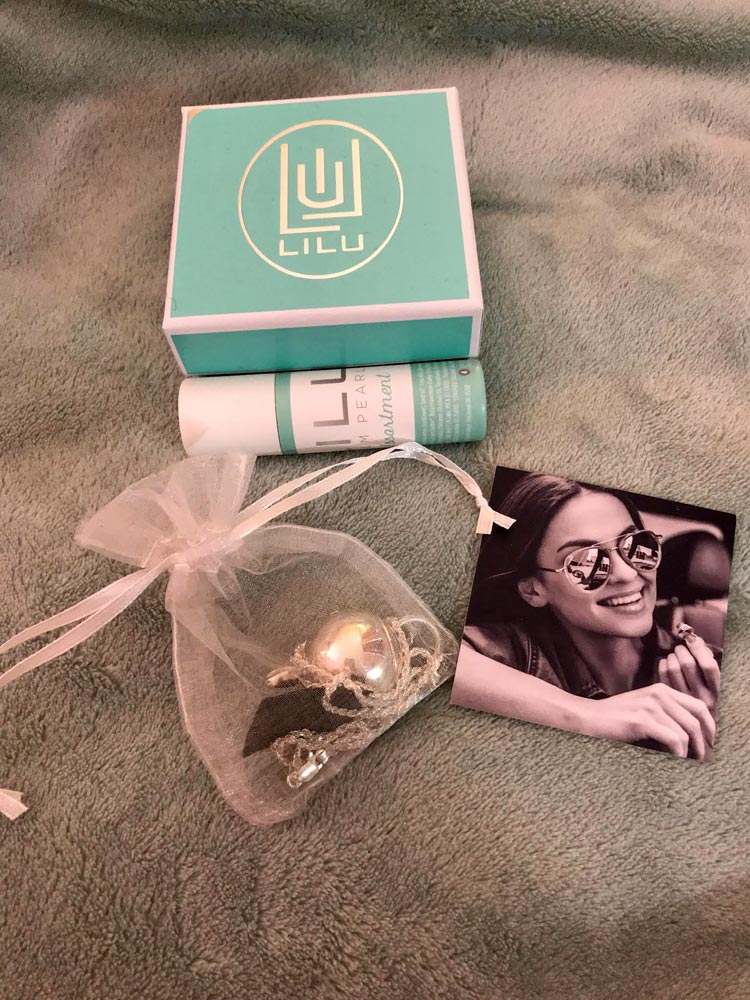 REVIEWS – A few months ago, we had a news item about the LILU Lip Care necklace and Lip Balm Pearls.  I love jewelry with a hidden function, like the LiLu pendants, which have a hidden lip balm inside.  It's a clever way to keep a lip balm or some lip tint with you even when your clothing doesn't have a pocket.  LILU offered The Gadgeteer one of their pieces for a review, and I – and my dry lips – were happy to be selected to give one of their necklaces a try!
Let's allow the folks at LILU to tell us what inspired this line of jewelry:  "We created LILU to solve our most persistent cosmetic fail:  Dry, Colorless Lips.  You know the story- It's easy to have great-looking lips as you walk out the door.  But that never lasts.  And those long-wearing lip-care products dried out our lips…   So we created an innovative way to carry a small amount of lip balm in beautiful jewelry and accessories.  Our patented Lip Balm Pearl® is a breakthrough in cosmetics. "  
LILU products won the COSMOPROF 2018 Innovation-Prestige Award for Package Innovation.
LILU packs their pendants in an organza bag with a little square of anti-tarnish paper to keep the sterling silver shiny and bright.  Their packaging for the necklace and the Pearl refills is made of 100% recycled paper that can be recycled again.
As you'll see in the top photo, you'll receive your necklace with a tube of lip balm Pearls.  This an assortment of all three colors, plus another Simple Shimmer Pearl in addition to the one that's already loaded in the pendant.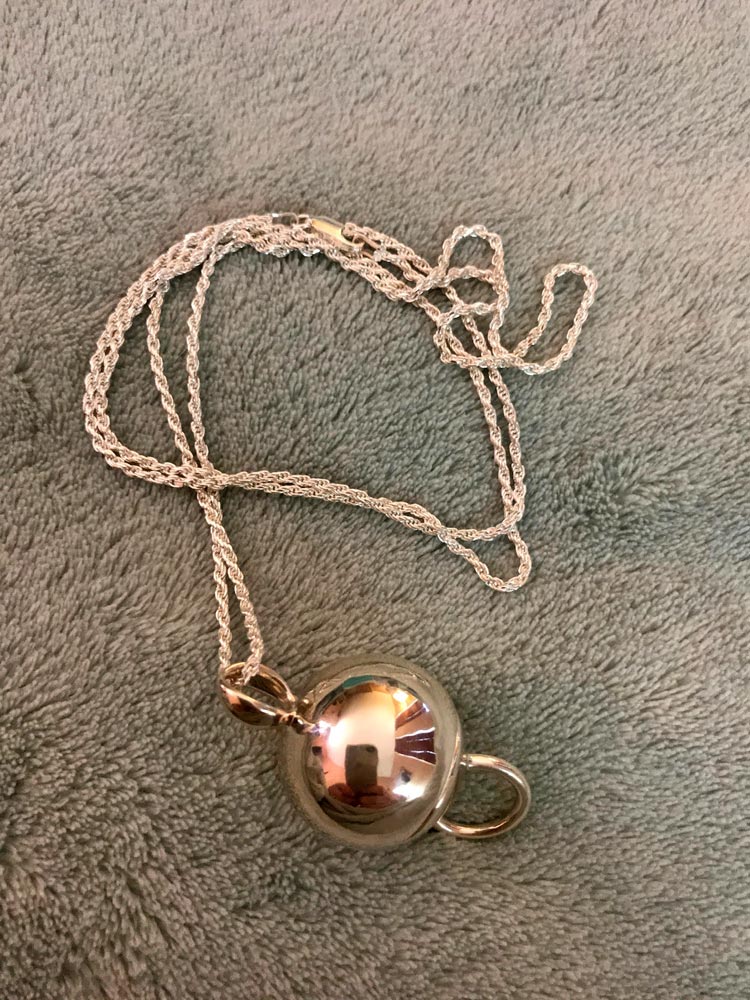 I received the Kira pendant in .925 sterling silver.  I don't have a caliper to measure it with, but the sphere is about 0.75″ in diameter.  The entire length, including the attached bail on top and the ring on the bottom is about 1.75″ long.  Each pendant comes with a 30″ sterling chain that's sturdy enough to hold such a substantial pendant.  The one I received is a rope chain.  It appears to be lightly diamond cut for extra sparkle.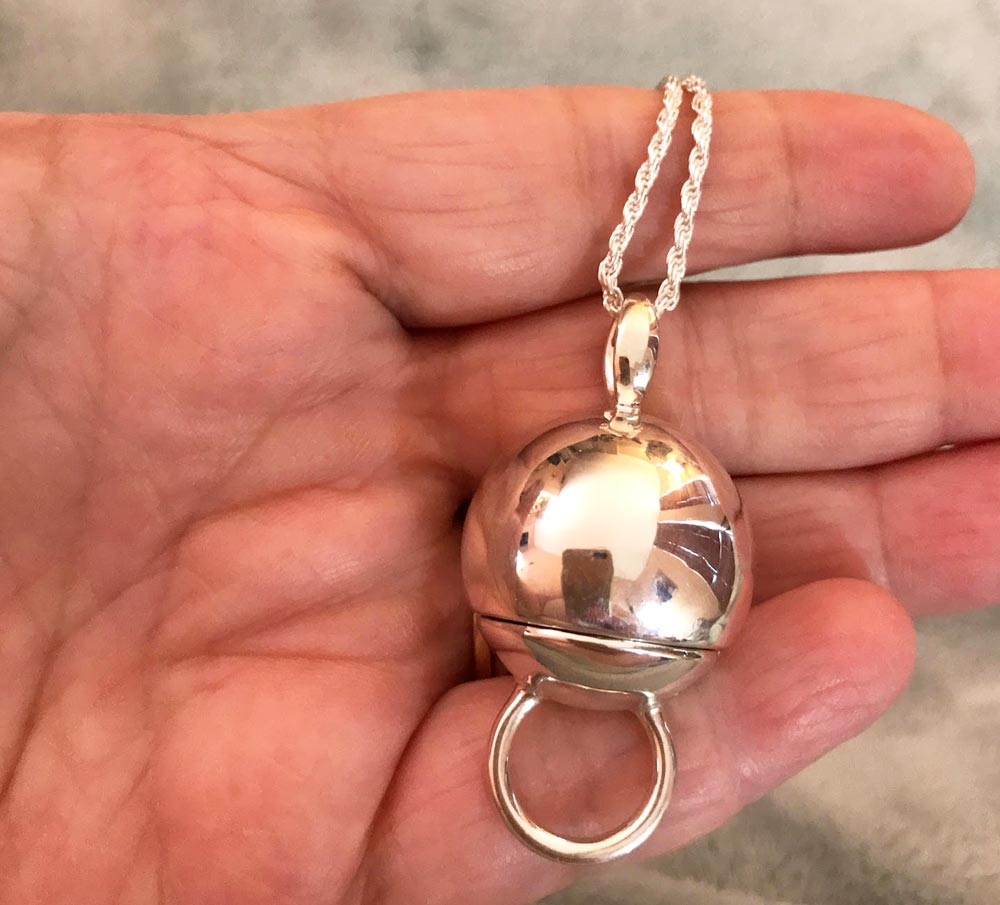 You can see the size of the pendant in my hand.  The silver is highly polished and shiny.
The ring on the bottom of the sphere is useful for opening the bottom so you can use the lip balm.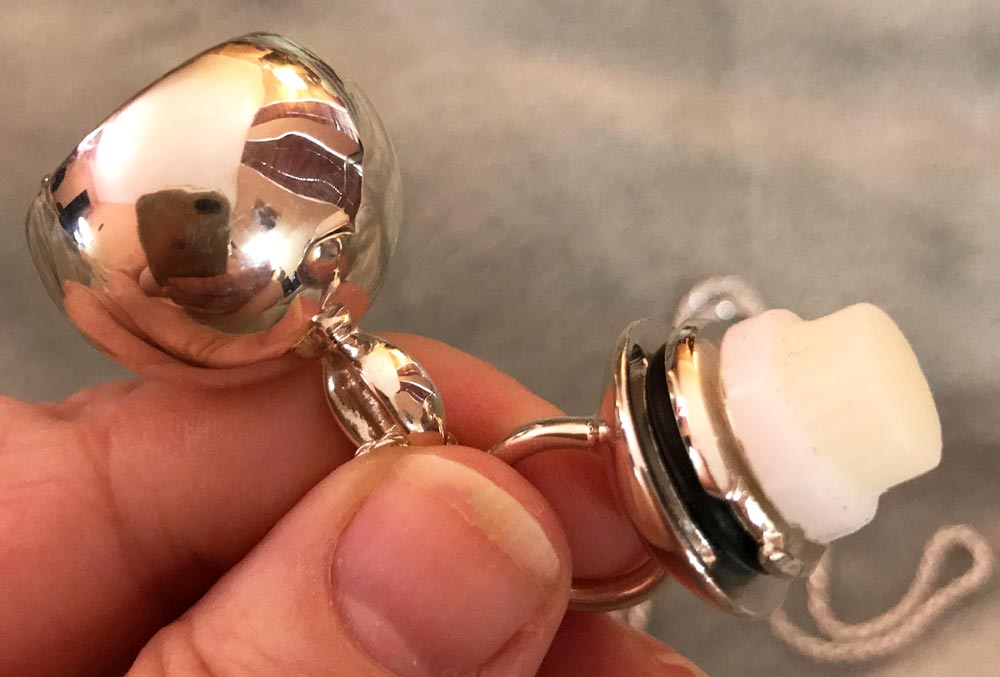 Here you see the pendant opened up.  The Pearl (Simple Shimmer shown here) is mounted in the base that screws off.  You can see how the ring on the bottom will also give you a good grip as you apply the balm.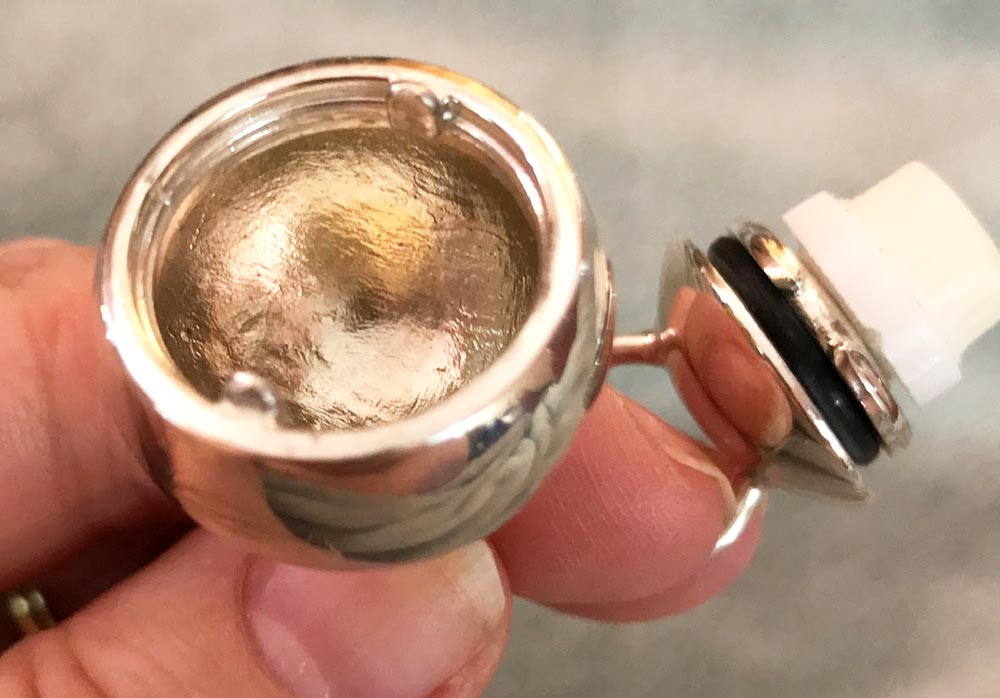 The interior of the pendant is more than big enough to accommodate the Pearl.  This means that the balm won't get smeared inside as you open and close the pendant.
The Pearl and its holder are held securely in the top of the pendant.  The body of the pendant has two tabs that fit into the channel on the base, then you screw the two pieces together.  A rubber ring helps seal the base into place.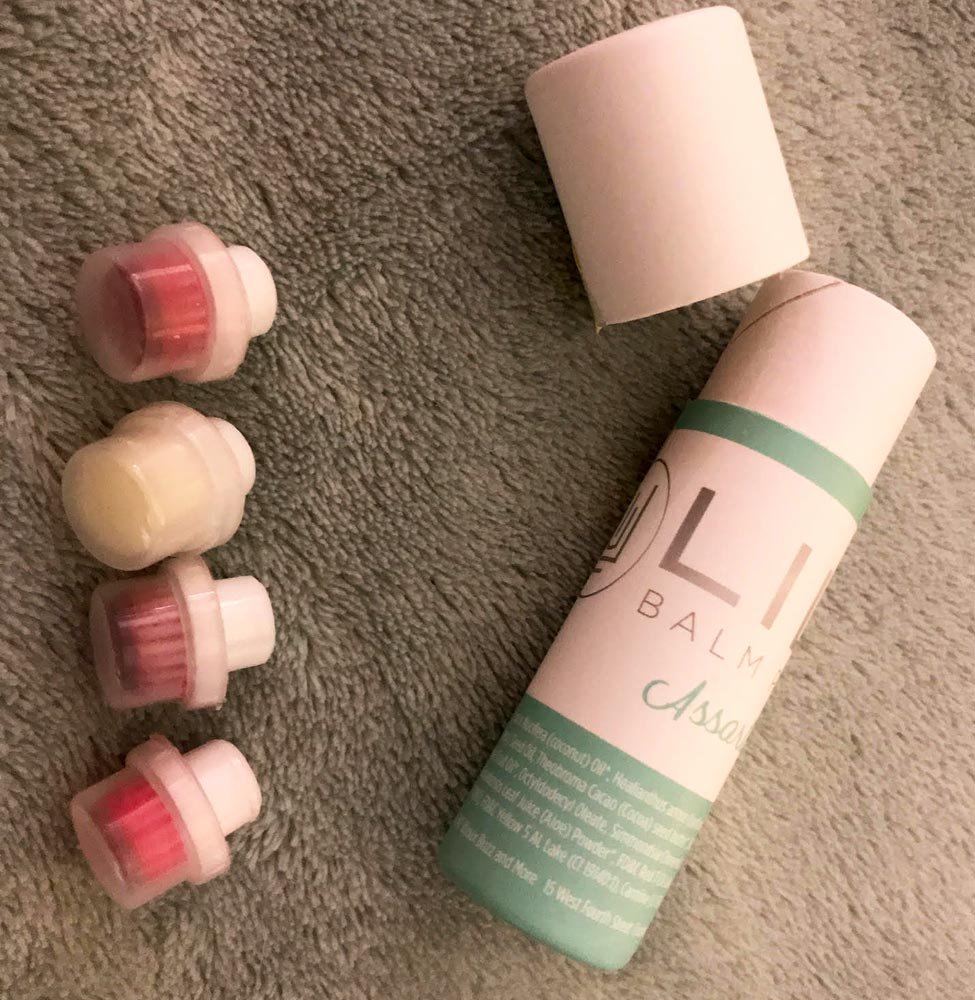 The assortment of Pearls included with your purchase gives you an extra Simple Shimmer balm, plus one each of the three lip tint colors:  perfect pink, radiant red, and berry blush.  Each Pearl is seated in a rubbery base and is capped to protect the product.  To change Pearls, you just pop out the empty one, press a new one into place, then pop the protective cover off.
LILU says they are committed to providing beauty care with green and healthful ingredients.  Their lip balm supplier is Private Label Select, based in Taos, New Mexico.  Private Label Select has all the designations shown below: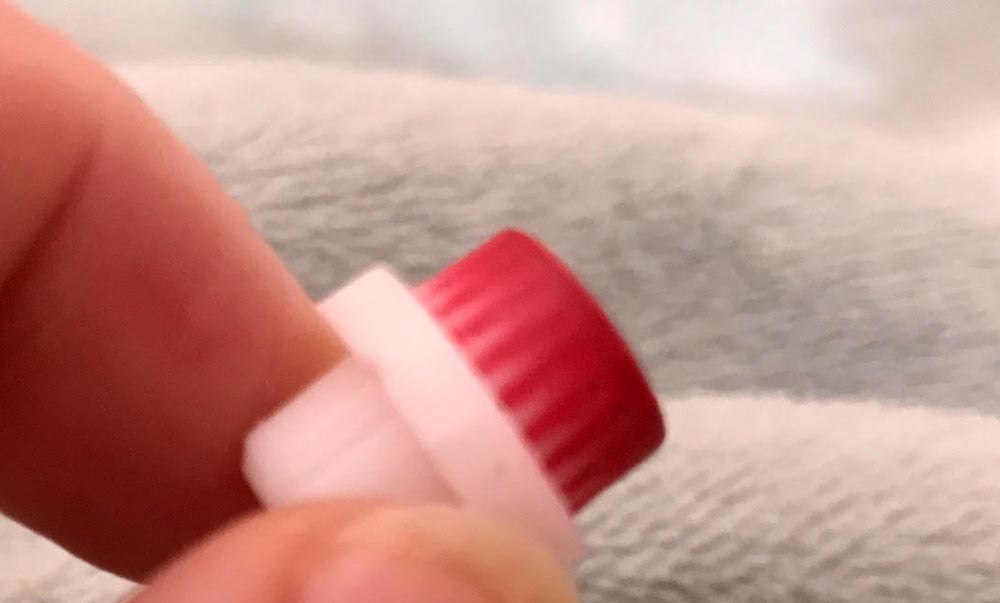 This picture is a bit fuzzy, but you can see that the lip balm is supported by bristles.  LILU says you can use the bristles of an empty Pearl as a lip scrub after you replace it.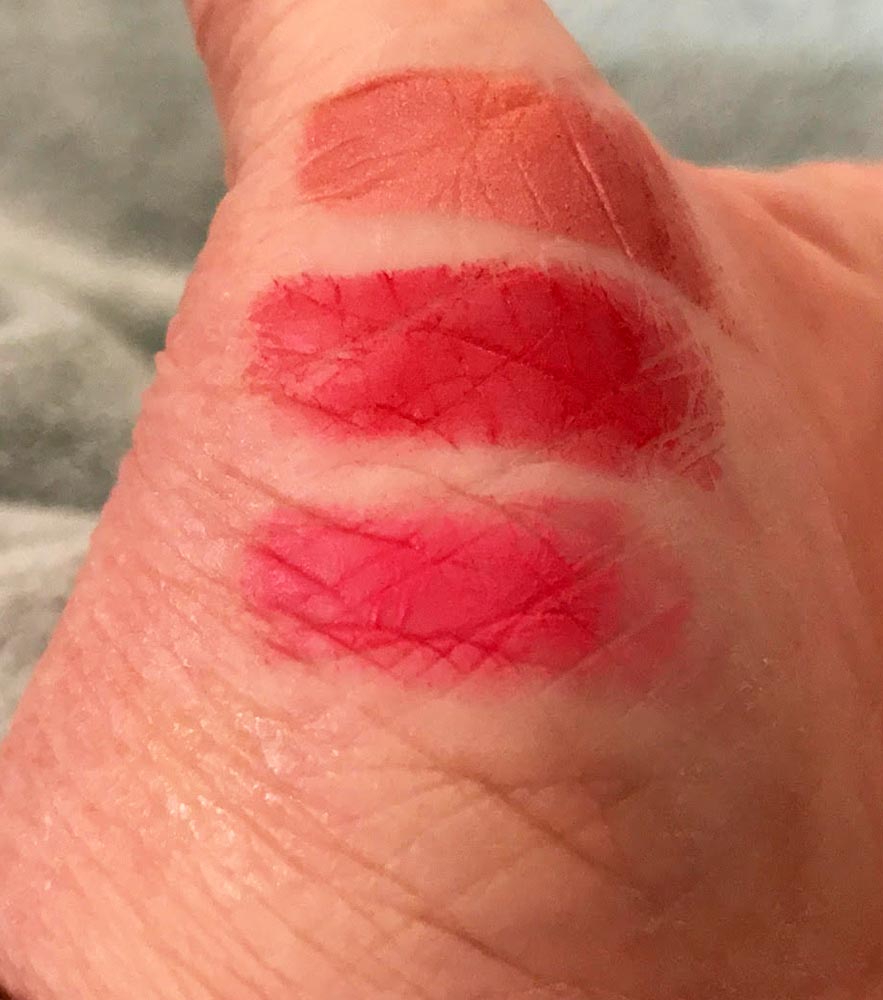 Here you can see the balm colors on the side of my hand.  The Simple Shimmer is at the bottom of the image.  I don't know for sure, but I think the colors are berry blush at the top, radiant red in the middle, and perfect pink just above the clear Shimmer.
None of the Pearls are overly shiny, nor do they have a lot of glitter.  LILU says you can use these Pearls alone or with your favorite lipstick.  I almost never wear lipstick, so I use them alone.  I often have trouble with lipsticks and even regular lip balms; both products often chap my lips instead of moisturizing them.  I have used the clear Pearl almost exclusively, but I haven't had any chapping from the LILU products.
A tube of four replacement Pearls is available directly from LILU for $12.99.  You can choose a tube of four Pearls of a single color or get an assortment tube like the one included with purchase.
What I like
Beautiful pendant
Comes with a sturdy chain
Well made and nicely finished
Clever way to carry a lip balm with you
I like that I can use the pendant with a lip tint or a lip balm
Lip balm keeps my lips soft and hydrated
What needs to be improved
I wish the refill Pearls were identified by color name in the sample tube so I knew for sure which color to order.
Final thoughts
The LILU Lip Care pendants are a very clever way to keep a lip balm or lip tint close at hand.  The sterling silver Kira pendant is very attractive, and no one would ever know that it was anything other than a beautiful piece of jewelry unless they see you open it up to use the lip balm.  Not everyone wears white metals and the sterling pieces might not be in everyone's budget, so it's very nice that LILU offers some lower-priced options plated in gold or silver.  Oh, and there's always the 14K gold Cossette pendant for $2200.00 if you're looking for an incredible holiday gift for someone special!
By the way, I just ordered another LILU pendant.  My daughter loves the LILU I just reviewed, so the second one will be a Christmas gift for her.
Price: $149.00 for the 0.925 sterling silver Kira necklace reviewed here
Where to buy: LILU
Source: The sample of this product was provided by LILU Lip Care