We use affiliate links. If you buy something through the links on this page, we may earn a commission at no cost to you. Learn more.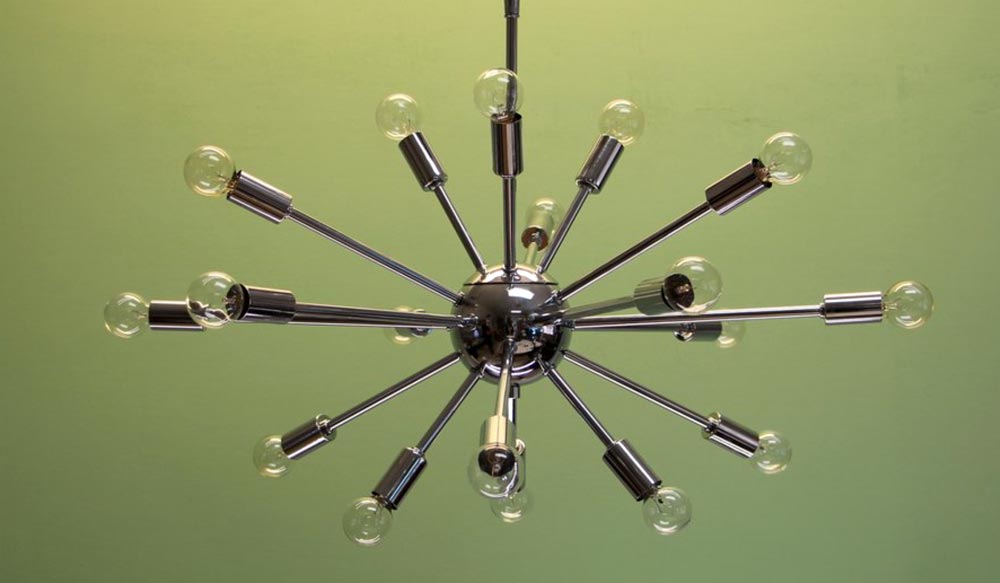 NEWS – I have a fascination with Mid-Century architecture and design.  When we moved into our condo in the only Mid-Century high-rise in our area, we started looking for things to enhance our new home that were appropriate to its age.  One of the things we wanted was a Sputnik chandelier, but it took us a while to find a source for one.  We didn't want an old one because we couldn't re-wire it.  Many of the new ones were smaller than we needed, used the wrong type of bulbs, or just wasn't right.  When we found Practical Props, we found just what we needed.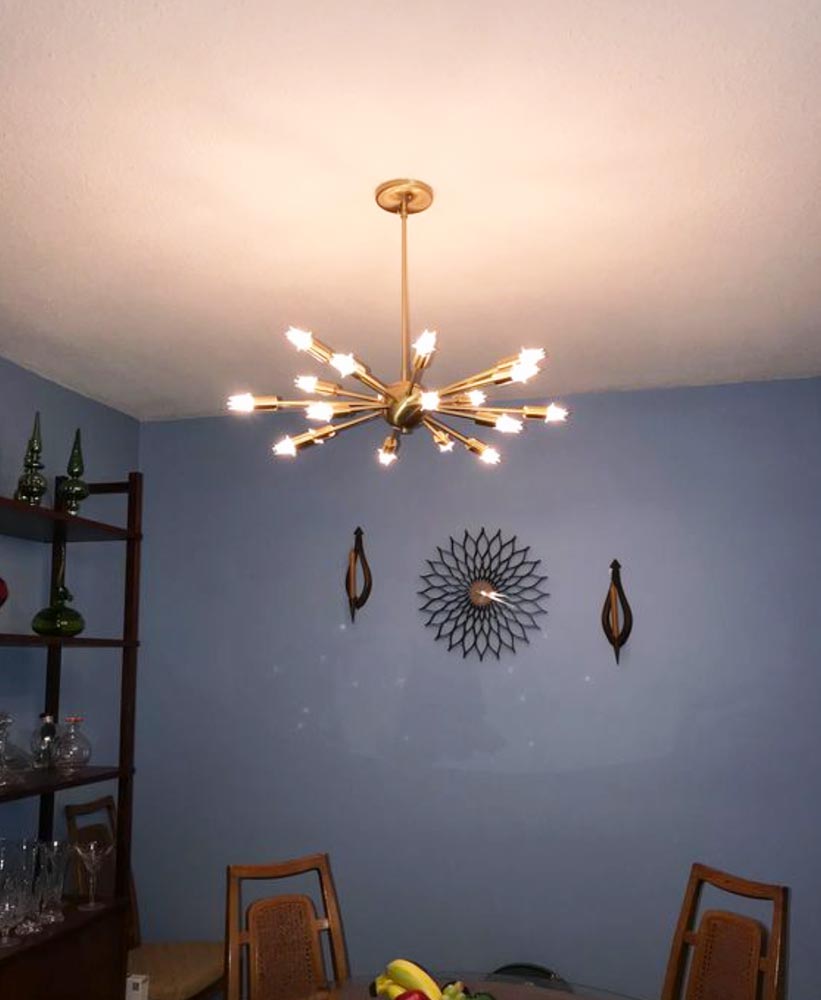 Practical Props has been around since 1991.  They started out renting vintage lighting fixtures to movie studios.  At some point, they began reproducing Mid-Century lighting fixtures, including Sputniks of various sizes, numbers of arms, and shapes.  We bought a 24″, 18-arm "flat" Sputnik chandelier for over our dining table, seen above.  We've also bought three of the little 5-arm flush-mounts for our bathroom ceilings and a hallway, a 24″ 12-arm sconce for our kitchen, and a 20″ 10-arm flush-mount for the hall.
All of our lights are done in satin brass, but other finishes include chrome, raw brass, polished brass, rubbed bronze, and satin nickel.  They come complete with bulbs in your choice of wattage and shape.  (They don't offer the traditional "spiky" bulbs, though you can find them elsewhere if you look.)  You can get sconces that can also be used as flush-mount ceiling fixtures or pendant fixtures.  Sizes range from only 9″ wide for the sconces up to 57″ wide 36-arm giants.  Prices range from $79.00 to $1200.00.
If you want to give your home a retro-modern space age look, check out Practical Props.  You'll find just what you need.