We use affiliate links. If you buy something through the links on this page, we may earn a commission at no cost to you. Learn more.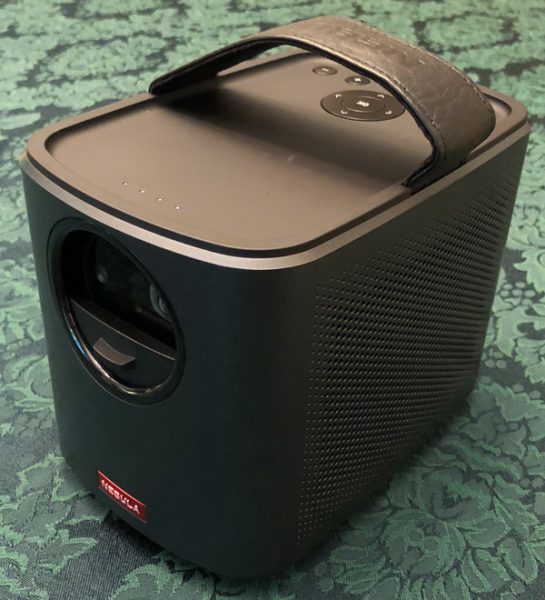 REVIEW – For years, friends and family have asked me to figure out how to do outside movie night in conjunction with our annual fire pit evening of BBQ, libations, and too much fun. Every year we invite a bunch of our friends and neighbors over for this Fall-time debauchery. The party is set near our barn where everyone sits around the fire eating, drinking, and socializing but several have requested a movie playing in the background on the side of the barn as a bit of added entertainment. Well, the Nebula Mars II is theoretically the ideal device for delivering high quality video without the need for cords or infrastructure of any kind (other than perhaps a screen or white background)…let's see how it does.
Last year Mike reviewed the first generation Nebula Mars projector and I have to admit it I was a tiny bit jealous, knowing how well the "theater-grade portable cinema" would meet my needs. So, this year when the Mars II was introduced I quickly volunteered to give it a try.

What is it?
Like its predecessor, the Nebula Mars II is an Ultra-Portable Theater-Grade DLP projector, capable of producing high quality HD images and videos on virtually any flat surface. It projects images/videos up to 150″ diagonally with a 16:9 aspect ratio. It has dual 10 watt speakers and a rechargeable battery that delivers up to 4 hours of battery life. The Mars II runs on Android 7.1 and has built-in apps like YouTube, Amazon Prime Video, and Netflix that can be streamed using the projector's built-in WiFi. It can also project content via HDMI connected device, USB drive, and screen mirroring from your smart device.
Design and features
The Nebula Mars II casing is made from black plastic and is approximately the size of a box of tissues or small lunch pail with rounded corners. On top of the Mars II are the control buttons and a leather handle for easy transport. The device is engineered to be portable, measuring 7.01 x 4.8 x 5.43 inches and weighing four (4) pounds.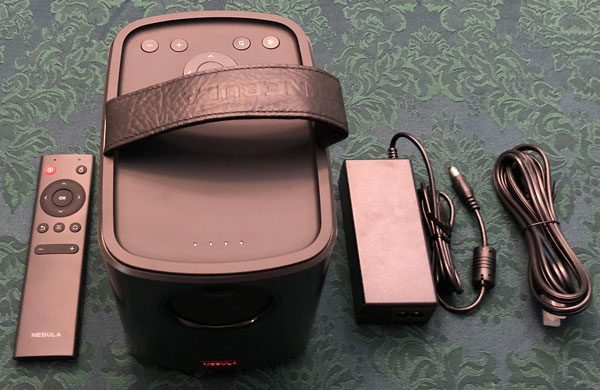 In the box:
Nebula Mars II
Power cables
Remote control
Specifications:
Display technology
Display Technology – 

0.3″ DLP

Native Resolution – 

1280 x 720 (HD)

Brightness – 

300 ANSI lm

Lamp Life – 

30,000 hours

Aspect Ratio – 

16:9

Throw Ratio – 

100 in at 10.1 ft; 80 in at 8 ft; 60 in at 5.7 ft; 40 in at 3.8 ft

Offset – 

100%

Focus Adjustment – 

Automatic

Projection Mode – 

Front/Rear/Front Ceiling/ Rear Ceiling

Keystone Correction – 

Auto (vertical ±40°)
Interface
HDMI – HDMI 1.4
USB – USB 2.0
DC-IN – 19V, 3A DC-In
Control – Physical Buttons
IR Remote – D-pad mode/mouse mode
Dedicated App – Nebula Connect for Android & iOS
Hardware
CPU – Quad Core A7 Smartphone Chipset
GPU – Adreno 304
RAM – 1GB DDR3
ROM – 8GB eMMC
Battery – 12500mAh / 3.85v
Speaker – Dual 10W Speakers
Wi-Fi – 802.11a/b/g/n
Dual Frequency – 2.4/5GHz
Bluetooth – BT4.0 Dual Mode/A2DP
Fan – <32dB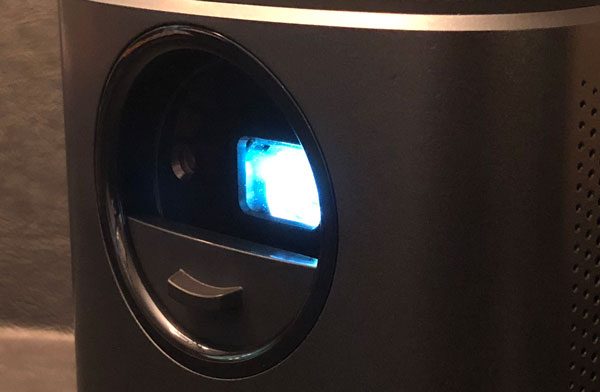 A nice design feature of the Mars II is its built-in sliding lens cover. In addition to protecting the lens, the vertically sliding door also acts as an on/off switch. The device automatically turns on when the door is down and turns off when up/closed. The original Mars projector had to be manually focused, where the Mars II has single-second autofocus and angle adjustment that were spot on every time I used it. Other differences include, Nebula increasing the Mars II's battery life by an hour but decreasing its overall brightness as compared to the original.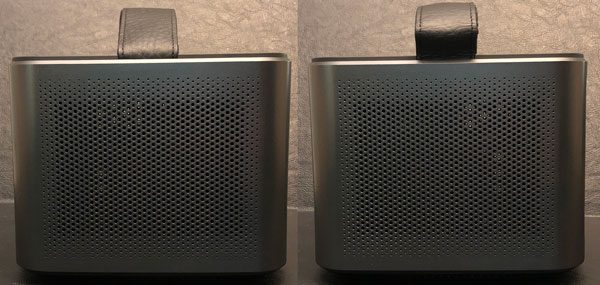 Another difference between the Mars and the Mars II, is that the original used JBL 10 watt stereo speakers while the second generation uses an unnamed/unlabeled set of speakers.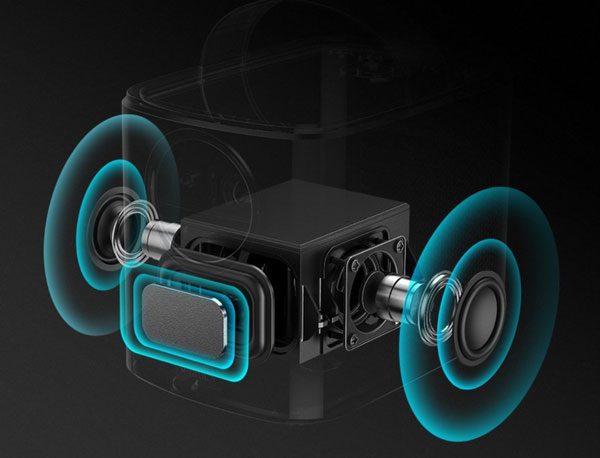 That said, the Mars II 10 watt speakers fire sideways just like the original Mars. The speakers have two bass reflectors, all together producing a full, rich experience that sounds great.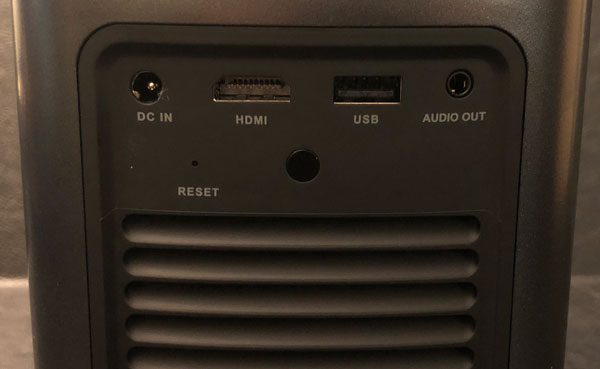 The upper third of the back has the DC power, HDMI, and USB ports, audio out jack, infrared receiver, and reset button. The rest of the back has vents for ventilation and cooling. In addition to the built-in apps, you can attach a BluRay player, Roku, Fire Stick, AppleTV, gaming console, etc via the HDMI port and stream whatever you wish. You can also play H.264, H.265, DivX, MPEG-4 and VP8 via the USB port/thumbdrive. Screen mirroring worked very nicely as well though the iOS apps were pretty locked down in just what was able to be wirelessly streamed from my iPhone.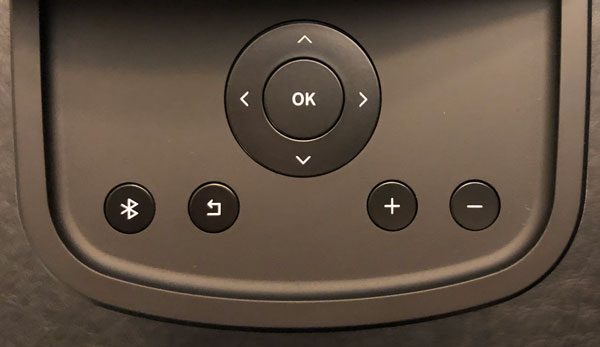 As I mentioned, the top rear of the Mars II has control buttons that provide the same functionality as the wireless remote.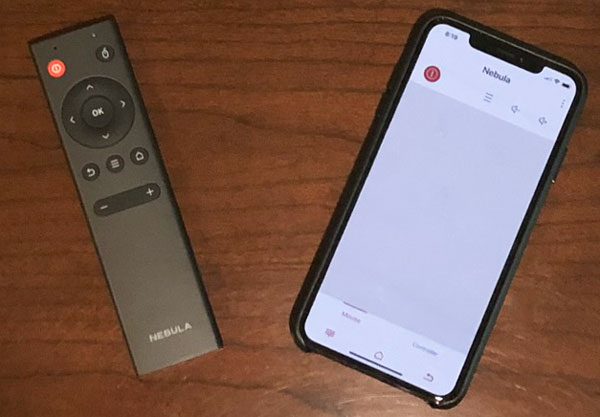 The wireless remote works as you would expect but I prefer the smartphone app for controlling the Mars II. The interface is intuitive and easy to use, very similar to a touchpad.

On the top near the front, the Nebula Mars II has four small battery power LED indicator lights.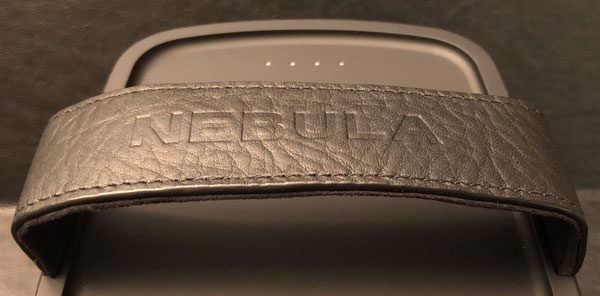 The integrated leather handle makes for easy and secure transport.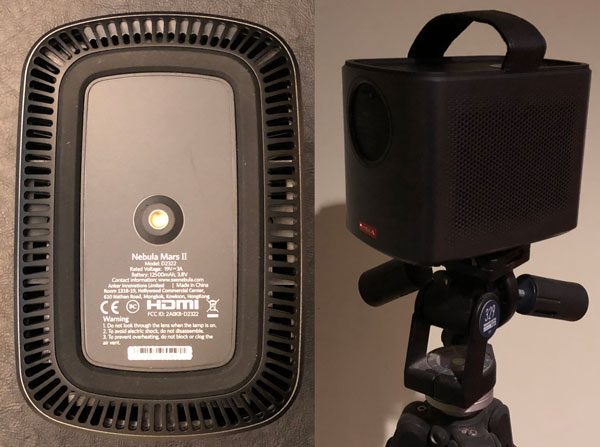 In addition to the cooling/air vents, the bottom of the projector has a universal 1/4″ threaded tripod mount. I found attaching the Mar II to my tripod was the most stable and secure way to use the device but really nearly any flat surface should suffice.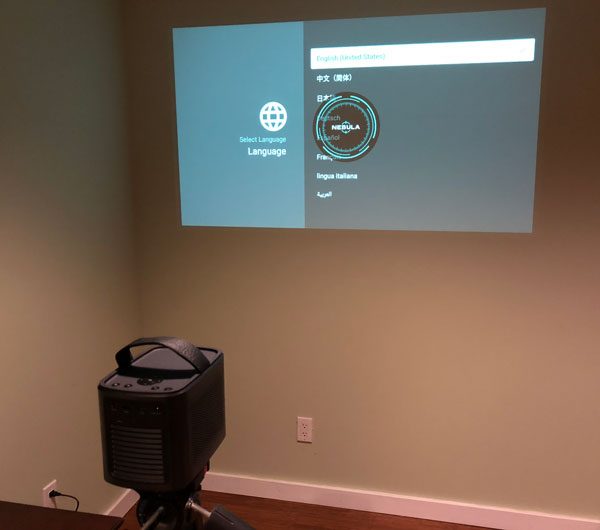 Setting up the Mars II is quick and easy. The whole process took less than 5 minutes to get up and running, with the longest part being clicking in our WiFi password using the virtual keyboard to gain connectivity.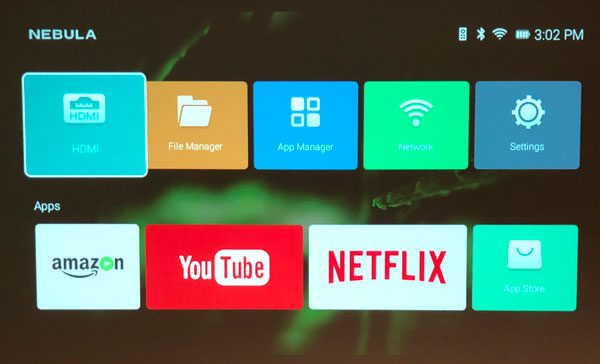 As I stated above, the Mars II is an Android device running a modified version of OS 7.1 Nougat. Netflix, Amazon Prime Video, and Plex are the streaming apps Nebula preloads on the device. Shame ESPN+, HBO Go, Showtime, etc aren't available as well like a majority of smart-televisions have these days. I grant you, these streaming services can be added by connecting various streaming devices via HDMI port but it would be nice out of the box, baked into the OS.
What I like
Well-thoughtout, compact, portable design
Up to 150 inch screen projection
4 hrs of battery life
Can attach other devices for greater streaming options
Can stream a multitude of video formats
What needs to be improved
Needs a greater selection of streaming apps
Not as bright as its predecessor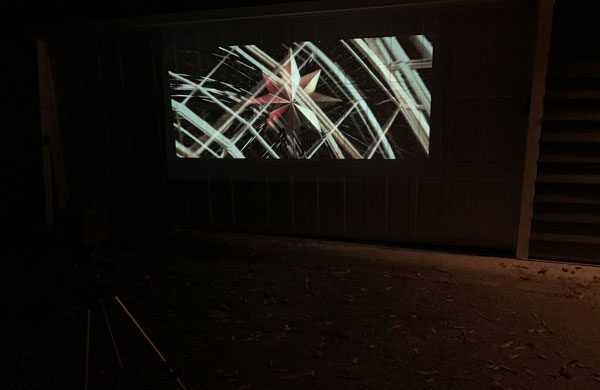 Final thoughts
I really like the Nebula Mars II, it does an excellent job bring a "cinema quality" experience whenever, wherever you want it. The hardware is very well designed, portable, and can throw a bright, HD picture up nearly anywhere. The autofocus works as advertised, it quickly adjusts the video on a variety of surfaces and angles. The brightness, picture quality, sound, and battery life are all better than solid. Plenty nice enough for creating a media room from nothing but a sheet and a few lawn chairs. Its built-in apps (Netflix, Amazon Video, YouTube) are a good start but it is a shame you can't download HBO Go, Showtime, ESPN+, etc. Though many streaming services and video content can be added via the HDMI, USB port, and screen mirroring from your smart device.
Price: $499.99
Where to buy: Amazon
Source: The sample of this product was provided by Nebula.