We use affiliate links. If you buy something through the links on this page, we may earn a commission at no cost to you. Learn more.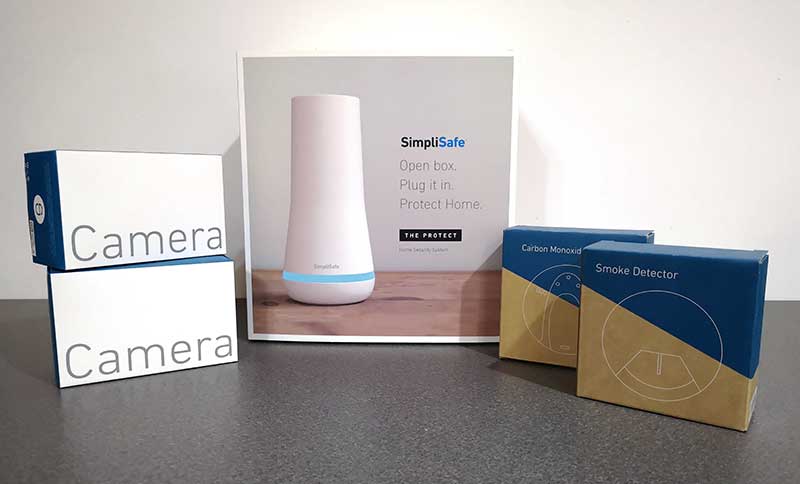 REVIEW – Nine years ago I reviewed the SimpliSafe 1500 home security system and have been using it in my home all these years as a basic system that alerts me during the night if someone opens my front door. But that system didn't offer a way to notify me in the event of an alarm when I'm away from home. Fast forward almost a decade later and SimpliSafe is still in business and now offers a full-featured system that can do it all. Let's check it out.
What is it?
SimpliSafe is an affordable and expandable home security system that anyone can install without needing to do special wiring or other electrical work. It can be used with or without purchasing an optional police or fire dispatch service in the event of an alarm, but it's recommended that you do opt for the monthly monitoring service which is $14.95 or $24.95 a month depending on the plan.
Design and features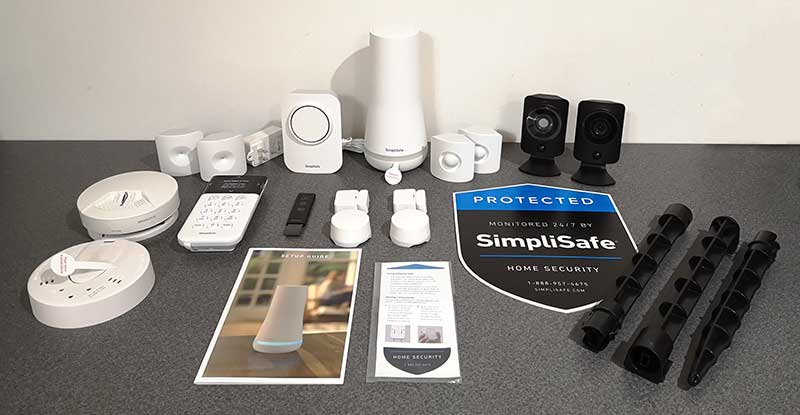 SimpliSafe offers several different system packages that include a base station and keypad with a variety of sensors. You can also build a custom system that includes all the sensors you need for your particular situation. That's what I did, so you won't find a pre-configured package on SimpliSafe's site with all the sensors that you see in the image above without going with a customized system. The system I created includes:
1 Base station
1 Keypad
1 Key fob
2 Motion sensors
2 Entry sensors
2 Glassbreak sensors
2 Water sensors
2 SimpliCam security cameras
1 Smoke detector
1 Carbon monoxide detector
1 Extra siren
1 Yard sign
Base station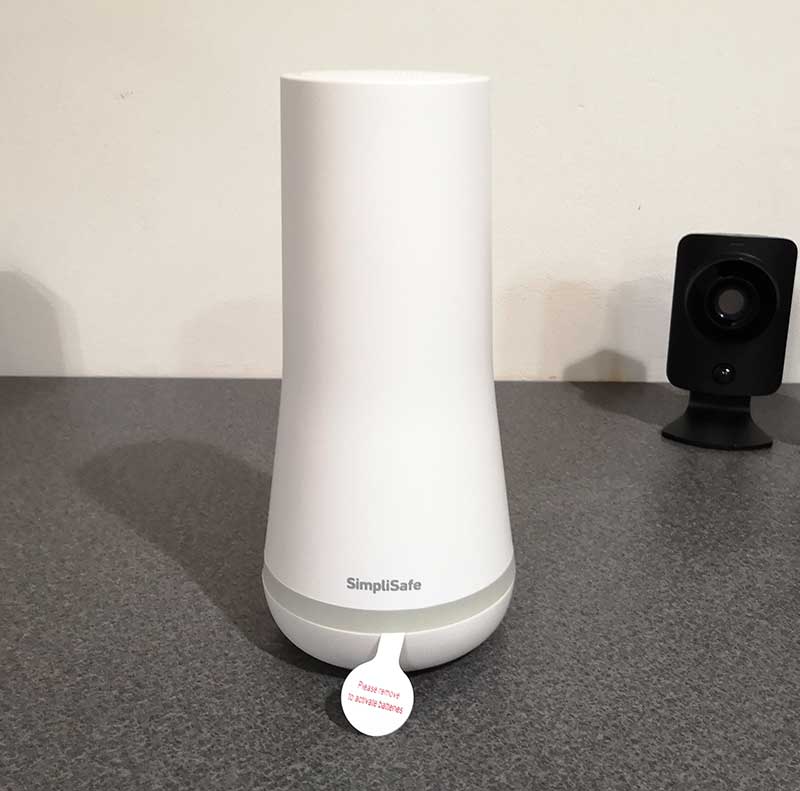 The SimpliSafe base station is a requirement of any SimpliSafe setup. It's available in white or black and uses an AC adapter for power, but also has a battery backup so it will still function for up to 24hrs even if the power goes out.
The base station has a built-in speaker that is used for system sounds and alarms. The base also has an LED ring that lights up in blue when the system is armed and turns off when the system is unarmed.
As the brains of the SimpliSafe security system, the base station uses WiFi to send and receive system updates, and it uses cellular (Verizon and T-Mobile) to contact the COPS monitoring company when an alarm is triggered. That means you do NOT need a landline phone to use this system however you will need cellular or WiFi for the COPS monitoring service.
Motion sensor and Glassbreak sensor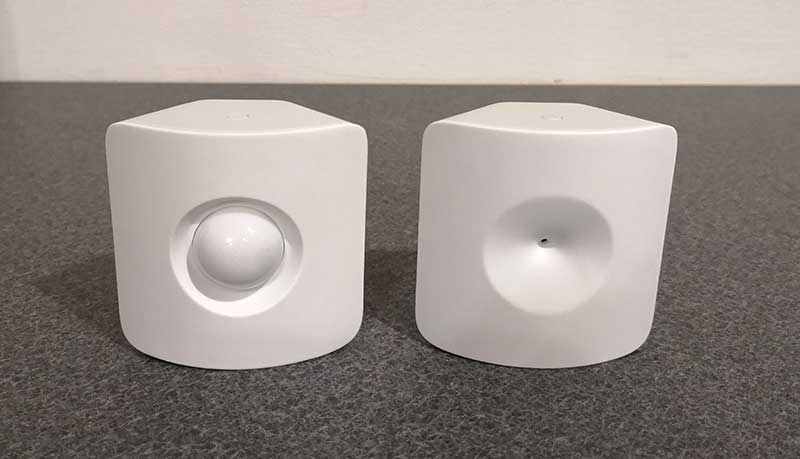 The motion sensor (left) and glassbreak sensor (right) are small battery-powered sensors (both are powered by CR123A lithium-ion batteries) that will trigger an alarm when movement is detected or the sound of breaking glass is detected.
The motion sensor can detect motion up to 30 feet straight out from the sensor and 90 degrees to the left and right as well as 45 degrees downward (but not upward). The instructions tell you to mount the motion sensor in a corner of the room for maximum room coverage. If you don't have pets in your home, you can mount this sensor 4-5ft above the ground, but if you have dogs, you're instructed to mount the sensor upside down about 4ft above the floor to prevent the sensor from "seeing" the dog. For cat owners, you're told to mount the sensor right side up and 6-10 feet above the floor. I live with a 15 lb fluffy cat named Max, so I mounted the sensor in the corner of the basement at about 7ft above the floor. But even when mounted according to the instructions, the motion sensor triggered when Max walked into the room. But more about that later.
As for the glassbreak sensor, it triggers when it detects the sound frequency of breaking glass. The idea is that if someone is breaking a window or glass pane in a door while breaking into your home, this sensor will hear it and trigger an alarm.
I wasn't willing to shatter a glass to test the sensor, so I tried playing some glass shattering noises near the sensors like the ones in the video below.
But no matter how loud or close to the glassbreak sensors that I played the audio files, the sensors would not trigger. I realize that my test isn't completely true to life, but I was surprised the sound bites would not cause an alarm to trigger. When I asked SimpliSafe about my test, they said:
The sensors are super trained to the actual sound of glass breaking, which has a unique sound frequency that is a super low pitched thud followed by a higher pitched sound that our ears hear. The sound from audio/video recordings won't activate the sensor because it is just a high pitched sound, and the sensor is trained to hear that unique frequency.
Water sensor and Entry sensor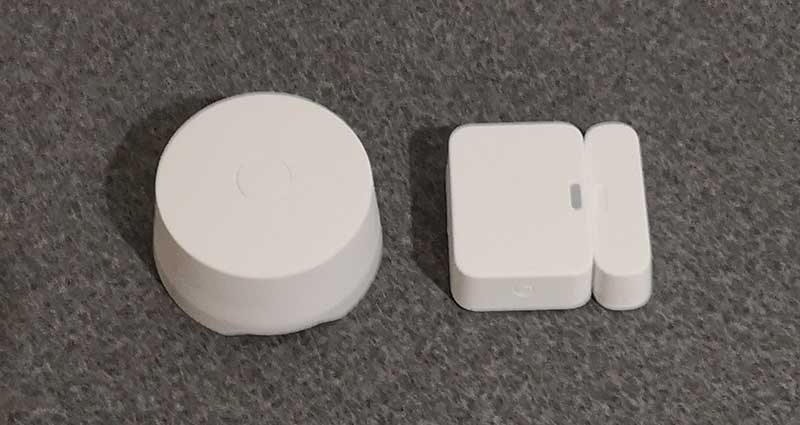 Like SimpliSafe's other sensors, the water and entry sensors are also battery powered. The water sensor uses a CR2032 lithium-ion battery and the entry sensor uses a 3V 2032 battery.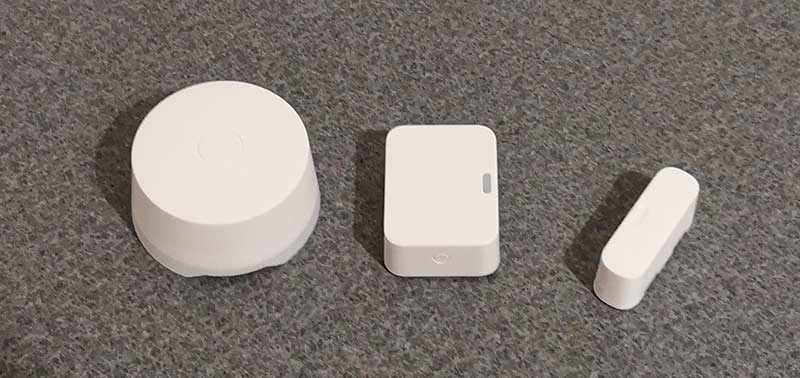 The water leak sensor is a small hockey puck shaped sensor that has electrical contacts on the bottom. When water touches the contacts, an alarm is triggered. The best place to mount the water sensors is on the floor where you usually encounter water leaks. I placed mine near the hot water heater in my utility room and under the sink in our kitchen.
The entry sensors have two pieces that have a magnetic connection to each other. The idea is that you attach one piece on the door and the other on the door frame so that when the door is opened, the connection is broken, causing it to trigger an alarm. You can also use the entry sensors on a window. I placed mine on my front door and the other one on my basement patio door which is the only two entry points into my home.
Each time the door is opened, the connection is broken and the base station will sound a ding-dong type of tone. In my home, these are the sensors that get activated multiple times per day and they work perfectly without any false triggers.
Smoke detector and Carbon monoxide detector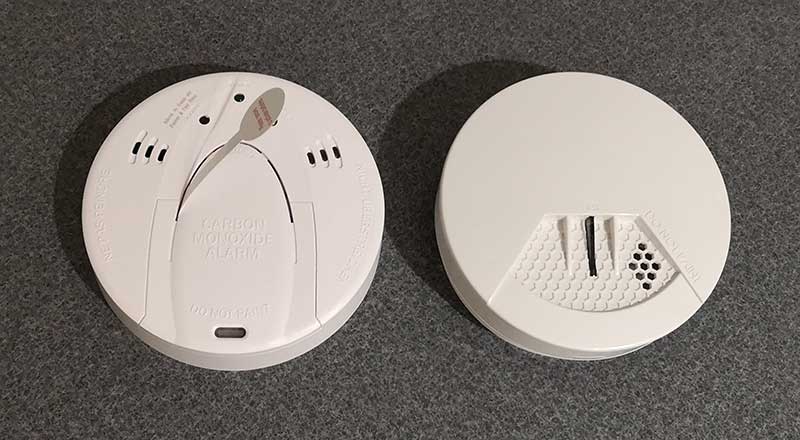 I love that SimpliSafe offers the option of adding smoke AND carbon monoxide detectors to their security systems so you will have all of your bases covered when it comes to protecting your home when you're there and obviously when you're away too.
The smoke detector uses a CR123A lithium-ion battery and the carbon monoxide detector uses 3 L91 lithium-ion batteries. When either of these sensors triggers an alarm, the COPS monitoring service will dispatch the fire department to your home.
Siren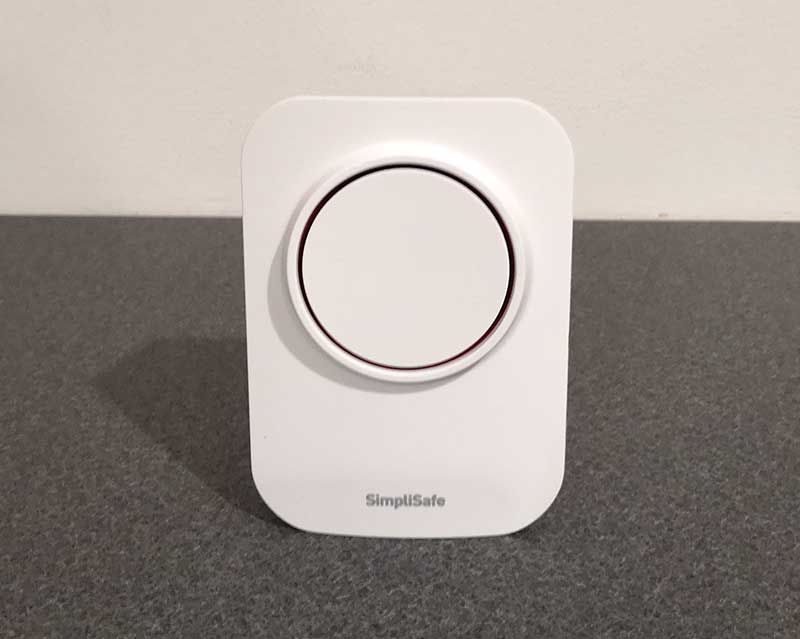 If you have a large home with multiple levels, you can add extra sirens like the one you see above. Just place them within 100 feet of the base station and you're good to go. When an alarm is sounded, the extra alarm will sound a 105dB siren that will sound in addition to the base station's built-in alarm. The extra alarm is powered by 4 AA batteries.
SimpliCam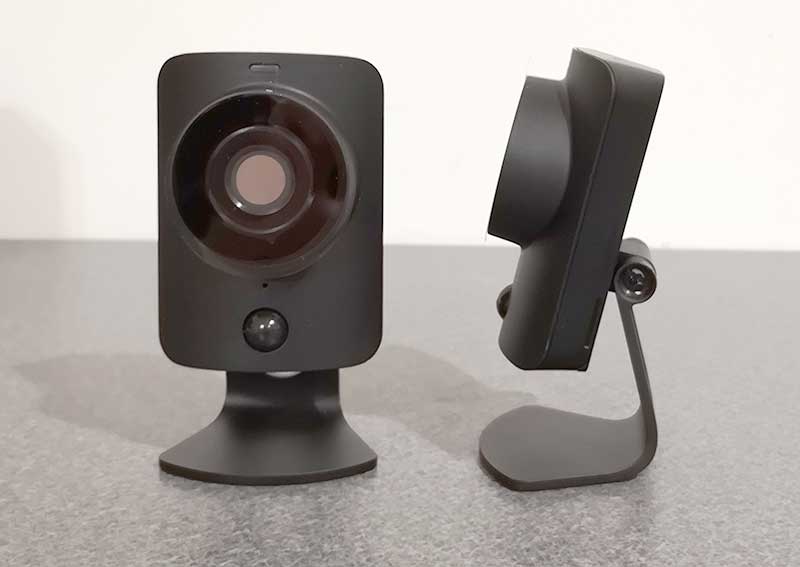 If you really want a full-featured home security system, you need cameras that capture what's happening when an alarm is triggered. The SimpliCam cameras will do just that. But unlike SimpliSafe's sensors, the SimpliCam cameras are not battery powered and have to be connected to a wall outlet and they are required to be connected to WiFi as they will NOT transfer footage over cellular.
The cameras feature HD video and audio and have a 120-degree field of view. They also have a built-in motion detector.
You can use SimpliCams by themselves without any other SimpliSafe system or you can add them to your SimpliSafe home security setup. If you use them as stand-alone cameras, you don't have to pay any extra monthly fees to use them as a live view camera. If you want the cameras to save a 1-minute video clip when motion is detected, you'll have to pay $4.99 for one camera or $9.99 for unlimited cameras. If you add SimpliCams to an existing SimpliSafe system with the $24.95 monitoring plan, you don't have to pay anything extra to get the 1-minute motion video clip recording for up to 4 cameras, but if you're on the $14.95 a month plan, you'll have to pay an additional $4.99 for one camera if you want the recording feature and an extra camera will pop you into the $24.95 plan.
The live view of the cameras can be viewed through the SimpliSafe app.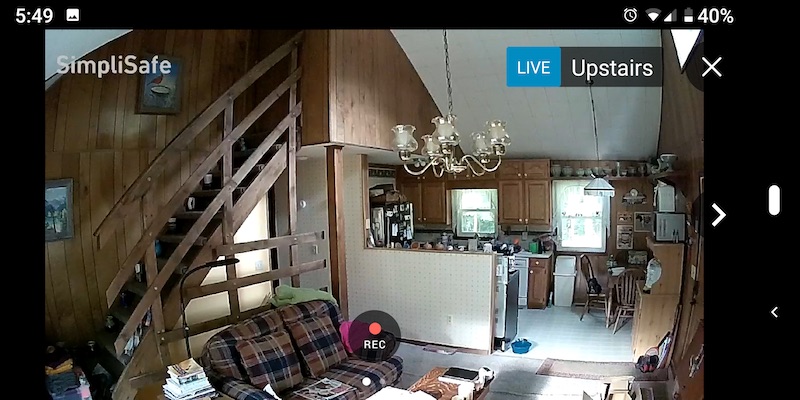 Turning the phone to landscape orientation gives you a larger view. Here's an example of a video clip.
The sound quality gets a little wonky when I'm washing a glass, but the picture quality is decent enough.
Keypad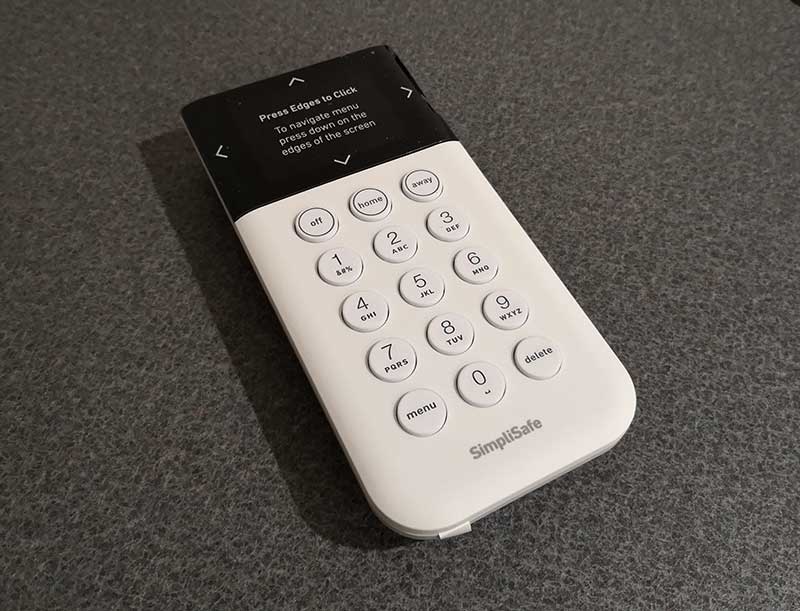 In addition to the base station, you also have to have a keypad with your SimpliSafe system because it is what you use to arm, disarm, add sensors, and customize the system's settings.
The keypad is a big update from the first gen SimpliSafe keypad that I've been using the last 9 years. The new one has a backlit screen and keys that make it much easier to arm and disarm the system in the dark. You can also touch the body of the keypad to "wake" it up.
The keypad is powered by AA batteries.
Key fob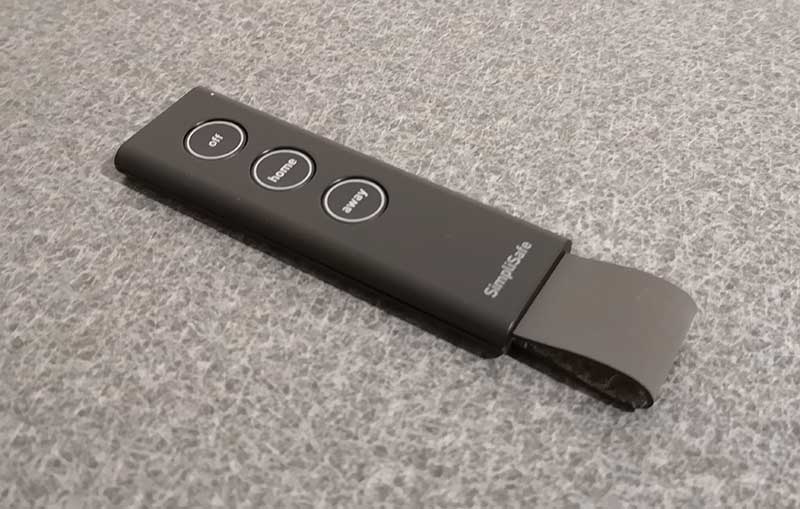 The key fob is an easy way to arm and disarm your SimpliSafe system without needing to key in the PIN number. The key fob also has a built-in panic button on the end of the fob.
The key fob does not have a user replaceable battery but the battery is supposed to last around 3 years. After that time you'll need to buy a new one but from what I read in the SimpliSafe forums if the battery dies before 3 years, SimpliSafe will replace the fob for free. Don't quote me on that though.
SimpliSafe sign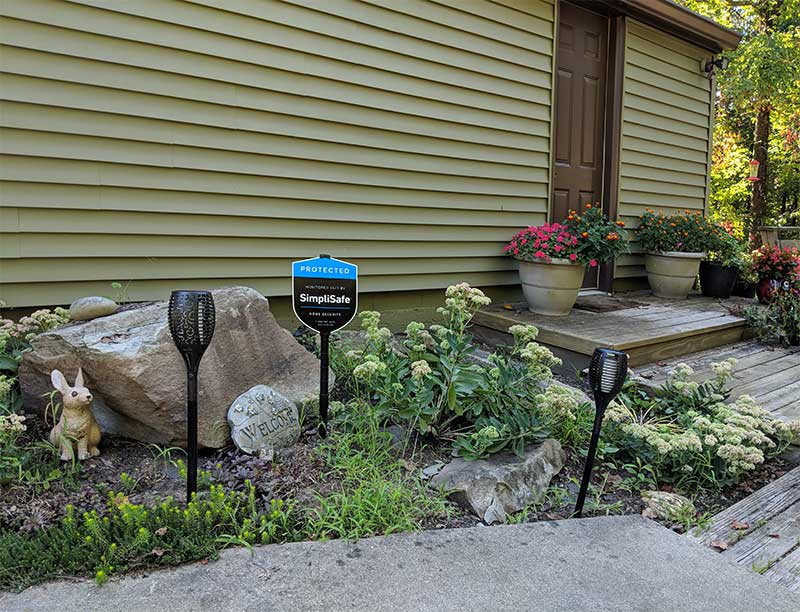 If you want to advertise the fact that your home is protected by a SimpliSafe security system, a plastic sign that you can put in your yard comes with a system purchase. Just seeing a sign like that can be a deterrent for evildoers.
Setting up the SimpliSafe system
Setting up the SimpliSafe system is….wait for it… simple! Seriously though, it is a painless process. All you have to do is plug in the base station, pull the battery tab out of the keypad, set a master PIN number, and then follow the keypad prompts to add each sensor to the system by pressing the test button on each sensor. The keypad will detect the sensor and will let you choose from location names so you'll be able to know which sensor triggered an alarm when you receive a notification. You will also use the keypad to connect the system to WiFi.
Activating alarm monitoring
You can use the SimpliSafe security system as a "dumb" security system that will trigger alarms but won't actually dispatch emergency personnel in the event of a break-in or fire. But to really take advantage of all the features, you need to opt-in for either the $24.99 per month plan or the $14.99 per month plan. What is the difference in the plans besides the price? The cheaper plan does not allow you to arm and disarm the system via the SimpliSafe app and will not send you text messages and emails when alarms are triggered. The cheaper plan also does not add the recording feature if you have SimpliCams.
How does the monitoring feature work?
If you have the system armed and one of the sensors is triggered, you can immediately disarm the alarm by pressing the OFF button on the key fob or by keying your 4-digit PIN into the keypad. If you have the $24.99 plan, you'll immediately receive a notification on your phone, a text message, an email, or all of the above. If you're not at home to cancel the alarm within a minute or so, it will send a notice to the COPS monitoring service and someone will call you on the phone number that you set as your primary contact. If they can't reach you on that number, they will call your secondary number, and if they can't get anyone to answer that number, they will contact the police to dispatch them to your home. If you or your secondary contact do answer the COPS call, you can use your safe word cancel the emergency dispatch or approve it.
Some caveats…
If your smoke detector or carbon monoxide detector alarms trigger, the COPS service will only try to contact you at your primary number and if no one answers, they will send the fire department. They won't try to contact your secondary contact number.
Once a sensor is triggered, it will not re-arm that sensor once the alarm has stopped but you can re-arm the whole system yourself using the SimpliSafe app.
I asked SimpliSafe about the re-arming issue and they said:
This is actually a security/usability feature! The idea is that when an Entry, Motion, or Glassbreak Sensor triggers an alarm, the alarm will continue for 4 minutes and the whole system will reset – except for the sensor that just triggered it. So that if it was a false alarm, it won't just keep happening again. However, if the user wants, this can be disabled. You can just call SimpliSafe's Community Specialist and let them know you would like to disable that feature, so that every sensor rearms after a reset.
SimpliSafe app
The SimpliSafe app gives you an easy way to see the status and arm or disarm the system from anywhere in the world as long as you have a net connection AND you are paying the $24.99 monitoring plan.
You can also use the app to check the status of the connected sensors and change the way they behave in each mode: OFF, HOME, and AWAY.
The app will also allow you to see a timeline of activities.  If you also have SimpliCams, you can tap on the activies and see any video clips that were recorded when the sensors were triggered.
SimpliSafe web client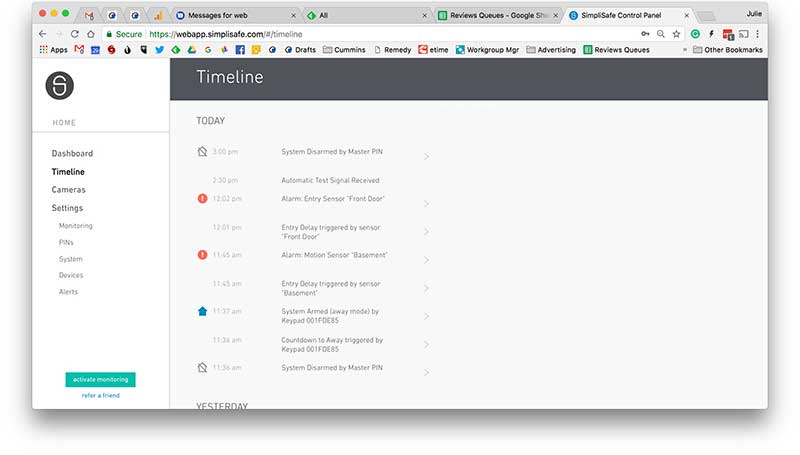 You can also use the SimpliSafe web app to check your sensor settings, current status, alert history, and even view a live view of your SimpliCams if your web browser has Adobe Flash installed.
A few weeks with the SimpliSafe system
Setting up the SimpliSafe security system with all the sensors and 2 SimpliCams was easy. I think it took me about 30 minutes. I used the system without activating the COPS monitoring for a couple of days just to get the hang of it, but there's almost zero learning curve. But since I had to set up a new master PIN number to disarm the system, I wanted to make sure that Jeanne and I would remember the number before I decided to turn on the monitoring service.
When you first turn on the monitoring, it gives you a 72 hours training period before it will dispatch emergency services to your home after a sensor has been triggered. Once that time has expired, you're sent an email to let you know that monitoring is active. Of course, within hours of the monitoring service getting activated, one of the motion sensors was tripped by my cat Max. We were out with friends at a restaurant and I remember receiving a call from a 1-800 number but my habit is to automatically reject the calls. I had also failed to set up the notification feature, so I didn't know anything had happened until I got home checked the SimpliSafe app and saw the info about the sensor being triggered. I was also able to watch a video clip from the SimpliCam that was captured when Max tripped the motion trigger. I then checked one of my Wyze cams and captured a sheriff looking in one of our windows within 15 minutes of the alarm being triggered. How's that for service! Check out the video below.
I was very impressed by how quick an emergency responder was dispatched. I'm also happy that I didn't get in "trouble" due to a false alarm.
What I like
Easy to install
Expandable
Affordable monitoring
No contracts
What needs to be improved
Auto re-arming a triggered sensor after an alarm event
Motion sensor sensitivity with pets might be a problem
Final thoughts
I tend to groan when I find an app or service that I like only to find out that to use it, I have to pay a monthly subscription. But in the case of SimpliSafe, I think the $14.99 or $24.99 per month charge is actually well worth what you get for that price. The fact that a human will call up to 2 numbers and then dispatch an emergency responder is pretty huge. Pair that with an easy to set up system that anyone can install and use, with SimpliSafe's proven track record of 10 years of service, I have no problem recommending their products and services. I've been using their products since 2009 and will continue to use them.
Update 1/25/20
I continue to use and recommend this SimpliSafe security system to my friends and family. It's been about 1.5yrs since I reviewed this newer version of their system, but I've been using SimpliSafe since 2009. After I reviewed this current system, let the complementary monthly subscription expire and was only using it as a door alarm but I recently decided to start paying again and now have a full system with the police dispatch feature. If you read my review above, you'll see that the SimpliSafe team is quick to send out help when it's needed. I have nothing but good things to say about this company.
Price: Systems start at $229.00
Where to buy: SimpliSafe and Amazon
Source: The sample for this review was provided by Simplisafe.