We use affiliate links. If you buy something through the links on this page, we may earn a commission at no cost to you. Learn more.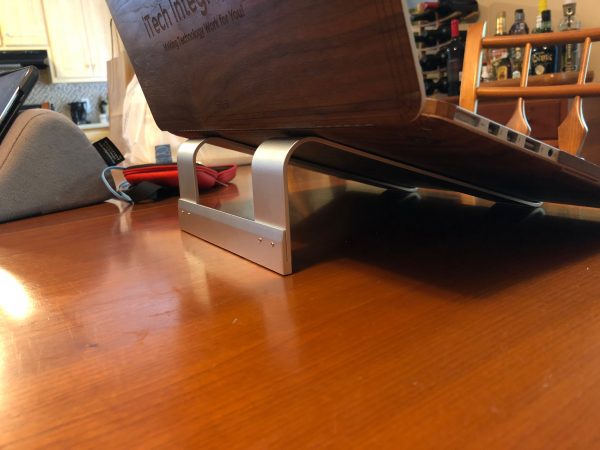 REVIEW – With laptops adding more cores and getting thinner and faster, the heat build-up is real in todays portables. The convection built into turbo-charged laptops works much better when there is a clear higher-level place for the air to flow. iQunix has developed a very simple yet eye-pleasing stand called the Noma. I was sent one to test and am here to report my findings.
Note: Photos may be tapped or clicked for a larger image.

What is it?
The iQunix Noma is an aluminum "L" stand that allows the stack effect to cool your laptop – increasing it's life, and giving you better performance and better battery life. (Heat is the enemy of all electronics. Lowering the operating temperature by only a few degrees can help.)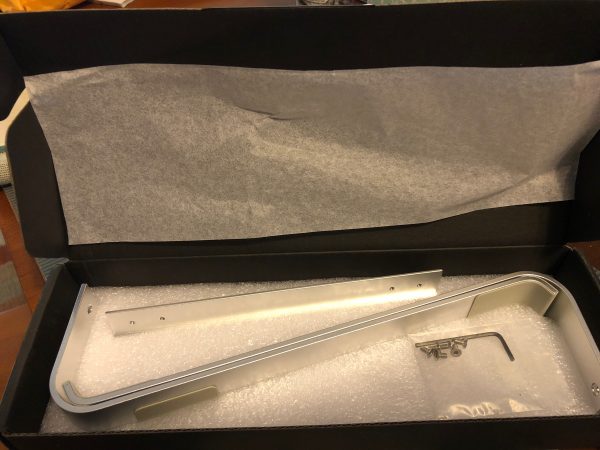 Setup
The Noma stand arrives as three pieces of high-quality aluminum that fit together with the (included) screws to form a 10" long ramp that raises the far end of your laptop 3" off a flat surface. This slants the keyboard 18º from the surface, and holds the outside edges 7.25" apart. Every place that would touch your computer or desk is covered by a grippy silicone pad in a neutral beige. I put it together in maybe 4 minutes after opening the box and photographing the pieces. There are no instructions included.
What's in the box?
2 ramps with silicone pads
1 connector that attaches securely to hold legs, also with pads
6 countersinking hex-driven machine bolts
1 Allen wrench to fit the screws
1 marketing card

Design and features
I was a bit surprised to see the stand come disassembled, but really appreciate the nod to less air in a package. It would have taken twice the cardboard to surround the 10"x7.25"x3" stand fully assembled, rather than the 11.75"x1.75"x3.75" unbleached cardboard box that arrived. It would be nice to know if the tiny piece of styrofoam that held things for shipping was as highly recyclable as the rest of the packaging.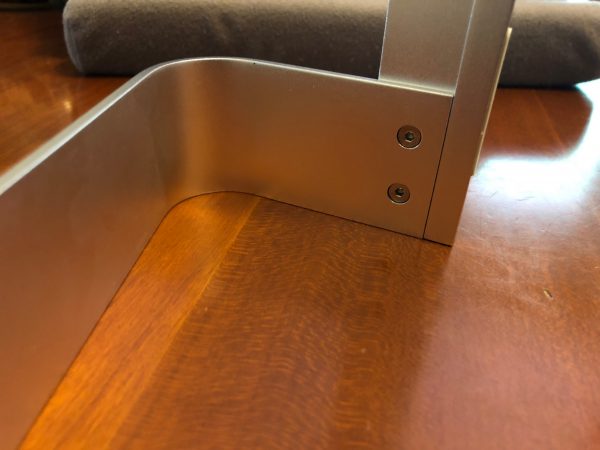 The pieces fit together precisely. There is a lip across the base of the crosspiece that the legs sit against, and the holes line up to where the weight of your laptop rests on that solid lip, rather than the screw posts. With no give or play in these joints, I can't imagine ever having a screw get lost or need tightening, but it's nice to have a few extras.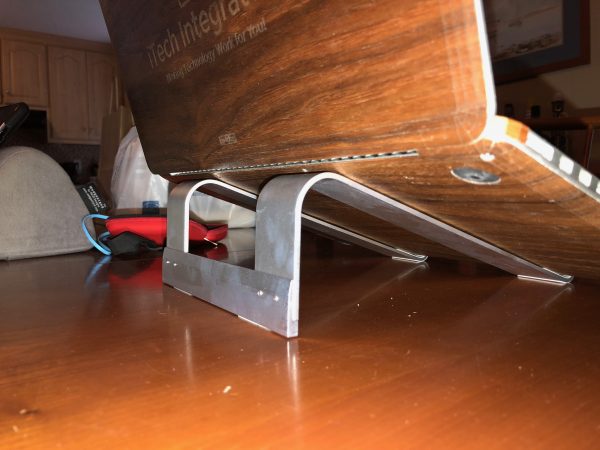 The simplicity of the stand belies its effectiveness. When using my mid-2014 MacBook Pro with 2.2 GHz and 16GB RAM to play a graphic-intensive online game (World of Tanks Blitz), I noticed it was much less warm than when I played it on the same desk flat. I'm not a fan of using it at the 18º angle for long periods of typing, but for bouts of tanking, it's not too bad.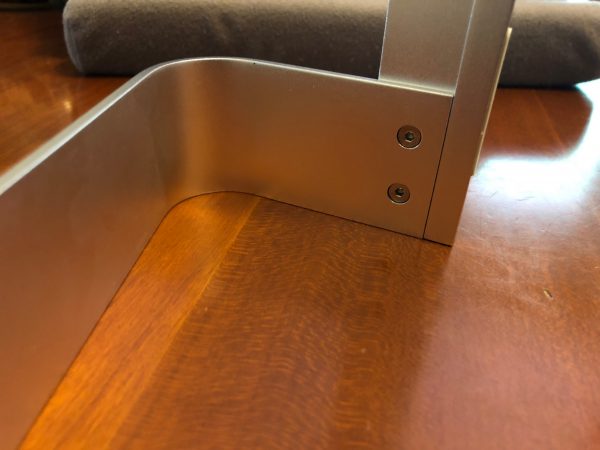 What I Like
Highly ecological design and packaging
Tight, well-designed parts
Simple and Effective
Works with laptops or tablets, from 9" to 17"
What needs to be improved
Final thoughts
I'm not normally one to put my laptop on a stand. Save for the aforementioned game, most of the stuff I run on my Mac is limited to web browsers, RSS feed apps, and text processors. Occasionally, I'll edit some video in iMovie. But not of it even taxes this 4-year-old workhorse. If I regularly connected to external projectors for presenting (which tends to take more video power), I'd probably use a stand at the presentation area to keep the fans from powering on. This is the simplest, least expensive, and tightest fit/finish I have seen of any stand, however. If you're in need of a one-trick pony like this, you will probably not find one better for this price.
Price: $19.99
Where to buy Amazon
Source: The sample of this product was provided by iQunix.