We use affiliate links. If you buy something through the links on this page, we may earn a commission at no cost to you. Learn more.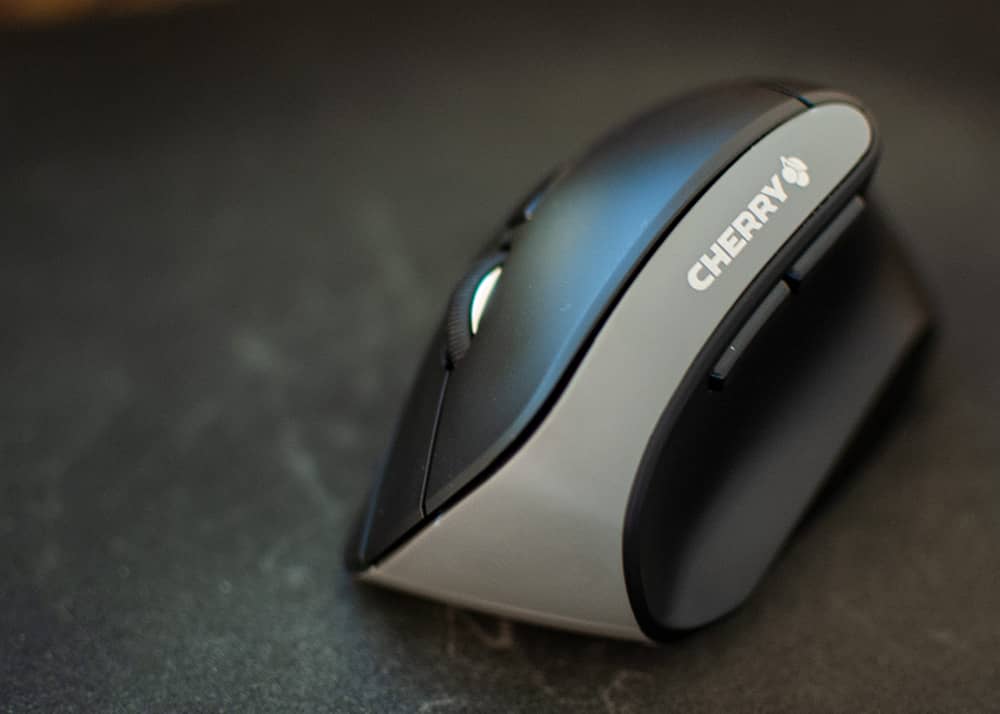 REVIEWS – In my day job as a creative director, I use a mouse almost nonstop for between 8-10 hours, so I'm a prime candidate for wrist fatigue and repetitive stress injury. This is exactly the sort of thing that ergonomic input devices like the Cherry MW-4500 Wireless Mouse were designed to alleviate.
What is it?
The Cherry MW-4500 is a wireless ergonomic mouse that puts an emphasis on natural hand and wrist position to prevent fatigue and repetitive stress injury.
Hardware specs
Number of Buttons: 6 buttons and scroll wheel
Weight: Approx. 0.26 Lbs. with batteries and receiver
Dimensions: Approx. 4.17 x 2.67 x 1.53 Inches
Connection: USB
Transmission Range: Approx. 10 m / Approx. 32.8 ft
Resolution: 600 / 900 / 1200 dpi (adjustable)
Ergonomic form in 45° design
Infrared sensor for precise movement of the mouse pointer
Nano USB receiver – leave in laptop or store in mouse
Status LED indicates low battery charge
Abrasion-proof surface finish is pleasant to the touch
What's in the box?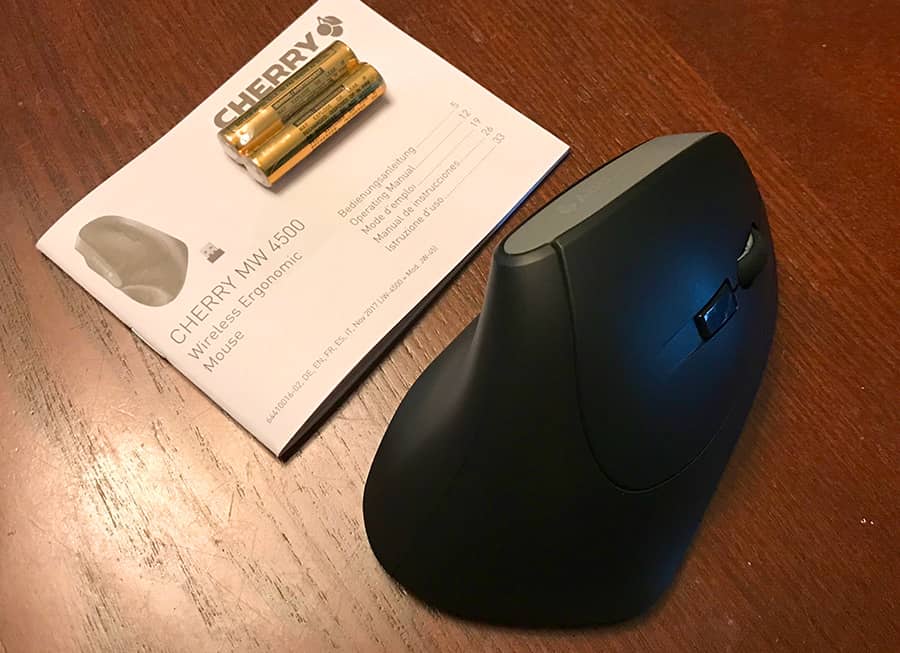 CHERRY MW-4500
Operating Instructions in hard copy
2 Batteries (type AAA)
1 Nano USB transmission receiver
Design and Features
I can remember the first time I ever used a mouse. My cousin's grandfather had an original Macintosh, with its now-tiny monochromatic screen and boxy, beige 1-button mouse, and I can remember even then how strange and wonderful that input device was.
Aside from conforming to a human hand a bit better, switching from a ball to lasers, and adding a scroll wheel and a few more buttons, the computer mouse hasn't really changed all that much.
Years later, and nearly two decades into a career in design, you can bet I've heard reports on how bad using a mouse and keyboard are for your hands and wrists. Repetitive stress injuries, carpal tunnel and tendonitis are all easily attainable in this line of work, and I'd be lying if I said I haven't experienced some stiff wrists after long days in the office.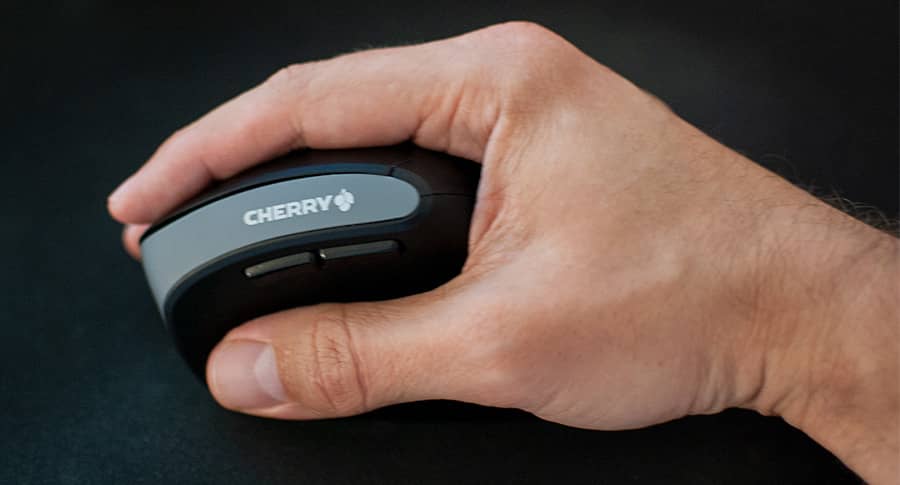 I had seen — but never used — ergonomic input devices before… like big trackballs, those funny split keyboards, and 45º angled mice like the one I'm reviewing today. The Cherry MW-4500 is a cost-effective ergonomic wireless mouse designed by the same company famous for their clicky mechanical keyboards. And its goal is to provide a mouse designed for a more natural mousing position for your hand and wrist.
Try a little experiment with me. Take your arm and lay it down on a surface in front of you, in the most relaxed and natural way you can. Don't even think about it. Likely, your hand looks like it's holding an invisible can of Red Bull. While using a regular mouse, your wrist is turned in at a roughly 90º angle, and whether you are aware of it or not, it's causing a bit of tension on your wrist to keep your hand flat against a mouse.
With 45º angled mice, like the MW-4500, your hand is positioned on top of a mouse at a more natural, relaxed angle. Does it really make much of a difference for hours on end? I'm inclined to believe that it does, perhaps cumulatively over years and years, but it's hard to say that even after 3 weeks of regular use if I really noticed any less stress or fatigue.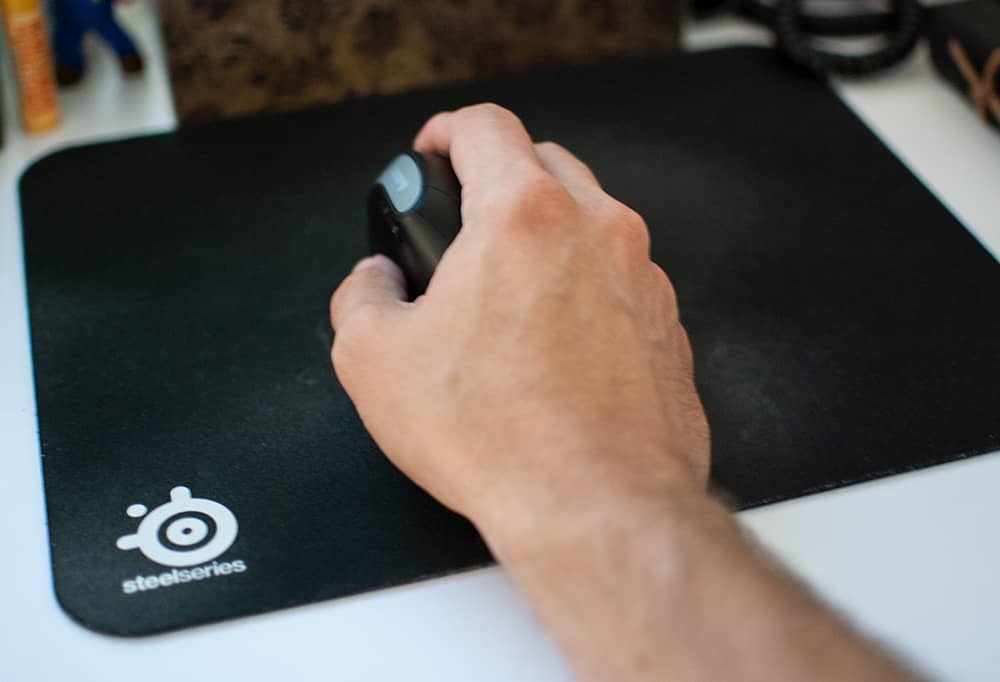 I was more focused on how strange it felt. I've heard that with mice like these, you either like it or hate it immediately, with little middle ground. I wouldn't say I hated it, but I did notice a very crucial difference between using this mouse and my usual Apple Magic Mouse.
My typical needs from a mouse require very precise movements. I have to do fine brushwork and clipping paths in Photoshop, which necessitates exact mousing and clicking. I can click my usual mouse all day and it doesn't move even one pixel. Rock solid. However, I had a hell of a time using this angled mouse simply because the mouse buttons are angled and therefore leveraged against the mouse body itself rather than the table.
So the mouse stays as still as your thumb can counter the pressure of your forefinger's click. In trying to keep the mouse perfectly still, it feels more like a squeeze, or a pinch, every time you click. Initially, after a long day of this, I felt more fatigue in my thumb joint from gripping the mouse so hard than I ever had in my wrist. That seemed to ease with time, but personally, I found it distracting.
The built of the mouse itself is decent. Setup is easy — there is a tiny USB receiver that is built right into the body of the mouse, and it's as simple as removing that receiver and inserting it into a spare USB port. You could easily leave it in a laptop without worrying about it popping out. But I'm surprised that these little receivers are still a thing. Perhaps they're cheaper to manufacture that way instead of simply relying on Bluetooth. It takes 2 AAA batteries that are supposed to last for months, so that's pretty good, too.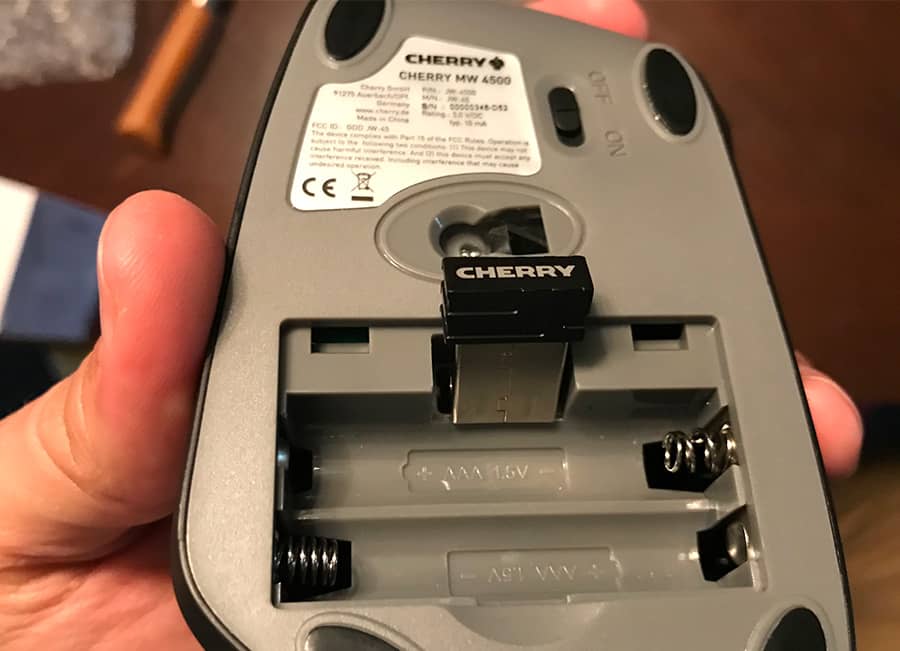 Speaking of cost, the MW-4500 is cheap! We're talking $25, which is a pretty good price for any wireless mouse. In this case, it does feel like a $25 mouse. It's very lightweight, for better or worse, and has an almost hollow feeling. It also has a rather loud click.
I appreciate the extra buttons, however, they're not programmable unless you have some sort of third-party plugin or app that lets you customize them. There is the typical main left and right buttons, a click button built into the scroll wheel, and browser back and forward buttons situated just above where your thumb rests.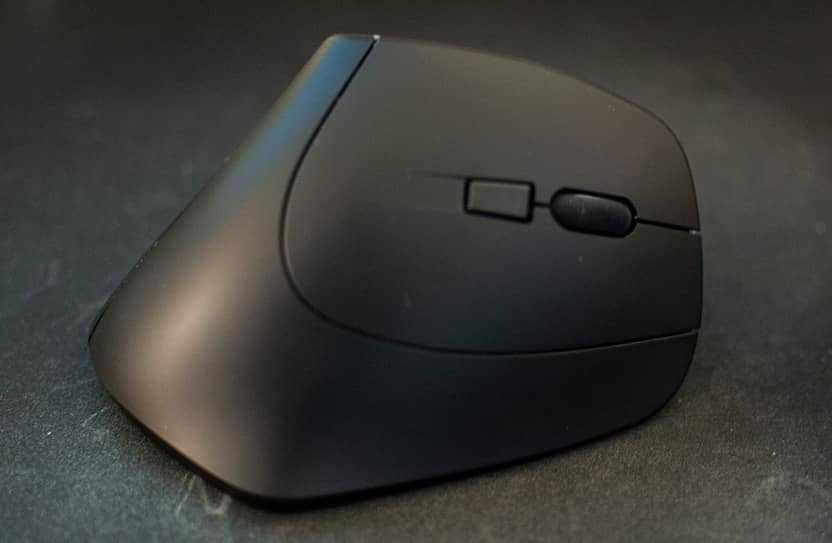 Finally, there is a DPI adjustment button on top of the mouse. I've never quite understood the purpose of these. I used to have one on an old Logitech gaming mouse and I believe its purpose in that regard was to increase or decrease the sensitivity and speed of the mouse on the fly. But I've never really had a use for that. In fact, I managed to hit that button on more than one occasion only to wonder why my mouse cursor was now flying all over the screen.
My final two cents … I think this mouse would be a great entry into experimenting with ergonomics for general computing like browsing and basic office work. I wouldn't recommend it for gaming or anything that requires a very fine level of precision like digital painting or design work, but I could certainly see no problem for giving it a shot if you have to use a mouse for long periods of time. Unless of course you use a mouse with your left hand.
What I like
promotes correct wrist position
very long battery life
inexpensive
What needs to be improved
takes some time to get used to using it, if at all
right-hand only (sorry southpaws)
difficult to use with high precision
Final thoughts
I think that if you can get used to using it, Cherry's ergonomic offering could help relieve some of the stress of mousing all day, and at a decent price. Personally, the odd hand positioning doesn't offer the leverage for precise clicks and movements that graphic design work requires, and that's a dealbreaker for me. Most other general computer tasks would be fine.
Price: $31.24
Where to buy: The Cherry MW-4500 can be purchased online from multiple sources, such as OfficeSupply.com, but not directly from Cherry itself.
Source: The sample of this product was provided by Cherry. You can find out more about this and their full line of computer input devices on their website.