We use affiliate links. If you buy something through the links on this page, we may earn a commission at no cost to you. Learn more.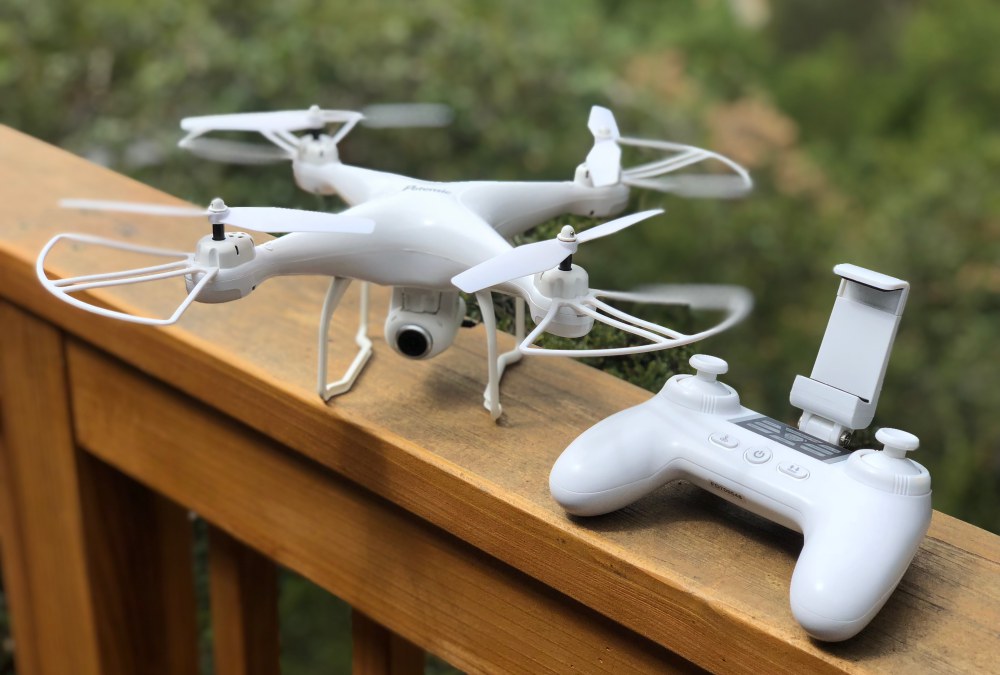 REVIEWS – Potensic's new T25 drone has a lot of features, almost too many to grasp. Want to know more? Read on.
What is it?
The T25 is a small to mid-size drone with a full suite of capabilities including takeoff and landing assist, return to home, full 1080P recording and much more. Are you looking for your first drone or an upgrade from a low-cost mini-drone? Let's take a look at the T25 and see if their feature set and performance are right for you.
Hardware specs
Drone GPS and specs
– Follow Me, GPS return home, GPS positioning and hold, Geo-Fencing, and Low Battery Return
Drone inflight features
– Headless mode, Auto Takeoff / Landing / Hover, 9-Axis gyroscope, Color-coded dual LED lights, 2.4G technology
– Range: Up to 300m (Image range up to 100-150m)
– Max Height: Up to 120m, Max Speed: Up to 25km/h
Camera
– HD Wifi Camera with 75º articulating 120º wide-angle lens
– Optional SD card (sold separately)
Battery
– 3.7v 1000mAh lithium ion
– Micro-USB port allows for charging in or outside drone
– LED lights for battery level indication
Controller
– Internal lithium polymer battery
– Micro-USB port for charging
What's in the box?

(1) T25 Drone
(1) 1080P HD camera module
(1) Transmitter w/ mobile phone cradle
(1)  3.7V 1000mAH Battery
(1) User Manual & Quickstart Guides
(1) USB Battery Charger
(1) Screwdriver, (1) Wrench
(4) Propeller Protection Guards
Spare Parts
(2) Landing Leg pairs
(4) Propeller Blades (2 each rotational direction)
(2) Propeller gears, (2) Propeller caps, (4) Propeller screws
Here's a better look at those parts removed from the packaging.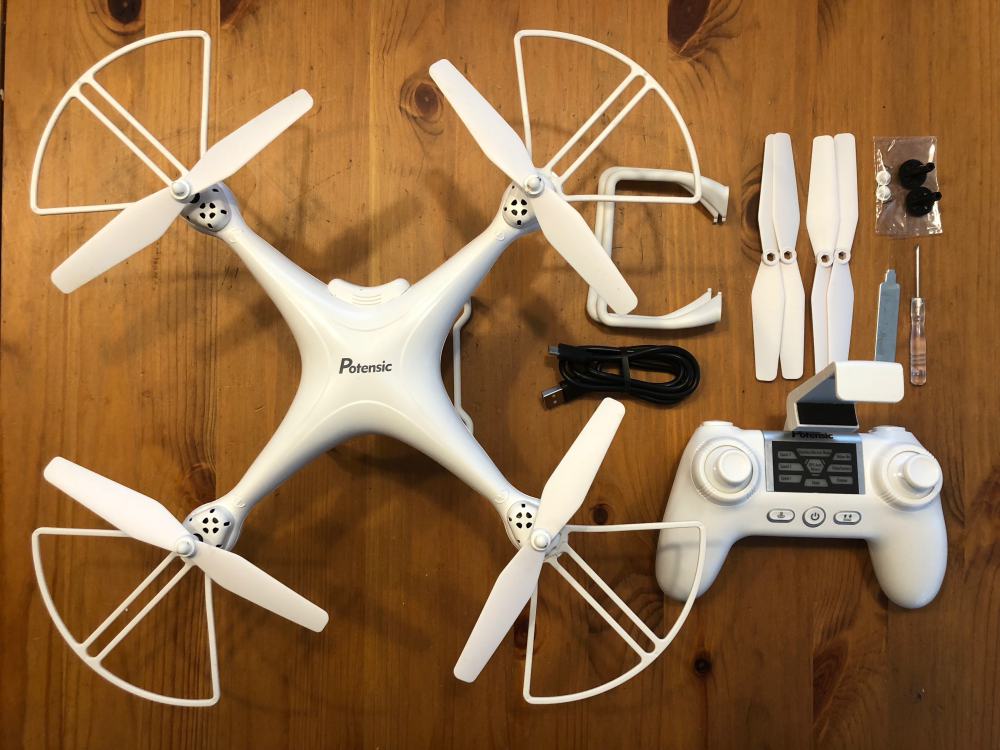 Design and features
Functionally, the design of the T25 is well done. The landing legs are replaceable as are the propellers and the propeller guards. The will hold most (if not all) smartphones and the app works well during use. From an aesthetic standpoint, there is little here that stands out as being unique to this drone so I would forgive almost anyone for mistaking it for a drone from the market leader. Maybe that's the point, but in the end, while you are watching the drone as you fly, you quickly start to go heads down and watch your phone where the camera feeds a live view. As bland as the exterior may be, you'll want to avoid putting stickers on or painting it as even adding the 4 propeller guards changes flight characteristics and a medium gust of wind definitely does. Let's move on to set up and performance.
Setup
If you've had a drone before, none of the following is likely to surprise you. If not, let's just say that setup isn't hard, it's just not fast nor straightforward if you're expecting something similar to an RC car. The T25 is relatively assembled in the box, but as you saw in the photos above, there are so many additional small parts, both required and spares that it still feels like a kit instead of a finished product. That's actually part of the charm in some respects.
If we boil it down, the setup process is as follows…
Charge the batteries
Install a microSD card (not included) into the camera
Press the propeller guards into place
Install batteries in the controller
Install the phone cradle into the controller
Download and launch the Potensic-G App
Here's a shot of the propeller guard posts and the press-in receivers on the drone. It literally is a press-fit.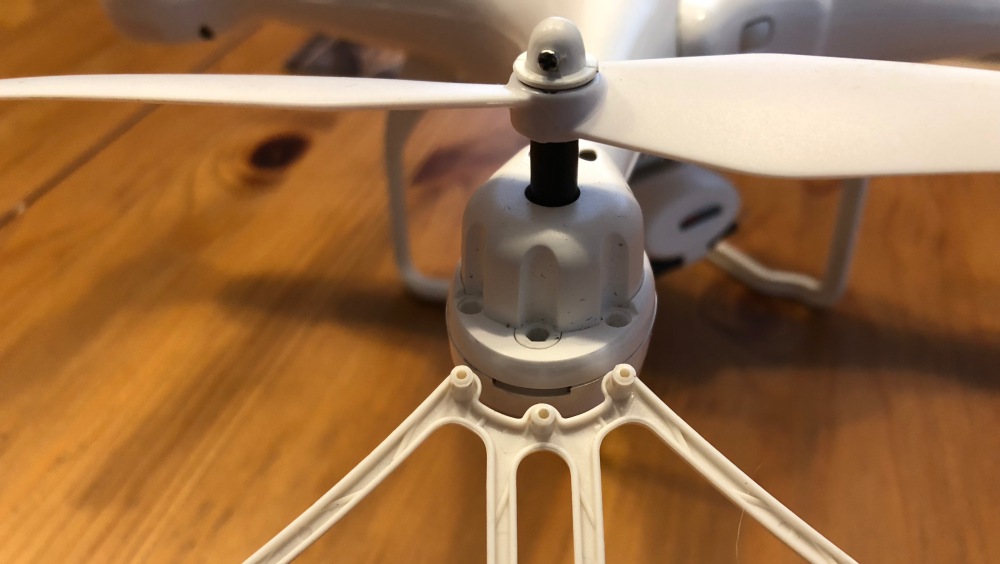 Right about here is where you think you're ready to fly, and you kind of are. As a drone novice, I underestimated the amount of time the next steps would take including getting comfortable piloting the drone. While awaiting the review sample to arrive I did happen to notice that the battery provides about 8 minutes of flight time, so I ordered a spare battery from Amazon so that I'd have double the flight time between charging sessions. All that out of the way, here's the next set of setup instructions. (Feel free to skip this if you're familiar with drone calibrations)…
Turn on the drone and set it down on a level surface, and all lights should be blinking red (This is an important step as the drone will use this as its perception of flat – You should also be in a wide open space, and the lights can be hard to see in strong sunlight)
Turn on the controller (Here's where it gets all secret game code-like)

Press UP then DOWN on the left joystick
Front lights will flash WHITE, rear BLUE
On your phone hop into settings and connect to WiFi broadcast by the drone (Potensic-xxx) then jump back to the app
Calibrate the gyro by pressing each joystick to the forward and outward corners (left @ 11, right @ 1) – lights should blink rapidly
Calibrate the compass by pressing each joystick to the forward and inward corners (left @ 1, right @ 11) – lights should now add a red between the flashes (white/red in front, blue/red in rear)
Pick up the drone and in one smooth motion turn your body in a circle keeping the drone level in front of you – rear lights should go solid blue
Now tip the drone face down (propellers forward) and do the same thing keeping the drone in this position – front lights should go solid white
The app should confirm calibration okay and you will set the drone back on the level surface where the lights will return to respective white/blue flashing while the drone is 'Waiting for GPS signal'.  [NOTE: If you happen to be somewhere where you cannot get a GPS lock (large indoor area?), you can press and hold the right joystick for 2 seconds to disable GPS. Keep in mind that will also disable any of the features reliant on GPS like return home and follow me.]
When the lights return to all solid you're ready to fly and the app should say so.
Last thing that was not mentioned anywhere that I could find is that in the app, you need to click on 'CONTROLS' to get to the flying screen.
Performance
There are a lot of controls on the controller (which makes sense), but it makes for a learning curve that's as steep as your familiarity with this kind of setup. If you play any kind of modern gaming system you'll already be more likely to jump in. Let's take a look at all those controls quickly…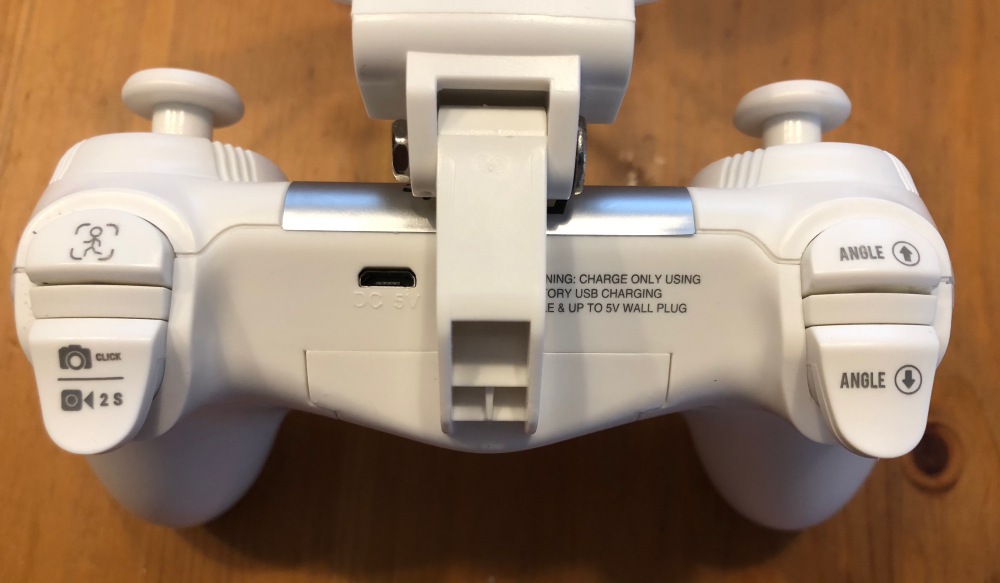 Above you see the trigger controls for [follow me], [camera/video] and on the left hand [angle up] and [angle down] adjustments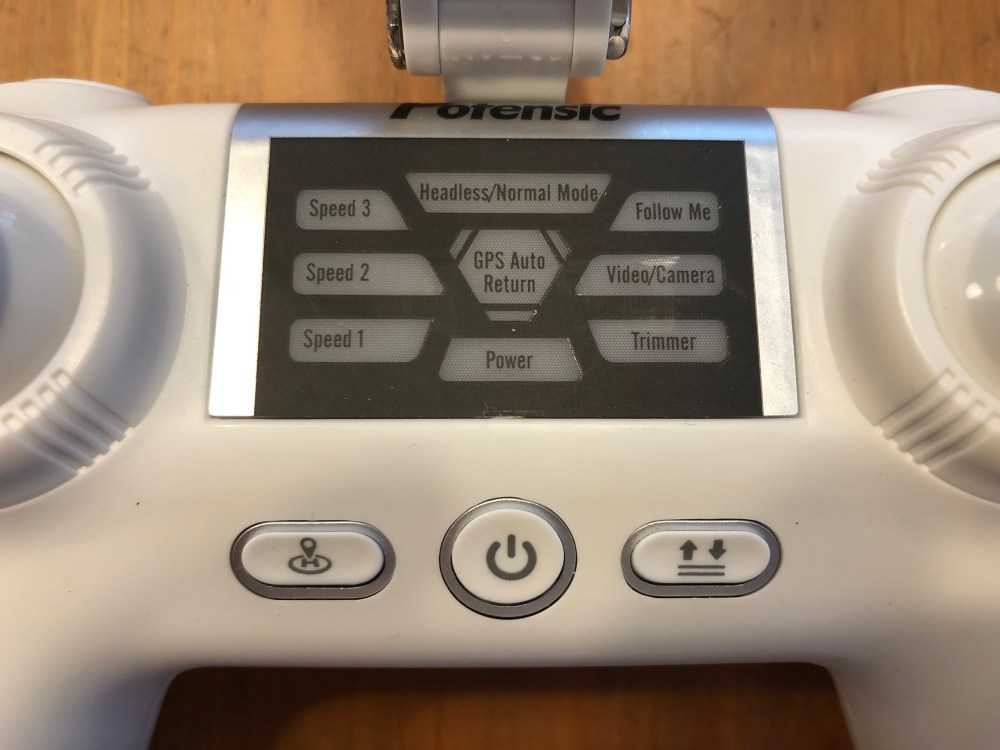 Here are the [return to home] , [power] and [takeoff/landing] buttons along with a whole lot of indicators above which help to communicate which settings the drone has active. These are lit well during use and hard to confuse.
When it comes to actually flying the drone, Potensic has done a few things that aid a new pilot significantly. The first is a one button take off which literally works as advertised. Press that button and the propellers whirr to life lifting the drone to about 5 feet off the ground at which point it just unnaturally maintains its position. Auto land is another that just takes a huge headache away by just landing for you.
A unique feature is "headless" mode which basically translates to the controls never switching orientation. This means that forward is always forward based on the starting position of your controller and left is always left of that forward motion. This is super useful if you're thinking grid style, but if you turn around because you flew the drone behind you, you'll need to mentally remap the controls to have the drone do what you want it to do.
Follow me is a feature that got me really excited and in my first attempts also concerned me the most. I don't trust the GPS on my phone to be accurate to within 10 feet. When experimenting, the drone does what it's supposed to do and if you back up, it advances. The problem is that with some GPS drift, sometimes it would get a little closer than I expected which resulted in me stepping back and it continuing to advance. Comical right? Also scary.
So as a new pilot, the reality is that it learning to fly is a bit stressful and just when you think you've got it, something changes and your gut reaction ends up causing a problem. It's also a bit frustrating to see all these beautiful drone-shot videos on youtube and other media outlets, only to realize that it's not quite that easy to get that beautiful shot without a lot of practice. So here are a couple of reference comments for you to consider.
I only had one real 'crash'. It was before I discovered headless mode and I ended up sending the drone into the side of our car. The propeller guards did what they were supposed to do and kept both the car and the drone uninjured, but one propeller guard snapped. It would be nice to have some spares in the box as it seems like these are more likely to be needed than spare landing gear, but then again who's really to say.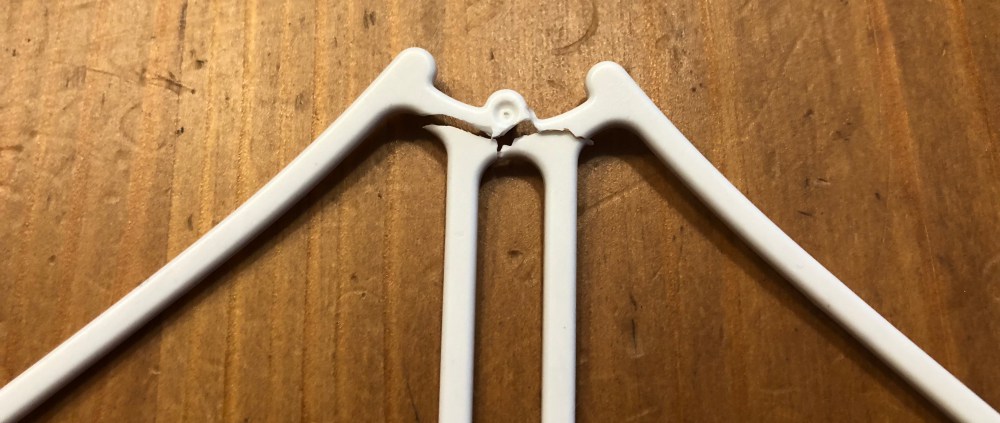 The on-board video camera is why I think drones intrigue most of us, and the T25 boasts 1080P. Note that both the below videos are posted here at 720. On a recent family vacation, we were filming a sequel to an ongoing saga of movies with our kids as action heroes. There was a scene with my older kids running towards the beach and it seemed like the perfect opportunity for a drone shot. In the video below you'll see that while it worked, I didn't account for the amount of wind and controlling the drone was quite difficult. I will say that it was impressive to see the T25 tilted at almost a 25º angle and just holding its position which was right at the beginning of this video.
Here's another video of one of the earlier flights just getting the hang of the controls and even just comfort level of having it head back towards me. The camera does a pretty good job, but it can be a bit jumpy and the clarity isn't quite as good as I was hoping.
A couple of things to note about the way the camera works. You see exactly what you're shooting on your controller display (iPhone in my case). Any photos or videos are recorded directly to your phone as well as an SD card if you have it installed. Videos record in .avi format on the SD card while .mov on the iPhone. That's helpful as macs don't read .avi natively so you'll need to grab VLC or some other player/editor. I did not see resolution differences between the SD card recordings or the iPhone recordings.
When initially setting the drone up and looking over all the parts I took off the legs and inadvertently pushed one of the release buttons too far where it pushed inside the drone and the spring was rattling around. In retrospect, this is why their wrench has a small extended section with physical stops. Regardless, it resulted in taking the drone apart to rescue the button and I got to look at some of the inner workings. You can see in the second shot where the button arm is keeping it trapped against the assembly post. Overall an easy fix, albeit with a lot of screws.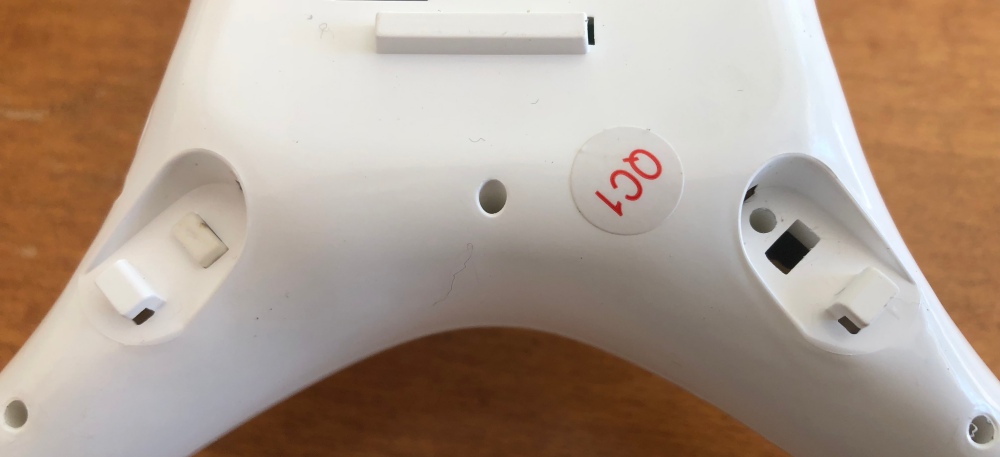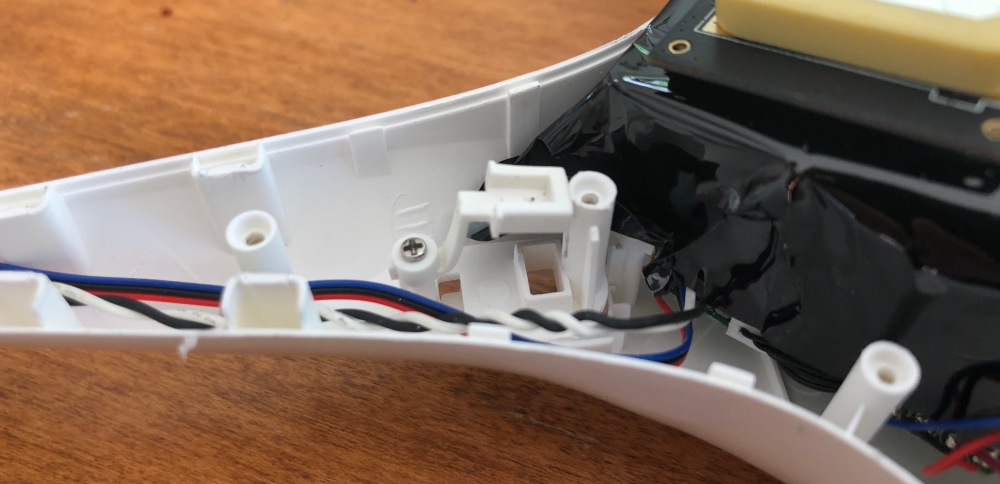 What I like
Small and compact without being diminutive
Learning aids are great for new pilots
Spare parts included for some key items
What needs to be improved
Battery life/flying time – and/or – 2nd battery in the box would help
Propeller guards are more fragile than they should be
Add a learning mode where certain features can only be unlocked if you've passed 'flight school' levels
Battery swap requires redoing all the calibration steps
Final thoughts
I've flown a couple of drones before, but it was quick flights with the drone's owner right there. When it's your own and you're doing all the setup, the "am I doing this right?" weighs on you quite a bit and I can only imagine that ratcheting up a lot if you've dropped your own dollars to purchase it. The more time you can spend flying, the more efficient you'll be and the better results you'll get out of video and photos. The main complaint from any user will be flight time. I'd recommend a minimum of one extra battery and likely two as if you're headed out to fly, you'll want a good 30 minutes and 3 won't quite get you there. Also once the controller battery is depleted you're done as it takes an hour to charge even if you brought a power bank. Overall the T25 is a good value, not too light, not too heavy and sits in a pretty good spot as far as not being too expensive while having an impressive feature set.
Price: $189.99
Where to buy: Amazon
Source: The sample of this product was provided by Potensic.