We use affiliate links. If you buy something through the links on this page, we may earn a commission at no cost to you. Learn more.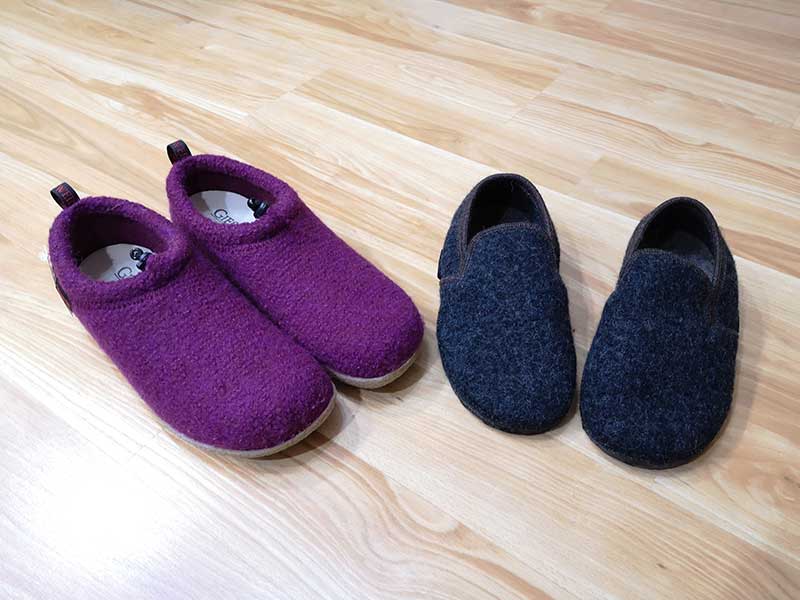 REVIEW – Giesswein (pronounced geese vine) is an Austrian company who has been in the shoe business since 1954. They offered to let me try their boiled wool shoes and I thought sure, what the heck. They sent them, I've been wearing them, let's find out if boiled wool shoes are as comfy as they look.
What are they?
Giesswein shoes are boiled sheep's wool shoes that have been designed for indoor use and/or outdoor use. Giesswein sent me two styles from their variety of offerings. They sent me the Vent in Plum which are indoor and outdoor shoes and the Andau in Charcoal which are indoor only shoes.
What is boiled wool and how are these shoes made? I'll let them explain it.
To create our shoes, we begin by weaving the wool into a soft Tyrolean knit, which is then put through a unique process called "fulling" or "Walk" (pronounced vahlke) in German. The knit is washed, agitated, compressed, and subjected to high and low temperature variations in fresh mountain spring water… Giesswein wool is not your average boiled wool, and should never be mistaken for felt. It is lighter, software, and more flexible than felt, and because of the intricate fulling process, it is completely machine-washable.
Design and features
Vent style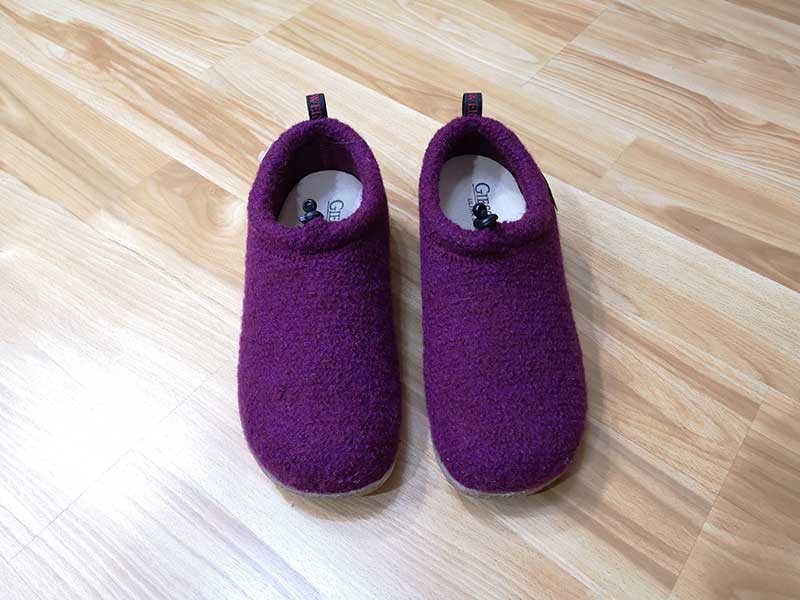 The Vent style shoe is what Giesswein calls a lodge shoe which just means that it is designed to be worn as both an indoor and outdoor shoe. The Vent style is available in several colors including the Plum version that they sent me. I've always wanted "purple" shoes 🙂
This style comes in Women's size 5 – 10 US and Men's size 7-15.
I've never had anything made of boiled wool and had an image in my mind of thick heavy material. Those thoughts were wrong. The Giesswein shoes are not heavy, the natural boiled wool upper makes the shoe relatively lightweight with a soft fuzzy feel.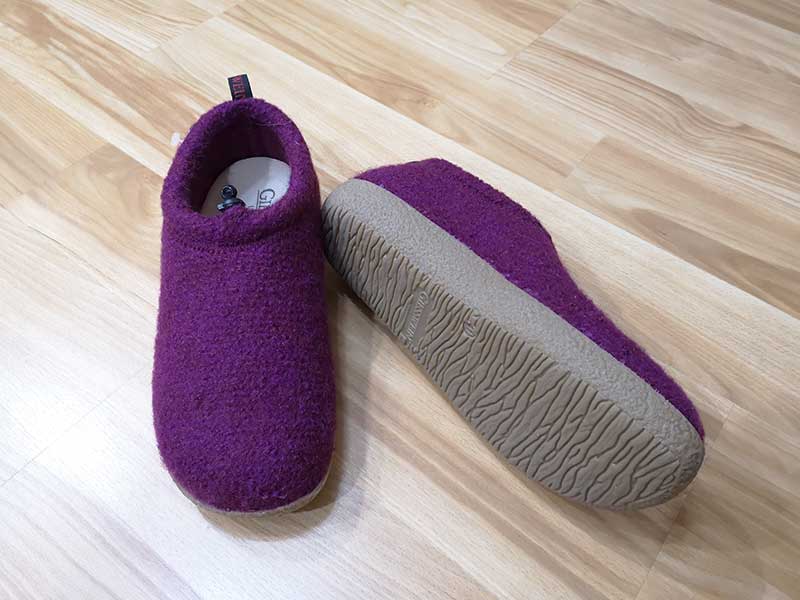 The Vent shoe has a waterproof rubber outsole which provides a decent grip on slick surfaces and allows you to wear them both in the house and outdoors.
The sole in the image above makes the shoes look sturdy and yes, they are, but they aren't clunky feeling when you wear them. At least I didn't think they felt too heavy or awkward to walk in.
These shoes include a removable cork-latex footbed that has metatarsal and medial arch support. What does that mean? It means your foot is going to be supported and you'll notice the difference if you've been accustomed to wearing shoes and slippers without any support. I sure noticed a difference. At first, I didn't like the Vent shoes at all because I felt like I was walking around with a ball under my foot. But after just a short adjustment period, I found the shoes to be comfortable to wear all around the house, up and down stairs, out to the garage, down our gravel driveway, etc. The cork footbed is designed to mold to your unique foot shape over time.
Note that these shoes are pretty much impossible to step into and out of without assistance from your hands. This is especially true if you tighten them around your ankle with the built-in cord.
The Vent shoes can be washed in a cold gentle cycle (after removing the cork footbed) and then allowed to air dry overnight.
Andau style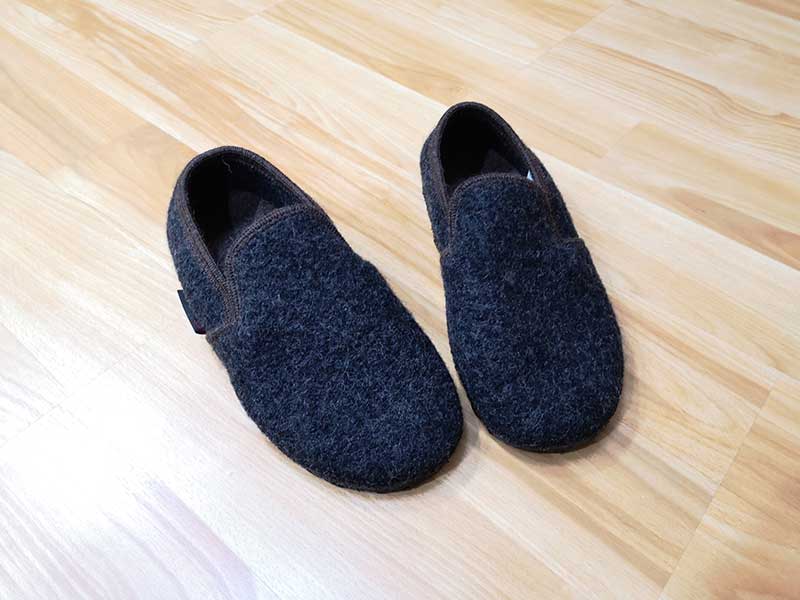 The Andau shoe is a house shoe/slipper and has been designed to be worn as an indoors-only shoe/slipper. It only comes in Charcoal and looks more masculine than the Vent shoe. Like the Vent, the Andau has a removable footbed.
This style comes in Women's size 5 – 10 US and Men's size 7-15.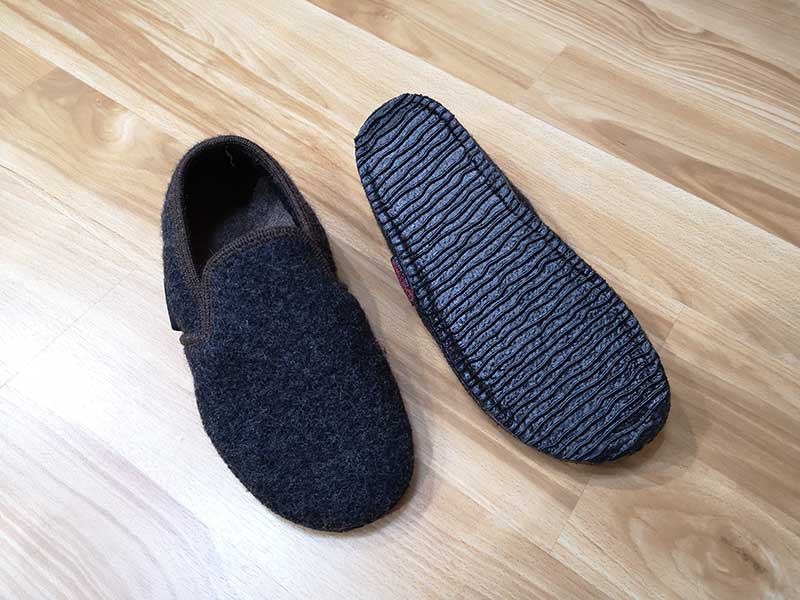 These shoes have a natural latex-dipped outsole that provides grip for hard slick surfaces while remaining thin and flexible.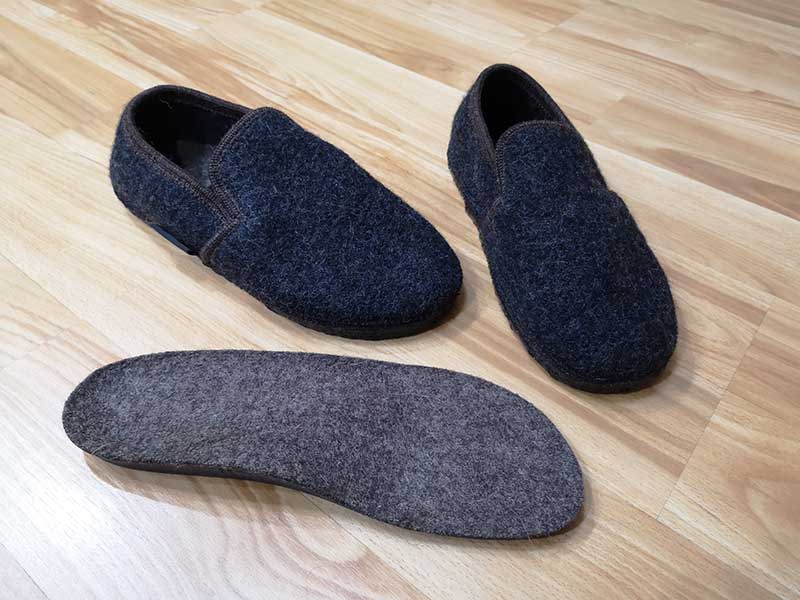 The Andau footbed isn't made of cork, but is made of wool and can be washed along with the shoe by removing it and washing in a cold gentle cycle and then allowing it to air dry overnight.
The Andau's footbed also offers arch support, but I think the Vent's footbed's arch support is a lot more noticeable.
What I like
Cute
Warm if it's cold and cool if it's hot
Machine washable
What needs to be improved
Price, they are expensive
Final thoughts
The Giesswein shoes are well-made and comfortable (after you get used to the arch supports) to wear. The sheep's wool construction makes them breathable and great at wicking away moisture, all without being itchy and scratchy like you might assume that wool can be. That said, I have two main issues/concerns with these shoes. 1. The fuzzy wool picks up lint and pet hair easily so I am always picking stuff out of the material. 2. These shoes are expensive and pricier than I would care to spend on one pair of house shoes.
I wore these slippers for a couple of weeks and they were comfortable enough, but I can't say that they were more or less comfortable than other slippers I've worn in the past that cost much less. Am I cheapskate when it comes to paying for slippers? Probably. But for the $100+ price tag, I expected the Giesswein shoes to wow my feet. My feet didn't complain, but they didn't do a tap dance of joy while wearing them either. So it comes down to if you like the look of these shoes and if you don't mind the price. If so, then by all means, buy a pair.
Price: Vent $146, Andau $98
Where to buy: Giesswein USA
Source: The sample for this review was provided by Giesswein.