We use affiliate links. If you buy something through the links on this page, we may earn a commission at no cost to you. Learn more.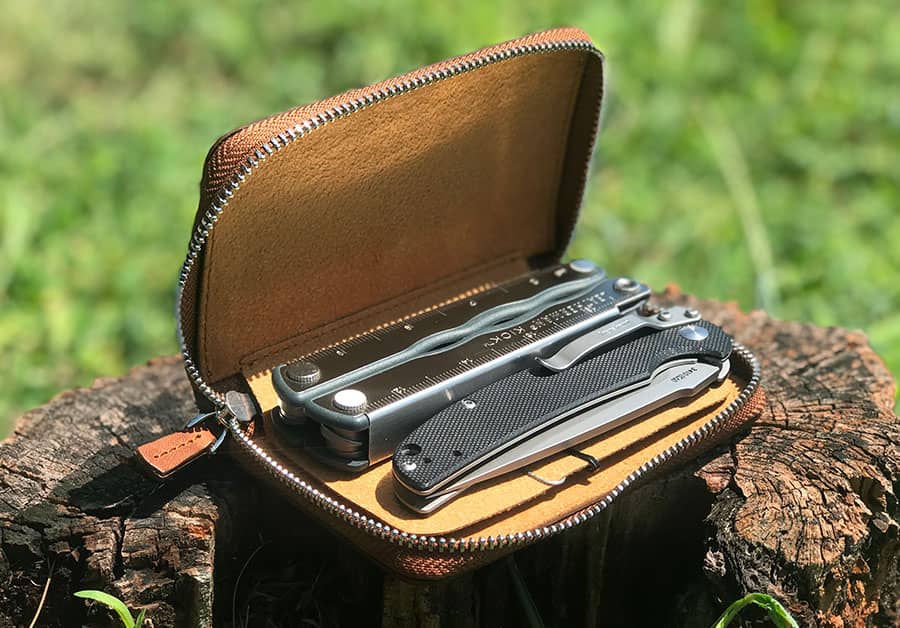 REVIEW – As an every-day carry (EDC) enthusiast, I'm always on the lookout for a way to compartmentalize or simplify the things I take with me wherever I go. So when I found out about the EDC Wallet from Galen Leather, I was eager to get my hands on it.
What is it?
Galen Leather's EDC Wallet is a minimalist zippered wallet for your pocket size, every day carry (EDC) tools. Equipped with a sturdy YKK zipper. It's a pocket-sized carrier for cash, credit cards, and business cards.
Hardware Specs
11.5(4.52″)cm x 9(3.54″)cm x 2(0.78″)cm when closed
11.5(4.52″)cm x 15,5(6.10″)cm when opened
It can fit an A7 size notebook, Kaweco sport or similar size pens, or a mini flashlight. Includes an elastic outside pen loop for quick access.
What's in the box?
Surprisingly, many items!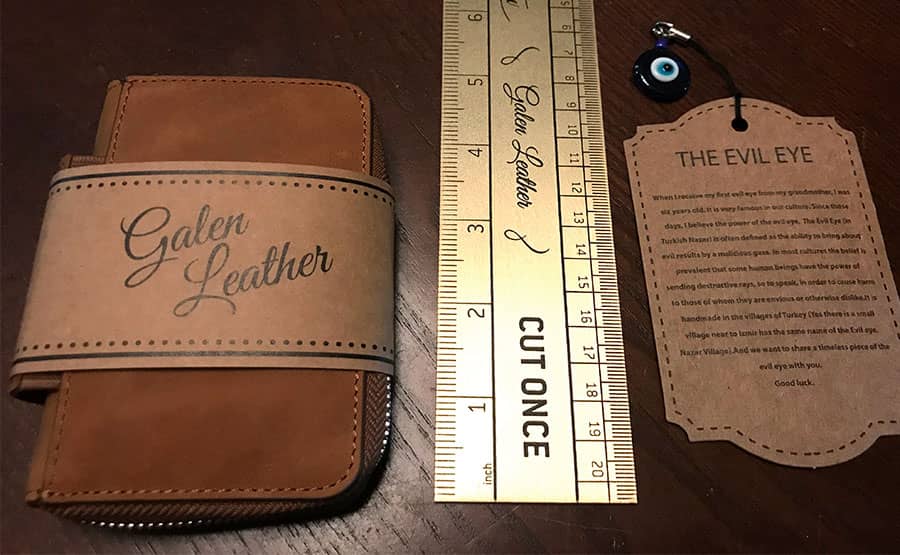 The Leather EDC Wallet, in a nice box, plus…
A care & cleaning card with date and maker stamp
A small metal 8" ruler with "Measure Twice Cut Once" emblazoned on it
A small, glass Evil Eye with a short story of its origins (more on this later)
Design and Features
I'm an EDC junkie. I love to see what others carry around with them everywhere they go. These photographic pocket-dumps are like glimpses into the everyday lives of fellow enthusiasts and I find myself making little wish-lists of future purchases.
Personally, I always carry at least the following, because you just never know when they'll come in handy.
pocketknife (currently, the Swiss Army Spartan)
tube of lip balm
black Fisher Space Pen
microfiber cleaning cloth
Herschel canvas zipper wallet
Each individual item typically knocks around in the same front pocket of my jeans or khakis. It doesn't cause too much of an issue, it just feels a bit sloppy.
So when I was approached with reviewing the EDC Wallet, I thought to myself, now there's a great concept. Get all that loose stuff in a nice, neat, zippered package! I gave it a shot for a few weeks and here are some thoughts.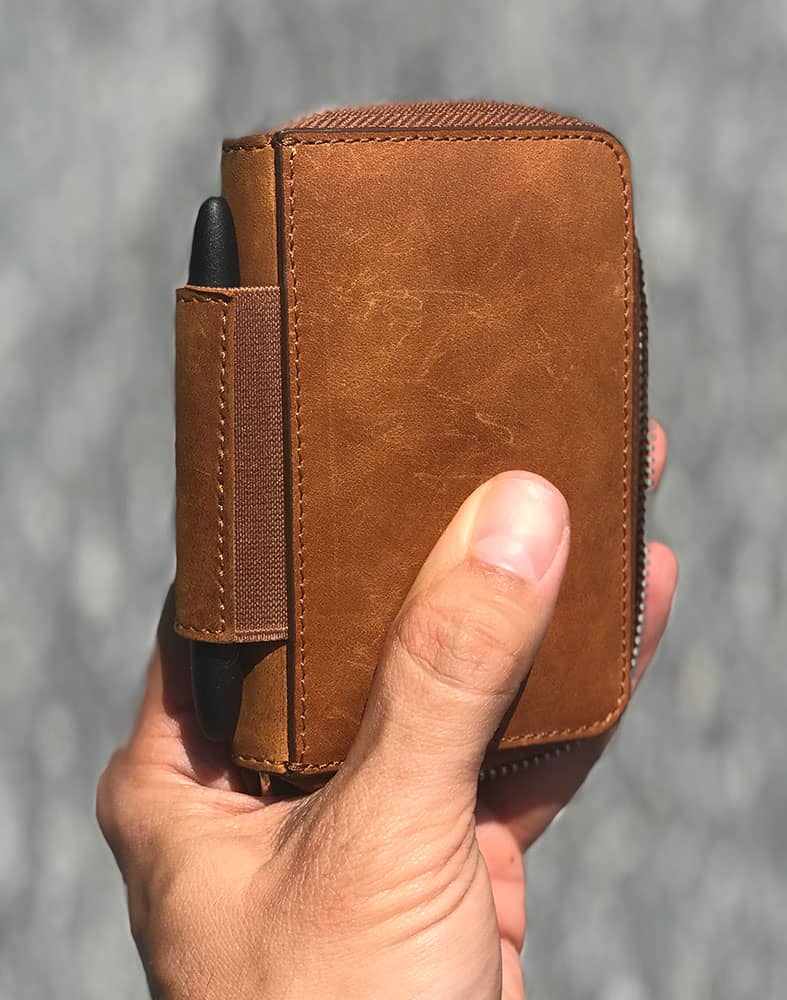 The initial presentation on this wallet (and with what I'm assuming every item ordered from Galen Leather) is absolutely top-notch. From the classy boxes and sleeve, everything comes in to the extras included.
My wallet came with a beautiful metal ruler, a personalized care & cleaning card, and a glass Evil Eye(!) charm bead, which is a talisman for warding off a curse, transmitted by a look, that might cause injury or bad luck. It's a pretty incredible package.
An interesting note on the "Care & Cleaning" card that came in the box:
For small scuffs or wear marks, simply rub your thumb or finger along the cleft between your nose and nostril for a bit of oil. With tight pressure rub the spot on your cover in a circular motion. The scuff should be less obvious.
I love this. It's so direct and informal, like a care tip your grandpop would give you. "Jus' rub yer nose on it, champ!"
The wallet itself is handcrafted in Istanbul (which probably explains the evil eye charm, much more common in that part of the world) from quality leather and strong stitching. It's got a nice, smooth feel to it. The inner pockets and separating flap are made from a softer leather to protect the contents.
It use, the wallet does a good job of keeping everything in place. It can hold maybe 2-3 cards and some cash in the card pocket side, and the other side can contain a variety of items. I tested several configurations, pictured below, to give you an idea of what you could use the case for.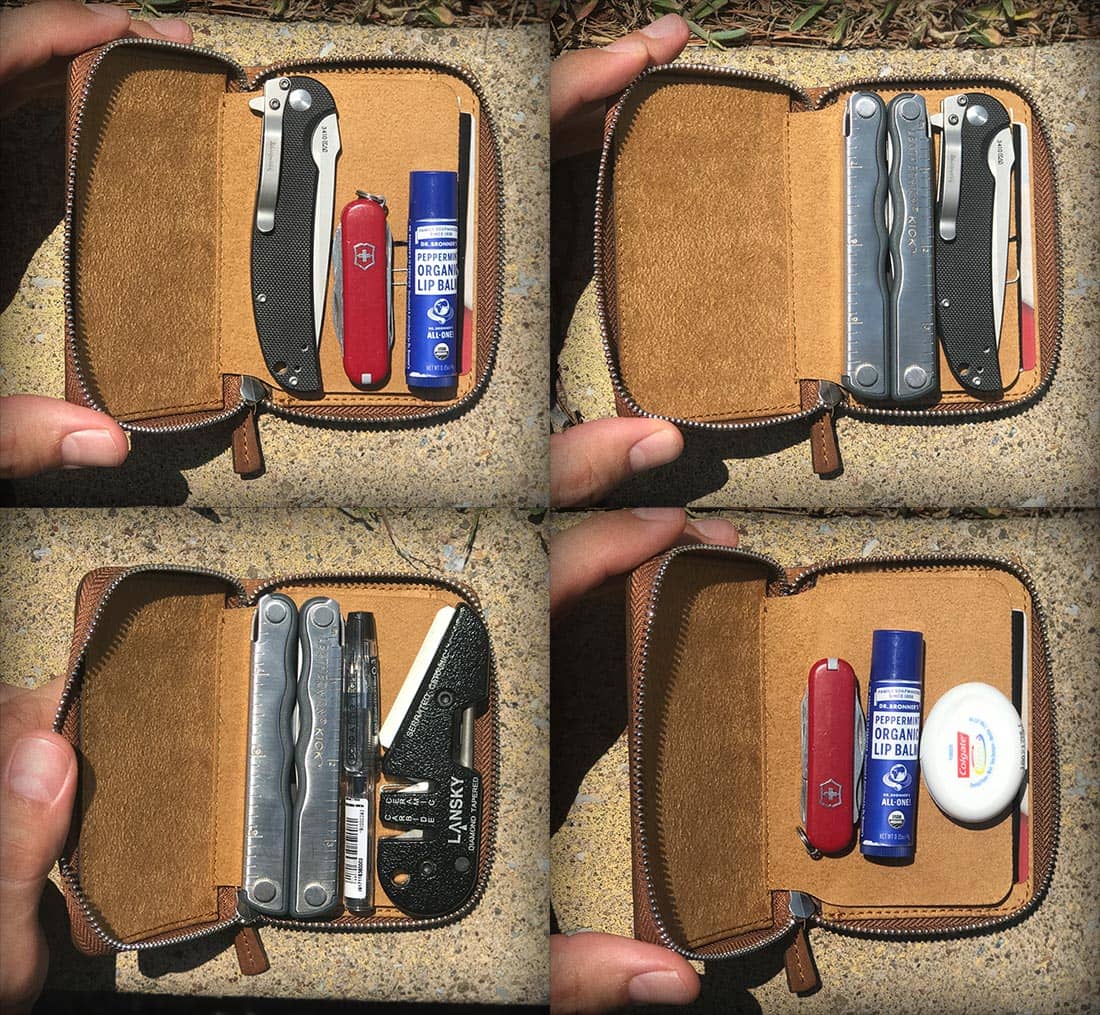 For the most part during the review period, I carried my Swiss Army knife, a tube of lip balm, cleaning cloth, 2 credit cards and a Space Pen in the outer pen loop.
I will say that having a pen with a clip would have been better, as removing the wallet contents made the outer loop a little too loose for the pen to stay put.
The EDC Wallet kept everything together rather well. I didn't feel the contents shifting around while it was zippered and the wallet fit in my pocket about as well as a typical thick bi-fold.
I think that having a thicker knife helped in keeping things in place. Thin knives or a bunch of small items seemed to shift around, as the thickness of the items didn't cause enough tension against the inside to stay put.
One thing that took a while to get used to was how to hold the wallet in your hand in order to unzip it without heavier contents falling out. It seemed like there was never a good way of telling which side of the wallet was facing me… the card side or the EDC stuff side. More than once, I unzipped it thinking I was going to open it to the knife side, only to be wrong and, in failing to hold it flat enough, all my stuff clattered noisily to the ground.
Hey, did you know lip balm rolls surprisingly far when dropped in a supermarket? Fun fact.
Once I got used to how the wallet (and gravity) acted, I started opening it flat, like a small book, in order to keep the contents in place so I could grab what I needed.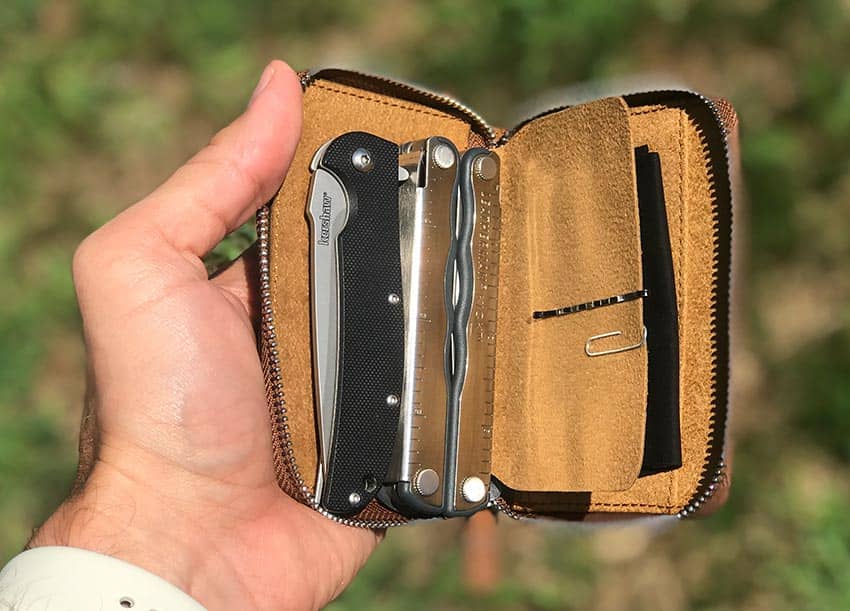 Overall, there is definitely a tradeoff for convenience by packing all your items into a case. The EDC Wallet keeps everything together quite nicely, but it also adds an extra barrier between you and the thing you need, like, right now.
Liked
very good value for the price
good size for the pocket, can hold a variety of essentials
top-notch presentation and extra goodies
Challenges
easy to accidentally spill contents upon opening — which way's up?
the leather is easily scuffed but also pretty easy to buff out those marks (with a little nose oil)
Final Thoughts
Packing away all your loose pocket items into a handsome, leather case is a great way to keep everything together in a nice, neat package, but also a way to limit how quickly you can access those items. All in all, this wallet is fantastic. Especially for the price!
Price: $35 (really!)
Where to buy: You can pick up the EDC Wallet on Galen's website in a variety of colors.
Source: The sample of this product was provided by Galen Leather Company.