We use affiliate links. If you buy something through the links on this page, we may earn a commission at no cost to you. Learn more.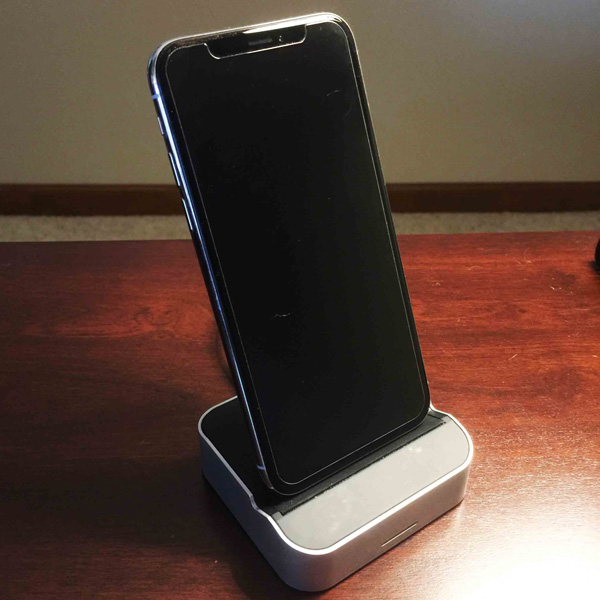 REVIEW – Since Apple (finally) threw its hat into the wireless charging ring with its latest iPhone 8/8 Plus and iPhone X models, wireless charging products have been multiplying in the market like rabbits.  One of the latest that we've had the opportunity to evaluate here at The Gadgeteer is the AIKO 10W Fast Wireless Charger Stand.  Let's check it out!  Gadget on!
What is it?
The AIKO 10W Fast Wireless Charger Stand is a wireless charger for Qi-enabled devices that has two charging coils and allows vertical or horizontal orientation while charging.  It also includes a Qualcomm 3.0 AC adapter.
Hardware specs
Qi-certified charging
Input: 5V/2.0A; 9.0V/1.8A
Frequency: 110-250 kHz
Output:

5W Output: Samsung S6/S6 edge, Google Nexus 7 (2013) / 6 / 5 / 4, LG G2 / G3 / G6 Plus / Lucid 2 / Lucid 3 / Optimus F5 / Optimus G Pro / Optimus it L-05E / Spectrum 2 / Vu 2 / Vu 3 / V30 / V30.

7.5W Output: iPhone X / iPhone 8 / iPhone 8 Plus (iOS 11.2 or later versions required).

10W Output: Samsung Galaxy S9 / S9+ / S8 / S8+ / S7 / S7 edge / S6 edge+ / Note

Sleep Charging mode
Horizontal Charging
Non-Slip Rubber Coating
AC Adapter: Qualcomm 3.0 AC adapter (input 110-240V, 50/60 Hz)
What's in the package?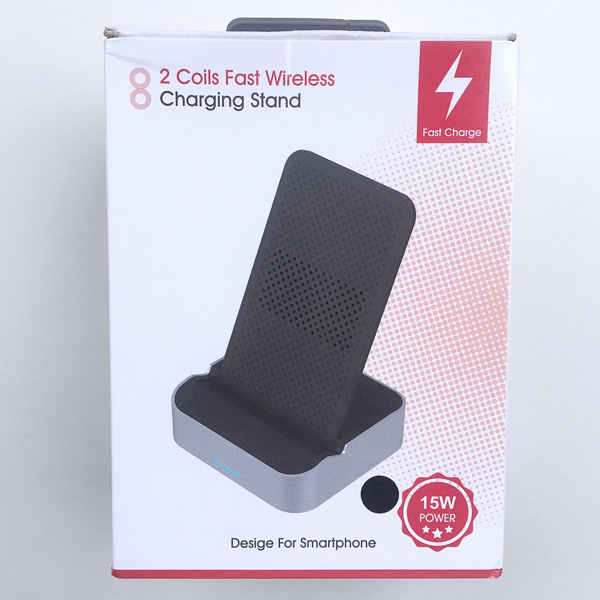 Curiously, "AIKO" does not appear anywhere on this product that I could find.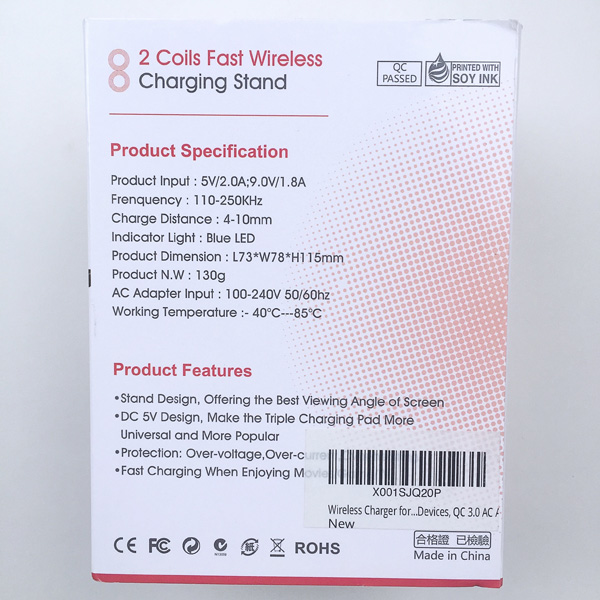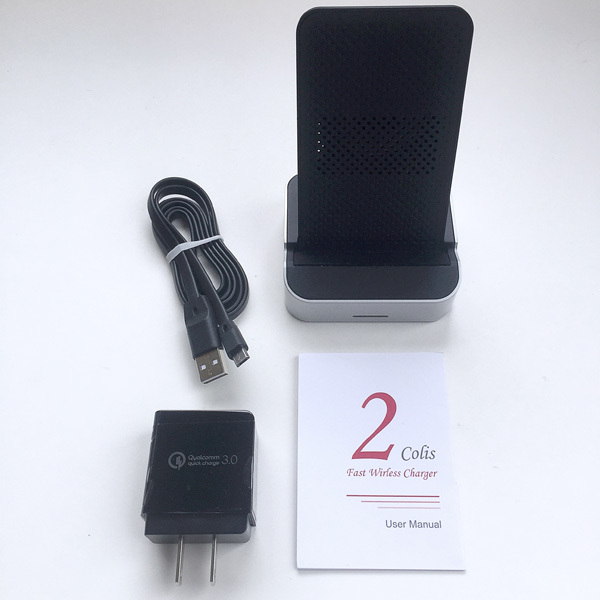 Wireless Charger Pad Stand
Qualcomm 3.0 AC Adapter
3.3 foot Micro USB Cable
User Manual
Design and features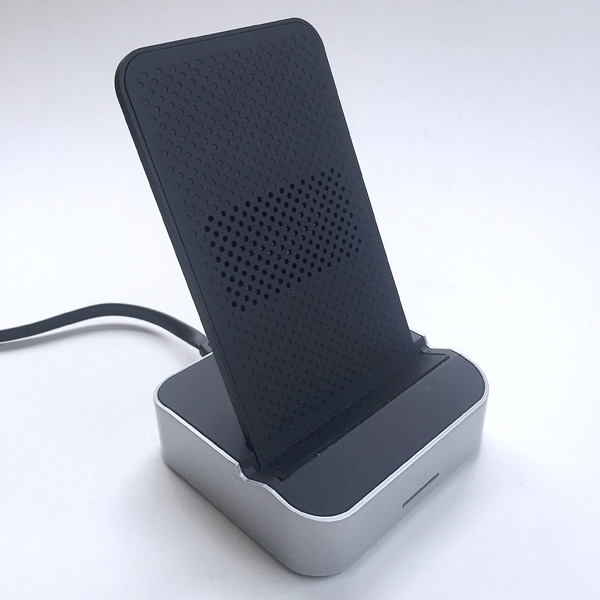 First impression: The charger stand had a style that appeared would aesthetically complement many smartphones, and it had an overall solid feel and construction.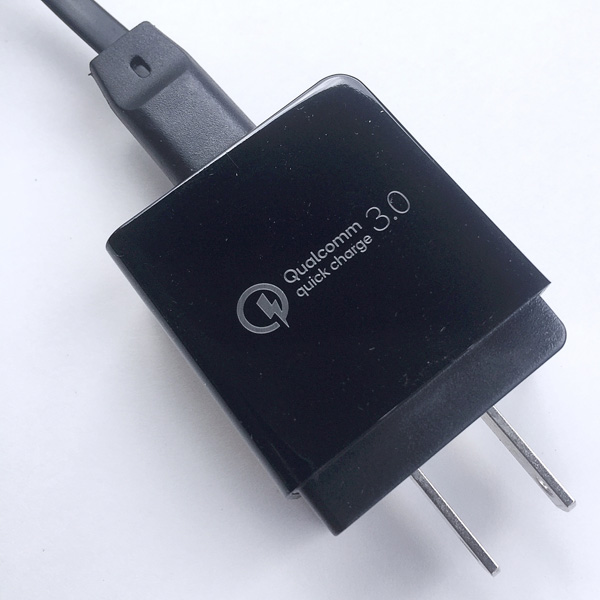 This charging stand includes a Qualcomm 3.0 AC adapter, which is actually a really nice inclusion for the price of this product ($24.99).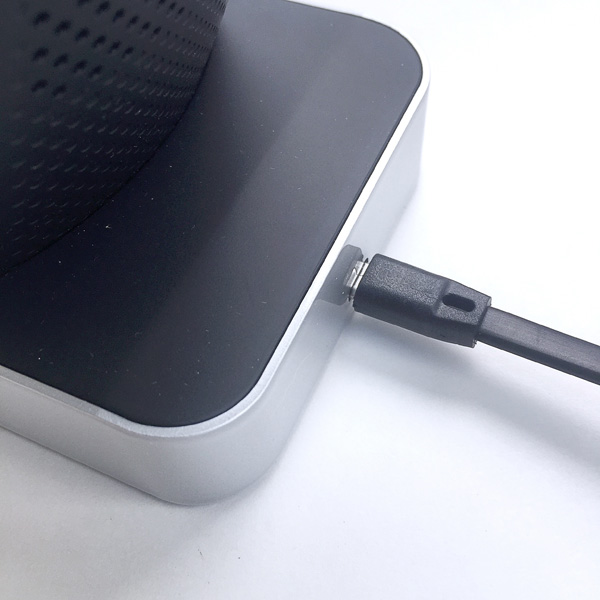 The Qualcomm AC adapter is connected to the charging stand via a flat, ribbon-type USB-to-Micro USB cable that plugs into the back of the charging stand's base, as depicted in the image above.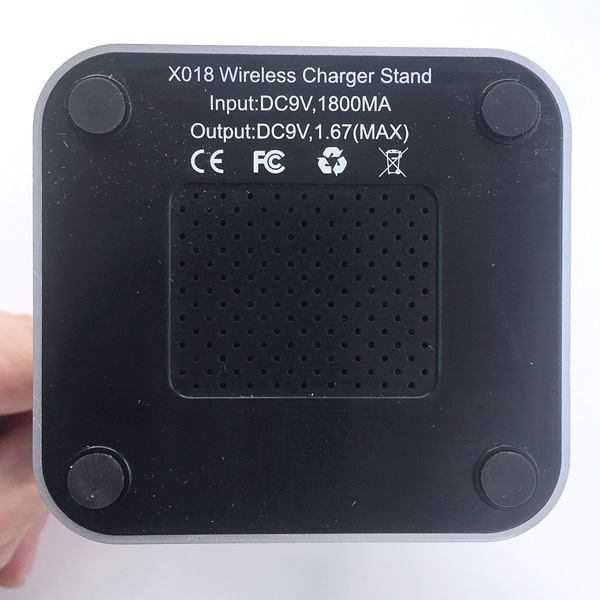 The underside of the charging stand's base has four small, soft rubber pads, one at each corner, to act as non-skid feet.  In addition, the center of the charger stand's base has a panel with rows of small holes to help in venting heat during charging.
This idea of venting heat from the interior of the charger stand was carried throughout the product, as seen in the image above where light can be seen through the small holes on either side of the upright portion of the charger stand.  These are through-holes that again help to vent heat and keep the innards of the device cooler.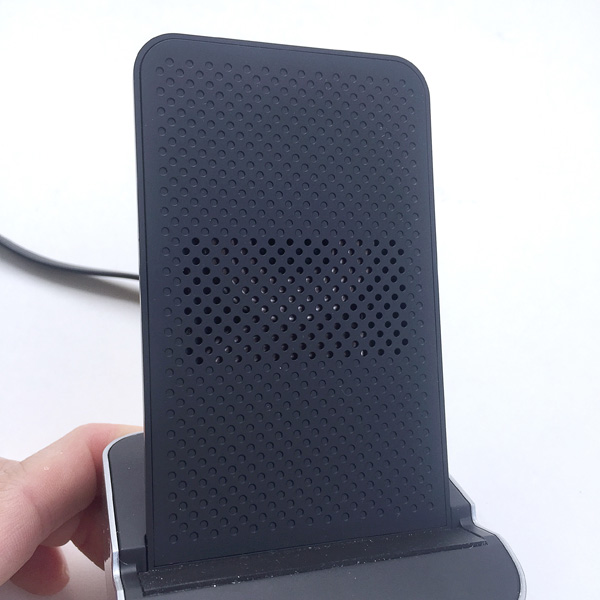 One of the touted features of this charger stand is that it actually includes two charging coils, one above the other, which are oriented such that they form the shape of the number "8."  Due to having two coils instead of a single coil, and their orientation, this charging stand can be used to charge a phone in either a vertical or horizontal orientation (more on this below).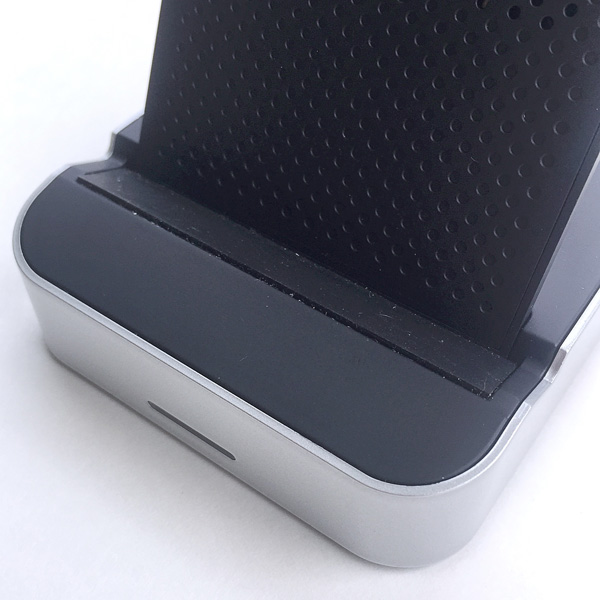 One additional feature of note: the surfaces of the charging stand that come in contact with the phone to be charged have a soft, rubber-like coating to help prevent scratching of the phone that is being charged.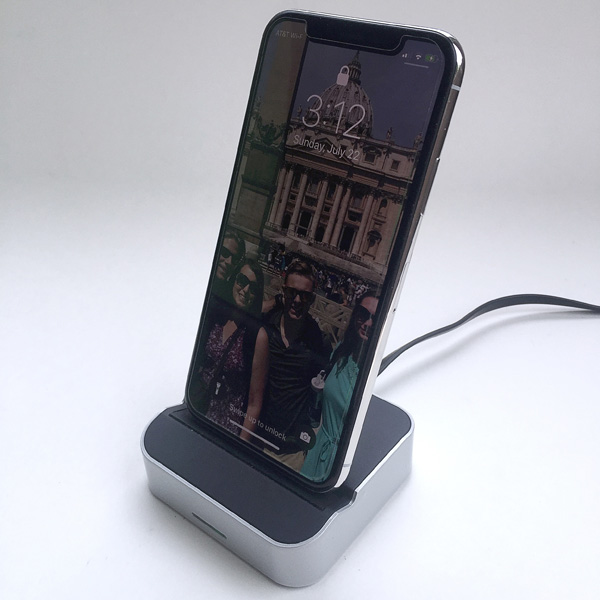 I evaluated this charger stand with my wife's Apple iPhone X, which had no problem with charging in the vertical orientation.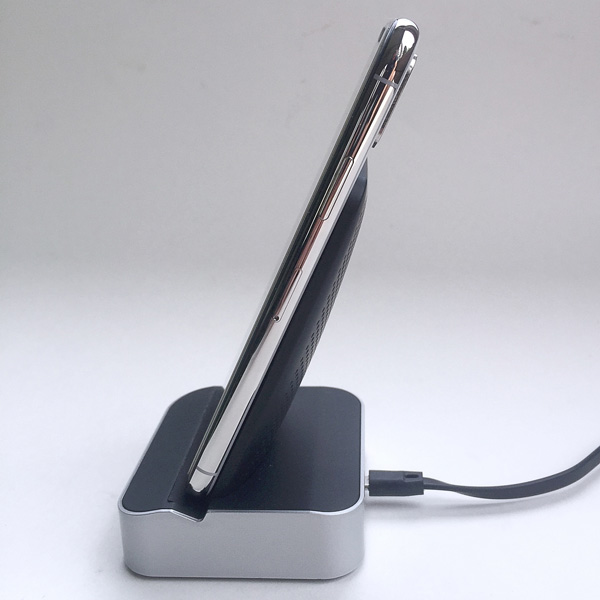 As seen above, the phone sits down in a bit of a groove to help prevent it from falling over while being placed in the charger stand.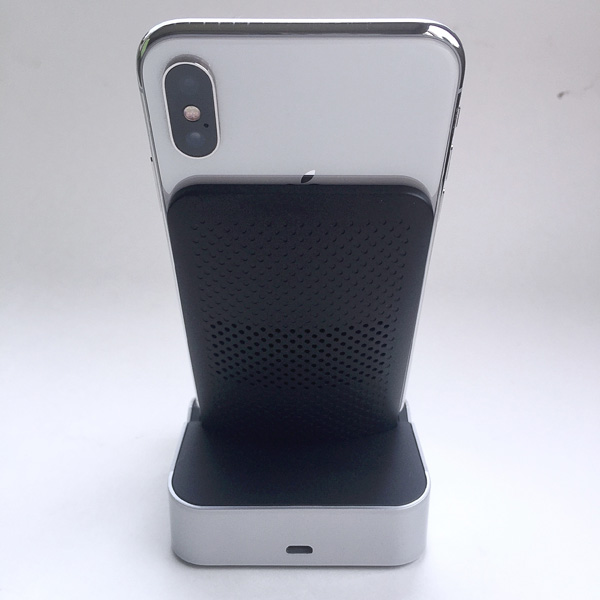 Above, the series of small head-venting holes in the rear of the upright portion of the charging stand are visible.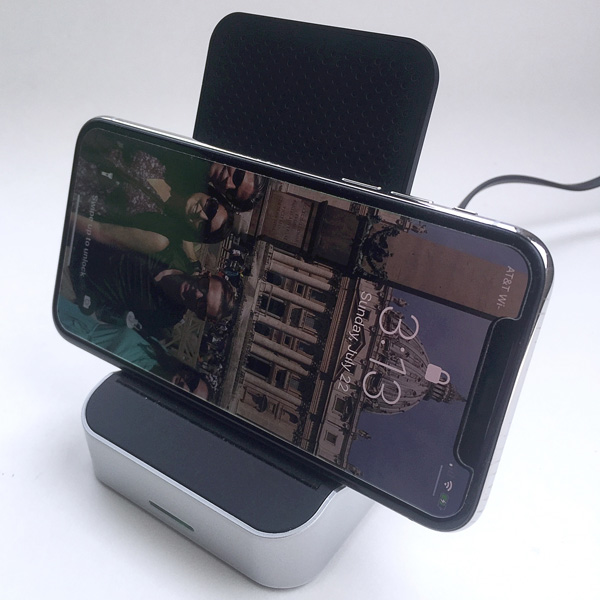 In addition to vertical orientation, I also rotated the iPhone 90 degrees from vertical and placed it onto the charging stand in a horizontal orientation.  Again, no issues with charging in this position.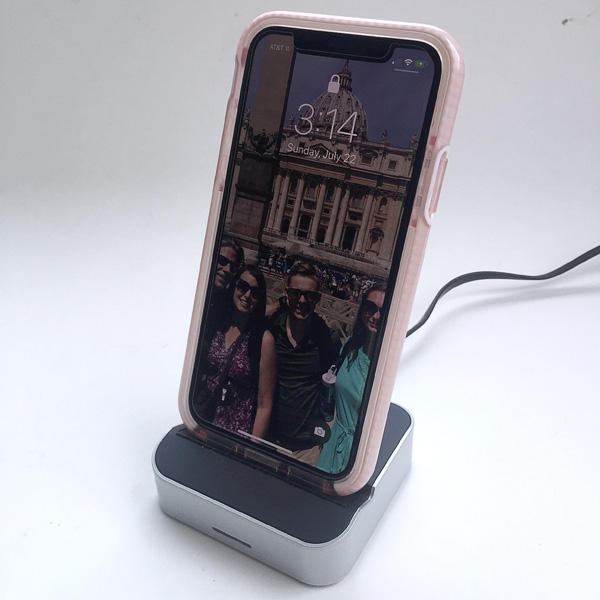 Finally, I tried the charging stand with the iPhone X while it was placed inside the Tech 21 Evo Check protective case that my wife typically uses.  This is a relatively thick case, probably several millimeters thick, but the charging stand did not have any issues charging the phone while in this case.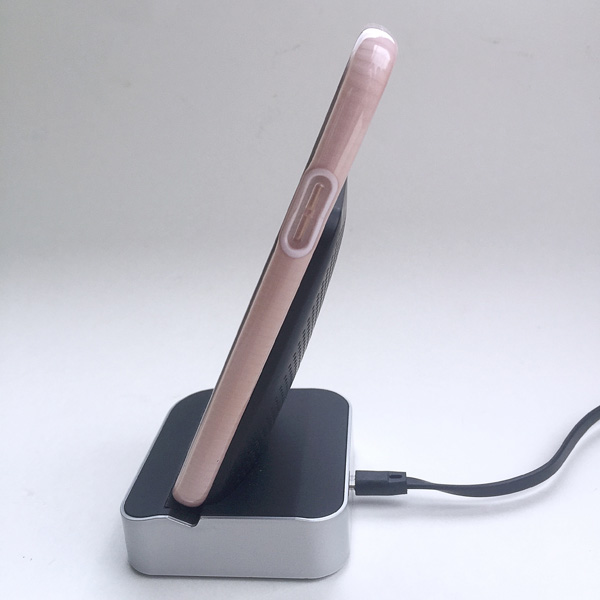 Keep in mind that your experience may differ if you use a different protective case; one that is thicker or uses different materials may affect the charging performance of the stand.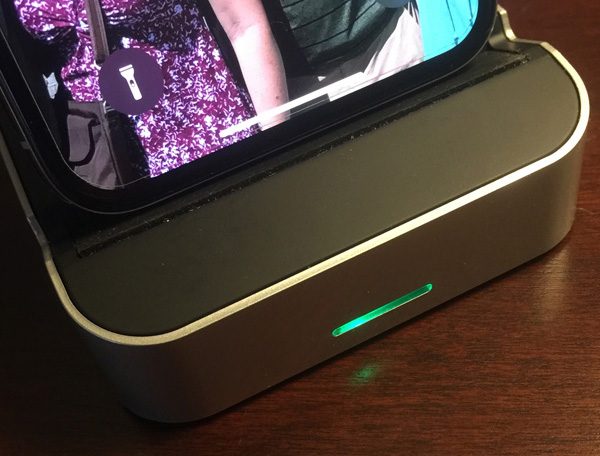 Once a Qi-enabled phone is placed in the charging stand, an LED bar on the front of the base illuminates green to indicate that charging has begun, as seen in the image above.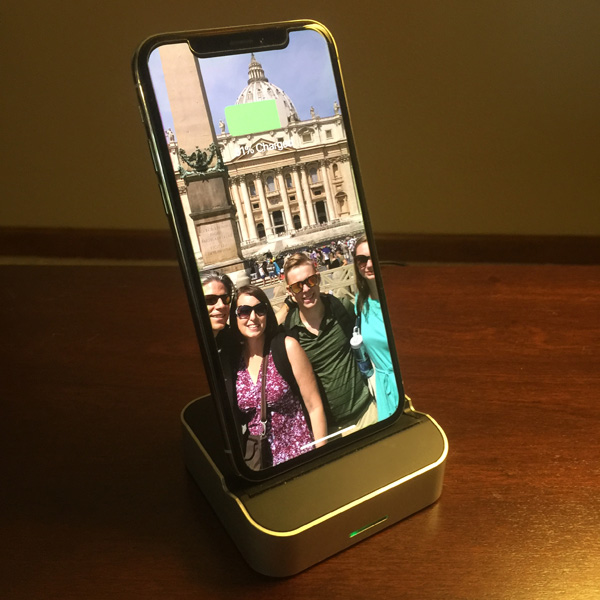 One thing my wife noticed while using this charger for her iPhone X was that it emitted a relatively quiet but noticeable clicking sound, almost like the ticking of an analog watch, when plugged into a power source.  When the iPhone was placed on it, the frequency of the clicking/ticking increased.  This sound was almost imperceptible under normal, daytime ambient sound conditions, but in a quiet bedroom at night, it was quite annoying.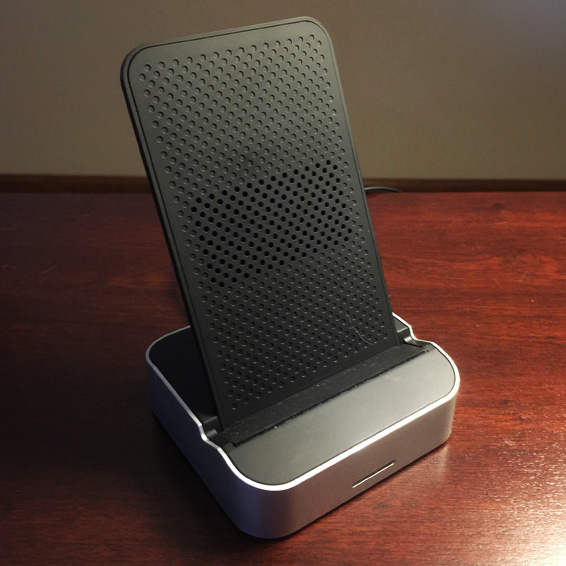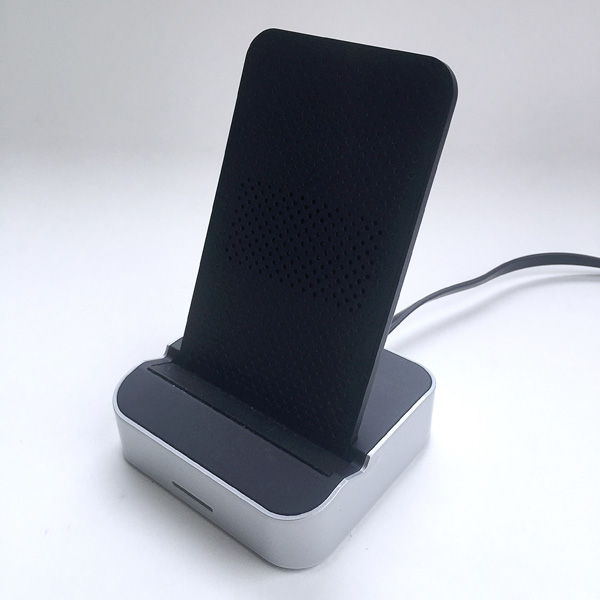 What I like
Minimalist, cool-looking design (IMO)
Simple to use
Includes an AC adapter
What needs to be improved
Faint but annoying clinking/ticking sound
Final thoughts
The AIKO 10W Fast Wireless Charger Stand is a wireless charger for any Qi-enabled wireless charging capable devices.  This charging stand has two charging coils that help enable vertical or horizontal orientation while charging.  The upright portion of the charging stand has a soft material to help protect the phone being charged from scratches and also includes many tiny holes to help vent heat from the inside of the device while charging.  It also includes a Qualcomm 3.0 AC adapter.  This charger stand has a stylish, minimalist design and is simple to operate and can even charge phones that are inside of protective cases (though the case thickness may affect charging performance).  I found this to be a good value for its price.
Update 6/26/20
After the review for this product was posted, I gave it to my daughter to take to college and use in her dorm room to charge her iPhone 8 Plus. She said that, as I mentioned in the original review, the faint clicking/ticking sounds that this charger makes were too annoying for her, so she gave it back to me and shortly thereafter, I discarded it.
Price: $25.01
Where to buy: Amazon
Source: The product sample for this review was provided by Amazon.