We use affiliate links. If you buy something through the links on this page, we may earn a commission at no cost to you. Learn more.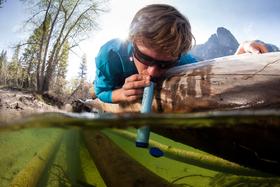 NEWS – When I was younger, I'd be thrilled to drink my mom's homemade lemonade with a Silly Straw.
That was exhilarating, but what was truly innovative were those Capri Sun drinks that came with pointy yellow straws to be inserted easily and conveniently into the pouch… now that brings back refreshing memories.
Now, we are "saving the sea turtles" by using metal straws and doing away with plastic products as much as possible, to reduce the amount of litter in our oceans. Bye, cute little Capri Sun straws.
And just when I thought straw-technology couldn't get much more advanced: the LifeStraw was born.
The LifeStraw is essentially a cylinder shaped, immediate water filter in the form of a lightweight straw. It was first useful for people living in developing nations, and now it's handy for avid campers, hikers, travelers, or anyone without access to clean drinking water!
Suck filthy water up, consume pure water. Clean. Repeat.
The magic happens in the hollow fiber membrane, where 99.9% of contaminants larger than 0.2 microns, like bacteria, parasites, and microplastics are held up. This leaves behind only what is safe to drink, purified water!
This gadget works best in freshwater rivers and lakes, as it cannot remove salt from oceans or chemicals from water. It is BPA free, but not dishwasher safe.
A LifeStraw can purify up to 1,000 gallons of water. It is 22 cm long and 3 cm in diameter. Best of all, it only weighs 2 oz, so it certainly won't weigh you down.
Never miss one of our posts again. Sent MON, WED, and FRI with the latest gadget reviews and news!
You'll know when the life cycle of your LifeStraw has come to an end when you can no longer suck water through it, meaning you'll never accidentally drink dirty water. This can be delayed by cleaning your LifeStraw after each use. Clean it by blowing air back into the mouthpiece, and shake. Leave open to dry at room temperature.
With every purchase of a LifeStraw product, the company's Give Back program provides a student in Kenya with safe drinking water for one school year. According to their website, so far, 1,015,652 students have been given clean water, 1,621 schools have been reached, 10,677 filters have been delivered, and there have been over 4,600 follow up visits.
Practical, fruitful, and charitable too!
It's available on Amazon for $14.99.