We use affiliate links. If you buy something through the links on this page, we may earn a commission at no cost to you. Learn more.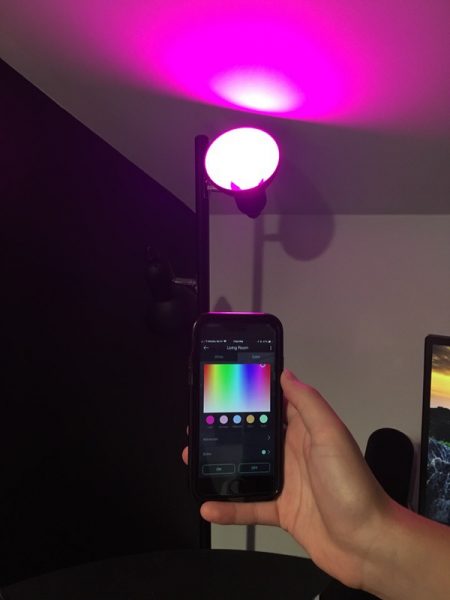 REVIEW – Who says you can't do professional-style interior lighting on a reasonable budget? The Sengled Element Color Plus smart bulbs enable you to manage your interior lighting from your smartphone with complete control of color, warmth, and brightness. We're already fans of the Sengled Element Smart Lighting system, and this addition makes it even better! So many colors to choose… let's set the mood!
What is it?
It's a new addition to the Sengled smart bulb family of products that offers 16 million customizable color options and tunable brightness levels.
Hardware specs
Bulbs:
8.6 W, 60 hz

4.3" by 2.4" (standard socket size)

800 lumens, 2700 K Color Temperature

Dimmable with app

200 degree beam angle

25,000 hour lifetime
Hub:
3.07" by 1.02"

2.4 GHz

120 foot range
64 bulb management capacity
What's in the box?
My test kit is the Smart LED Starter Kit. It contains two color bulbs, the hub (with power adaptor), and an Ethernet cable.
Design and features
Back in May, I reviewed the Sengled Element Classic Smart Bulb and found it to be an excellent way to get started with smart lighting in your home. Because Sengled's product lineup is designed to work as an integrated system, the new Element Color Plus can be added to your existing setup or installed as a standalone system.
If you're doing a standalone setup, the process exactly the same: you'll load the app on your phone and follow the setup wizard to connect the hub to your network, then to connect your bulbs. Once you have everything loaded, you'll identify the locations and light fixtures where you'll place your bulbs. Check out my original review for a detailed breakdown of the process.
If you already have a Sengled setup installed, you have options. You can add the new hub as a second device controlled by your current app, or just add the bulbs to your existing hub. The app wizard walks you through the process either way, but we did find a neat trick that you can use if you're just adding new bulbs to your current setup. Each bulb has a QR code on it so that you can scan it in the app and add it to your existing hub without keying in long access codes! Check out the screenshot below: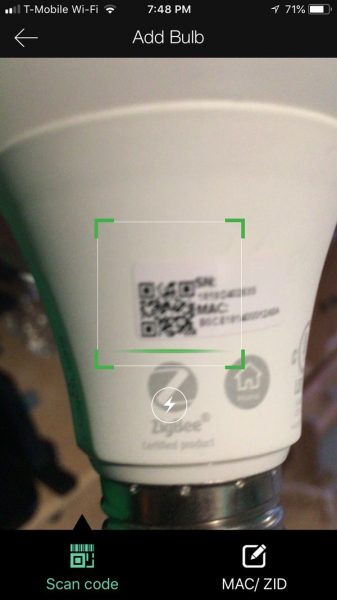 Once you have them added, you have all the same features for general lighting management that you do for plain white bulbs: adjusting brightness, monitoring power consumption, scheduling when the lights go on and off, etc. As I detailed in my previous review it's all very intuitive and easy to use.
Here's a bulb that we added to the system for my son's bedroom. You can set general parameters for brightness and color temperature and manage to turn it on and off from the app: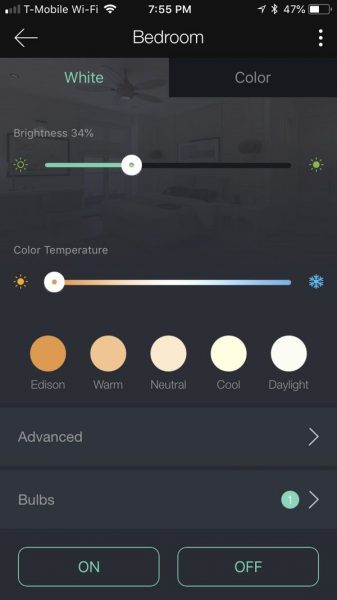 You can also set schedules for when the light will be on, creating different events like the "Wake up time" shown below: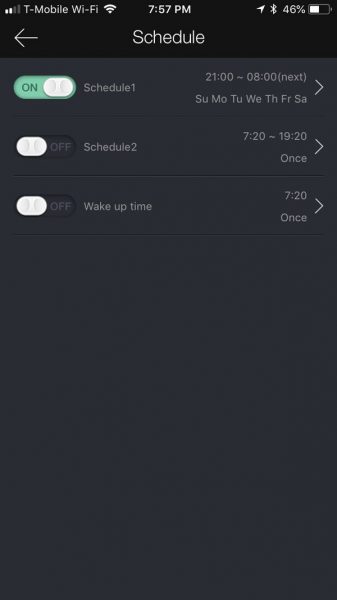 Color management is where the new fun begins. Tap the "color" setting, and you get a full-color palette to play with. You can also alter the whiteness setting to fit the mood: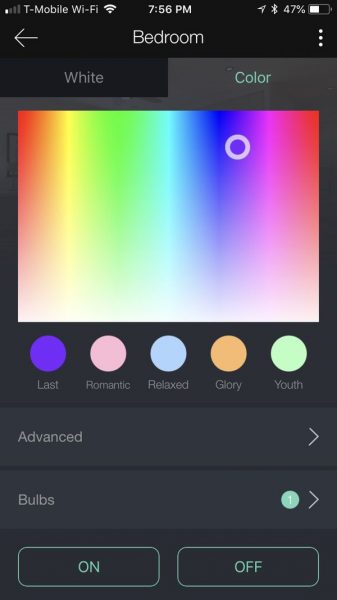 There are 16 million possible color combinations along with the ability to tune your white light brightness & color temperatures from a soft candlelight (or nightlight) setting to full daylight (2000K-6500K). Color changes go into effect instantly and can be set as part of your scheduled events. Here are some examples of the difference when you tweak the color temperature and overall brightness: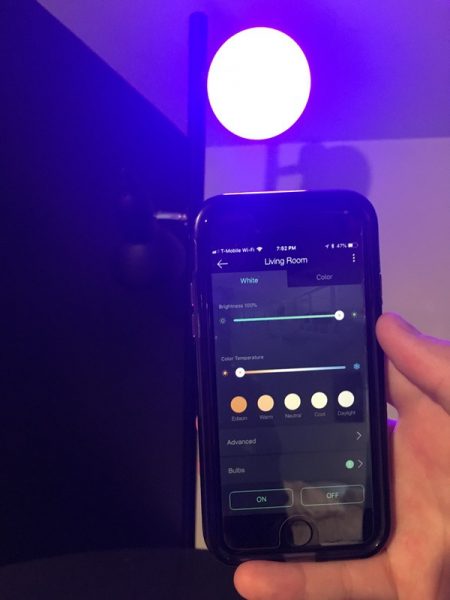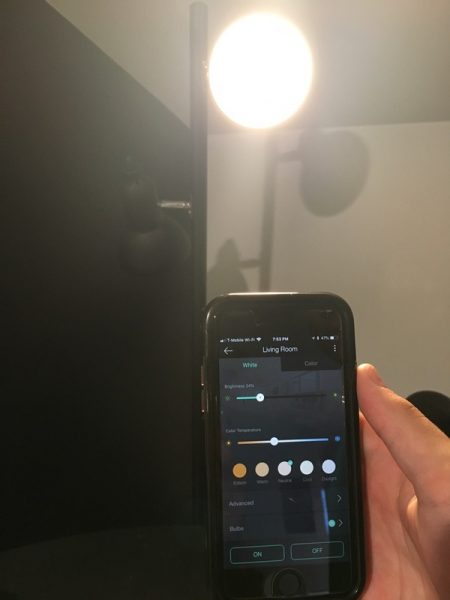 Then we added some color. I chose a pink shade for this pic.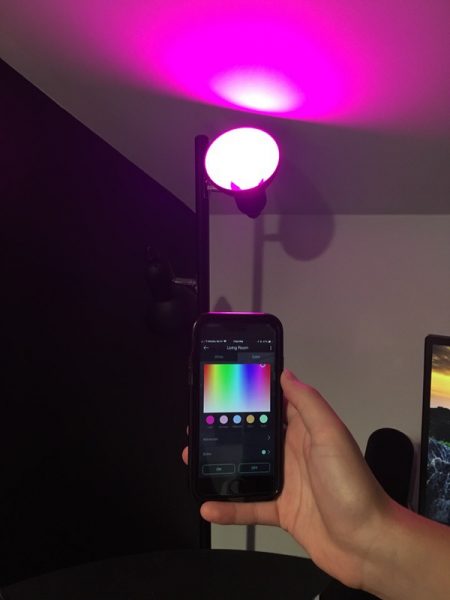 This is more of a green/cyan color: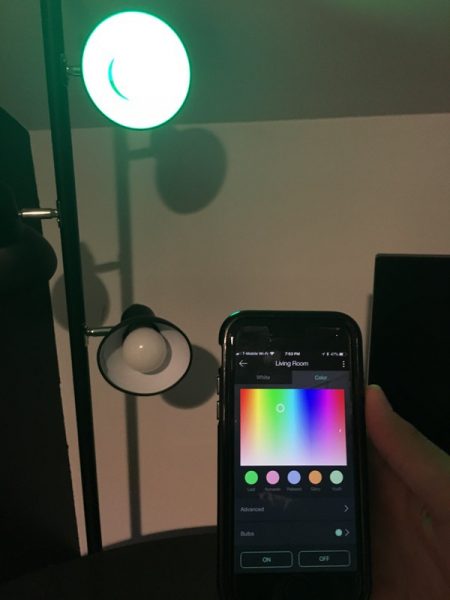 As you start playing with combinations, you quickly realize that you can completely change the mood of the room with a few taps. Bright party lighting, subdued night lighting, fun colors for a child's playroom, soft tones for that *ahem!* romantic dinner… the possibilities are endless.
You could also set up a room with multiple bulbs. We set up two bulbs in one lamp for this example. The lower bulb is set to "night light" mode, and the upper bulb for more of a daytime/wake up lighting. We also named them "Night light" and "Bedroom light" to set individual schedules for use: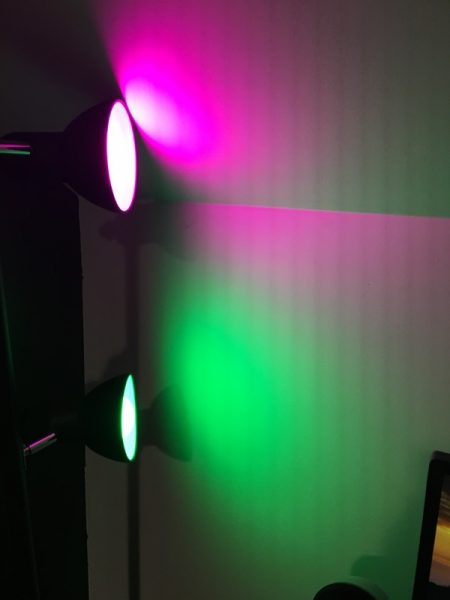 We also paired the lights with Alexa. She recognizes the different light names so that you can use voice commands to manage the lighting such as "Alexa, turn the bedroom light on!" or "Alexa, make the night light green!" It will work with Google Assistant as well, although we did not try that with this test. Sengled provides a full list of third-party compatibility options on their website for more details.
Here's the nice thing about the Sengled Element system: you don't need to buy a full kit if you want to add to your existing network. Each Element hub has a range of 120 feet and can manage up to 64 bulbs, which gives you a lot of room to work with. Sengled now offers 4 bulb styles in the Element series (soft white, daylight, tunable white, and the color bulb we're reviewing here) that are all fully compatible with the hub, enabling you to expand your setup as you like without buying new hardware. I like that flexibility.
What I like
Easy setup
Excellent app for managing, controlling, and scheduling lighting functions
Fully compatible with existing Element systems
Brilliant color options, with a range of brightness and tone
Extensible without adding new hardware
What needs to be improved
Check the full specs on Sengled's website for compatibility with third-party network systems
Final thoughts
We're fans of the Sengled Element Smart Lighting system, and the addition of the Element Color Plus adds even more options with brilliant color and brightness control. With a few clicks, you can paint any room in your house with colors and tones to match your mood and style. Not only is it easy to use, but its price point makes for a very affordable (and expandable) smart lighting solution for your home.
Price: The Color Plus Kit retails for $79.99, and includes two bulbs and a hub. You can buy additional color bulbs for $29.99 each. A four pack of color bulbs with a hub is also available for $139.99.
Where to buy: Check 'em out on the Sengled Element web page. You'll also find them on Amazon.
Source: The sample of this product was provided by Sengled.