We use affiliate links. If you buy something through the links on this page, we may earn a commission at no cost to you. Learn more.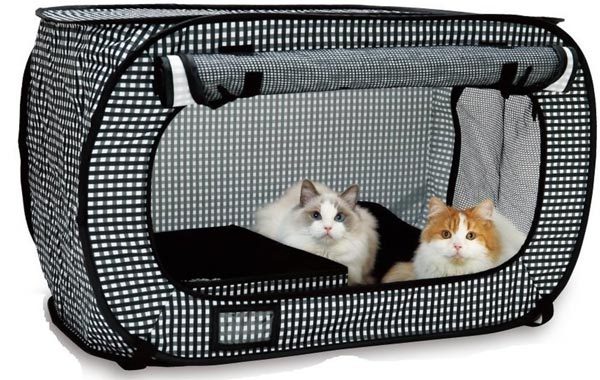 NEWS – Dogs can be crate-trained, which can make traveling easier, and it gives the dog a little den to call his own at home or in the car.  Cats don't seem to like crates – at least mine didn't.  Getting Rio into a crate was nearly impossible, because she associated the crate with car trips and visits to the vet.  The Necoichi Portable Stress-Free Cat Cage prevents crate anxiety because you can leave it out at home as a friendly hiding place for the cat.  Because the cat is familiar with the Necoichi, it won't be such a trauma for him when you move it to the car for travel.
The cat cage has built-in straps for use with car seat belts to keep kitty safe in the car.  Two mesh panels allow for ventilation and allow the cat to see what's going on around her.  Roll down flaps cover the mesh panels when the cat needs a little separation from what's happening.
It measures 31.8″ x 20″ x 20″, which is large enough to fit two cats and the Neicoichi Portable Cat Litter Box, and it folds down for storage and transportation.  It's made of nylon and mesh, and it's sized for cats and some small breeds of dog.  The Necoichi Portable Stress-Free Cat Cage is $42.99 at Chewy.