We use affiliate links. If you buy something through the links on this page, we may earn a commission at no cost to you. Learn more.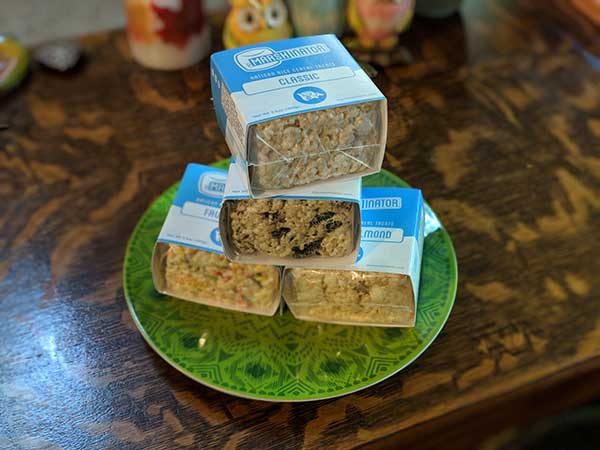 REVIEW – In the past, we haven't reviewed many food items here on The Gadgeteer but that's about to change really quick because today I want to tell you about some delicious snacks that will make you remember a favorite treat from when you were a kid.
What is it?
The Marshinator treats are a new twist on the classic marshmallow rice cereal treats from your childhood. Or if you're like me, you're in your 5th decade and you still eat these treats semi-frequently because they are yummy!
As the story goes, the originator of The Marshinator treats had forgotten to buy a Valentine's Day gift for his fiancé. He remembered that she loved rice cereal treats, so he whipped up a batch and shaped them into hearts. It melted hers and The Marshinator treats were born.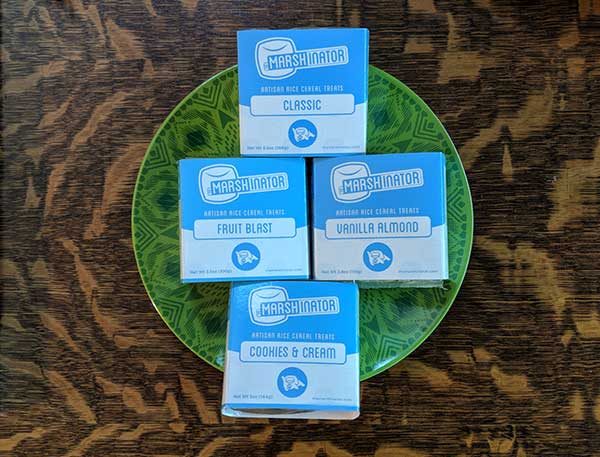 There are currently 10 different flavors of The Marshinator treats and they can be purchased in packs of 4, 6, and 12. I was sent a 4 pack of the flavors shown above. The full list of flavors available is as follows: Classic, Fruit Blast, Vanilla Almond, Cookies & Cream, Cappuccino, Peanut Butter Chocolate, S'mores, Cocoa Blast, and Matcha.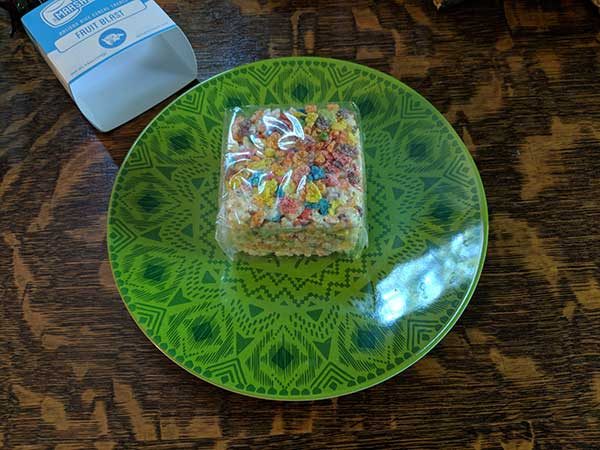 Each treat hand-made and is individually packaged in a sealed plastic wrapper with a cardboard sleeve that has The Marshinator story on the back along with the ingredients and nutritional facts.
Each treat has different ingredients in addition to the rice cereal and marshmallow and each treat will have different nutritional facts such as the calories. FYI: if you're watching your calorie intake, it might be best to skip these treats because each 3 x 2-inch treat is considered 2 servings. For example, the Fruit Blast treat shown above is 205 calories per serving. If you eat the whole thing, you've just consumed 405 calories.
Note: The Marshinator website does not list the nutritional facts for each treat.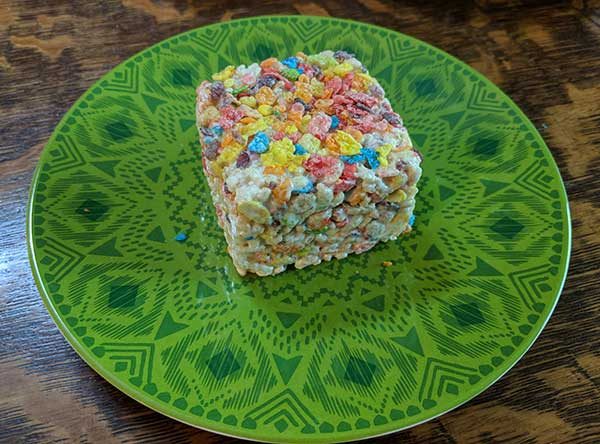 If calorie counting isn't something you care about, then go crazy because these rice cereal treats are very good! They are crispy but not hard like some rice cereal treats. The contrast of crispiness to soft marshmallow chewiness makes for a perfect bite. They also aren't overpoweringly sweet which I really like. I'll admit that I have a sweet tooth, but I don't want my treats to be a straight-up sugar bomb.
The unique flavors of these treats will make you forget that they are a treat for children because you will want to try each one.
Of the selection of samples sent to me to try, my favorite was the Cookies & Cream for the Oreo style cookie chunks and cream topping. It also had the most calories of the ones I sampled at a whopping 632 calories per treat. Yikes! I split each one with Jeanne because I do keep track of my calories. At least most of the time 😉
What I like
Yummy!
10 unique flavors to choose from
Handmade
What needs to be improved
No discount for buying more
The website does not show nutritional content for each treat
Final thoughts
When it comes to rice cereal treats, I prefer the straight up old school version without any extras. But The Marshinator treats were a surprising and enjoyable upgrade to one of my all-time favorite treats. As long as you realize that they are 2 servings per treat and you don't mind paying $4 for each one with no discount if you buy more, they will bring a smile to your face and tummy and fond memories to your mind. Now I want to try the other 6 flavors!
Price: $16/4pk, $24/6pk, $48/12pk
Where to buy: The Marshinator
Source: The sample of this product was provided by The Marshinator.