We use affiliate links. If you buy something through the links on this page, we may earn a commission at no cost to you. Learn more.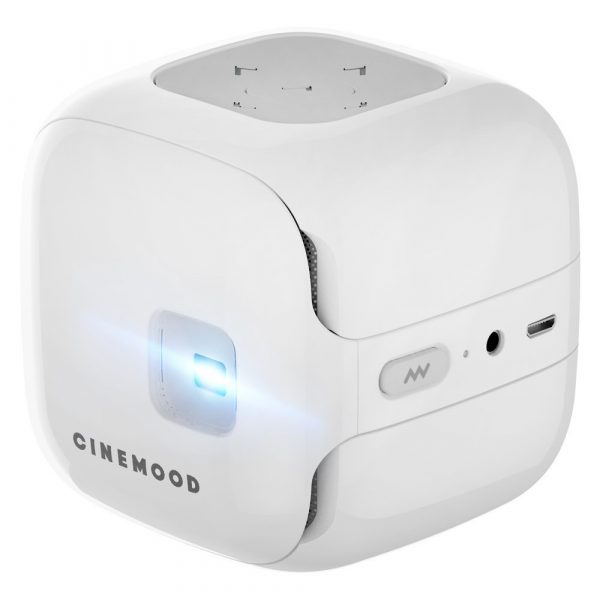 This is the future. Basically the Jetsons, kinda. A gadget so convenient, fundamental, and basic to me… one I've never experienced life without… the television will be a dinosaur to my children.
CINEMOOD has created a wireless projector that fits in the palm of your hand, so you can watch your favorite movies and shows anywhere. It's 3 inches tall, and under half a pound. This pocket projector plays 1080 HD videos at a display size of 12 feet.
With Wi-Fi, you can use CINEMOOD to stream content from anywhere online, like Netflix, Amazon Video, and YouTube. Is this real? You already know I'm about to watch New Girl on my ceiling before bed!
Even without access to Wi-Fi, this cute theater provides entertainment through 120 hours of preloaded content, including Disney movies and engaging videos. This would be perfect for traveling, lunch breaks, or any situation involving downtime and a flat surface. Seriously, this must be a dream. Or a movie… see what I did there? Either way, don't wake me up.
Another exciting option is to bring your own memorable photos and videos to the big screen. This magic movie box has 16GB of internal memory, so you can download and play your own content for your family and friends too!
The CINEMOOD remote control app is free for iOS and Android devices such as smartphones, tablets, and the Apple Watch. It can hold 5 hours of battery life for wireless independence.
If this isn't the coolest thing you've seen today, then you must live in Alaska. Get it today from Amazon for $399.99 with fast, free shipping through Amazon Prime!