We use affiliate links. If you buy something through the links on this page, we may earn a commission at no cost to you. Learn more.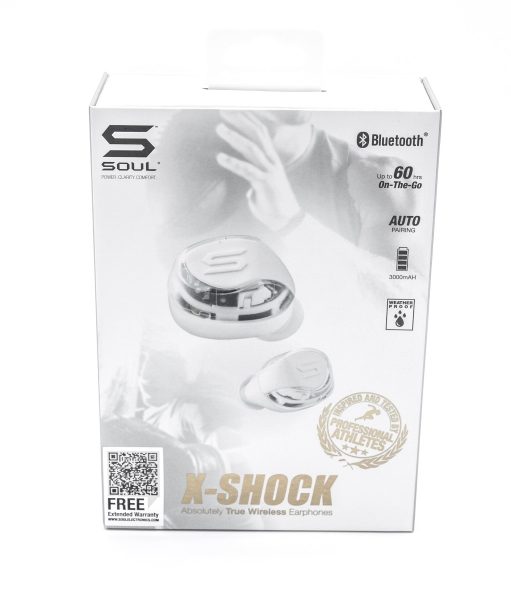 As my search continues for the perfect wireless earbuds for "me", I was happy to review another contender. Here we go:
What is it?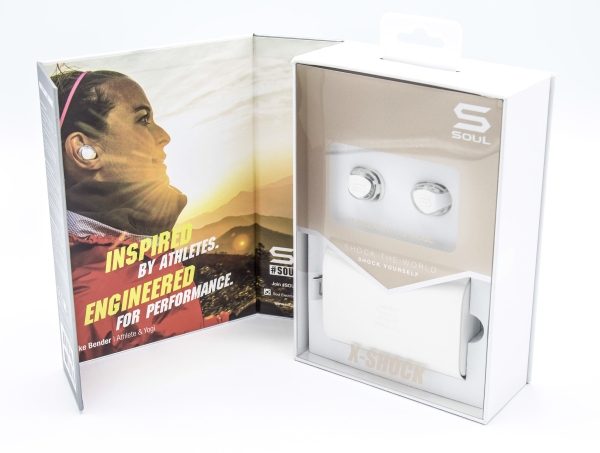 The SOUL Electronics truly wireless earphones – the X-Shock Earbuds are a pair of Bluetooth wireless earbuds for listening to music and other audio from any audio device with Bluetooth capability. These earbuds also handle mobile phone call functions.
What's in the box?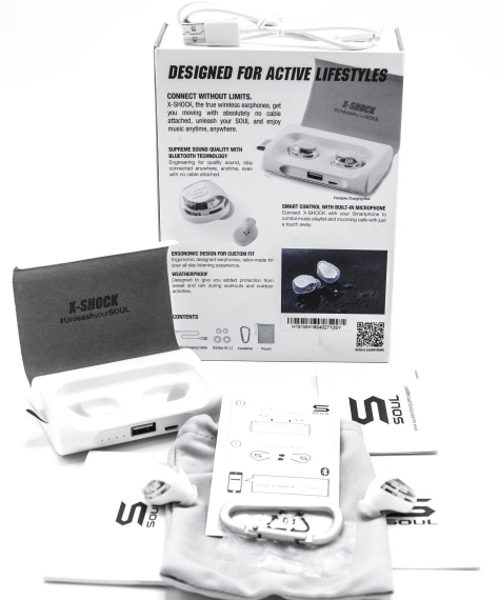 1 x Pair of X-Shock Bluetooth Wireless Earbuds
1 x Charging Case
4 x Booklets (Instructions, Warranty, Quick Start, Additional Info.)
1 x Micro USB Cable
1 x Carabiner
1 x Storage Pouch
2 x Pair Exchangeable Ear Tips
Design and features
The X-Shock earbuds are a pair of white earbuds with clear accents that cover the blue and white LED indicators. They are lightweight and well built. The white charging case feels well built and "expensive' in your hands, and the magnetic clasp that closes the case works without issue. On the side of the case there is a loop, that allows you to connect the carabiner so that for your convenience, you can hang the case from your belt loop or any such type of place. The charging case measures approximately 3 1/2 " x 2 1/2″ x 1″, and with the cover open, on the front from left to right, there are 4 LEDs that indicate the charge level as well as the charging progress, an output USB port for charging other devices, and an input micro USB port for charging the case.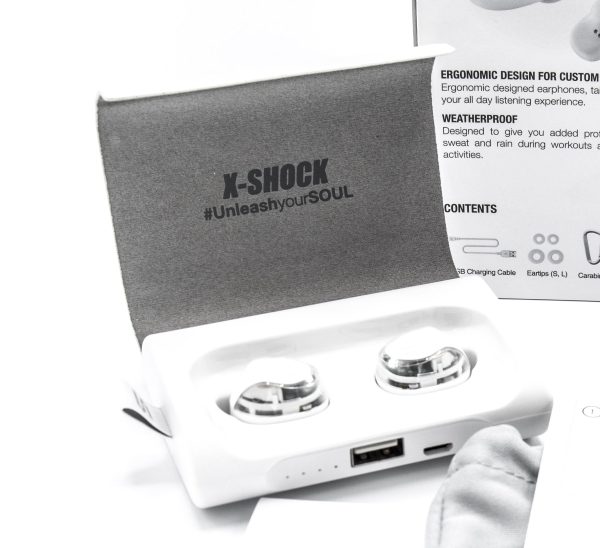 The X-Shock earbuds come with 2 pairs of white translucent Ear Tips.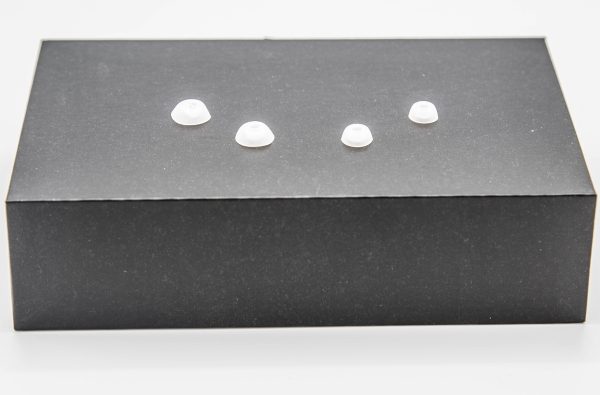 Specifications
Bluetooth Version: 5.0, Range: 10 meters
Full charge: 1.5 hours
Playtime approx.: 3.8 hours x 16
Standby Time: 200 hours
Charging Case Capacity: 3000mAh
Performance
As with any wireless earbuds, you first receive them, you should charge them fully. Once they are charged, when you first take the X-Shock earbuds out of their charging case, they automatically go into pairing mode and show up in the Bluetooth selections on your phone.
These earbuds perform very well. The lows, mids, and highs are very well balanced and the maximum volume is more than adequate while never overwhelming. The earbuds only come with 2 pairs of Ear Tips, and neither pair proved to be a good fit for me. They were not big enough to provide the necessary seal, and when I first tried them, I was very disappointed until I realized the issue. Since I have tested several other earbuds, I was able to "borrow" a pair of larger Ear Tips (black) that were provided with another pair, and they worked perfectly with these X-Shock earbuds.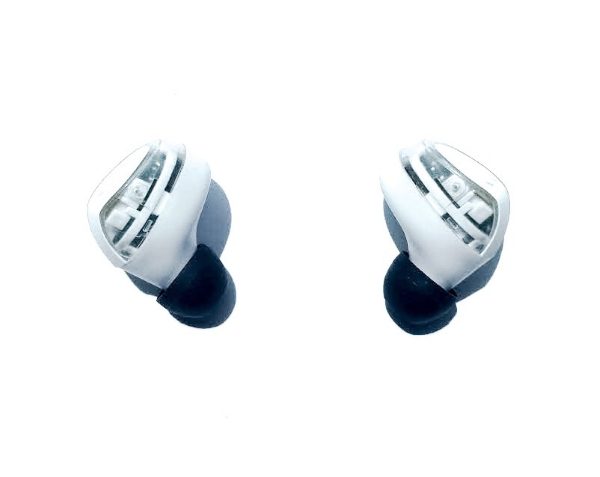 After that, my experience was just great. There have been very few Bluetooth disconnects, and whenever they occur, it is always in a known high interference area. Here are the operational functions of the earbuds:
Master Earbud: Left earbud
End Call: Press once on the left earbud
Refuse Call: Press twice on the left earbud
Redial Call: Press three times on left earbud
Answer Call: Press once on the left earbud
Turn on/ off: Hold for 6 seconds on either earbud
Siri/ Google Assistant: Hold one second on left earbud to turn on/off
Forward call: Double press on left or right earbud
Play or Pause: Press once on left or right earbud
I always seem to encounter quality issues when I use wireless Bluetooth headsets or earbuds for phone calls. the party on the other end of the call always knows that I am using a device. While the call was very clear on my end and clear enough on the other end, I still had the same issue. I am beginning to suspect that this issue may somehow have something to do with me rather than the devices 🙂
Nevertheless, my main and most frequent use is always for music, and these earbuds excel in that area. What puts these earbuds "over the top", is that after I first charged the case, I used these earbuds for 90 minutes daily for 5 days each week, and after one month the case still is more than 50% charged. The case battery seems to last forever.
What I like
I absolutely love the sound, fit and feel of these earbuds, and how well they function is just about every area. I really like the design of the charging case, and the ability to use its internal battery to charge other devices via its USB port. I also like that they automatically go into pairing more once removed from their charging case. Of course, I must mention the case battery that seems to keep the earbuds charged forever 🙂
What can be improved
These earbuds should come with more than just 2 sizes of Ear Tips so that there are more options for the best fit.
Also, when charging the case, the cover has to be left open to accommodate the charging cable.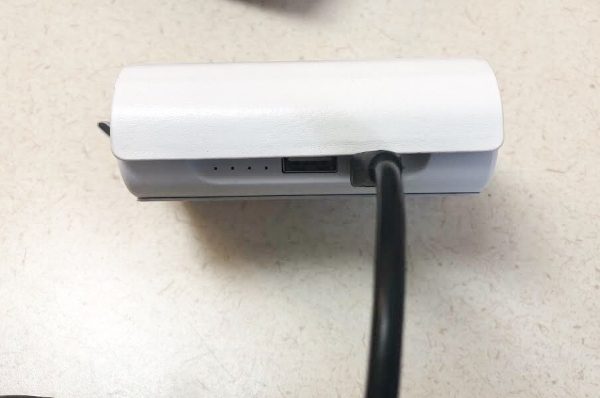 Final thoughts
I absolutely love these X-Shock earbuds, They sound great and function very well. They are reliable and the design and style are great. As I always say, the perception of sound and sound quality is subjective, and there is no one type or size, or style for all. However, I feel very comfortable recommending these.
Price: $149.99
Where to buy: Soul Electronics Website
Source: The sample for this review was provided by Soul Electronics