We use affiliate links. If you buy something through the links on this page, we may earn a commission at no cost to you. Learn more.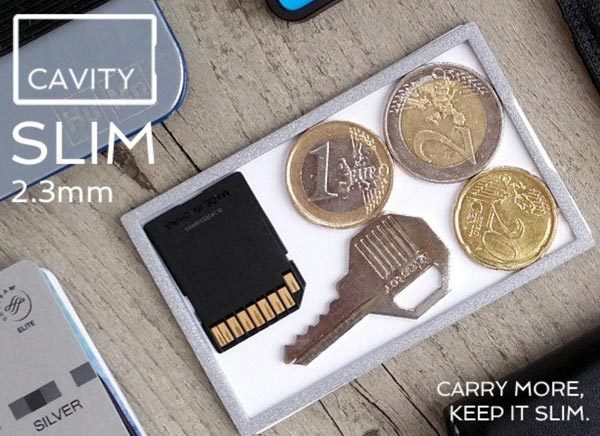 One of the perks of carrying a big wallet, perhaps the only perk, is having space for that spare house key or extra SIM card, but most minimal wallets don't have any spare room or hidden pockets to stash these small items.  They won't be safe loose in your pocket, so what do you do with them?  And those folks in Europe who can't get along without carrying a coin or two – where do those go?  With the Cavity Card, you'd be able to replace a few cards with this tray that can hold keys, cards, and coins in most any minimal wallet.  Just insert it in the stack of the cards in your wallet, and you're good.
Cavity Cards are 3D printed in "the factory of the future".  The Slim-sized tray holds items up to 2.3mm thick and replaces 4 cards in the wallet.  If you have more to carry, the Regular size holds items up to 3.1mm and replaces 5 cards and the Double holds up to 4.7mm thick and replaces 6 cards.
There are two versions available.  First is a flexible version (2017 model) from Cavity Card that has a 3D printed nylon frame with a thin Tyvek bottom.  Only the Regular size is available now, and it's €15.50 ($18.00 US).  The second version is fully 3D printed in solid nylon (2018 model).  These are €14.00 ($16.28 US) for Slim, €15.00 ($17.40 US) for Regular, or €16.00 ($18.60 US) for Double, and they ship directly from the Shapeways factory.  You can place an order for either the flexible or the solid versions at Cavity Card.