The Gadgeteer is supported by readers like you! If you buy something through links on our site, we may earn an affiliate commission. Thank you! Learn more.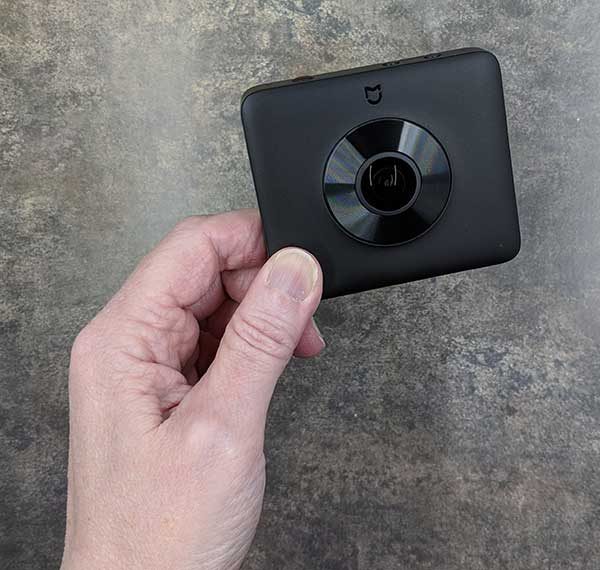 What features do a stand-alone camera need to make it compelling enough that you would want to buy one when the cameras in our phones are already so good? How about the ability to capture 360-degree images and videos? Let's take a look at the Xiaomi Mi Sphere camera to see if it should earn a spot in your gear bag.
What is it?
The Xiaomi (pronounced as: show me) Mi Sphere camera is a small stand-alone dual-lens camera that can capture 3.5K 360 degree images and video.
What's in the box?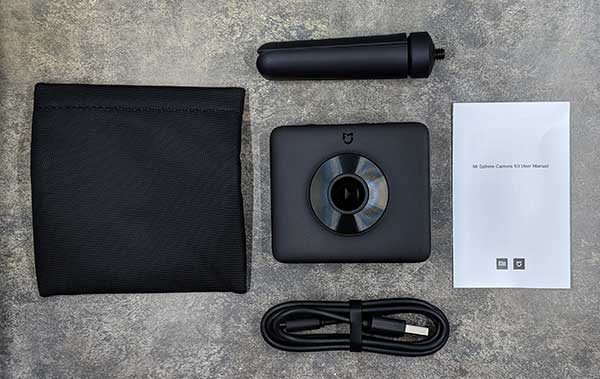 Xiaomi 360 3.5K Mi Sphere camera
Pouch
Tripod/selfie stick
micro USB charging cable
User manual
Hardware specs
23.88 MP
Dual 1/2.3″ Sony image sensors that support up to 3456×1728/30fps or 2304×1152/60fps
6-axis electronic image stabilization
microSD card slot – requires U3 cards
Built-in microphone
1600mAh lion battery for up to 200 photos or up to 90 minutes video recording
Operating temperature is 14℉ to 113℉ (-10 degree Celsius to 45 degree Celsius)
IP67 water/dust rating
WiFi connection to mobile device
1/4″ threaded socket
Design and features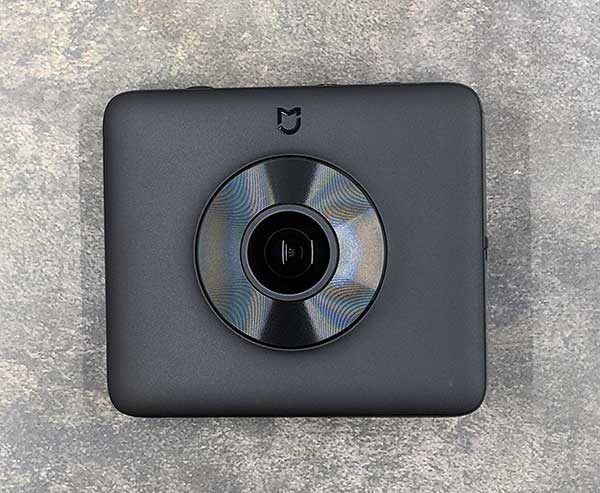 The Xiaomi Mi Sphere Camera has a unique form factor compared to other standalone action cameras. It's about 3.0 x 0.5 x 2.7 inches. Both sides of the camera have a bulging 190-degree wide-angle fisheye lens that helps to eliminate blind spots that other 360-degree cameras can suffer from.
One side of the camera surrounding the lens is made of a matte black plastic with a logo at the top and nothing else.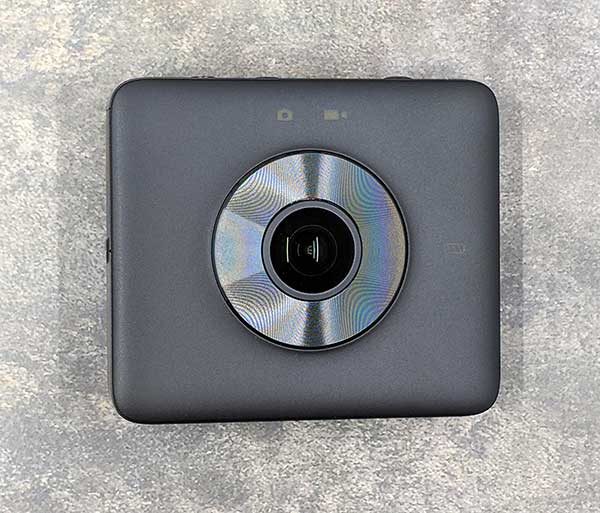 The other side of the camera is also matte black plastic and has the other lens and two status icons that light up in blue to show the current camera mode, which is either image capture mode, or video capture mode. Either icon will light up in blue when that mode is active. The camera will remember the last setting and will power up in the last mode that you used.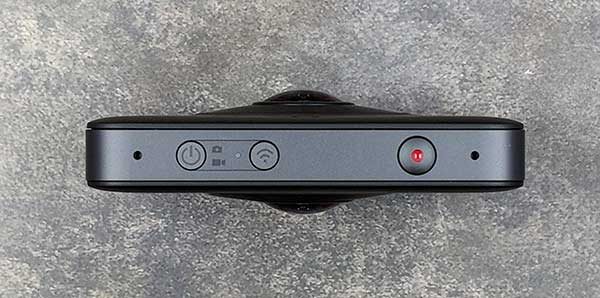 The frame of the Xiaomi Mi Sphere Camera is made of aluminum and the top edge of the camera has a microphone, a power button which doubles as the mode selector, a WiFi button, a capture button, and another microphone.
The buttons have some tactile feedback when you press them, but they aren't very "clicky". It's also pretty easy to accidentally toggle power on the camera without realizing it and/or switch modes since the power button is used for both actions. One good thing is that as long as you're not in a noisy environment, you'll know when the camera powers on, powers off, and the mode is changed because the camera plays a 4 note tone when powering on and off and a 1 note tone when changing modes. Note that it is possible to adjust the volume of these audible notifications and even turn them off.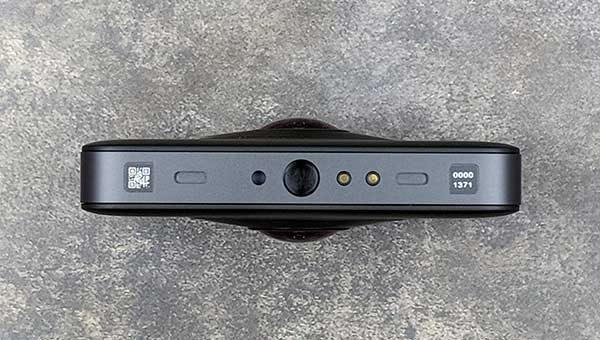 On the bottom edge of the camera is a standard sized threaded tripod socket and some electrical contacts for an optional charger or another accessory which does not ship with the camera.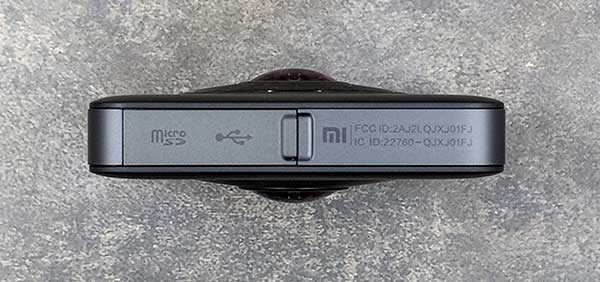 One side of the camera has a cover that protects the charging connector and built-in memory card slot.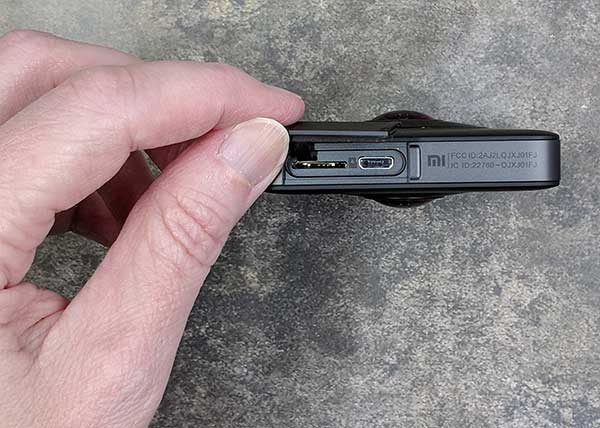 The Xiaomi Mi Sphere Camera charges with a micro USB cable and it uses microSD cards to store the captured images and video. Note that the camera does NOT come with a microSD card. It's up to you to provide your own memory card.
When the camera is charging, a battery status LED will light up in red. When charging is complete, the LED will turn blue.
The Xiaomi Mi Sphere Camera has a nice build and a quality look and feel.
Capturing images manually and with the mobile app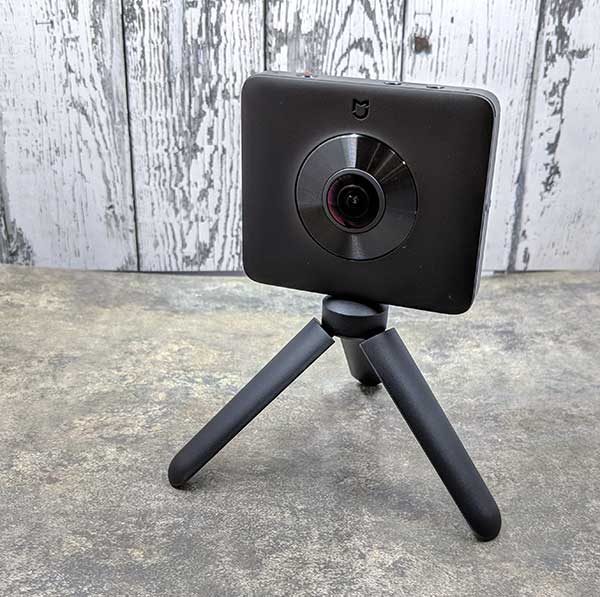 After charging the Xiaomi Mi Sphere Camera and inserting a microSD card, you can immediately start using the camera just by pressing the power button and then using the capture button to capture an image or start recording a video. Of course, the camera doesn't have a built-in display, so you can't preview your shots or watch any of the images or video that you've captured until you connect the camera to a computer or remove the microSD card and use a card reader to view the files.
If you want to be able to preview your shots, view captured images and video, and adjust the camera's settings, you will need to use the Mi Sphere Camera app (compatible with iOS and Android) to connect the camera to your smartphone.
The app's interface is pretty self-explanatory. There's a red capture button, a mode button and different types of capture modes like time-lapse and slow motion.
Here are all the camera settings that you can adjust using the Mi Sphere Camera app.
The app does make it easier to set up your shots, but I didn't use it that often as a way to capture video and images while I was testing the camera. I mainly just used the buttons on the camera itself along with the default settings.
Let's check out some sample images and video
Unfortunately, WordPress does not natively support embedding 360-degree photos and videos directly into articles. You can install a plugin to display them, but I don't want to install a plugin just for one review, so I shared some of the images and videos to my Facebook account. They are public, so you can click and enjoy without needing your own Facebook account to view them.
360 video in Kings Canyon National Park in California.

Posted by Julie Strietelmeier on Tuesday, June 19, 2018
In the app, you can view the captured images in different styles like pano, flat, crystal ball, and tiny planet style pics (shown below). But as far as I can tell, you can't share the images in these specific types of view modes though.
There's a button on the share screen that is supposed to let you choose the view mode, but it is greyed out and nothing happens when you press it, so all of my images are shared as flat 360-degree images that you can pan around in with your mouse like the ones you see above.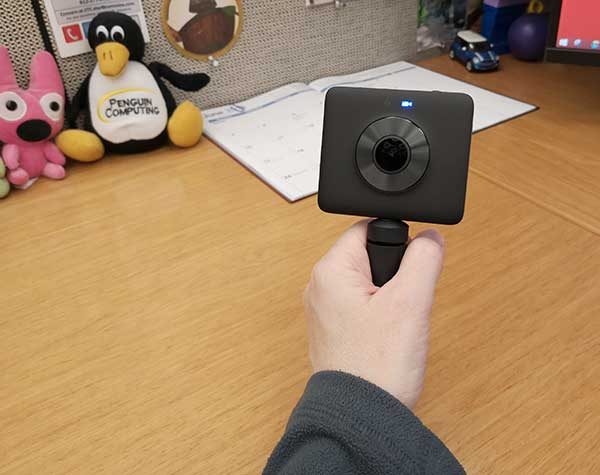 What I like
Simple to use with basic controls
360-degree image and video capture is unique and fun (for a while)
What needs to be improved
No live streaming
75-minute video capture limit
No built-in  display to preview shots, requires a WiFi connection to a mobile device
Final thoughts
360-degree images and video are obviously cool and are fun to capture and view. But are images and video like this worth paying $286.99 to capture them? That's the main question, isn't it? Other than taking it with you when you go on an epic vacation, I can't imagine using a camera like this one on a day to day basis. Maybe that's only because my day to day life isn't epic enough to justify a camera like this one. So I'm not going to judge if you want a Xiaomi Mi Sphere Camera because it is pretty cool and maybe your life is more 360-degree worthy than mine is.
Price: $286.99
Where to buy: Amazon
Source: The sample for this review was provided by Xiaomi.
Support The Gadgeteer
:
The Gadgeteer is supported by readers like you! If you buy something through the links on our site, we may earn a small affiliate commission. Thank you! Learn more.