We use affiliate links. If you buy something through the links on this page, we may earn a commission at no cost to you. Learn more.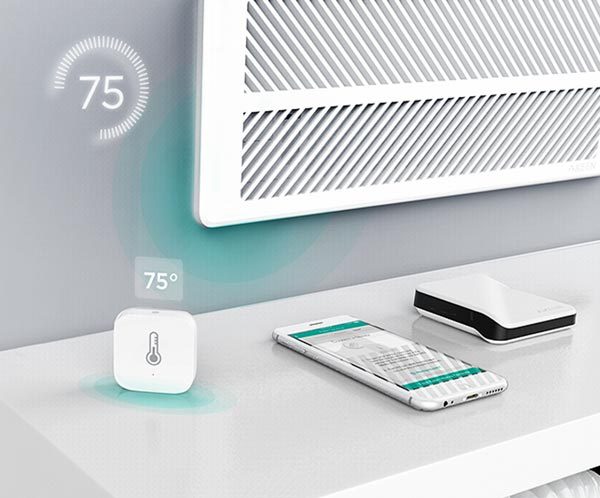 I've mentioned before that my home tends to have uncomfortable rooms regardless of the season.  As I've said:  "Because of the location of the thermostat and the long shape of the condo, our bedrooms tend to be chilly in the winter and hot in the summer while our living and dining rooms are uncomfortably hot in the winter and cold in the summer.  Because of the age of the building, the cement walls and ceilings, and the neighbors above and below us, there isn't much we can do to remedy this situation by rerouting ductwork or moving the thermostat."  However, if I had a Keen Home Zoning System, it could monitor the temperatures in my rooms and redirect airflow throughout my house to equalize the temperatures without needing major restructuring of my HVAC system.
The Keen Home Zoning System consists of three components:  the Smart Bridge, Temp Sensors, and Smart Vents.  The system will also work with Lowe's Iris Smart Hub or SmartThings Hub, if you already own one of those.  You'll need the following to use the Keen Home system:
High speed Internet connection (DSL, cable, fiber, satellite)
Mobile device running iOS 8.0+ or Android 4.4+
Forced air central heating and/or cooling system
The Smart Bridge connects your home to the internet, so you can check or control your home's temperature from anywhere you have an internet connection.  Keen Home recommends one Smart Bridge for each floor of your house.  The Temp Sensors "monitor the temperature and humidity of any room in your home. Temp Sensors work together with Smart Vents to control individual room temperature by allowing you to set specific temperature goals using the Keen Home app."
The Smart Vents replace your existing vent covers.  The vents are available in four standard sizes for $110, or you can select from seven oversized vents for $140.  Features of the vents include:
Embedded temperature and pressure sensors to monitor the performance of your HVAC system
Airfoil louvers designed for precise and quiet operation
Interchangeable faceplate is easy to clean and paintable
Wireless vent-to-vent communication via Zigbee network
2+ year battery life with included 4 AA batteries
Works with Nest, ecobee, Lowe's Iris, and SmartThings
You can purchase individual components to customize a system for your entire home, or you can purchase bundles to help you get started.  A Starter Kit for 1 or 2 rooms has 1 Smart Bridge, 2 Temp Sensors, and 3 Smart Vents; it starts at $379 if you choose standard vent sizes.  A Multi-Room kit for 3-5 rooms starts at $599, and a whole Home kit with 12 Smart Vents, 10 Temp Sensors, and 2 Smart Bridges starts at $1399.
The Keen Home system isn't cheap, but the savings potential in energy usage and the benefit of having comfortable rooms is great.  Unfortunately, the Smart Vents aren't available in a size large enough to replace the giant old vent covers used in my condo.  Maybe they'll add more vent sizes in the future.
Learn more about your potential energy savings and comfort gains at the Keen Home website.