We use affiliate links. If you buy something through the links on this page, we may earn a commission at no cost to you. Learn more.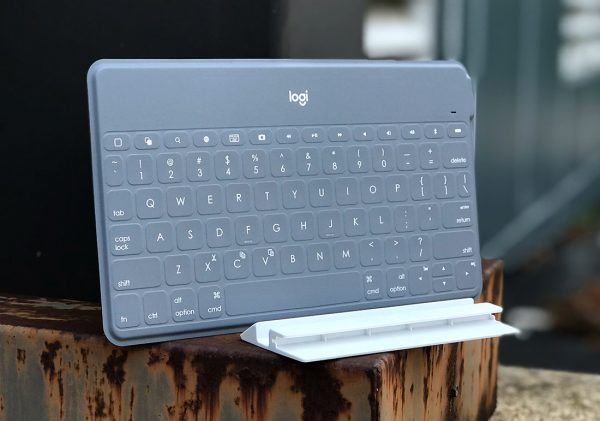 If you've ever tried typing a memo or a lengthy reply to an email on your smartphone, then you've probably experienced that frustration of cramped fingers, getting the cursor in the right position, or wrestling with highlighting a bit of text to copy. Logitech's KEYS-TO-GO portable keyboard is a serviceable remedy that comes with a few small hurdles of its own.
What is it?
The Logitech KEYS-TO-GO is an ultra-light, super-portable standalone Bluetooth keyboard specifically made for mobile phones and tablets.
Hardware specs
Works with all Bluetooth-enabled devices
Height: 5.39 in (137 mm)
Width: 9.53 in (242 mm)
Depth: 0.24 in (6 mm)
Weight: 6.35 oz (180 g)
Powered by rechargeable battery, a single charge lasts up to 3 months (2 hours of typing per day)
Full-Size Keyboard with sealed edges
17 mm key pitch
Scissor Keys (1.2 mm key travel)
Keys wrapped in spill-proof, crumb-proof covering
Full row of iOS shortcut keys
What's in the box?
KEYS-TO-GO Bluetooth keyboard
Attachable phone stand
USB micro adapter
Documentation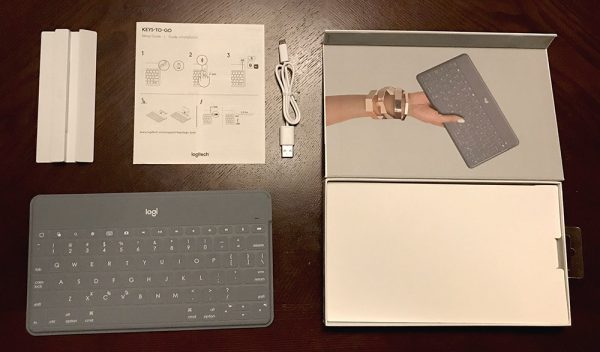 Design and Features
In my initial tests with the KEYS-TO-GO, my first thought was that it was going to take a lot of time to get used to typing on it. The overall size of the keyboard is maybe 85% of the Apple Magic Keyboard that I type on every day, which is admittedly already diminutive compared to many standard PC keyboards. But boy does that little bit make a big difference.
Setup
Pairing is as easy as any Bluetooth device. After the initial pairing, the KEYS-TO-GO connects automatically upon powering on. The indicator light emits a blue light while the Bluetooth is connecting (very brief) and changes over to bright green, indicating that it has a good charge. Then the light remains off until the batter button is pressed or the battery itself starts to get low. There is no key backlight or indicator that the caps lock is enabled.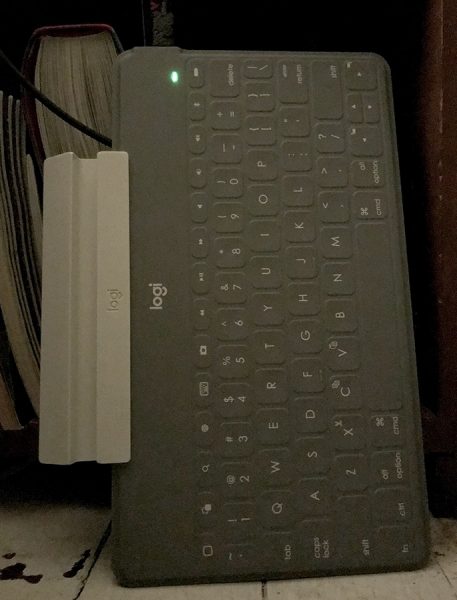 The indicator light also glows while charging over the included USB micro adapter, and emits a slowly pulsing light.
Usage
First impressions of the key travel, which is arguably the most important aspect of any keyboard… it feels similar to the Apple iPad Smart Cover keyboard. There is a decent amount of separation between the individual keys, lessened by the tension of the rubber material stretched over all of the keys. You can feel the adjacent keys dip a little bit in response to the material being depressed next to those keys. For a touch typist like myself, it certainly doesn't feel as "clean" as typing on a regular keyboard for that reason. It feels easy to accidentally press the key next to the one you were aiming for.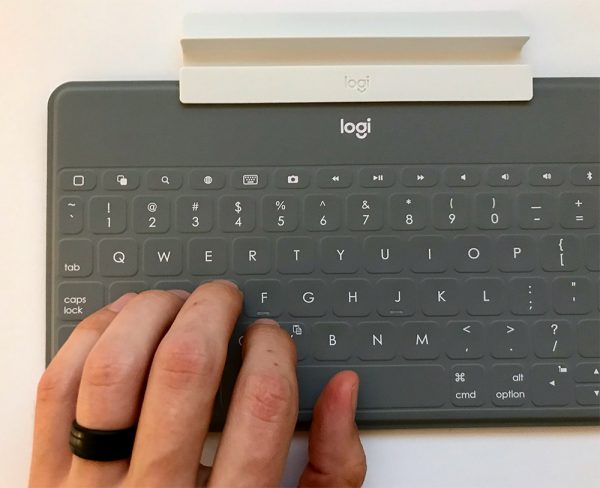 I'm getting used to it, and it's certainly better than many travel keyboards I've tried in the past. And it's practically silent.
Being used to Apple's Magic Keyboard that they bundle with their iMacs or the keyboard they embed in their laptops, I'm accustomed to a low profile and low travel keyboard. The Logitech's keys are slightly lower than any of those.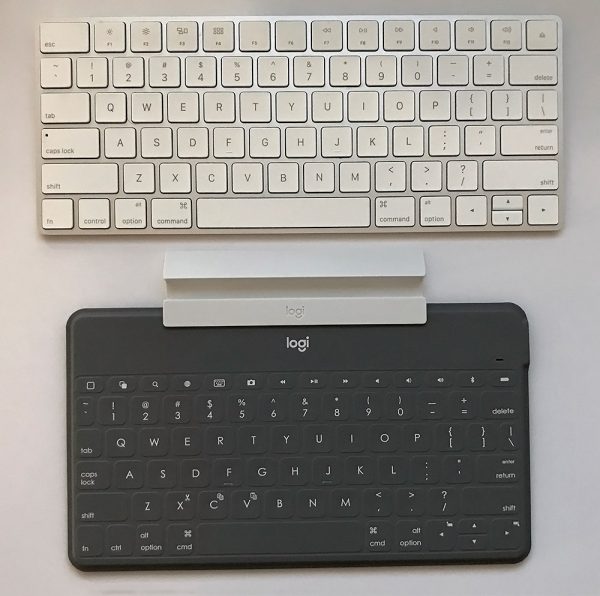 The whole keyboard feels sort of "spongy." The home row key bumps on the F and J keys are very prominent, so that serves to realign my hand after moving them off the keys or making a strange combination.
That said, it is very well suited for travel. You can throw it in any tote bag, backpack or purse. The keyboard itself is about as thick as a newer Kindle. Thinner than an iPad or iPhone. And it's waterproof, save for the ports on the side, so spills are no problem.
I like the function keys at the top. It's something I miss on my iPad Smart Cover's keyboard.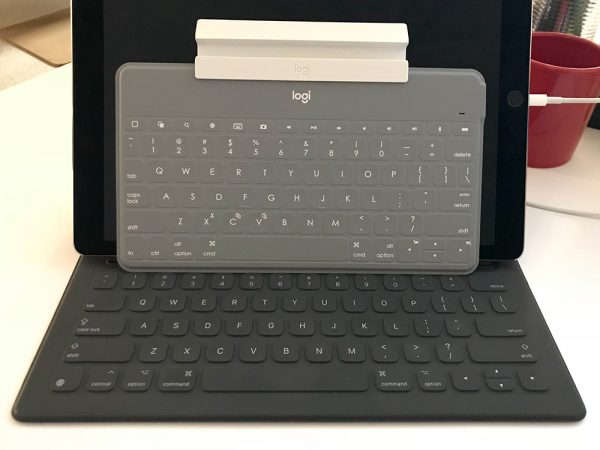 Those function keys are, from left to right: – home button – app switcher – search – keyboard language selector – software keyboard show/hide – screenshot button – media keys – volume keys – Bluetooth pairing – battery
There is also an odd function key that enables a handful of extra functions, such as hitting FN-C for copy and FN-V for paste, or FN-left or right arrow for highlighting the next word in either direction. And that's it. I would have much rather that space be utilized to make the CMD key twice as wide as it is… like I'm used to on my other keyboards.
It's worth noting there's no escape key. But I suppose there are not a lot of mobile apps that utilize the escape key. Even Apple doesn't have on on their iPad Smart Keyboard.
The battery life is advertised to last for months when averaging two hours a day of typing time. However, I found that two weeks at that same pace of roughly 2 hours a day seems to drain it enough to put it in the red. It's possible that I could have left the keyboard in the on position overnight, or over a weekend… that certainly would have done it. I will have to do more testing to see if that was the case. Still, a few weeks of life without having to recharge is excellent.
The inclusion of an attachable phone stand with the KEYS-TO-GO really positions it as a mobile phone keyboard, and that makes a lot of sense. Even with an iPad or tablet, typing in landscape format is fairly serviceable for long-form emails and documents. However, it's not so easy on an iPhone. Being able to pull this keyboard out of your backpack or purse at a coffee shop or bookstore sounds like a great proposition on paper.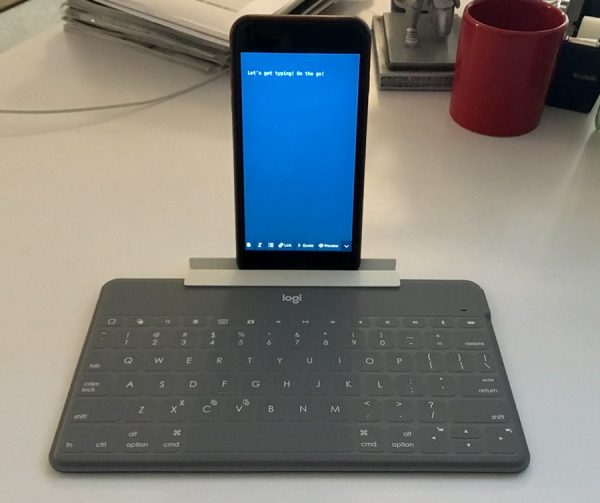 However, in practice, I'm having a hard time thinking of a time or place where I'd prefer typing on the tiny screen of my iPhone vs. a laptop or tablet. If you knew you needed to type out something lengthy, then you'd probably just take something more comfortable (i.e. a larger screen) to type on. The KEYS-TO-GO does pair well with a tablet, provided you have something to prop it up with.
You do need a flat surface in front of you. Trying to type with the KEYS-TO-GO on your lap, on an iPhone, is nearly impossible.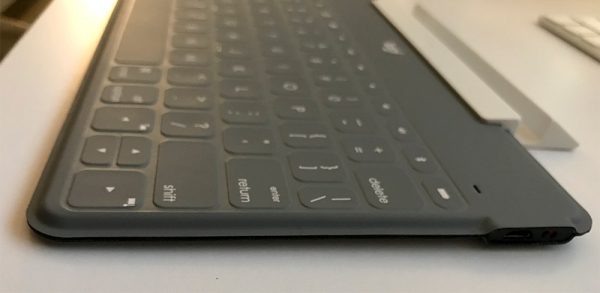 This keyboard seems best suited for people who want to travel super light, as in just this small keyboard and their phone, which is certainly an idea I can get behind. If only this keyboard was a tiny bit larger, or my hands were a bit smaller. Personally, most of my bags are large enough to where I could carry around an additional Apple keyboard (which only costs $20 more, new) and use that exclusively with my phone rather than deal with to the differences in key travel and key size.
What I liked:
Ultra-lightweight and portable
Spill-resistant
Phone stand is nice
What needs to be improved:
The keyboard layout is just a little too cramped for my taste
For the price, there are many fuller-sized options
Final thoughts
The KEYS-TO-GO works well in a pinch, provided you have a nice surface in front of you to type on. I'm sure I could get used to typing on it, given time, but personally, there are better solutions for me that are within the price range. I can appreciate their vision of toting this keyboard to use with your always-on-you mobile phone, so it would be easy to recommend to someone who wants to travel light and still accomplish the goal of long-form typing on their phone.
Price: $69.99
Where to buy: You can pick up a KEYS-TO-GO Bluetooth Keyboard from Logitech's website and Amazon in black, stone gray, blush pink or smoky blue.
Source: The sample of this product was provided by Logitech.