We use affiliate links. If you buy something through the links on this page, we may earn a commission at no cost to you. Learn more.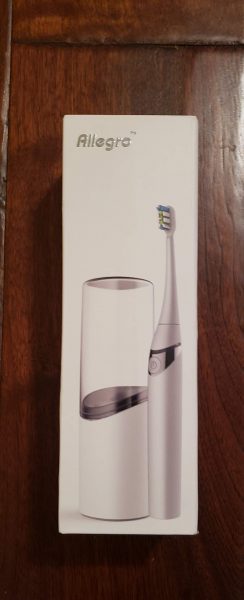 Brushing your teeth twice a day can often seem like a chore.  I would often find myself 'rushing through the job' in an effort to just get it over with.  That inevitably lead to issues with my gums because I was not spending enough time brushing or just plain brushing the wrong way.  Since then I have been using an electronic toothbrush (Philips Sonicare) and have received some greatly improved results from my dental hygienist.   So I do have a love affair with my electronic toothbrush.  That being said, I am always looking to see if there is some way to improve on what I already have.  When I got the opportunity to review the Allegro Sonic Electric Toothbrush I jumped at it.  Let's see if it is any better than my current toothbrush.
What is it?
The Allegro Sonic Toothbrush is exactly what it sounds like.  It is an electronic toothbrush a lot like the Philips Sonicare that I currently have.  It does have some added features that the Sonicare does not have.
Hardware Specs
Its charging cradle is part of the actual travel kit.  You simply add the clear plastic top and it is ready to pack in your suitcase.
Comes in white or black
The clear plastic top can act as a cup
The charging cradle includes a section that will both sanitize and dry your toothbrush head.
Wireless charging
IPX7 Waterproof
3 cleaning modes – clean mode, sensitive mode, clean and white mode
Will give a short frequency vibration to indicate when you should switch to a different part of your mouth.  This ensures you spend the required amount of time in each area.

What's in the box?
The above picture shows what comes inside the box.
Clear top cup cap for the charging/sanitizing station
The actual charging/sanitizing station
User manual
Thank you card
Electronic toothbrush with a silicone cap over the toothbrush mounting point
1 brush head
USB charging cable

Design and features
The above picture shows the Allegro on the left next to my Sonicare on the right.  You can see that the charging station and the actual toothbrush and brush head are slightly larger.  According to my dentist and contrary to popular opinion I do have a rather small mouth.  So the larger brush head on the Allegro made it seem a bit tougher for me to get it around the sides of my very back teeth.  The bristles on the Allegro brush head were also quite a bit softer than what I was used to.  I use the 'diamond clean' version on the Sonicare.  I checked and currently this brush head is the only one they offer at this time.  I think in the future if they were to offer different sizes and hardness levels that would be a great thing to have.   The actual toothbrush body is completely round.  This means when I put it down on the counter to get the toothpaste it had a tendency to want to roll away.  The Sonicare has a couple of notches that make it stay in place which is a feature that would be nice to have.
Of the three cleaning modes, the one that comes closes to the intensity of my Sonicare is the clean and white mode.  Part of that may be because the bristles are softer on the Allegro so the vibrations of the brush do not feel as intense as the Sonicare.  When I was done using it, my mouth felt as clean as  it would with the Sonicare but it is hard to tell.   I would tend to think because the vibrations were not as intense it would maybe not be cleaning as well.  I do know my hygienist said that when brushing with an electronic toothbrush you want to barely be holding it.  You just want the bristles to be hitting your teeth and gums and you should not be putting any real downward pressure.  Too much intense pressure can cause receding gums which is a whole other can of worms.  So maybe even though the vibrations were not as intense, I was still getting a good cleaning anyway.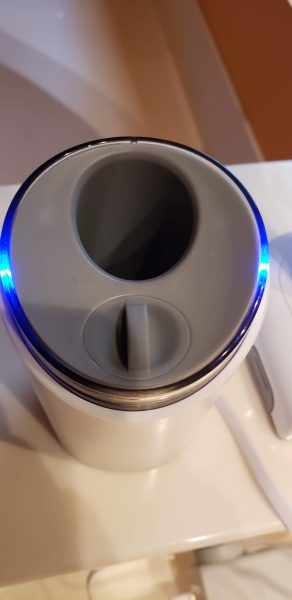 The picture above is showing you the area where you would sanitize and dry the brush head.  The bottom part of the charger has a rubber cap on it.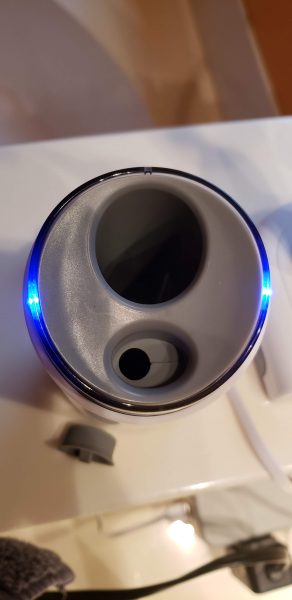 You pull off the rubber cap and it exposes a slot where you place the brush head.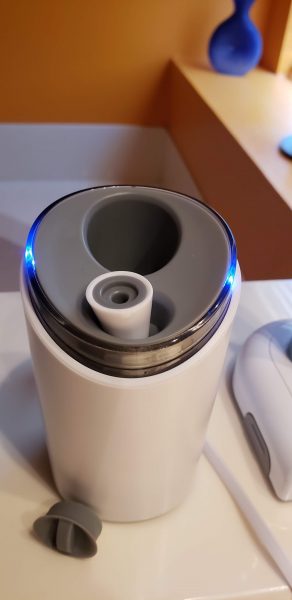 The brush head goes in as pictured above.  There is an automatic sensor that senses when the brush is in place and starts the UV light for sanitizing.  It will run for 15 minutes and the lights on the side turn slightly purple.   Once it is sanitized, it goes into a drying mode for another 15 minutes.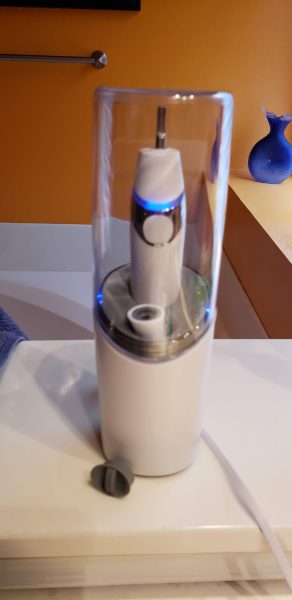 This picture shows the whole thing with the plastic cup on top.  I love that cap feature.  It will protect the toothbrush from the nasty germs floating around your bathroom.
What I like
I love that the entire charging station is the travel station.  My current toothbrush has a separate travel case that only closes when it wants to.  I also love that you can put that cup on top every time and protect your toothbrush from the environment.  I also love the sanitizing and drying feature.  I always hated having to pack up my toothbrush when it was wet to go travel.  Buying a pack of 3 brush heads was also economical at only $14.99 on Amazon.  I also love that it has the special vibration indicator to tell me when to move to a different section of my mouth when brushing.  That way I am sure I am spending the proper amount of time brushing.
What needs to be improved.
They definitely need to offer different types of brush heads.  Also adding a flat spot on the back of the toothbrush to keep it from rolling away would be a nice touch.  Finally, I really think they should include a plug adapter for the USB.  I don't know many folks outside of my geek friends who would actually have a USB port in their bathroom.  Plugging it in on my computer just seemed rather funny.  I used the plug from one of my many other electronic devices and charged it that way.
Final thoughts
If you don't already own an electronic toothbrush that you are happy with, I would recommend this one.  I am thinking that when the time comes to replace my existing one, some of the issues I mentioned earlier would be fixed and I would switch over to this toothbrush myself.
Price: $59.99
Where to Buy: Amazon
Source: The sample for this review was provided by Allegro. Please visit their site for more info.