We use affiliate links. If you buy something through the links on this page, we may earn a commission at no cost to you. Learn more.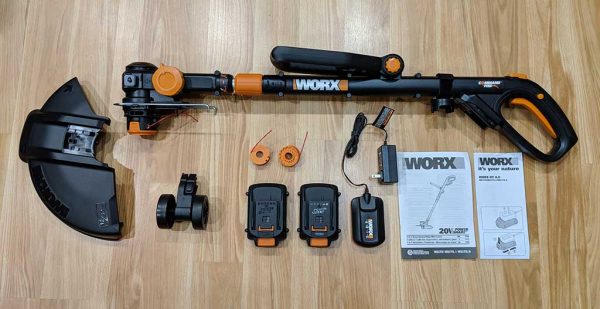 REVIEW – I've been a homeowner since 1989, but I have never used a weed eater to trim around trees or the edges of sidewalks. How can this be you ask? I've always had problems starting pull string style equipment because I have crummy shoulders and not enough upper body strength. So Jeanne has done the weed eating around our home. But she doesn't like having to keep track of which gas can has the 2-cycle oil mixed in and sometimes she has trouble getting the weed eater started too. So, I was excited to try the WORX 20V GT Revolution Trimmer/Edger/Mini-Mower when it was offered because it runs on a battery which means no gas cans or special gas and oil mixtures are needed and no pull string to start it. I've always wondered how well battery powered outdoor tools work and now I know because I've been using this one for the past few weeks. Yes me! I've actually started weed eating and trimming for the first time in my life. Let's check it out.
What is it?
The WORX 20V GT Revolution Trimmer/Edger/Mini-Mower is a 20-volt battery powered weed eater that can also be used as an edger and a mini lawn mower because it has two removable wheels.
What's in the box?
WORX 20V GT Revolution Trimmer/Edger/Mini-Mower
3 spools of line
2 20V batteries
Battery charger
Manual
Design and features

The WORX arrives about 95% assembled. It has a black plastic shaft that features a rear handle with a pistol style grip that has a power button that you have to hold down as you grip the handle to power on the trimmer. Once it's running, you can let go of the power button, but you have to continue to grip the handle to keep it running. There's also an adjustable auxiliary handle that folds down as shown above.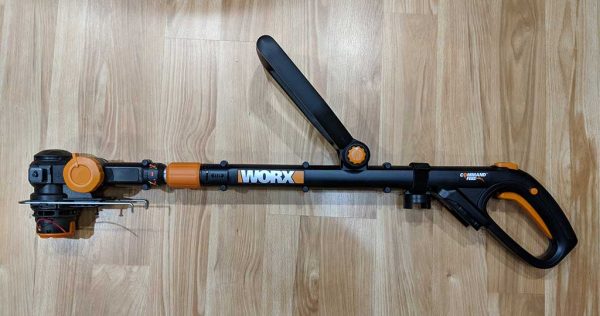 The auxiliary handle can pivot around 180 degrees so you can customize how you hold it.

To adjust the position, you have to press in on the orange locking knob on the side.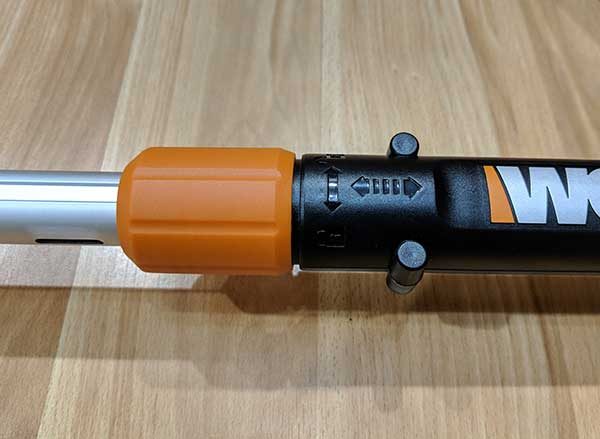 The trimmer has a telescoping shaft that lengthens by twisting the orange locking collar to extend the shaft.

Here we can see the WORX 20V GT Revolution Trimmer's shaft is fully extended. Extending and retracting the shaft isn't difficult, so it is easy to adjust the length for your height and posture and it makes the trimmer easier to store if you have a small garage or shed where you store your yard work gear.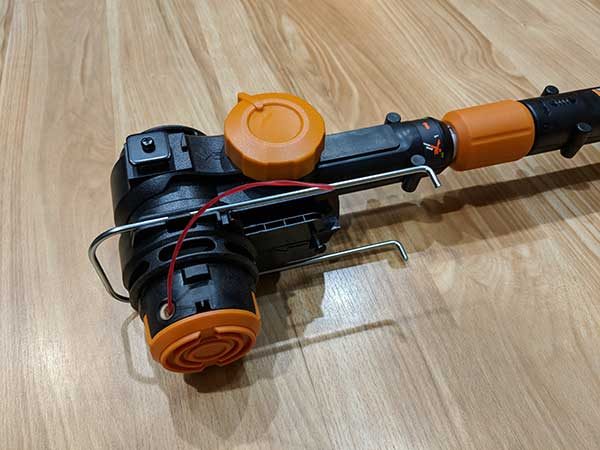 The business end of the WORX trimmer has several features. First of all, there's the spool holder. That's the circular orange part pointing down in the image above. You can see the red line sticking out of the feeder hole in the trimmer's head.
The spool holder has an orange plastic cap that holds the spool in place. It makes switching out spools really easy compared to a few trimmers that I've worked with in the past. The WORX trimmer comes with 3 spools of DNA2 DoubleHelix cutting line (10ft of line in each spool) and when you buy the WORX trimmer you can sign up to receive free spools for life where you get 6 spools and only have to pay shipping costs ($8.62/package of 6).
There's an extra on-b0ard spool holder on the trimmer's handle so you won't have to head back to the garage or shed if you run out of line in the middle of a trimming session.
Back to the trimmer head…
The angle of the trimmer head can rotate in 6 positions so that it can go from trimming to mowing, to edging. You'll also notice the metal wires. That's the flower guard.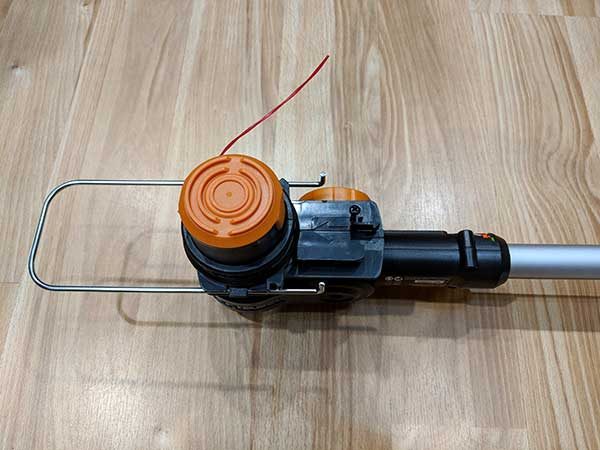 You can extend or retract the flower guard to help prevent you from trimming foliage that you don't want to trim.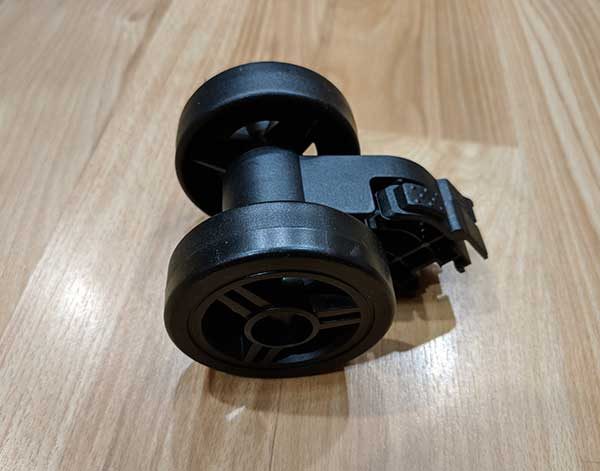 You might be trying to figure out how this weed eater can transform from a trimmer to an edger and a mower. The secret is the edger/trimmer support wheels that are included.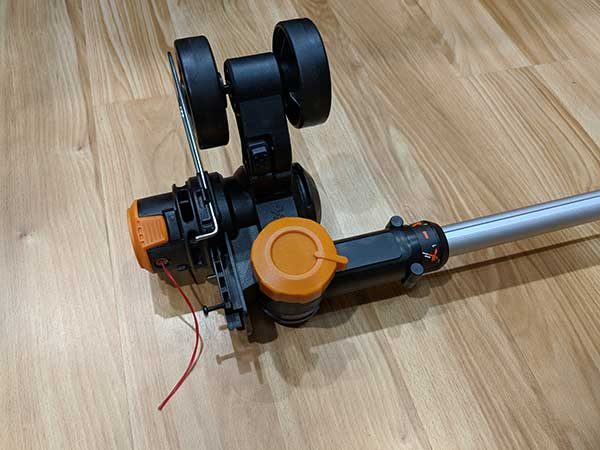 The wheels snap into the trimmer head. There are two places where the wheels can be attached. One location is the side of the trimmer head shown above. In this location, the WORX 20V GT Revolution Trimmer can be used as an edger.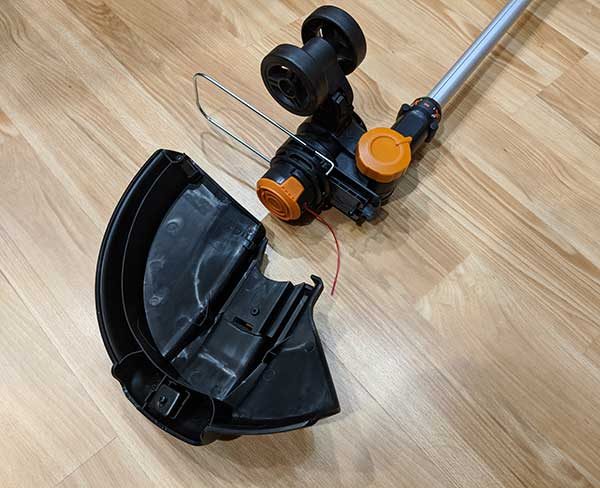 All you have to do is attach the safety guard…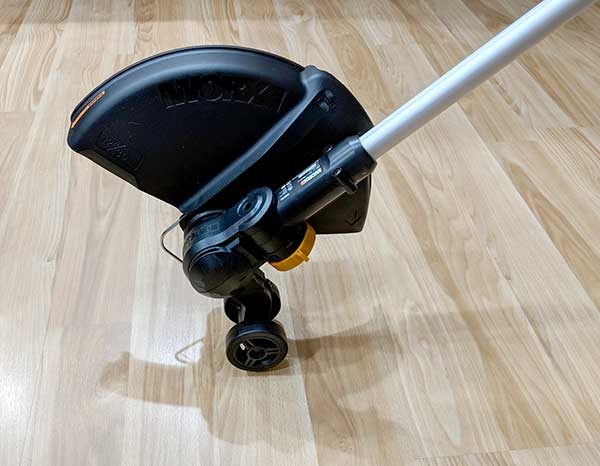 Then you can roll the edger down the sidewalk.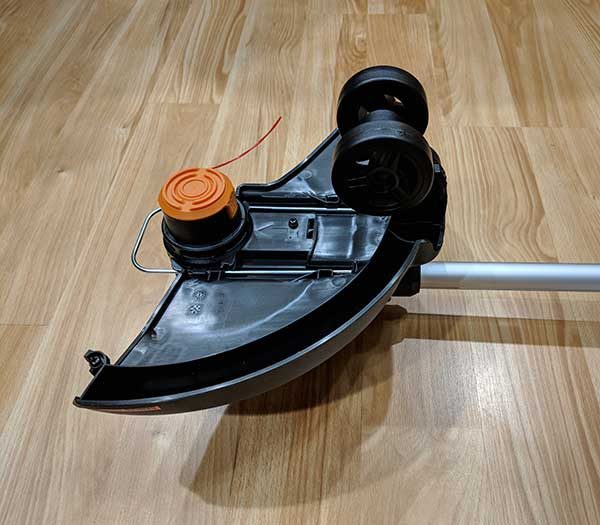 Or, you can attach the wheels to the underside of the safety guard.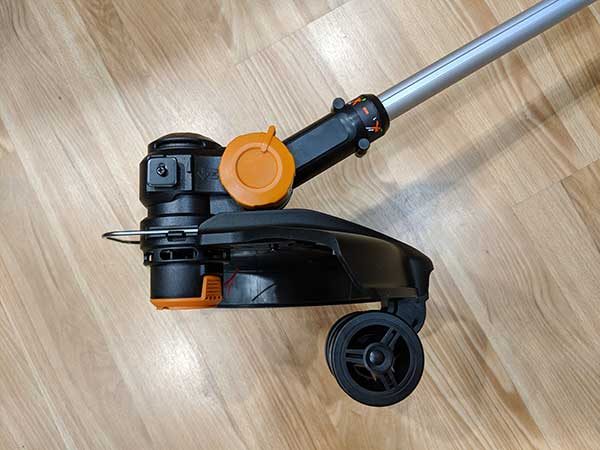 You can then roll the trimmer around like a tiny mower. I found the mower setup to feel a bit awkward. Granted, I am not a trimmer guru as we already established at the start of this review… But for me, using the WORX as a trimmer or edger felt the easiest for me.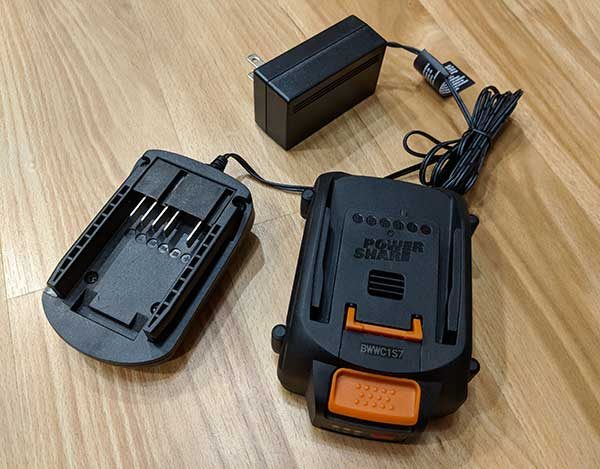 Before we can start trimming, we have to put gas in the trimmer… charge the batteries! The WORX trimmer comes with two 20V batteries and a charger. The charger can only accommodate one battery at a time and it takes 5hrs to charge each battery. It should go without saying that as soon as you get one battery charged that you should go ahead and charge the other one next. It is nice that the batteries seem to retain their charge for quite a while. I charged both batteries about 3 weeks ago and have only used one battery so far and the other one is still showing that it still has a full charge.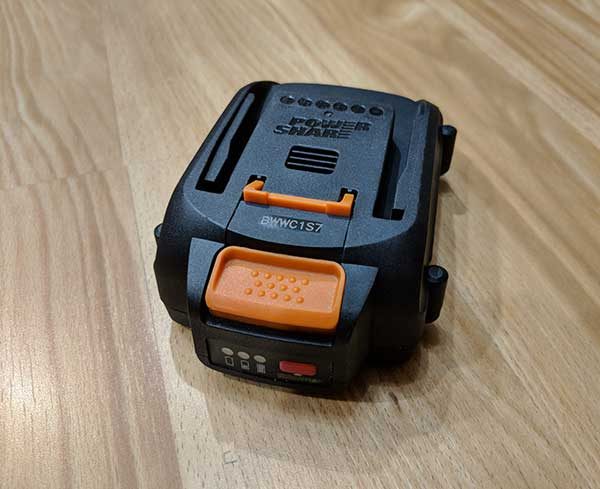 How do I know how much charge the battery has? There's a tester built right into the end of the battery. You can see it in the image above. It's that rectangular red button to the right of three dots along the bottom front edge of the battery. When you press the button, the lights will light up in green to show the capacity. The first light is low, the second light is 50%, and the third light means it the battery has a full charge.
The battery snaps into the bottom of the handle and is easy to detach when you need to switch it out for a fresh one.
Let's trim some grass!
It's time to watch my very first weed eating video! Seriously, this video is the first time I've used a string trimmer, so be kind to me please. 🙂
And here's a quick demo showing it in mini-mower mode.
There were several things that surprised me about the WORX trimmer. First of all, I was surprised by how well the trimmer was able to cut thick grass. It even wacked through thicker stalks of mutant weeds and baby tree shoots that you get when you live in a rural wooded area like I do. I've also been surprised by how strong the line is because I've not needed to press the button on top of the handle to feed new line. And last but not least, I've been happy so far with battery life. Actually, I'm still on the first battery after weed eating several days for 15-20 minute sessions.
Cleanup is pretty easy too. I just sprayed everything with a hose and the WORX trimmer was pretty much good as new.
What I like
No messy gas and oil to mix
Simple to start
Easy to replace line spools
Converts from a trimmer to an edger and a mini-mower
What needs to be improved
Final thoughts
As my first battery-powered trimmer, the WORX 20V GT Revolution Trimmer/Edger/Mini-Mower has impressed me with how easy it is to use, battery life, and versatility. Now that I've used a battery powered trimmer, I'd like to replace our gas blower with a battery powered blower and do they make battery powered rototillers too? 😉
Update 6/30/21
Three years have passed since I posted this review and I continue to use this weed wacker. Just this past weekend, I spent several hours using it and was impressed that the battery that was in the trimmer from last year still had enough juice to work for almost 30 minutes before I swapped them. I like using the WORX 20V GT Revolution Trimmer because I don't have to hurt my shoulder trying to yank a starter pull like on a gas powered trimmer. I also like that the trimmer/string spools are easy to switch out. Which reminds me that I need to buy more because I'm on my last one!
Price: $99.99
Where to buy: WORX and Amazon
Source: The sample for this review was provided by WORX.