We use affiliate links. If you buy something through the links on this page, we may earn a commission at no cost to you. Learn more.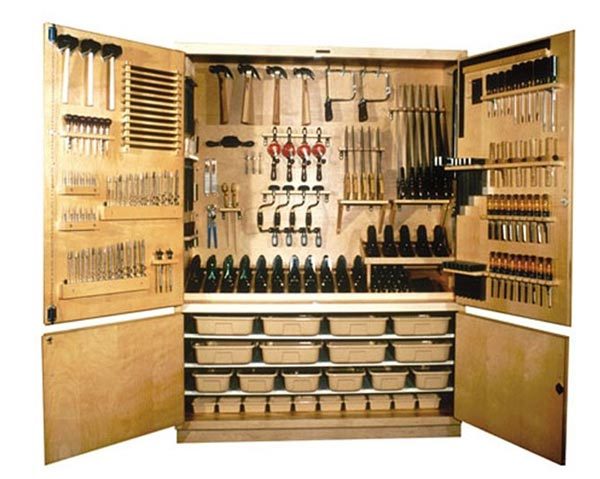 I can see the irony in a post about a pre-made wooden cabinet marketed to woodworkers, but I imagine that many woodworkers are hobbyists who would rather spend their shop time on fun projects instead of making necessities for their workshop.  For those people, Shain offers a complete storage system for woodworking tools in an 84″ X 60″ X 22″ deep cabinet.
The cabinet is made of solid maple framing using dowel construction and with birch plywood panels.  The wood is finished with sealer and multiple lacquer applications.  The upper and lower doors are birch-veneered panels mounted with a continuous hinge.  The top section has various tool holders, designed for specific tools, mounted on the back and sides of the cabinet and on  the inside of the doors.  Adjustable shelves in the bottom section hold bulkier tools; weight capacity per shelf is 40 pounds.  The cabinet is lockable to protect your tools.
The Shain Complete Storage System is $2099.99 (which is 50% off MSRP).  If desired, you can add a complete set of woodworking tools, bringing the complete cost to $9799.99.  You can see a complete list of the optional tool set and place orders for the Shain cabinet and/or tools at Wayfair.