We use affiliate links. If you buy something through the links on this page, we may earn a commission at no cost to you. Learn more.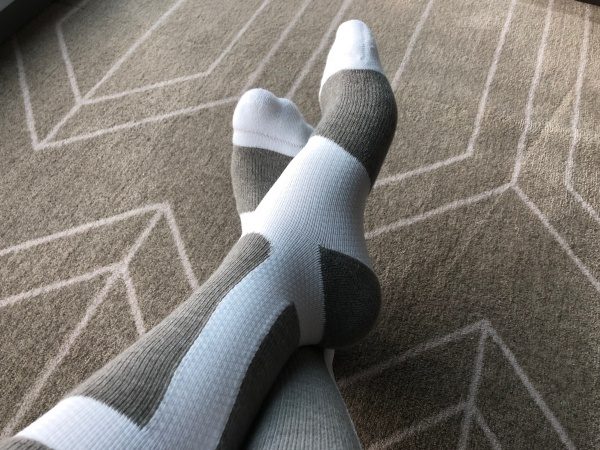 Compression socks, sleeves and ankle braces aren't new. The team over at Lasso decided to take a bit of a different approach and have designed socks specifically with ankle support for use in rehabilitation, preventing injury and even just general support.
What are they?
Athletic socks specifically engineered to mimic the compression and support that is typically provided only by professional sport taping or ankle braces.
Materials
Coolmax fabrics
Reinforced strike padding
What's in the package?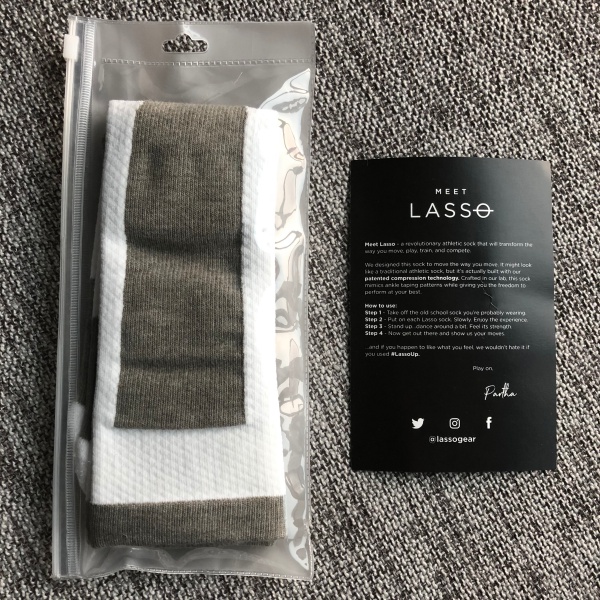 1 reusable zip bag (not certain if retail packaging is different)
1 pair Lasso Compression Socks
1 information card
Design and features
It's pretty easy to dismiss socks as pedestrian and an area where it's hard to innovate, but a quick look at these Lasso socks makes it clear that these are more than your everyday pair. The different grey areas (shine, achilles, heel, forefoot) immediately indicate that there are multiple zones. Texture changes (toe, grey zones, main sock body) add to the number of things to discover. They've also  paid close attention to how the sock fits the shape of the foot and any areas that might cause discomfort.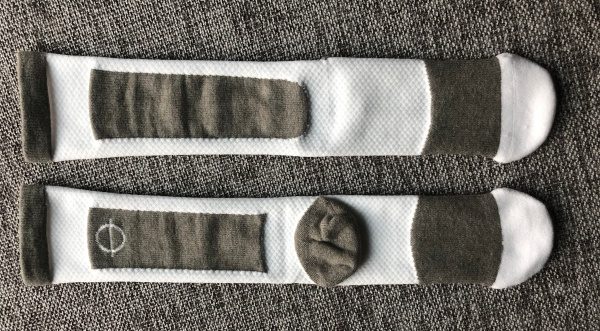 Setup
I'm pretty sure most of us know how to put on socks, but here's the instructions from their info card…
How to use:
Step 1 – Take off the old school sock you're probably wearing.
Step 2 – Put on each Lasso sock. Slowly. Enjoy the experience.
Step 3 – Stand up…dance around a bit. Feel its strength.
Step 4 – Now get out there and show us your moves.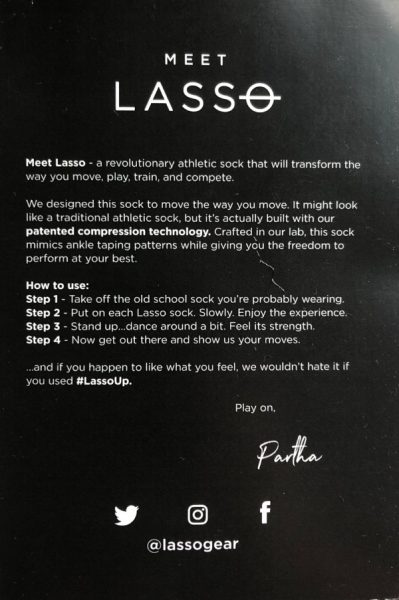 Performance
Okay, so here's some relevant background information that hopefully adds some weight to the review.
I grew up skateboarding and snowboarding. My knees and my ankles are not better for it. About 15 years ago I fractured the talus (weight supporting bone) in my left ankle. 5 years prior to that, I tore two ligaments in my right ankle which now too cracks loudly to sneak up on anyone. I can definitely tell if I walk too much in a day or if I've been sitting too long with my ankles relaxed/toes pointed. Needless to say, my ankles often need help.
I recently had an overseas trip pop up with very short notice and it was the perfect opportunity to take the Lasso socks through an extended test. One of my guilty travel pleasures has been to buy a couple pairs of new socks and dole them out during the trip. Since this was to be a one week trip I let the Lasso's get the honor as the single new pair I would bring.
Lasso isn't kidding when they ask that you enjoy the experience of putting on their socks. These things are ridiculously soft! The compression is immediately apparent as you have to get your thumbs inside to pull the mid-foot and then the heel into place; unlike a tube sock. The tension feels reassuring, supportive and empowering. The sock hits about midway up my calf which is about the height I typically like to run. It initially borders on feeling too tight, but then quickly resides to a "good" tight. For reference, I'm a very narrow 12 in footwear. As a result, the compression is most noticeable around the mid-foot and especially around the ankle for me.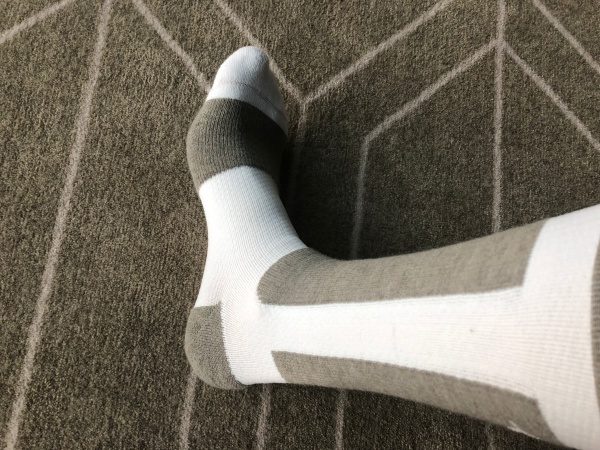 The toe area, while having a visible join like most socks, has a decided lack of any seam or thickness change on the top of your knuckles. If sock seams have ever been a problem for you, they're not here.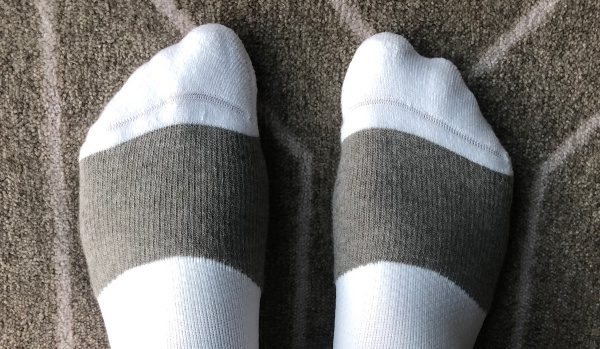 The first day I wore them I expected to have a lot of walking ahead of me… hotel -> bullet train -> taxi -> vendor and then repeat in reverse. In retrospect, my Fitbit data tells me that I only hit about 3.38 miles that day. I do know that I was on my feet the entire day as I was doing a lot of mechanical assembly for my day job. Of note, I remember my lower back complaining (also common for me), but my ankles didn't seem bothered.
What was supposed to be a one week trip then doubled, and subsequently the test scenario for these socks became more demanding out of necessity. Rewearing socks is never fun in my experience, but it is what it is. So, how was day two in Lassos?
This time it was 80º in Shenzhen and very humid. I feared the worst going to put them on; expecting that crunchy, begged-to-be laundered feel that used, unwashed socks get. To my surprise, the Lassos felt almost as soft as day one.
That particular day was all walking, and metro, and walking. I logged about 15k steps (over 7 miles). My ankles are typically in trouble right around the 12k mark. I could tell my ankles were tired, but I didn't get the I-may-give-out-on-you warnings that usually make me call it a day. I've used other ankle sleeves in the past with mixed success, but this was truly a better experience. It's hard to point at anything specific, but the support was constantly there and I never felt over-constricted.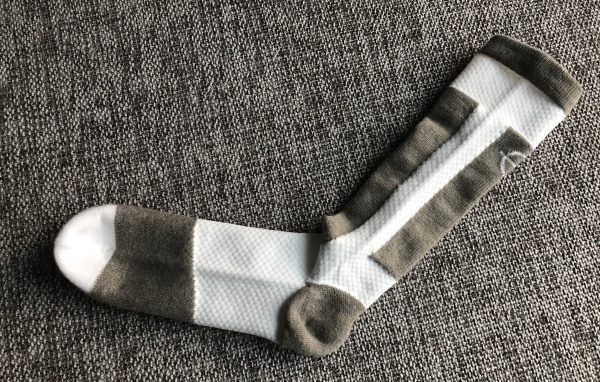 The following day I wore some regular athletic socks and had almost as long a day; just under 7miles. I felt the fatigue right around 10k steps likely due to the previous day's walking, but this time my ankles definitely missed the support. I had a couple of less than secure steps on some stairs and again on some uneven sidewalks in that last 3k.
I then took the testing a notch further and wore them a 3rd day for my travel day and flight home; an 18 hour ordeal consisting of metro, 13 hour flight to Seattle, 2 hour layover and an additional haul back to the house. Pulling them on was still waaaay better than typical experiences. My intent of this 3rd day was that the compression would help to keep my old, tired ankles from swelling during the long flight. They performed admirably with plenty of support in flight, as well as for walking the rest of the time.
What I like
Comfortable
Tactile Support
Putting them on (it really is an experience)
What needs to be improved
The top cuff is narrow and wanted to collapse/slouch down (did not move beyond ~ an inch)
Warm – maybe too much for summer days?
Expensive at $59.99 – Better at the current reduced price of $29.99
Final thoughts
I was very happy with the performance of these socks. Other "solutions" out there have been marginal at best, or overly restrictive when it comes to motion. Lasso has a unique product here that lives up to their claims. My main comment is the potential for being too warm for summer or high humidity days. These will absolutely be my go to socks when I plan on hitting the skatepark or other activities.
Price: $29.99
Where to buy: Lasso or Amazon
Source: The sample of this product was provided by Lasso.