We use affiliate links. If you buy something through the links on this page, we may earn a commission at no cost to you. Learn more.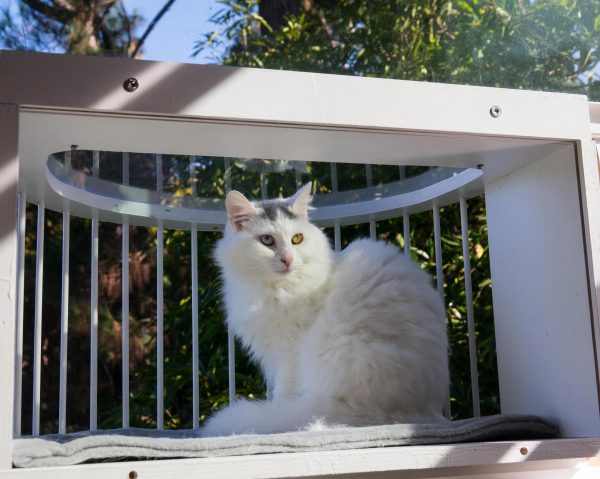 Indoor cats always like to look outdoors, but sometimes there isn't a window with a good perch where they can sit to enjoy the view.  With the Cat Solarium, they can enjoy the view and the fresh air from the safety of a window.  The Solarium fits into a window a bit like how a window air conditioner fits.  It has bars to keep the cat from jumping out.  The top is made of Plexiglass so the cat can enjoy sitting in the sun.
The basic structure is made of ¾" cabinet-grade plywood and painted with marine-grade paint. These are very durable, sun- and water-resistant structures – strong enough to hold a 50+ lb cat.  You can add a a Plexiglass back panel with a cat door insert to keep the outdoor air outside.  Other options include a Solarium pillow, cat perch/landing to help the cat easily enter the Solarium, mesh screen to keep insects out, and a Plexiglass weather enclosure.  To use the Solarium, your window opening must be 24.5″ wide and raise up 14.5″.  The manufacturer includes heavy gauge vinyl with industrial strength Velcro for a temporary cover for gaps surrounding the installed Solarium.
The Solarium is available in a variety of packages, from the Sun Room with a Plexiglass back panel with a cat door and the mesh screen for $299.99 to the Conservatory package with Plexi back panel with cat door, custom pillow, cat perch, weather enclosure, and mesh screen for $379.99.
Each kit comes with an Allen wrench for assembling the Solarium.  The wrench and 20 minutes are all you need for building the kit.  Illustrated instructions are available on the website.
The Cat Solarium can be purchased at their website.