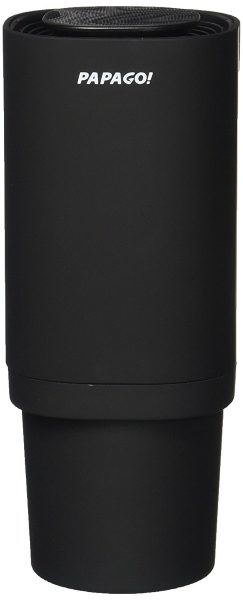 As allergy season continues to take hold of its victims by storm, many of us allergy sufferers have spent a fortune on in-home devices to help us to make it through the season. But what about the hours upon hours that some of us spend in our cars, sneezing and wiping away the tearing from our eyes as we try to make it through rush hour traffic to get to where we are going.
PAPAGO AIRFRESH S10D Air Purifier seems to be just the right solution for combating allergies when on the go. According to the manufacturer, this air purifier "Continuously releases positive & negative ions to generate a plasma reaction to release energy". It automatically purifies small and harmful PM2.5 fine particles ("PM2.5 refers to atmospheric particulate matter (PM) that have a diameter of less than 2.5 micrometers"), and it does not require a filter to do so. It also monitors the temperature and humidity and allows the use of hand gestures so that it can be safely controlled during the operation of a motor vehicle.
If you are an allergy sufferer like me, you can head over to Amazon and read much more about the PAPAGO! AIRFRESH S10D Air Purifier, or just go ahead and pick one up to fight your allergy symptoms while on the go. It can be purchased for $149.99
Support The Gadgeteer
:
We may earn a small affiliate commission from purchases made from buying through links on our site. As an Amazon Associate I earn from qualifying purchases. Learn more.